Glow Gardens indoor light festival- Glow around the world exhibit
Hey Steemies!
Edmonton is full of odd exhibitions, art, theater, festivals, name it we have it. Not to brag(well...maybe a little), if it's cool and popular, it wants to come here, can't say I blame them...we like to have fun. A new addition to our cultural cityscape as of Christmas 2018 is the Glow Gardens light festival. Premiered in Vancouver in 2017, it's popularity inspired expansion the following year, Edmonton being a recipient. On it's 3rd year the light festival has now expanded to 3 countries and 10 cities occupied a larger venue than the previous year in my city for more Christmas fun. What is Glow Gardens? It's a themed indoor light sculpture Christmas selfie taking wonderland of over a million lights with food trucks, various local vendors and live entertainment. I wanted to post this a bit sooner but I got sidetracked by planning a trip. Either way, I went towards the bitter end so I wouldn't have been able to produce this post before it closed for the season. If you want to experience the glow, pay attention it might pop up to a city near you next holiday season.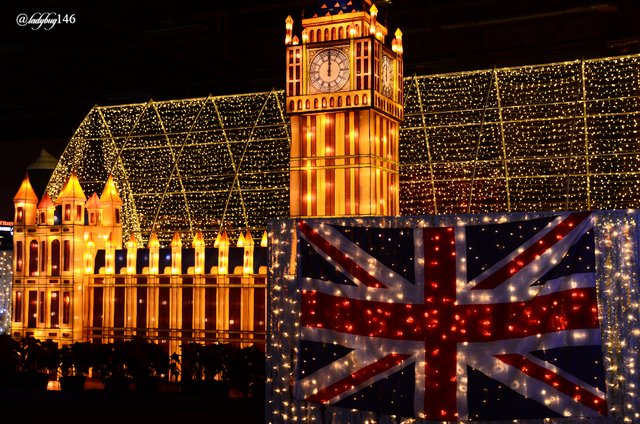 Shot 1/60 sec. f/8 31 mm, ISO 800
The festival typically runs from the end of November, December, all the way to the early days of January hosting various special holiday events like New Year's Eve party(I might consider it for next year) at a slight additional costs. Tickets can can be bought online as the preferred method, they offer a discount and of course guaranty your preferred arrival time. You may be able to get tickets at the door depending on availability, having a ticket in advance will save some waiting time being prioritized for entry. The booking seemed confusing at first giving 1 hour time slots but in reality it's just to maintain a good flow for entry as the line-ups can get pretty long, you are free to spend as little or as much time once you are in. As their catch phrase suggest "laugh, stroll, and play under the twinkle of a million lights as you explore our light gardens and illuminated structures".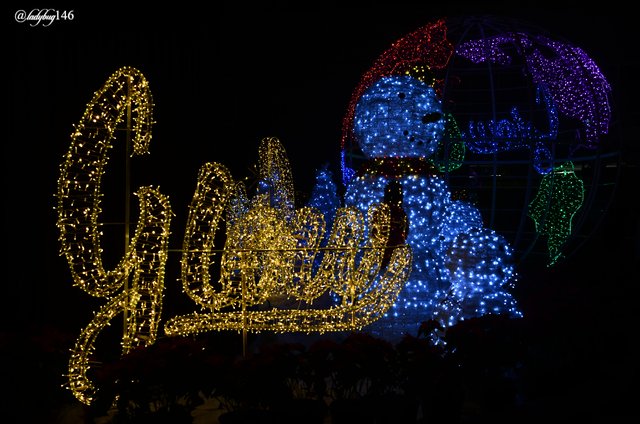 Shot 1/125 sec. f/9 26 mm, ISO 400.
This year, the exhibition moved to a larger venue at the Edmonton Expo Center and filled a large showroom with a tour around the world made of lights mounted on metal frames or glowing structures and art. At the entrance, we were immediately greeted with mini passports to get stamped in each country on our glow-be trotting expedition. As silly as it seems it was a nice touch, simple yet I was still excited to get it for my "concert ticket stub box" as a memory token, I'm sure some you can relate!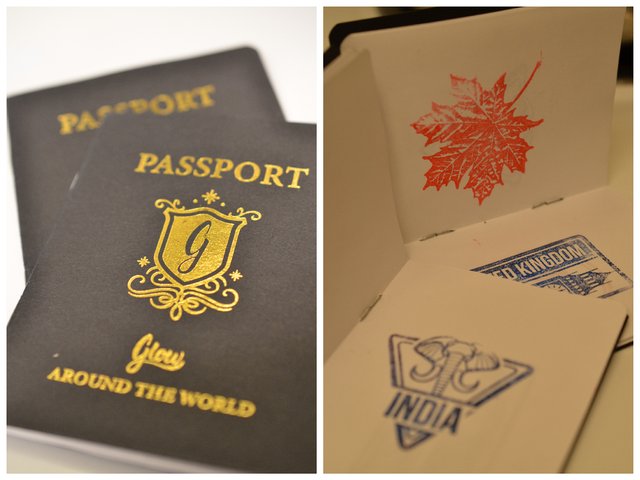 Holy that's a lot of lights doesn't even begin to cover it! It looked like The Grinch's storage unit after he's been stealing Christmas for over 60 years feeding his secret fetish...That was many towns raided and many Christmas ruined to produce this playground, it looked like Christmas exploded in there. I know I'm going to have to find a few hundred words for this but I'm still speechless. Lets start with all the sweet smells from the food truck alley at the entrance serving all sorts of treats and holiday type beverages in glowing light bulb shaped sippy-cups certainly set the mood on a high, not that it got much higher standing in that room as it was. Of course the first light display had to be this year's exhibit logo with a giant sphere decorated to represent the world with the snowmen peace keeping army!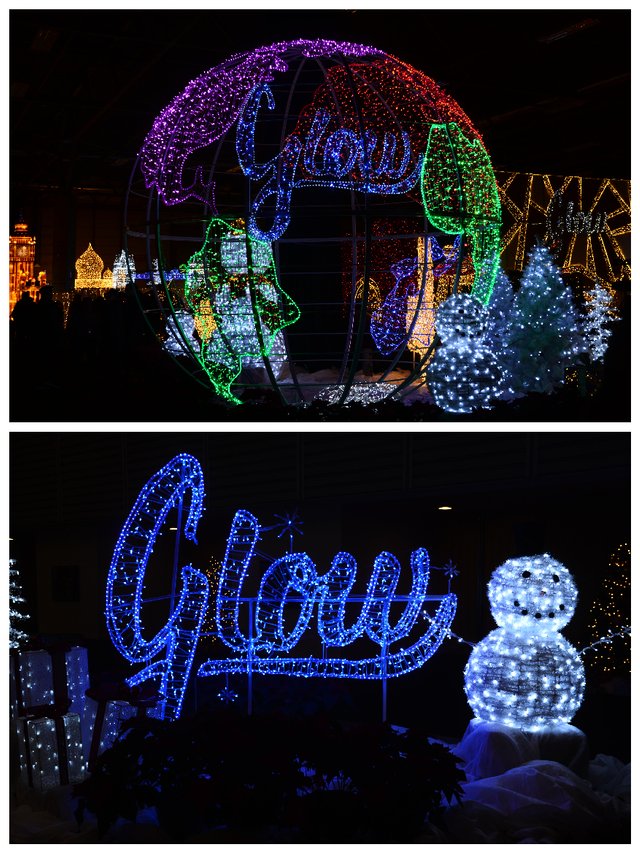 Next to the snack trucks is where the adult treats could be found, where they serve the more spirited kind of fun by the stage with a lounge area to sit and enjoy the live entertainment thru out the evening. I suppose, if you have kids, this is where you part ways while they run loose lol. We booked a spot 2 hours from closing thinking it would be much faster to get thru which proved to be a mistake especially for photography, it was bigger and better than expected, I wish I would have gone earlier in the evening, now we know for next time! Just the stage alone was over the top, I may have spent too much time there doing abstract photos but I eventually moved on to see the rest. Next to the stage was the glow-comotive, maybe more geared towards the little one to climb aboard for a short circle tour, you can't really see it much in the next picture, I assure you it's there.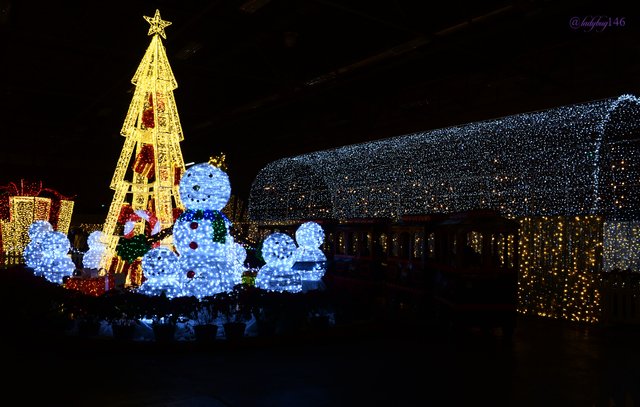 Shot 1/60 sec. f/8 18 mm, ISO 640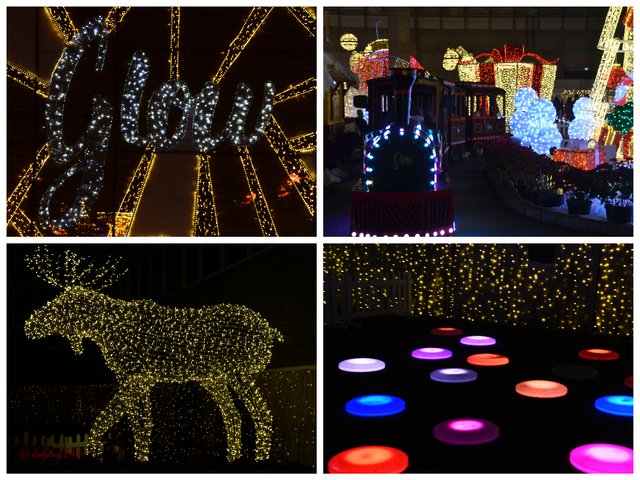 It was pretty bright in there, more so than my pictures, just so you are aware I messed with some settings on my camera to take in less light to make the displays stand out but eliminate the background noise like photobombers and such, you will see the difference in the photos below. Expect the place to be packed with people all the time, it's really busy and of course just like me, everyone wants pictures, getting the perfect shot takes a lot of patience and waiting around for things to clear. With a keen eye and moving along to nearby areas and going back a few minutes later I was able to get most places the way I wanted them. This event is where you want to be taking next year's family pictures if you can!! The lighting in the room is perfect for portrait photography with props and frames set up specifically for that.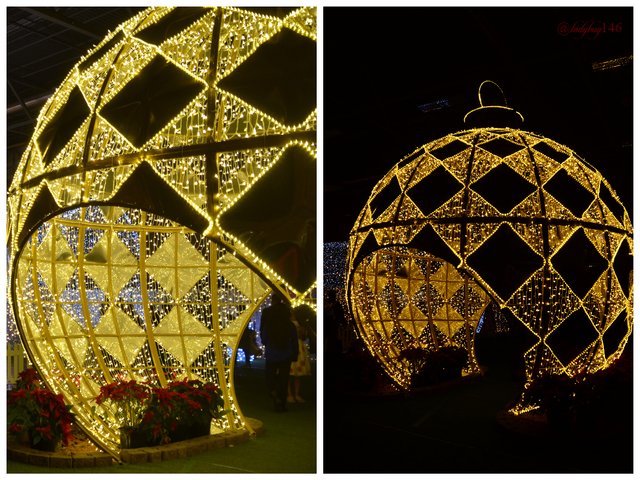 Part of the room was filled with over-sized ornament light sculptures large enough to walk into, decorated with rows of poinsettias for another designated perfect selfie area. Seriously, you want to get your selfie on until your thumbs fall off, this is the place for it!! Giant ornaments aside, the exhibit had several impressive light tunnels and archways to walk thru to get to the different displays separated by fences also fully decorated according to the country the border belonged to. Inside of each "border" , there was a stand to look for were we got our passports stamped as we traveled thru our new found wonderland with a total of 7 to be collected to earn a free prize. Don't get too excited, it was...you probably guessed a candy cane! I had that mystery solved as soon as we were told to collect them for a prize, I was happy with the stamped passport already, free candy just sweetened the pot lol.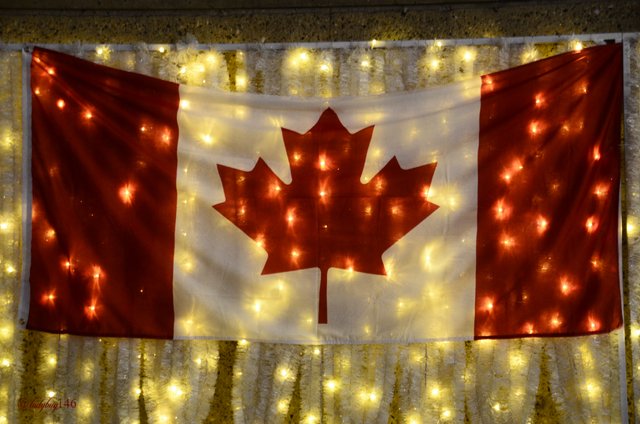 Shot 1/8 sec. f/5.6 55 mm, ISO 800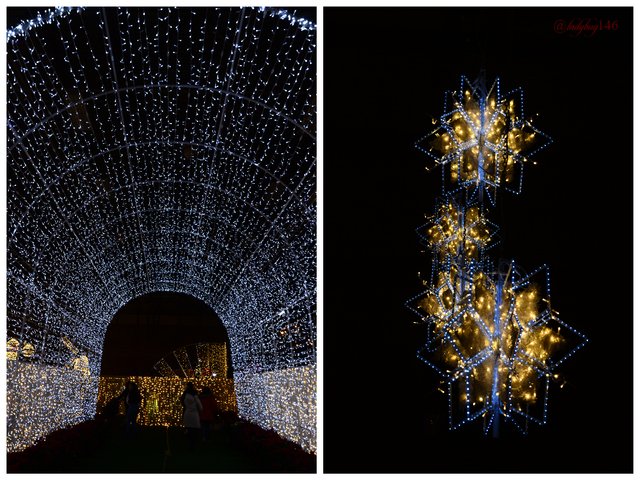 One of the 7 countries on display was of course our very own Canada although I was left confused as to what it was, maybe it was the entrance, train and the giant ornaments?? We have no special cultural building to display? Not even a Tipi or something? Are we that uncultured? I dunno there was a giant moose and a faux duck pond in front of a Canadian flag...left me a little flat spirited for our country, maybe I interpreted it wrong. I will show you more over-sized ornaments for now then!! Maybe that's where our balls go when they freeze off!!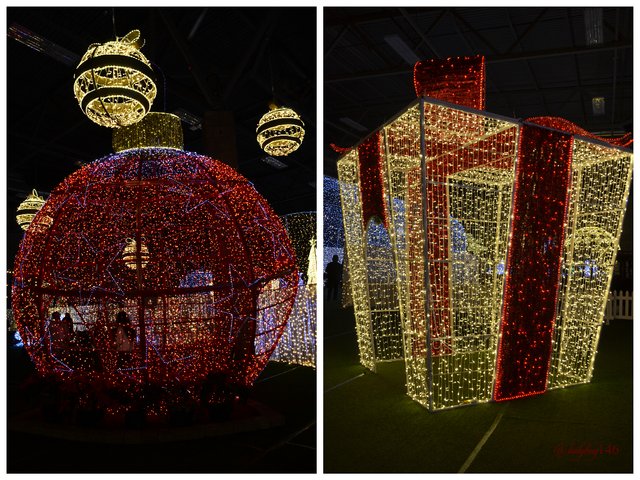 After being disappointed by Canada, we did what any other Canadian would do during these cold streaks...Head to Mexico where things warmed up! The Mexican portion was well decorated with a fiesta theme around the fences and a light tree filled with pinatas next to none other than the famous Chichen Itza in full glow with glowing parrots flying around the pyramid (suspended from the ceiling). I knew my disappointment would be short lived! They went all out on the small details on most exhibits, it's hard to focus on what to see next. I knew I would eventually get to it all but it was a sensory overload , we didn't even get to the good stuff yet!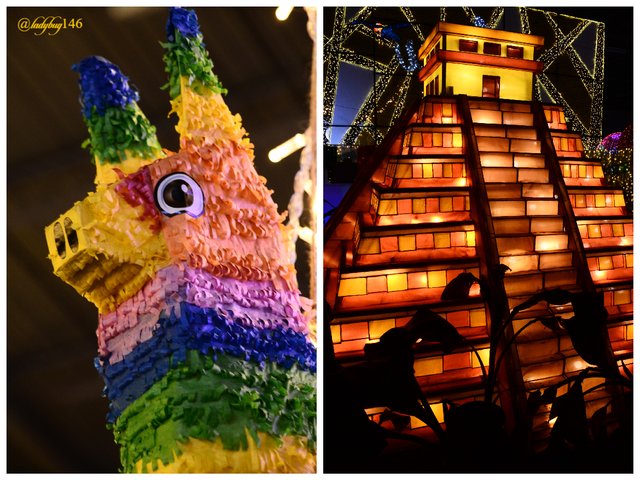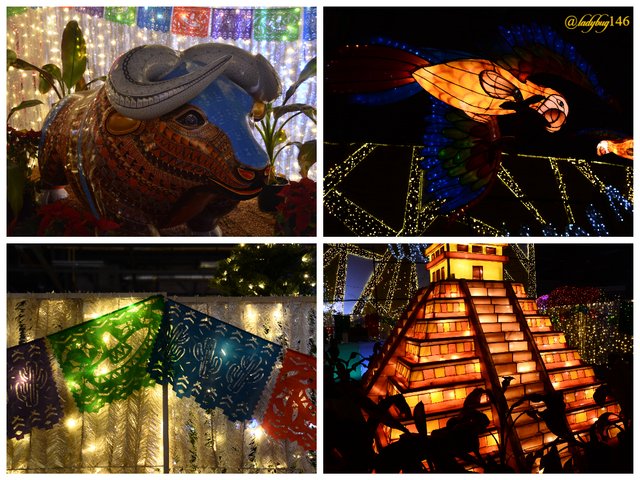 I could have stayed in Mexico forever but I hear the Netherlands has a world class tulip festival that gets pretty lit and tic-toc the clock was ticking better get going! When we arrived at the old windmill, the tulips where in full bloom as expected, one could say they had a certain glow! I actually enjoyed the simplicity of this one. In front of the mill, there was an over-sized traditional shoe to sit in as a designated selfie area with tulips along the fence as a backdrop.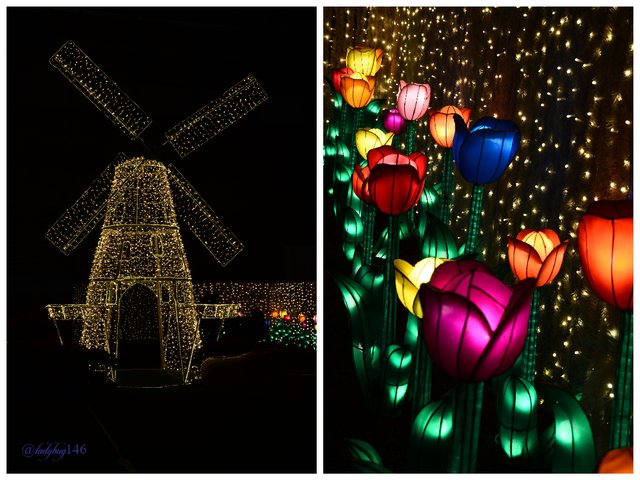 Being French, I had to go back to the country of my ancestors even if it was just make belief, it still had the Eiffel Tower and l'Arc du Triomphe...who can resist! Vive les gillet jaunes! Is that still a thing? The wonders entirely built with white lights were my favorite, pretty impressive the craftsmanship that went towards creating such complex light structures even their size. All the wonders where much taller then us with some being able to walk in for selfies. At certain angles, some would blend into the background of others adding dept to certain designs within the lights that would easily be missed. The little squares and hearts that are a different color behind the Arch in the double picture are suspended light frames made for more perfect selfies, it's a busy corner but there is 3 walls full of frames, enough to go around.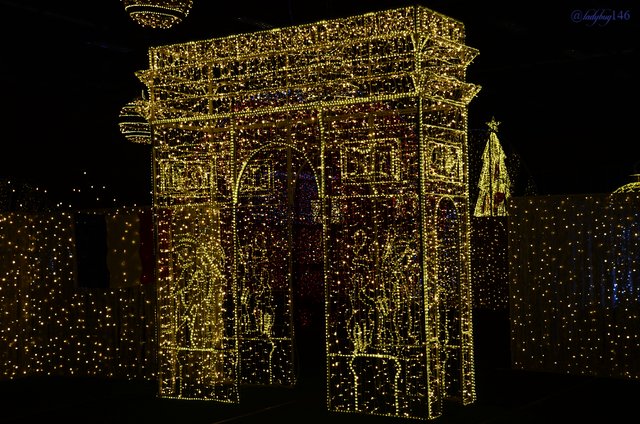 Shot 1/100 sec. f/9 34 mm, ISO 400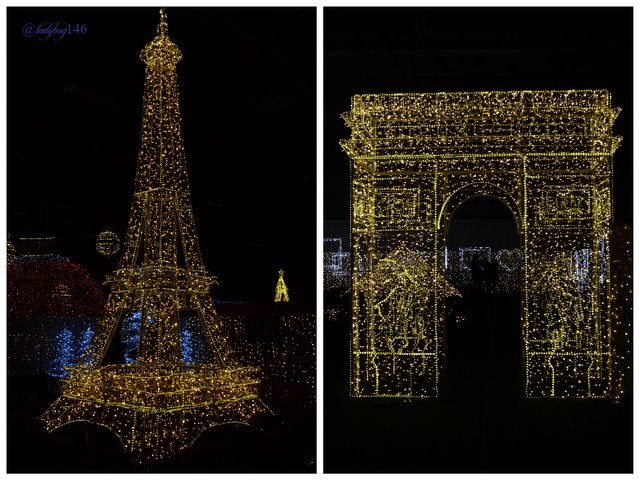 Besides all the illuminated fun, it may have not have been of any interest for me but for those of you with small children, especially girls, the room was filled with just about every Disney princess you can name roaming around waiting to pose for a picture to take it that extra notch as far as special holiday experience for a child. All this sensory overload was getting to me and needed to re-balance my energy, what better place than take a walk to India and visit the most beautiful palace of them all...The Taj Mahal! This next piece is the reason I wanted to visit Glow. The large palace was made entirely of white lights, every angle it changed as the lights from the towers blend in to one an other. The structure was surrounded by foliage to mimic the garden with surrounding arch pathways.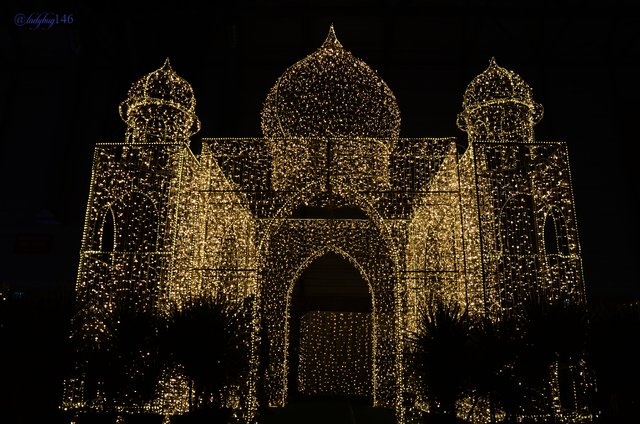 Shot 1/100 sec. f/9 18 mm, ISO 400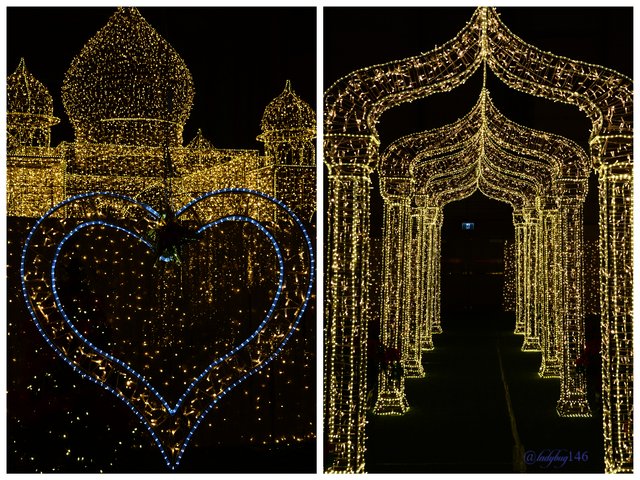 After I lightened up in India, I had to go back to Europe, I couldn't leave without seeing the London Bridge and Big Ben. I hear the Ferris wheel is quite the sight! The land of my commonwealth brothers across the pond was pretty busy for most of the night. Don't expect to take pictures without random people in it. Britain and India were across one an other and by far the 2 busiest locations, no wonder these 2 were my favorite as well. Just the size of the sculptures alone was impressive. Best bet, near closing time after some of the crowd has left there is a better chance but that's still slim to none.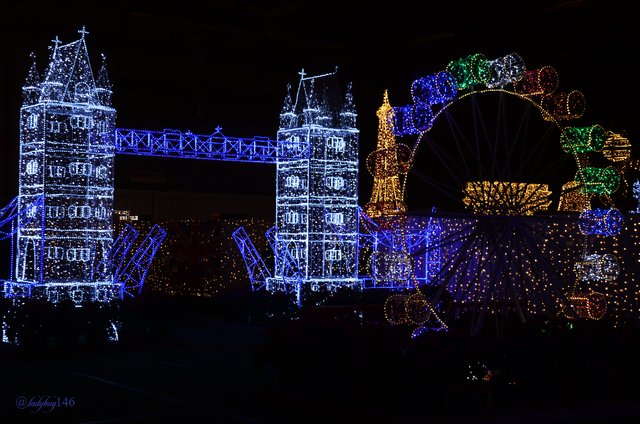 Shot 1/80 sec. f/8 34 mm, ISO 400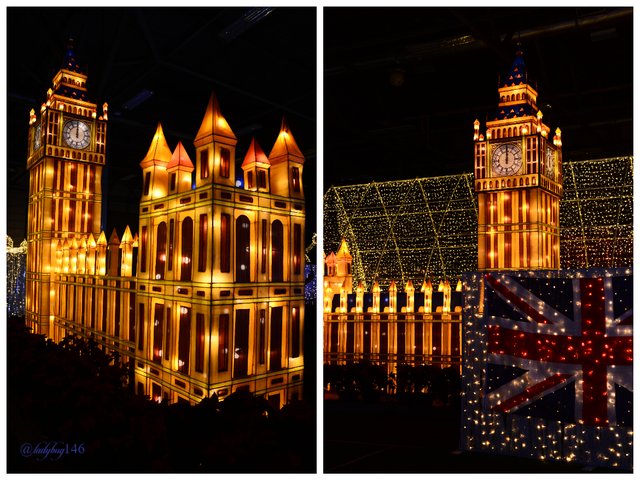 After all this travelling, I still felt like something was missing. I needed to get more cultured, last but not least China!! All the dragons are getting fired up for the Lunar New Year coming in the near future some have said, I had to see it for myself, besides how can I turn down the golden archways and the zen lotus ponds. The China exhibit was pretty special, it was built differently then the rest, silk type glowing objects were the main focus, floating fish among the lotus pond were laid out along the lighted fence creating a path to the golden archway that eventually led out to a giant dragon display. Happy up-coming Lunar New Year China!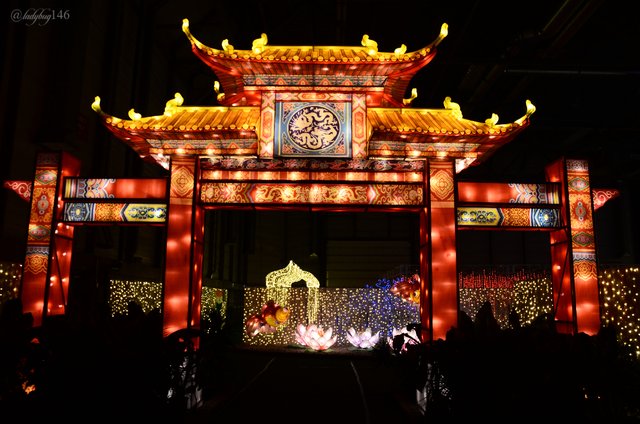 Shot 1/60 sec. f/8 18 mm, ISO 720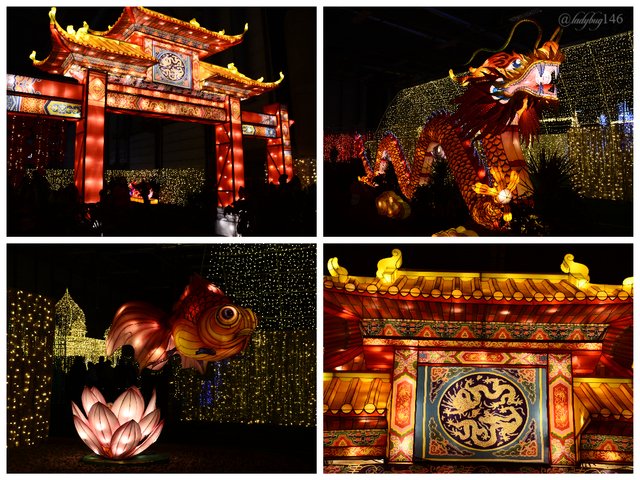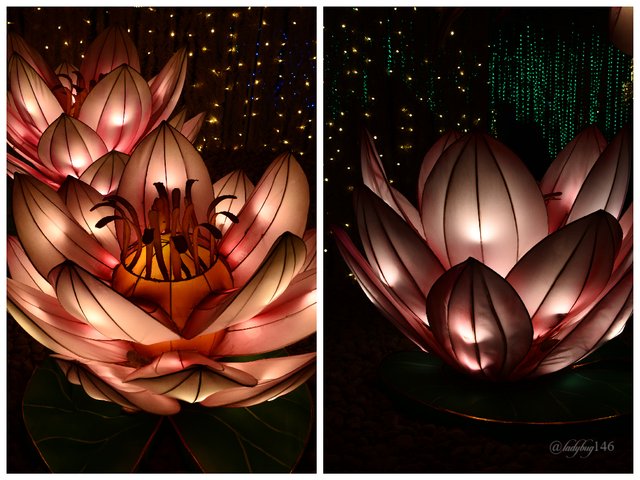 This light festival is INSANE, it blew my mind. Would I visit again? Heck YEAH. The best part? It's indoors! This was my first time attending anything this festive. There was so much more but I can't show you everything it was over the top so well done by the Glow Garden team. It was an enjoyable event and I wish I had more time to spend doing abstract photography. There was 2 more things I wanted to show before I go. The big heart, you will have to fight your way into that one to get pictures. I tried all night, waited in line, then everyone cut in, then waited in line some more, real frustrating picture to get. That's about the only thing I have to complain about but that's minor and to be expected given the amount of people there. For that reason, if you are taking this on as a photography project, allow a lot of time so you can wait for that half of a second that an area empties enough to take a decent photo. This is what I think of this experience: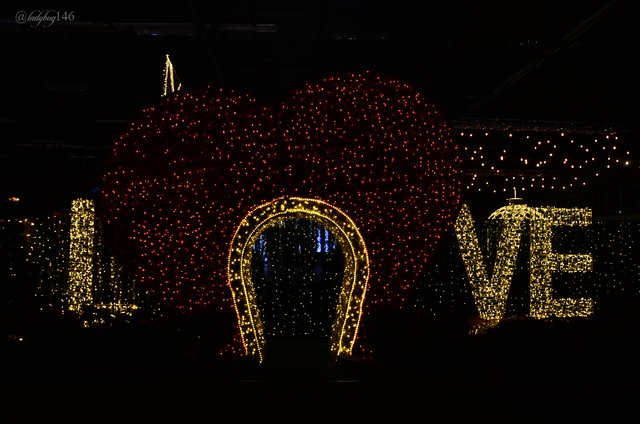 Shot 1/60 sec. f/8 18 mm, ISO 560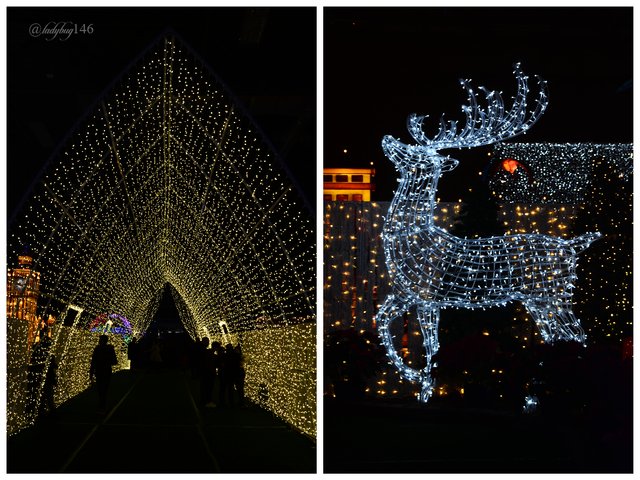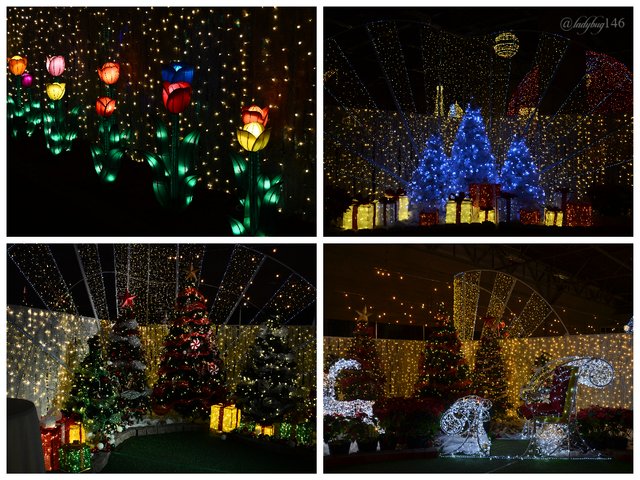 All images taken with Nikon D7000 paired with Sigma 18-200mm lens.