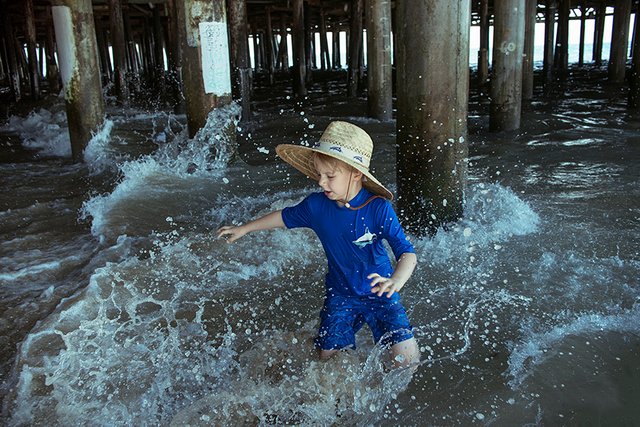 Late night Steemit post after a long day. We're back at the estate in La Cañada. @vermillionfox and I are exhausted. @guthrie has been passed out for hours. Earlier this year, February, we brought @guthrie to the Santa Monica Pier. His first time seeing an ocean […he's a landlocked Minnesota kid]. He was jubilant and overwhelmed, even though the weather was cold and the sky was grey. You can read about that trip in my previous blog post titled, "Los Angeles". 
Today, the weather was clear, sunny and in the 90º's. I've been trying to sit and work for days. I desperately need to edit, but logically, it's Friday. If we're going to fit the beach in during this trip, it made more sense to go today while "most" of LA is still finishing the work week. I decided to put the edits off until tomorrow. We packed up, made a quick stop at Grand Central Market downtown for pizza, bento and tacos […the market is a giant international food district], then continued our journey to the pier.
On the drive, I saw a sign for La Brea. I asked @vermillionfox if we should stop so @guthrie could see the tar pits. We did, and he was immediately turned off by the smell. He likened it to some of the pollution we deal with in Minneapolis, disregarding the historical significance of the attraction. He felt bad for the mammoth sinking in the tar pit as well. I struck out as the family tour guide, but it was nice for me to reminisce. One of my first shoots in LA happened at that very museum. I've come a long way.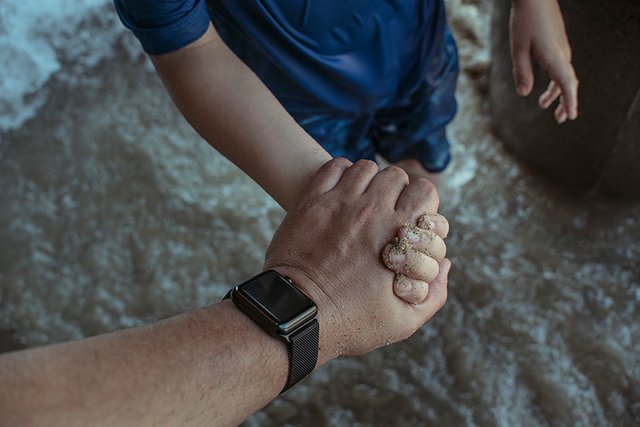 Onward, and we finally arrived at Santa Monica. We parked and made the walk over the bridge, down in to the sand. @guthrie began pulling ahead of us, captured by the awe of the pacific ocean. He got close, allowing his toes to touch the water for the first time since February. A little more confidence, he waded in slightly deeper, until a wave crashed and knocked him over. He scurried back up the sand trying to regain his composure. Excited, smiling, and obviously terrified.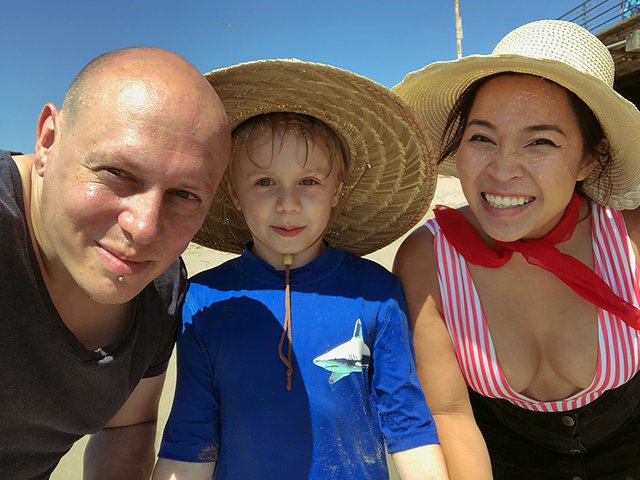 He brought up Finn Human from Adventure Time and his irrational fear of the ocean. He would tempt the waves by getting close, then try to run away before the crest. Sometimes he got a way. Sometimes he didn't. I loved seeing completely overstimulated. His brain barely able to process his surroundings. We stayed for two hours. We eventually left, hot, thirsty and covered in sand. We walked around the pier and visited the aquarium under the pier. For another two hours, @guthrie touched urchins, starfish and crabs in the petting tank area.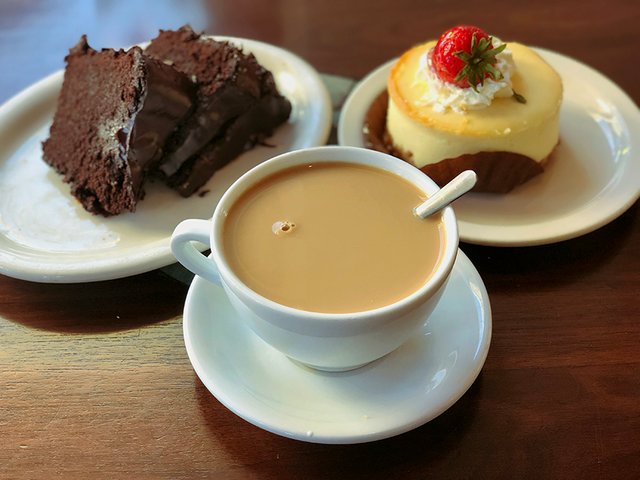 Caught in traffic now mid-LA-rush hour, we stopped at Urth's Cafe in Santa Monica. I've enjoyed coffee and pastries at their Pasadena location. Unfortunately, as good as the desserts were, this clearly wasn't a "work spot". @vermillionfox and I wanted to write our Steemit posts while traffic died down. We made our way to another coffee shop, Coffee Connection, just three miles away. I took care of work phone calls, she wrote and we all charged our electronics. We made it back to Pasadena late, showered and we're just now ending our day.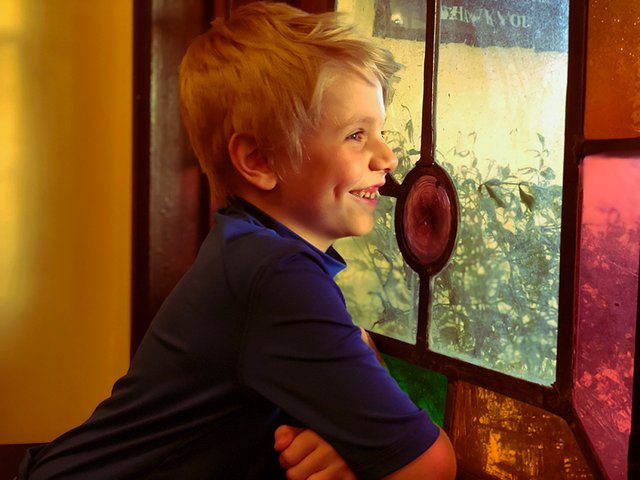 Thanks for reading. For more photography, travel, illustration and the stories behind the work, follow me here @kommienezuspadt. Good night, Steemit!