Gates of Heaven
GATES OF HEAVEN-Lempuyang temple in Bali
Pura Penataran Agung is located on the slope of Mount Lempuyang 600 metres (2,000 ft) high above sea level.It is one of the scared and naturally blessed place in the world. Lempuyang also known as Mount Lempuyang Luhur, is one of the most sacred natural points in bali,Indonesia
The whole Lempuyang mountain was divided into three sections. the base of the mountain is known as Sang Ananta Bhoga.The middle part of the mountain is known as Sang Naga Basukih and the top of the mountain is known as Sang Naga Taksaka and is considered as mount of Hindu's lord Shiva. Lempuyang Luhur is the most sacred place in the whole temple.
The temple compound is divided into three areas: the outer sanctum of the temple, the middle sanctum, and the inner main sanctum. Entrance to the outer sanctum (which is also called jaba pisan) is marked with a white-painted candi bentar split gate.
Entrance to the middle sanctum (which iis also called jaba tengah) is marked with three white-painted paduraksha portals. The entrance to the right is used for exit while entrance to the left is for entry . The central door is usually closed during the noormal time and is only opened during the pura's main festival.
On the uppermost level of these is the statue of Krishna, the worldly form of Vishnu. Sculptures inspired by the epic of Ramayana, e.g. of Arjuna, Bima, and Yidhistira.
festival -The piodalan or puja wali festival of Pura Penataran Agung is held once every 6 months every Thursday or one day after the Galungan festival.
Pic credit -denis stever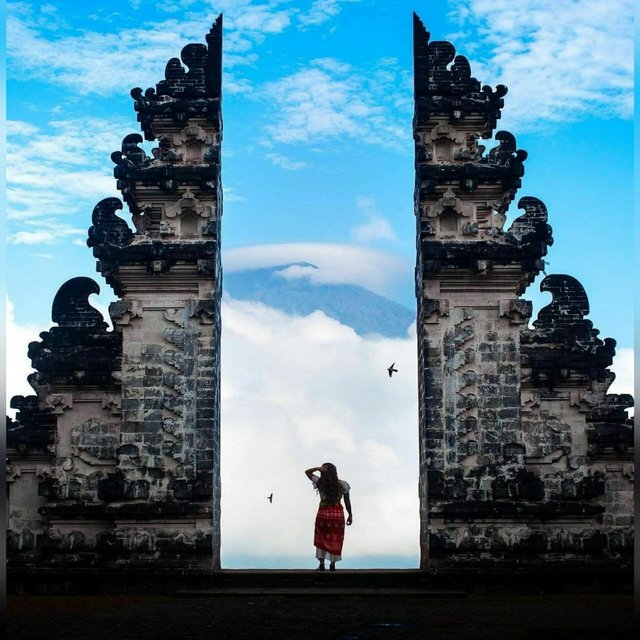 Posted using Partiko Android