Back in July of 2017, I stepped foot in Glacier National Park for the first time. Not only that; it was my first time in Montana as a whole. If there's one takeaway that I got from visiting Montana, it's this: I want to go back.
Thinking back on it, my idea of Montana before visiting was very wrong. I thought it was only flat, brown fields, as far as the eye can see. Oh man, how I was wrong. While that may still be prevalent, Glacier National Park is the complete opposite.
I always like to bring up Glacier NP when someone asks me what my favorite place is, mainly because not many people know anything about Montana's landscape (at least coming from the south). One experience that really solidified its place as my number one location was a hike to a glacier that I went on with my brother and dad.
If you know anything about Glacier, chances are you've heard of Grinnell Glacier. It is quite popular, and for very good reason.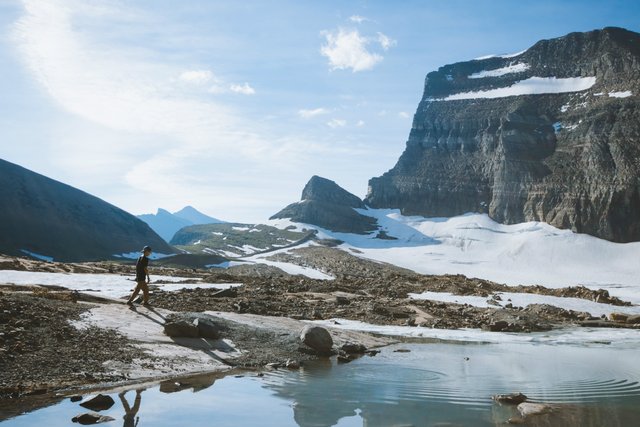 Looking at the Trail
The Grinnell Glacier trail is located in a section of the park called Many Glacier (pretty sure that name has something to do with the many glaciers in that area). Many Glacier is on the east side of the park, but in order to get to the area, you have to enter Glacier NP through a different entrance. On a map, if you're looking at the East Entrance into Glacier, look north towards the town of Babb, and then west to the edge of the park. Right on the east edge of Lake Sherburne, the entrance to Many Glacier sits. If you were staying on the west side of the National Park, the drive to this entrance might be more than you bargained for. Staying on the east side, however, allows for a much more manageable travel time.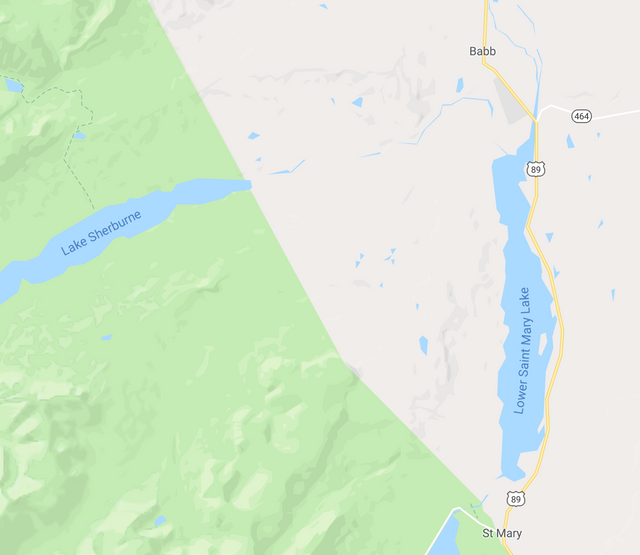 As you drive down Many Glacier Rd, you will eventually pass the Many Glacier Hotel. Driving just a half mile past this hotel, the turnoff for the trailhead will be on the left.
The trail to the glacier ranks as a medium difficulty, in my opinion.
Grinnell Glacier Trail is an out-and-back trail, meaning the way you head out is going to be the same way you come back in. The total mileage is about 11 miles, and the average elevation gain per mile is around 484 feet.
However, there is an option that cuts off about 3.4 miles of that total roundtrip mileage. The trailhead begins near the edge of Swiftcurrent Lake, and when the trail leads you to the shore, you have an option of taking a shuttle ride across both Swiftcurrent Lake and Lake Josephine. We did not take up that offer, because we both didn't want to spend the money, and also wanted to experience the entirety of the trail.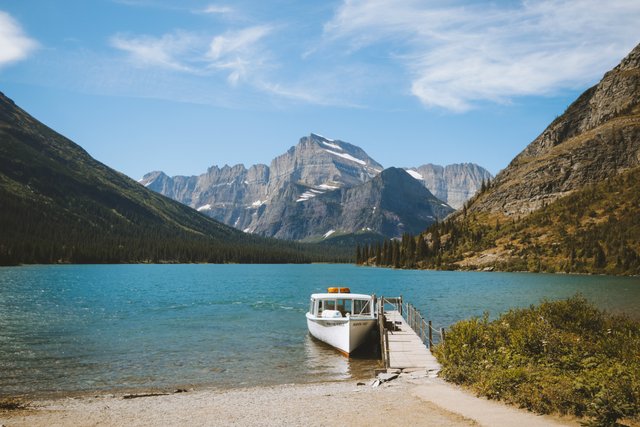 The time it takes for the shuttle to get across Swiftcurrent is about 8 minutes. At the edge of the shore, the shuttle will then drop you off, and you have to walk about 0.2 miles to the next shuttle on Lake Josephine. It is a steep 0.2, but you'll get to rest soon enough on the next boat. The shuttle travel time to get across Josephine is about 12 minutes. When you hop off the last shuttle, there's a trail to the right that ends up meeting with the main trail.
After another 3.6 miles, you'll be looking over the majestic Grinnell Glacier.
In my opinion, the shuttle really does not seem worth it. While the shortcut may seem worth it if it shaves off over 3 miles, the section of the trail it avoids is basically flat the entire way. This is why that mileage number can be a bit deceiving. The first 1.7 miles of the trail went by faster and easier than many other trails I've walked before.
Here's a link with all of the information for shuttle times, pricing, and dates. A reservation is required at least one day in advance.
So, it's up to you to decide the best course of action. If you're a capable hiker, I recommend saving your money for some other activity that Glacier offers.
My Experience on the Grinnell Glacier Trail
I'd like to start this off by explaining that we happened to be visiting the park at it's busiest time of the year. Mid-to-late July is a beautiful time to visit the park, but it just so happens that everyone in existence wants to experience that nice weather (weird, right?).
It's because of this that we made the decision to get on the trail as early as we were comfortable with. We were hoping to have it to ourselves most of the way up, at least. Even if you happen to not be going during a particularly busy time, I still recommend going early. Not only will you avoid other hikers, but you'll also have a higher chance of seeing wildlife.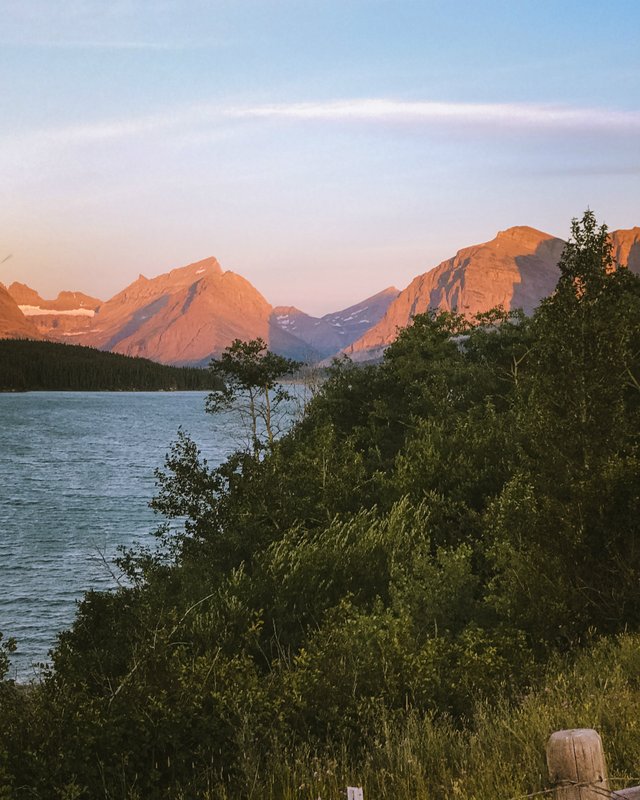 The drive to the trailhead was a beautiful one. Right as we entered the park, meeting the edge of Lake Sherburne, the light of the sunrise mad the mountains glow a bright orange. I could've stood and watched the still water and stoic mountains for a lot longer, but we had someplace to be.
We found the trailhead with little problem, geared up quickly, and began hiking the trail, not another soul in sight.
While we knew about the shuttle option beforehand, we didn't even think to check how early it started. It was a good thing we weren't planning on taking advantage of it, because the first shuttle doesn't even start until 8:30 am. Keep that in mind when planning this hike. If you want to go early, the shuttle option isn't available for you.
The long route around the lakes went by surprisingly fast. I was full of excitement for the morning, ready to see a glacier up close for the first time. At one point along the trail, right on the west shore of Lake Josephine, we had a bit of a scare. I was walking at the back of our little pack, my dad was in front, and my brother was in the middle. We were all in a focused state of mind, determined to get past the flat part and into the more exciting section of the hike. All of us were looking where we were stepping, keeping up a fast pace. All was calm around us, and I looked up from my feet to soak in the stillness. As I looked upward, I noticed that something, something big, was standing on the trail in front of us.
About 15 yards ahead, directly on the trail, was a female moose.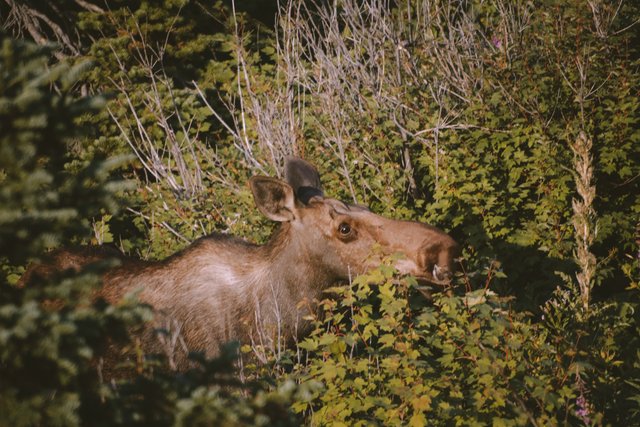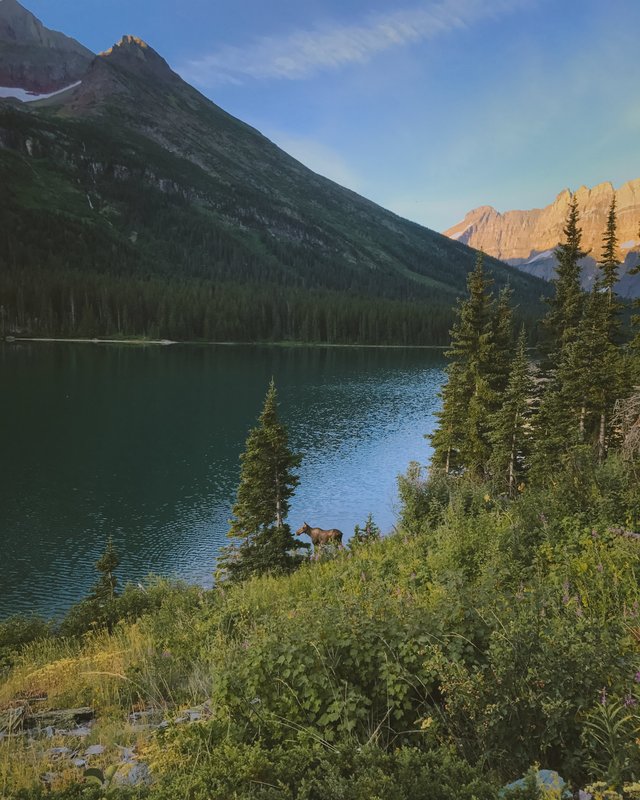 As I realized what was happening, I quickly yell-whispered (if that's a thing) to my dad to stop walking. All of us quickly halted, staring at the moose. We didn't move from where we stood for the next 10 minutes. The moose moseyed down the small hill to our left, heading to the lake's edge.
We were very lucky that she did not have a calf with her. Our experience could've been vastly different if she had. We simply respected her space and she respected ours, and we lived to tell the story.
Continuing along the trail, everywhere I looked was an example of pristine beauty. It sounds cliche, but this hike seriously left that impression on me.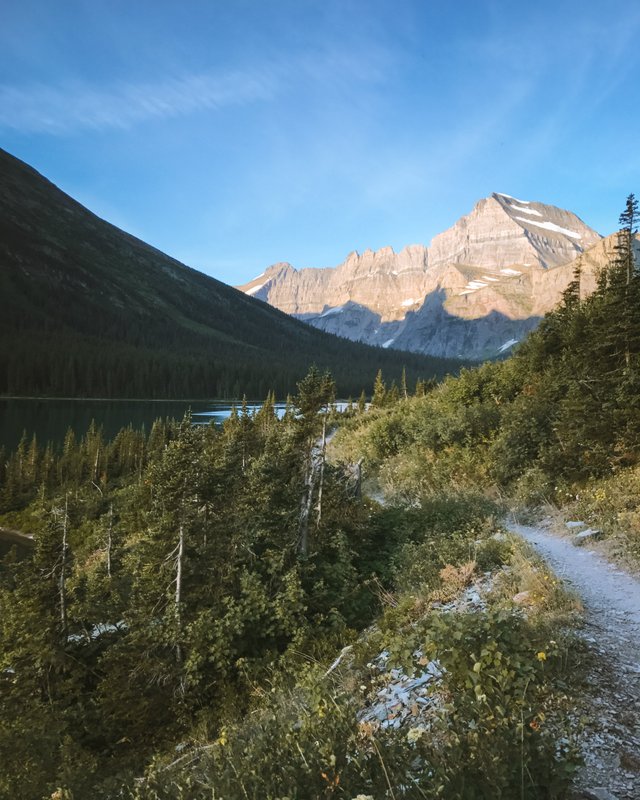 Eventually, the trail began to quickly climb towards our final destination. As we continued along, the views kept getting better and better. In my opinion, one of the best views in the entire National Park is of Grinnell Glacier Lake. There's a butte that towers behind the small lake, which is referred to as Angel Wing. The waters of Grinnell Glacier Lake are truly going to be the most beautiful color you've ever seen. Depending on how the sun is hitting it, the lake can be anything from a deep turquoise to a bright emerald.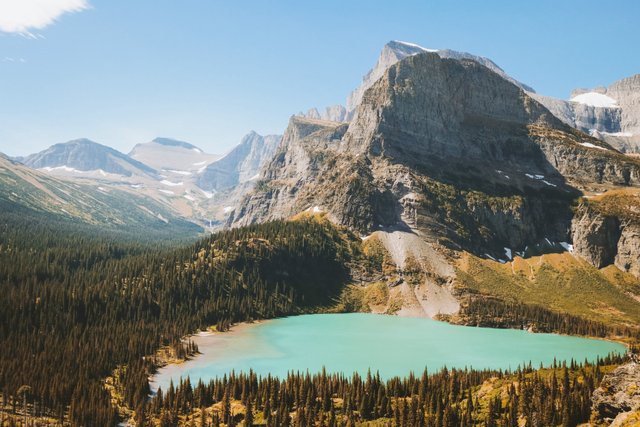 Walking a little bit further from this viewpoint, looking back on the trail allows you to spot three lakes, lined up in the valley: Grinnell Glacier Lake, Lake Josephine, and Lake Sherburne. Looking back brought a great feeling of accomplishment when I realized that we started the adventure way behind Josephine.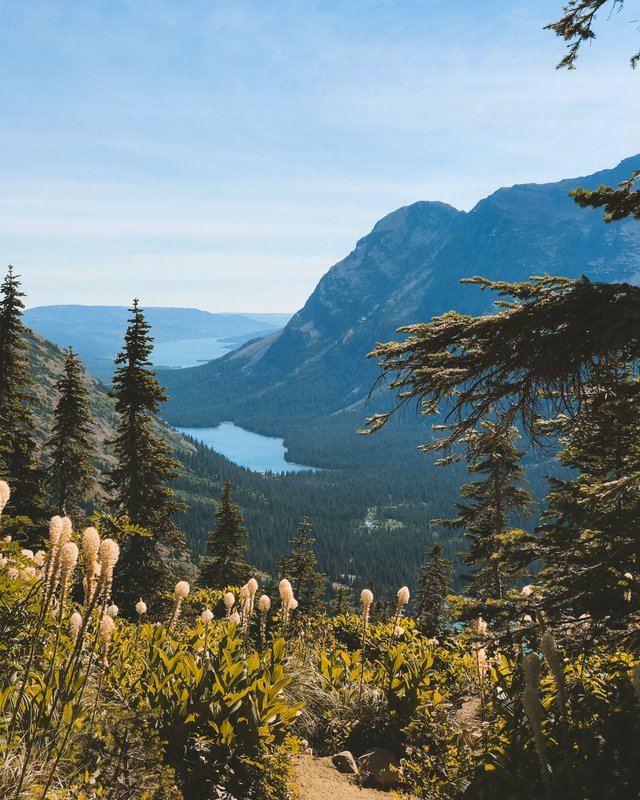 We were almost there.
But first, we had to get past a furry, angry, but frankly cute creature. A marmot stood guard on the trail.
He wasn't moving a muscle as we stood there, expectantly. It got to the point that we had to kind of urge him along. We weren't planning on waiting 20 minutes for a marmot to decide he was done messing with us. My dad stepped forward, still a fair distance away from the brown fur-ball. The marmot saw this as a kind gesture and quickly scurried off the path... I'm just kidding. He apparently took this as his cue to start walking towards us, seemingly not frightened in the slightest.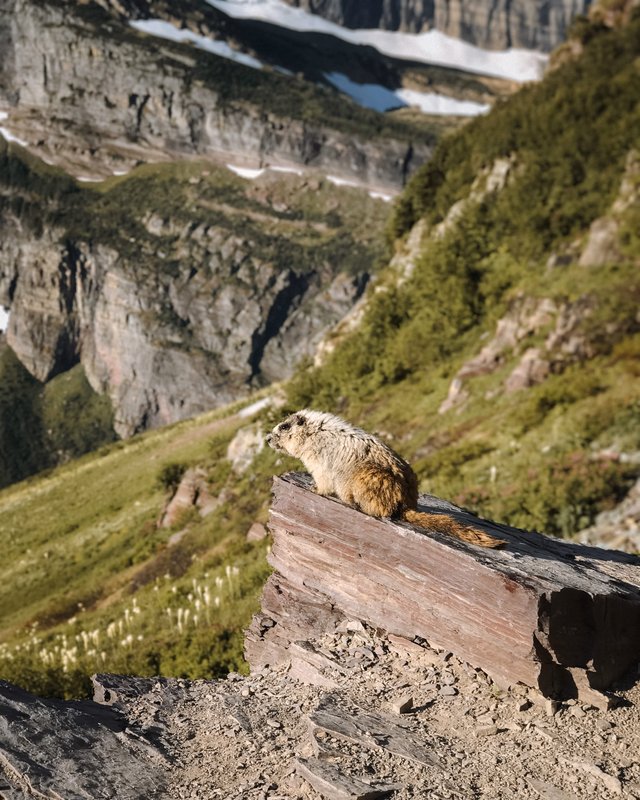 We stepped back, giving the animal some space once again. Eventually, the little guy got bored. He found a cozy rock to the left of the trail and hopped on top, laying down, but not quite relaxed. Not wanting to waste anymore time, we hurried along the marmot checkpoint. Even as we were actively trying to stay as far away as possible, we still went right past the bodyguard. I was sure he was going to charge at us. But thankfully, we walked away without any scratches (aka marmot kisses).
Pushing through the last bit of trail, we eventually reached the glacier we had come to see.
Grinnell Glacier rests against a large formation of rock, and covers roughly 152 acres (according to a 2005 study). Since the glacier has been rapidly melting over the past half-century, what used to been solid glacier in some places is now a pool of icy blue water, cold beyond belief. Had I been prepared, I might have attempted to jump in.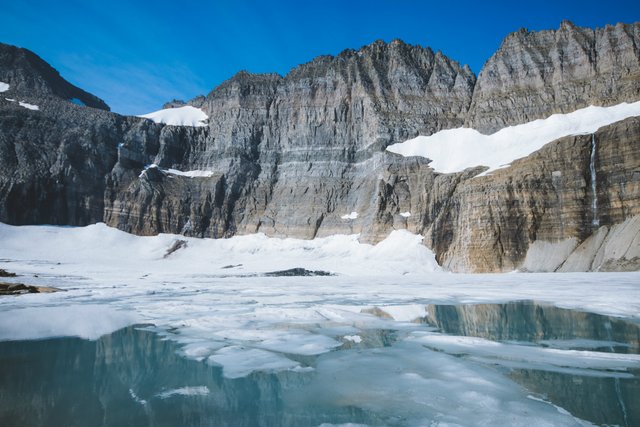 Sitting on the rocks, staring at Grinnell Glacier is without a doubt one of the coolest things I've experienced. For most of our time up there, we didn't see anyone else. We had a glacier to ourselves. Can it get any cooler than that? As far as I'm concerned, it can't.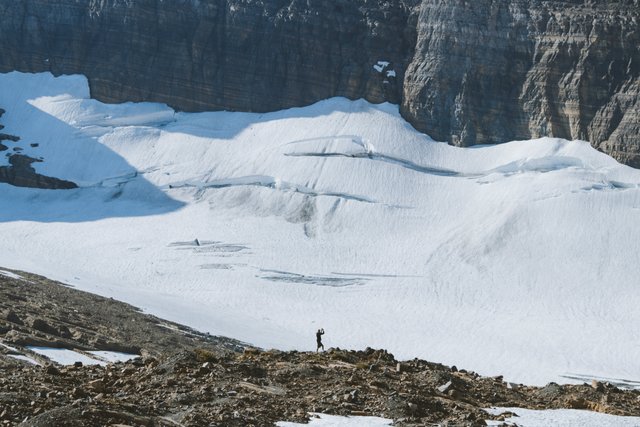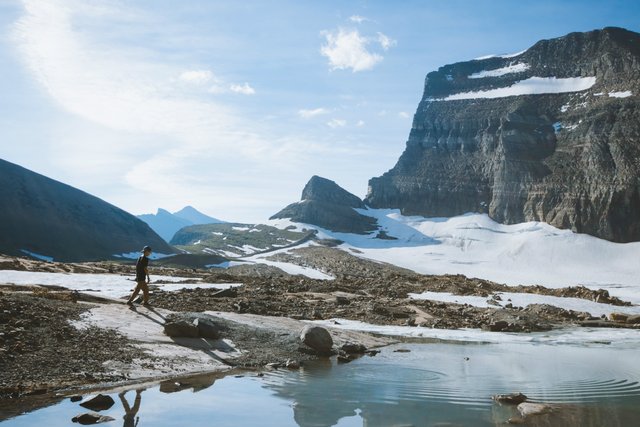 We stayed up there for probably close to an hour (we were having lots of fun). After we realized how long it had been, we reluctantly packed up and began the trek down.
The entire time we were hiking out, the only thing I could think about was the next time I was going to come here. And if you're anything like me, I'm sure you'll be feeling the same way too.
!steemitworldmap 48.761139 lat -113.729095 long Grinnell Glacier D3SCR
!steemitworldmap 48.761139 lat -113.729095 long Grinnell Glacier D3SCR