Valley Of Fire Outside Las Vegas Nevada Is AWESOME!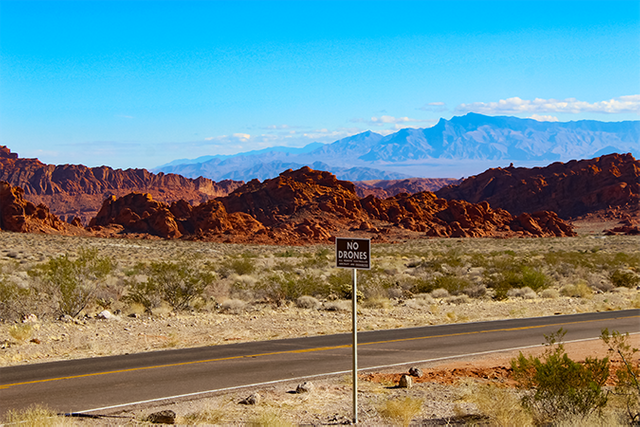 Beautiful Mountains and Amazing Desert Views...
Last weekend my friend Steph and I went hiking out at Valley Of Fire state park, about an hour north-east of Las Vegas Nevada. I'd never been before, and it was AMAZING! It's a state park and you have to pay to get in, but it was totally worth the $10 dollar price tag...
The main entrance guard station was closed when we go there, but there was a box where we dropped our entrance fee. Then we drove into the park and went straight to the visitor center (which was open) to get a free map - and hit the bathrooms!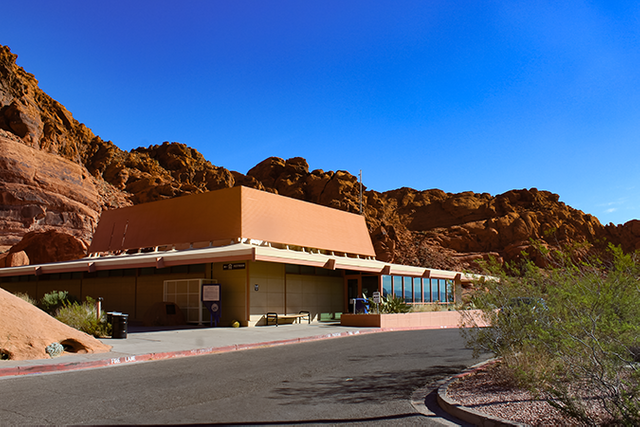 The visitor center is a cool retro-looking building and the people inside were really friendly. We hit the bathrooms, grabbed our map, and took off into the park. There are ten or eleven marked trails on the park map. We did three of them and it only took us a couple hours total (none of them are very long or difficult).
The trails are all really cool, but we had the most fun when we just took off on our own without a trail. That's when the real fun began! Be careful! It can get dangerous quickly, especially if you start to climb high into the mountains...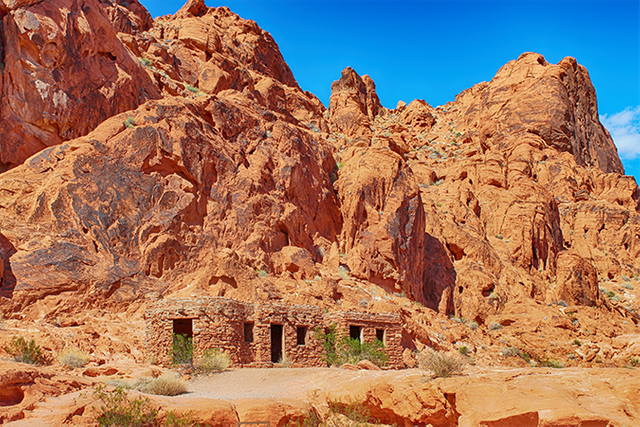 Our adventure began at the cabins. There's a little parking lot there and a pavilion where you can sit and eat a picnic or whatever. We hiked past the cabins and started climbing up the side of the mountain. The hike up was pretty easy and didn't take us very long, even though there wasn't really a trail. Once we got to the top, the view was AMAZING...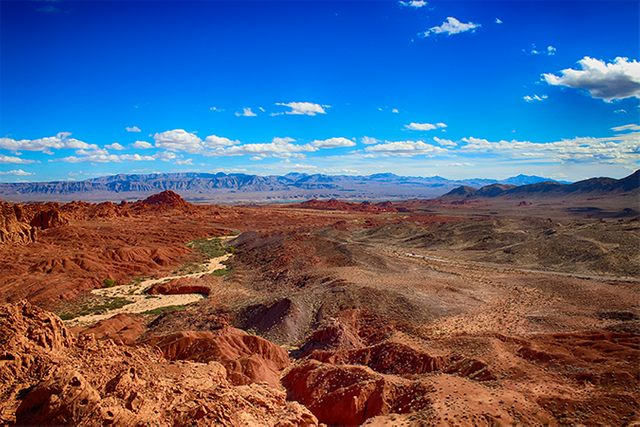 See what I mean! I guess there's a reason why they call it the Valley of Fire! The sky was incredibly blue and you could see for miles and miles. It was absolutely breathtaking. Here's a zoomed in shot of the same area...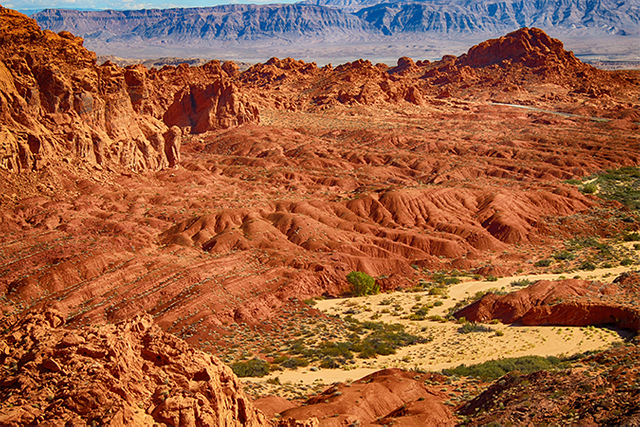 Notice the cool wavy hills? It almost seemed like waves on the ocean or something. It was just really really cool. I'm not a big fan of heights, but I'll put up with a lot of fear for a view like that! My friend Steph even got me to stand out on a little ledge for a few seconds to get this picture...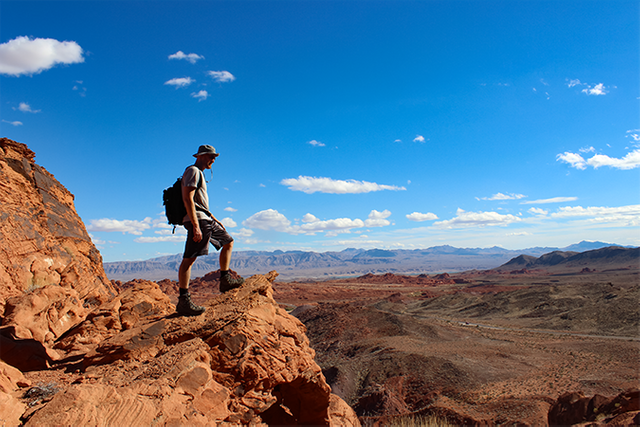 Yeah my heart was racing just a bit. I was up on that ledge for about 10 seconds and then I scurried back down to relative safety! lol It was totally worth it because that's a pretty badass picture...
After hanging out on top of that little mountain for a while we decided to head back down the back side and see what we could discover. It's weird how quickly the terrain changes. One minute you're in deep red rocks, the next there's strange striped white rocks everywhere. There's just so much to see!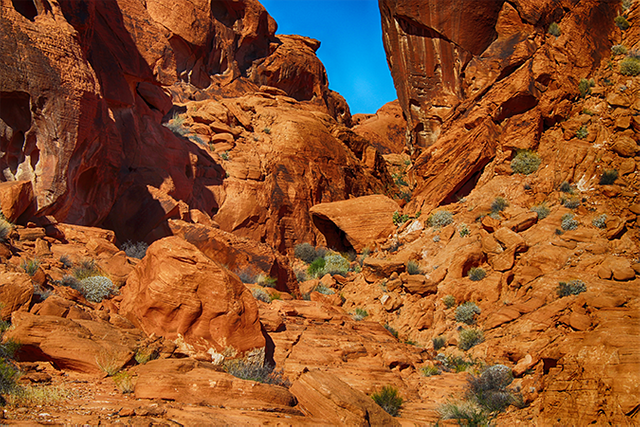 That rock right in the middle there reminded me of a covered wagon. It kind of fit right in with the desert all around us. I'm always imagining weird shapes in rocks that other people don't really see. lol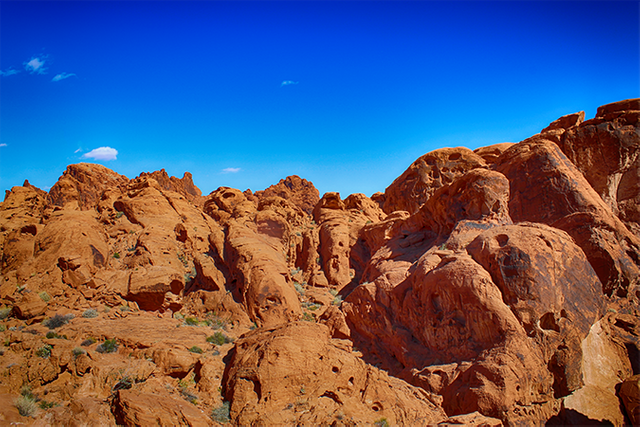 These rocks had all kinds of big pock marks in them. They looked kinda like windows. I imagined those rocks being filled with tiny rooms, like a whole city in the cliffs, but there wasn't anything behind the holes. Still, it looked pretty neat!
Soon the terrain changed on us and we started to see different colored rocks and cliffs. The dark red changed to white with really cool red stripes in them...and lighter oranges. The change was dramatic, and quick!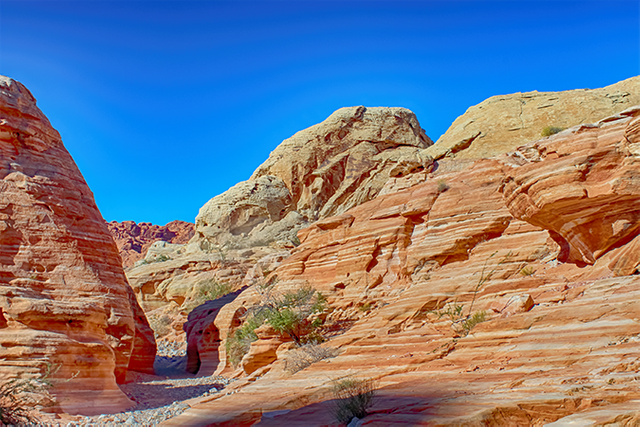 The ground became very gravelly and sandy. It was actually pretty hard to walk thru it, sort of like walking down a beach. I wear thick hiking boots that aren't very light, and it was tough to trudge through that stuff. After a while I was ready for another change of scenery! Or at least, ready to get back on solid rock!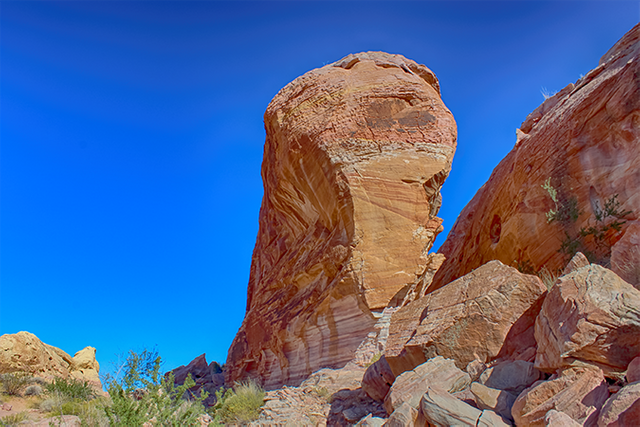 This big guy immediately reminded me of a giant thumb sticking up in the air. Whatdya think? I say it's definitely a thumb. It has that same sort of light color with orange or red stripes in it. The stripes aren't as pronounced there, but you can still sort of make them out.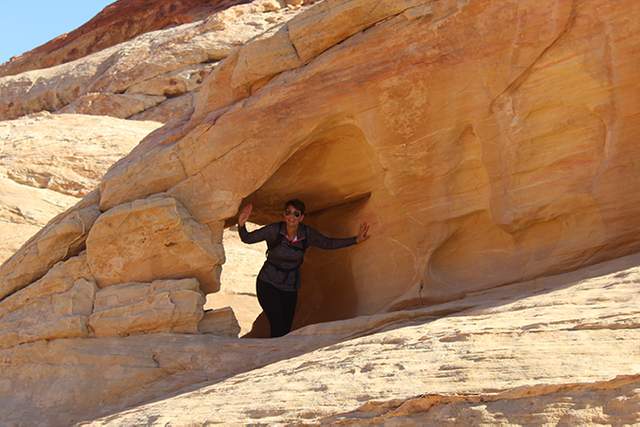 After a while we started clowning around a bit on the rocks. That's part of the fun I guess. Here the colors changed again and the rocks are almost completely tan/white. This is my friend Steph goofing around. I think she was just trying to find a little shade!
Finally we decided to head back to the car. We turned around and trekked back up to the top of the little mountain we had climbed at the beginning. At one point I looked down and saw the little outhouse by the parking lot. It looks so tiny down there!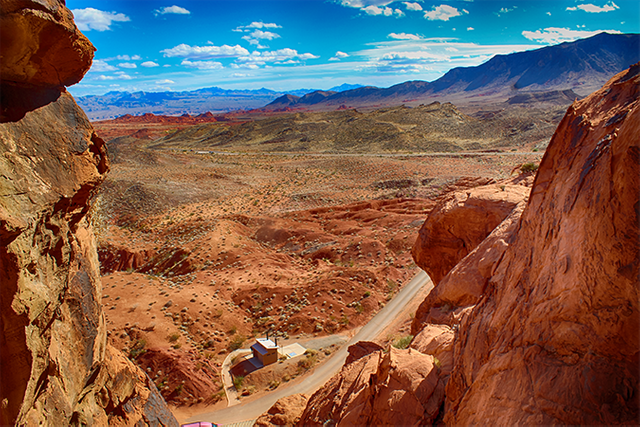 We had a hard time finding our way down from the top of that mountain. I could see the parking lot below, but we couldn't figure out how to get down there. It's really easy to get turned around when you're off the beaten path. We started climbing down this steep ravine and after about 20 minutes hit a dead end. It was a steep drop of about 100 feet or so to the parking lot.
We had to turn around and climb back up and find another way down. When we got back up to the top, we noticed a pretty CLEAR path down that took about five minutes. Doh! That's what happens sometimes! It was still pretty fun.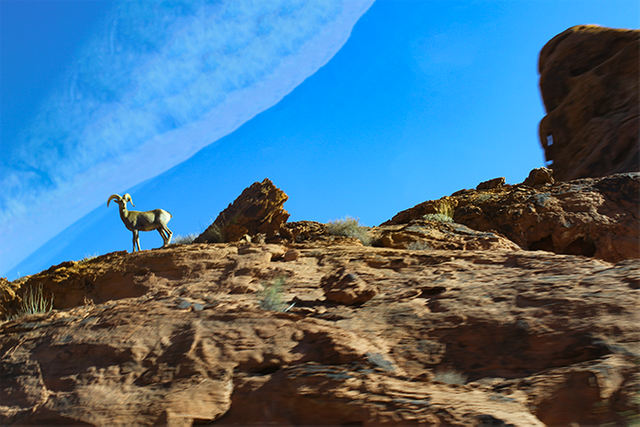 We finally made it back to the car and decided to head home. On the way out of the park I saw this mountain goat just hanging out. The picture is a little bit blurry because we were driving down the road when I took it - but it's still pretty cool! On the other side of that hill there were a whole heard of them sitting. I wasn't able to get a picture, but it was awesome.
Valley of Fire State park is definitely amazing. I HIGHLY recommend it. Even if you don't like to hike, just head out and drive through the park. It's incredibly beautiful and pretty close to downtown Las Vegas. It's like 45 miles or so, and it took us less than an hour to drive there.
When most people think of Las Vegas, they just think of Casinos and Gambling...but for those of us who live here, the mountains surrounding the city are what Vegas life is all about! Thanks for reading! Let me know in the comments if you like this sort of post, I've got tons more pictures from tons more hiking adventures!