First of all HAPPY NEW YEAR 2018! I wanted to write this right after my post about Hong Kong, but never underestimate how time-consuming the holidays at home are, right?:) Well back in my first HK-Post I summarized the beginning of my Exchange Adventure at the end of 2015 and how I even got to Hong Kong and why.
I want to start out with the typical sightseeing spots we checked of in our Must-See-List with fotos I made back then with an Iphone 6 and sometimes with a lend cam from my Uni, so at night some pics are a little blurry.
Sightseeing spots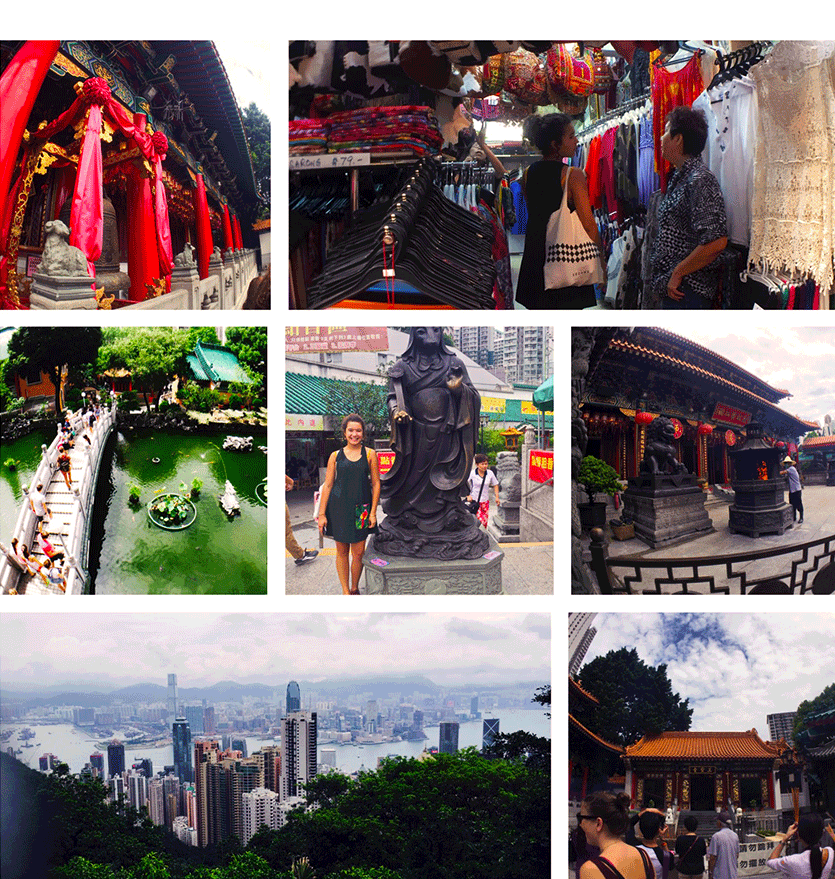 On the first trip for the exchange students, we went to the Wong Tai Sin Temple, Stanley Market and Victoria Peak to see the great view of the city: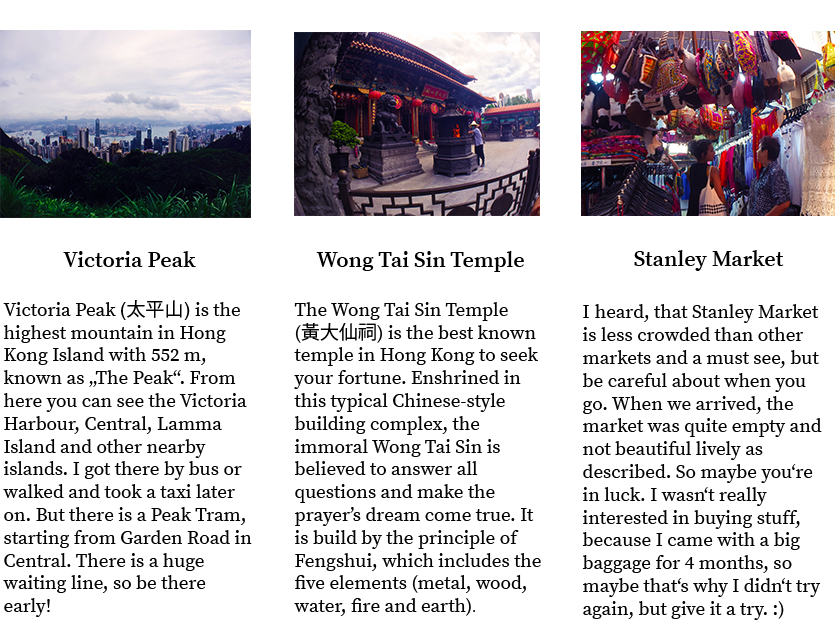 Skyline & Views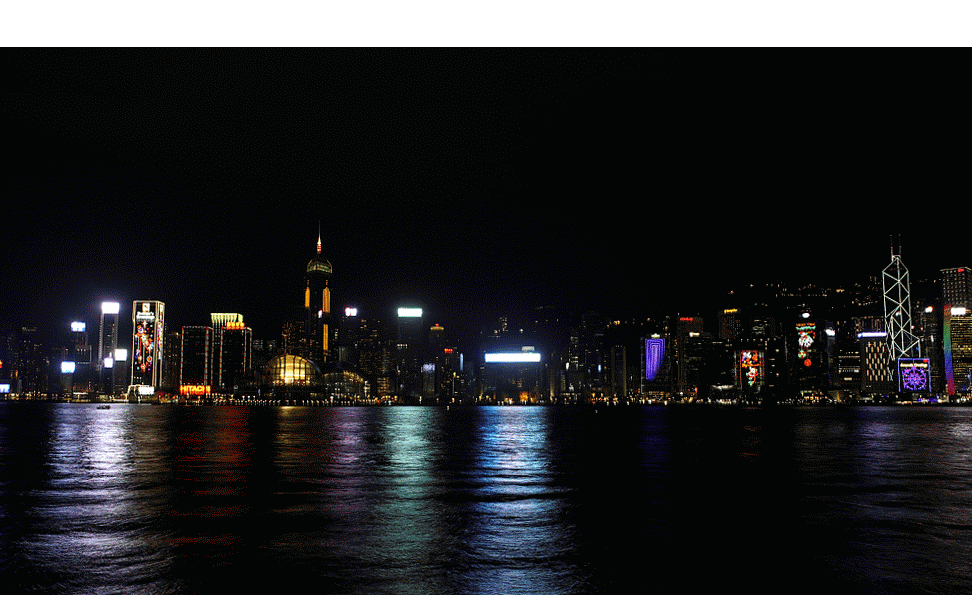 I gave a little tip at the end of my HK post about a great view from the Hopewell Center in Wan Chai. There are a lot of places to go: The Peak, many many maaaany Rooftop-Bars, Hong Kong Observation Wheel- just to name a few.
You can hike to different spots to see the city. I sadly didn't make it to Lion Rock, where you can get one of the best views of Hong Kong. I wanted to save it until @geronimo would come to visit, but in December we weren't really lucky with the weather and had no time otherwise:D I wanted to catch the sunrise or sunset and we were simply to lazy.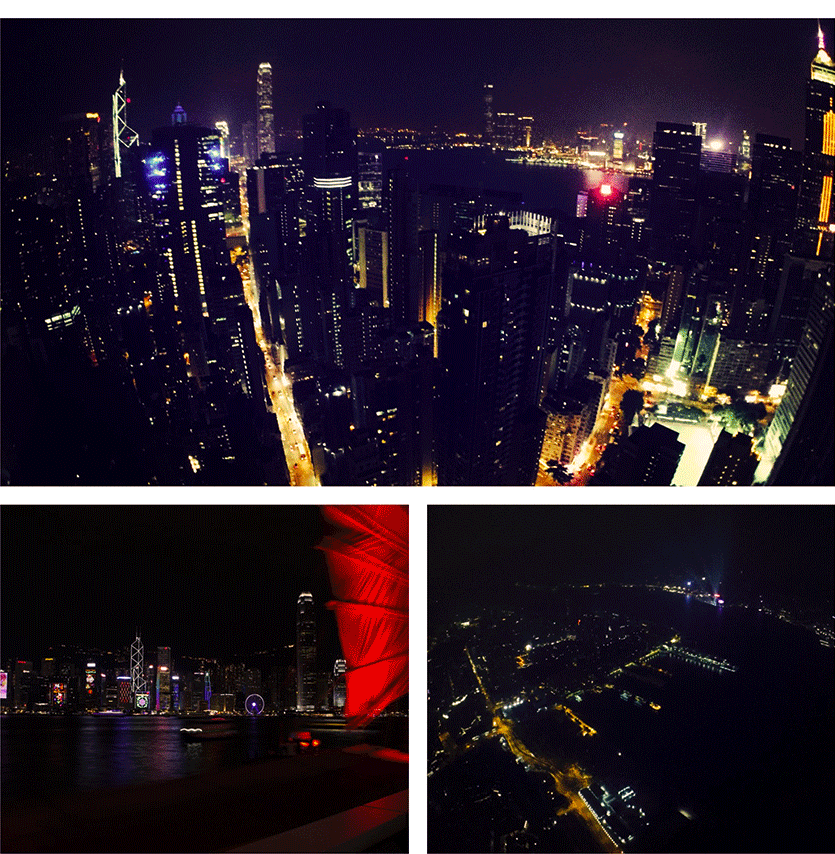 Islands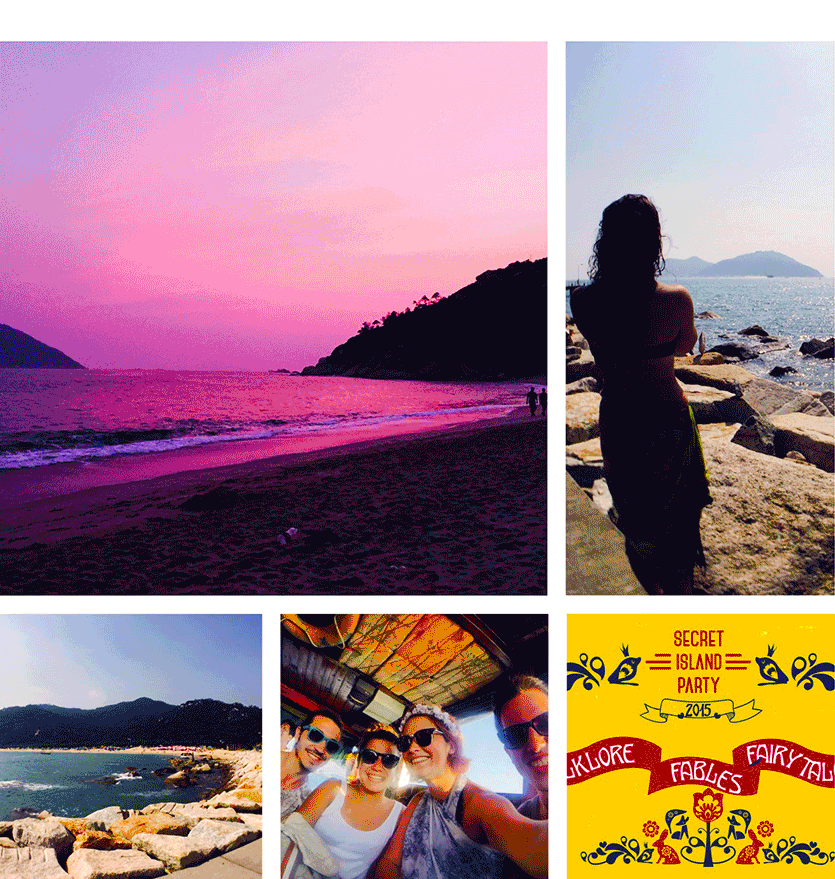 In the following months we went to Hiking Spots and Beaches to cool down from the heat.
There are a lot of different Islands to chose, taking the Ferry at Tsim Sha Tsui or at the Central Piers. But you can also take a bus to different locations and go by water taxi, which is always a little bumpy depending on the waves and the amount of people you're traveling with .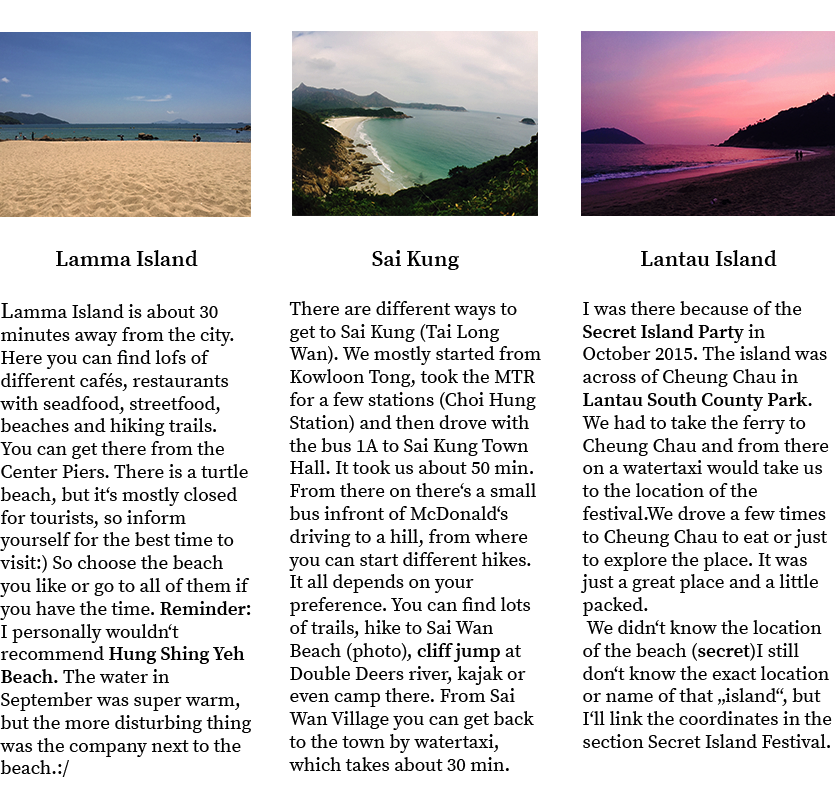 Markets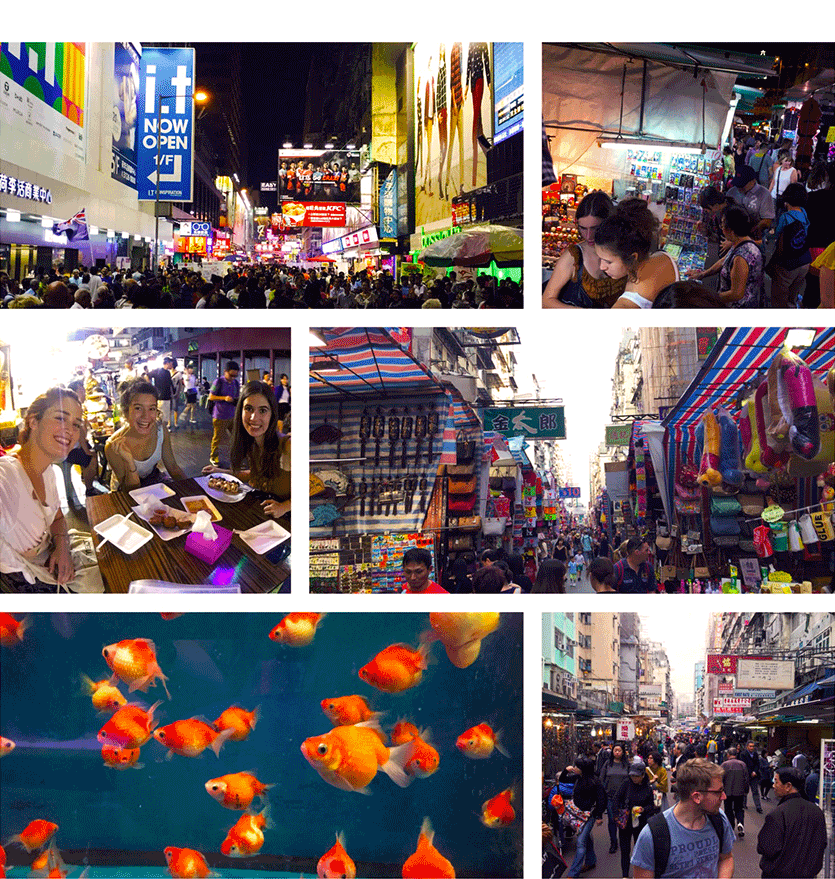 As for everything in Hong Kong you will find a long list of markets, night markets, malls....just everything your consuming heart desires- you'll find it en masse! I don't mean that in a bad way. I love food for instance and just enjoyed strolling around markets, even if I didn't really buy stuff there. To be honest, I didn't pack clever for four months and thought: "I am going to wear practical stuff- that's all I need!"- HA! Bad idea in my case:D It's so humid, so I always had to change my clothes after classes and I didn't have anything chiq or sophisticated to wear- I know that sounds girly, but it's true:D So you can shop clothes at the brand you desire near Central or go to different cheap malls.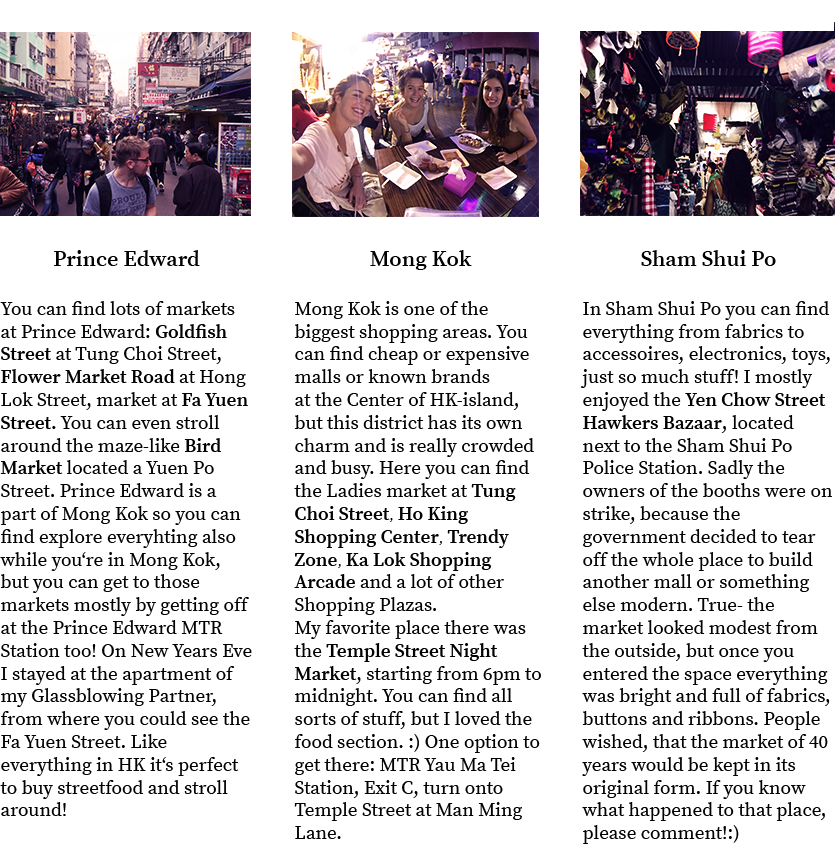 Nightlife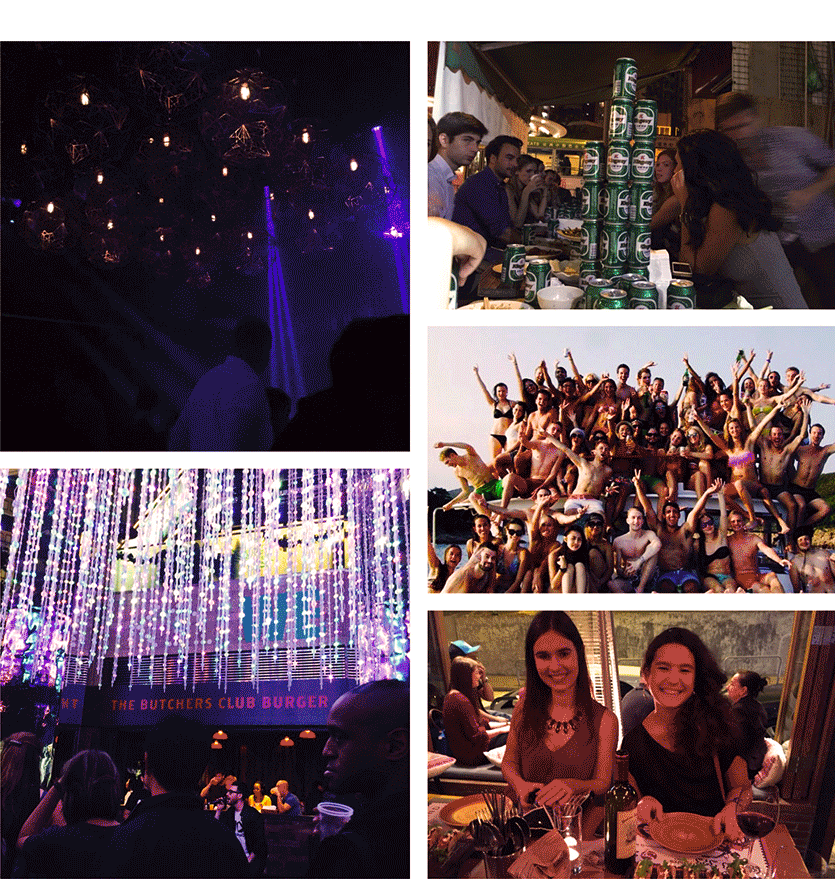 Of course it always depends on the mood and the music you are into. In LKF/Lan Kwai Fong there are a lot of different options to find the right club for you, but I heard it's quite expensive for men. Women mostly get free entrances and drinks, but there were days and special offerings from every club or bar. So definitely check that out before you go there with empty pockets. There is one thing that all clubs have in common. It's mostly packed! Typical for a city like HK. You see a lot of people in business clothing but also a lot of tourists, they are the majority of party-people there, but don't count on my word. It just seem like that for me, maybe things changed.
We sometimes went to this restaurant/bar first drank wine and ate tiny delicious tacos. It's super expensive there, so mostly we went to 7/11 bought a beer and then went to the club of our choice. This sounds like I party a lot, but I don't :D I just wanted to explore the city as much as I could for my exchange year and going out was a part of it! 。◕‿◕。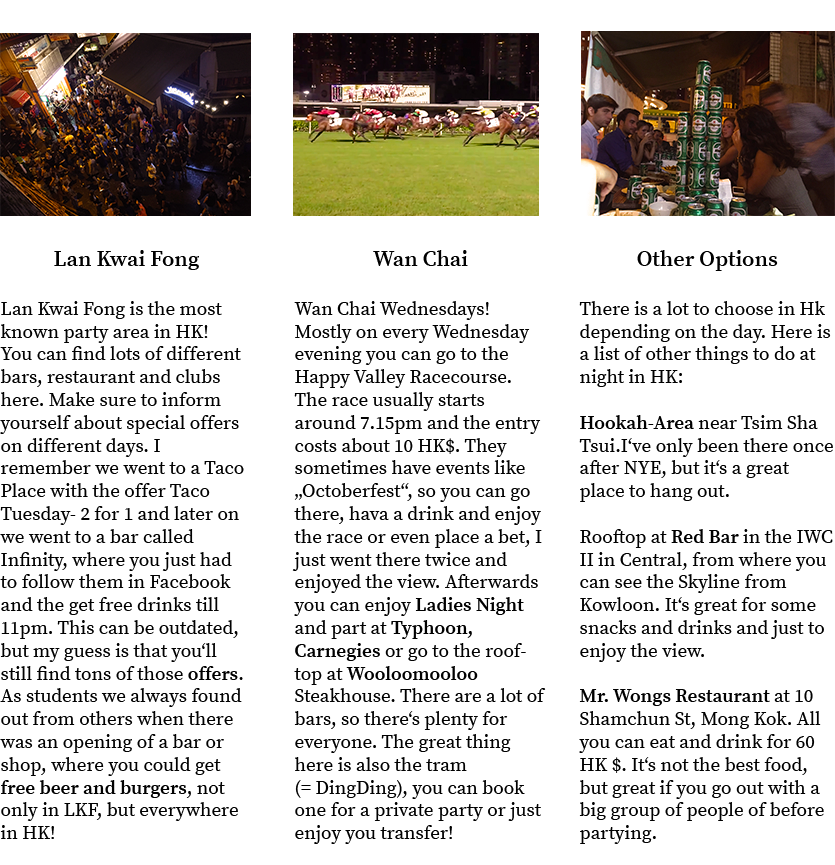 Secret Island Party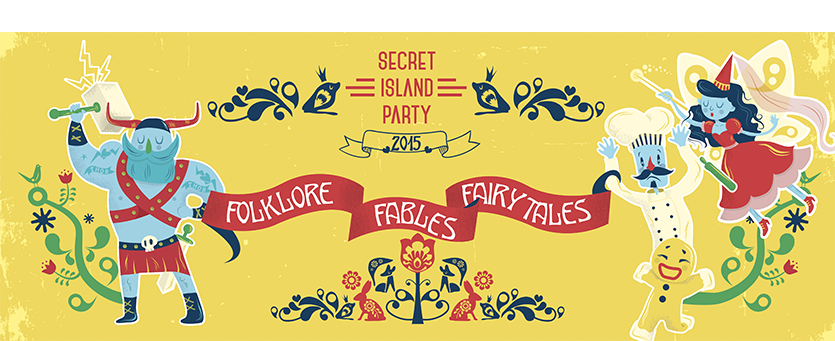 The video above from Team Hushup shows you the highlights of the Secret Island Party. I didn't really know what to expect. I just booked the ticket, made sure we had a tent and that's it:D I still don't know the exact name of the location. I guess Tai Long Wan Beach.... we just took the ferry to Cheung Chau and from there got a water taxi to the Festival. It was great! You could camp at the beach and there were lots of different workshops and activities. The overall atmosphere there was very laid back, the food was great and you even saw familys with kids. What I really loved was the Silent-Party option. I remember, that I lost everyone (it's tiny ergo not possible, but still:D) and walked up a tiny hill. I got headphones, layed down on one of the free mattresses and just gazed at the stars! One of my best memories:) That night somehow everyone got lost, which was sort of a good thing, because before we were 5 people sharing a 3 person tent! Sauna!!! I even got a small little scar as a souvenir, because I fell from the stony trail, which was a litte elevated from the ground, while I searched my phone in panic ( long and weird story, but I found it! :D ). In the end we found each other and had a great time. I will never forget this weekend and will cherish my tiny souvenir forever!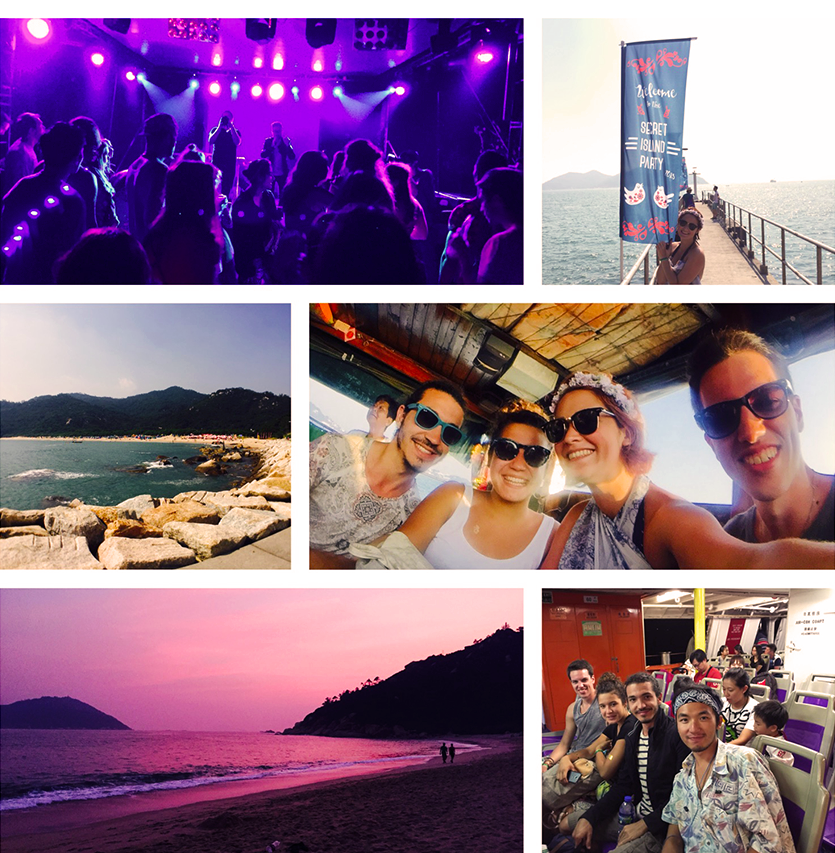 Food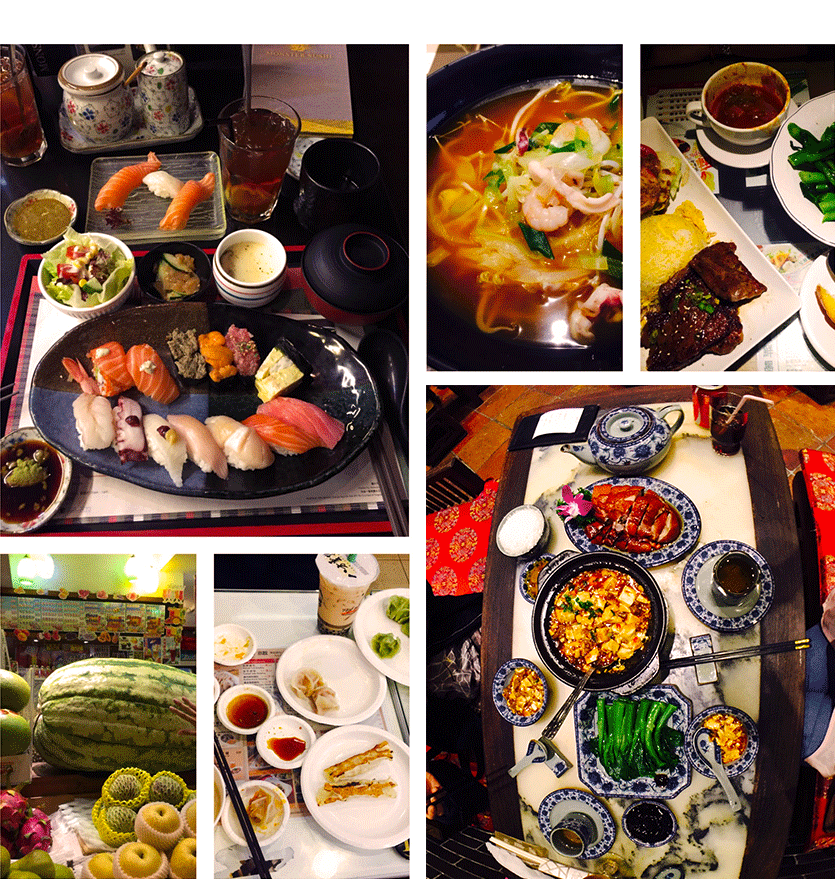 The food is so good in Hong Kong! There is so much variety of the cuisines! Thai, Vietnamese, Korean, lots of Burger Restaurants, different sorts of deserts, the best street food with Lobster balls, Siu Mai or Dim Sum. I miss it so much! The list of restaurants would never end, so just try out as much as you can and enjoy! The only thing I never could get used to was the smell of Stinky Tofu.
Last 24 hours in Hong Kong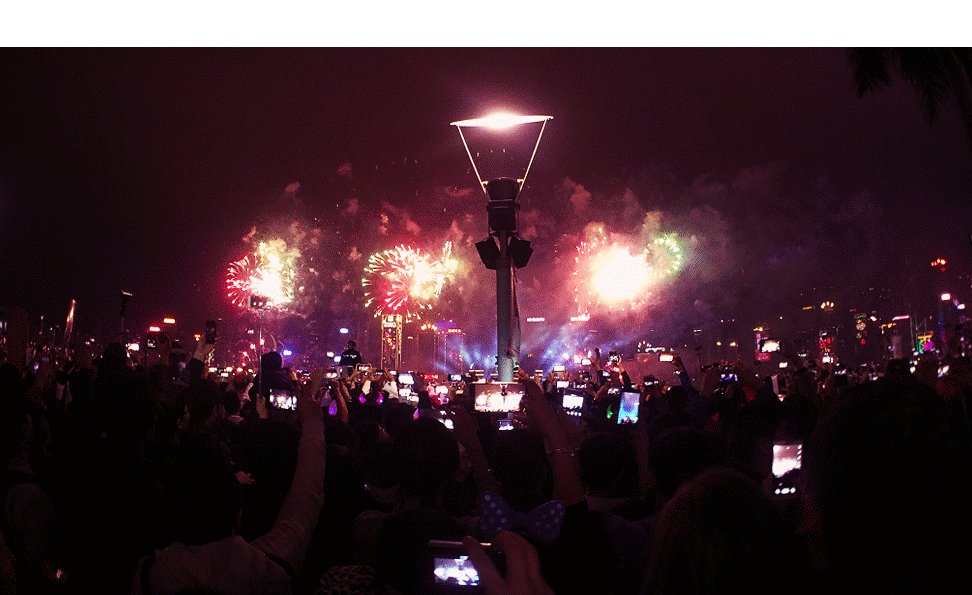 For New Years Eve, we decided to see the Fireworks from the Tsim Sha Tsui Promenade. At first we thought we could sit near the harbor, but had to leave and sat in the crowd waiting for 2016:D We were the only ones clinking glasses and having a blast, while others just sat down quietly, which was a little weird. Nevertheless, it was really worth it and I think I never hugged that many strangers in my life:D Due to @geronimo 's and my flight in the next morning, we decided to stay at Kowloon, search for a relaxed bar and soon after went back to my Glassblowing Partner's studio at Prince Edward. The next day we just decided to go to The Peak again and enjoy the view of Hong Kong one last time. Right before we left the apartment to catch our flight, I fell of the ladder in the studio, landing on my coccyx. But hey, nothing seriously bad happened, so I was ready for 2016:D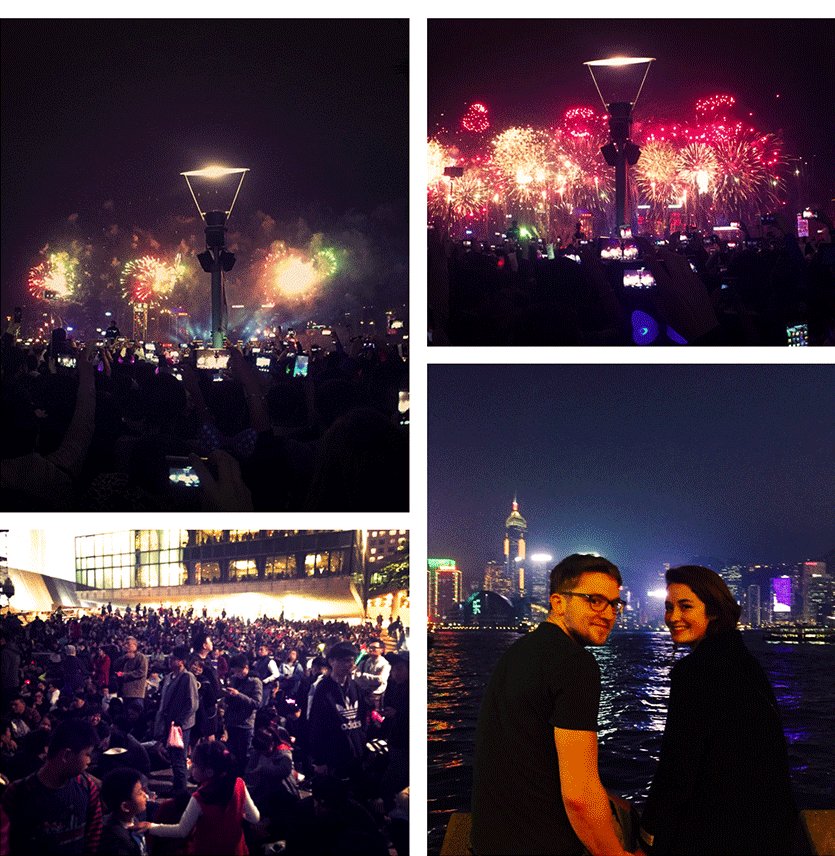 There's so much to tell and show about Hong Kong, so I hope you liked my selection and here are some photos without further introduction that didn't make it in this post. Trips to Shenzhen (30 min aways with the MTR and Visa needed), Macau(1 hour with the Ferry) and Lantau Island.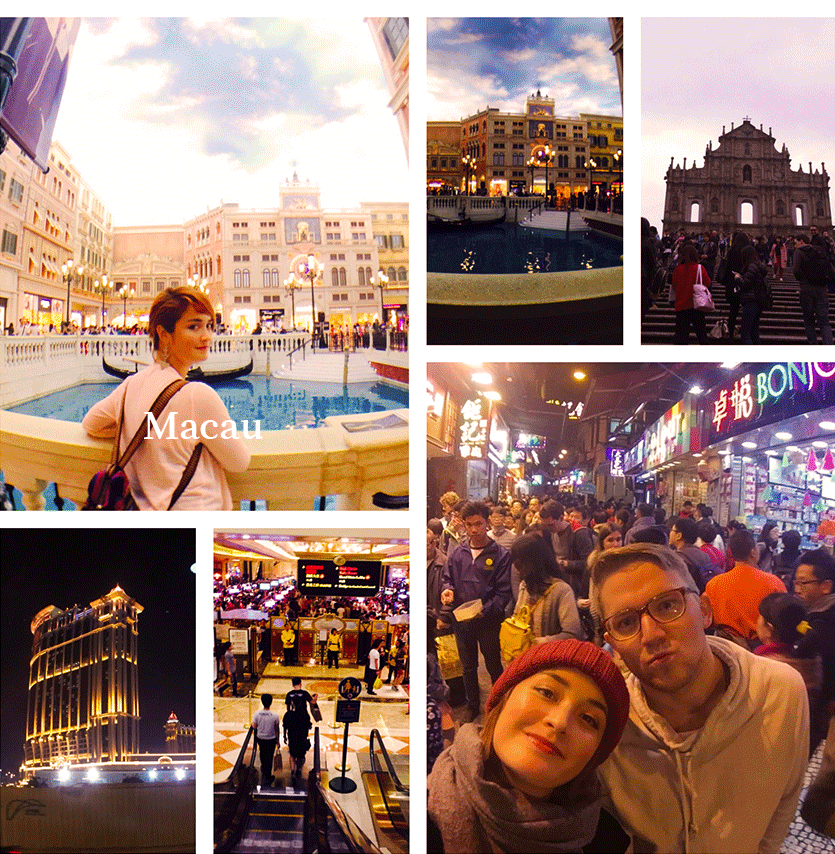 This was one of my most memorable years and I hope to go back to Hong Kong one day and see how everything changed. I didn't inform myself these days how the future of Hong Kong will look like. I arrived right after the Umbrella Revolution and heard different opinions from students at that time.
Thanks so much for reading or at least scrolling down till the end:)
I know it was a lot this time! Until next time!
xxx.