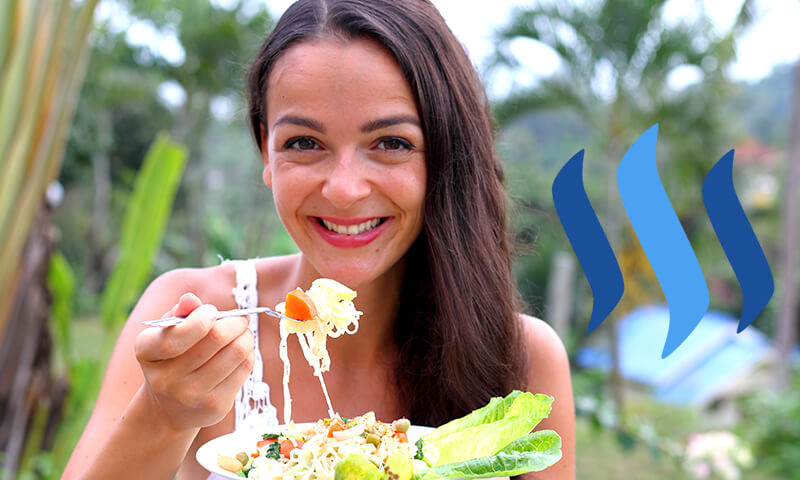 Scroll down for German ↓
Hello fellow Steemians 💚
As you might know, I'm traveling the world together with my boyfriend with an open end. Our first stop was Thailand where we stayed almost 8 months. I'm honest with you, one of the best things about traveling is the FOOD! As a food blogger I love culinary adventures and I have to say, Thailand has AMAZING FOOD 😍
In this post I share my 7 favorite Thai dishes with you - ENJOY 💚
1. Papaya Salad (Som Tam)
This is a spicy salad made from shredded green papaya and other veggies like white cabbage, grated carrots, green "snake beans" and tomato. The dressing is usually made of lime juice, hot chili, fish sauce, shrimp and palm sugar. For the vegan version just order it without shrimp and ask for soy sauce instead of fish sauce.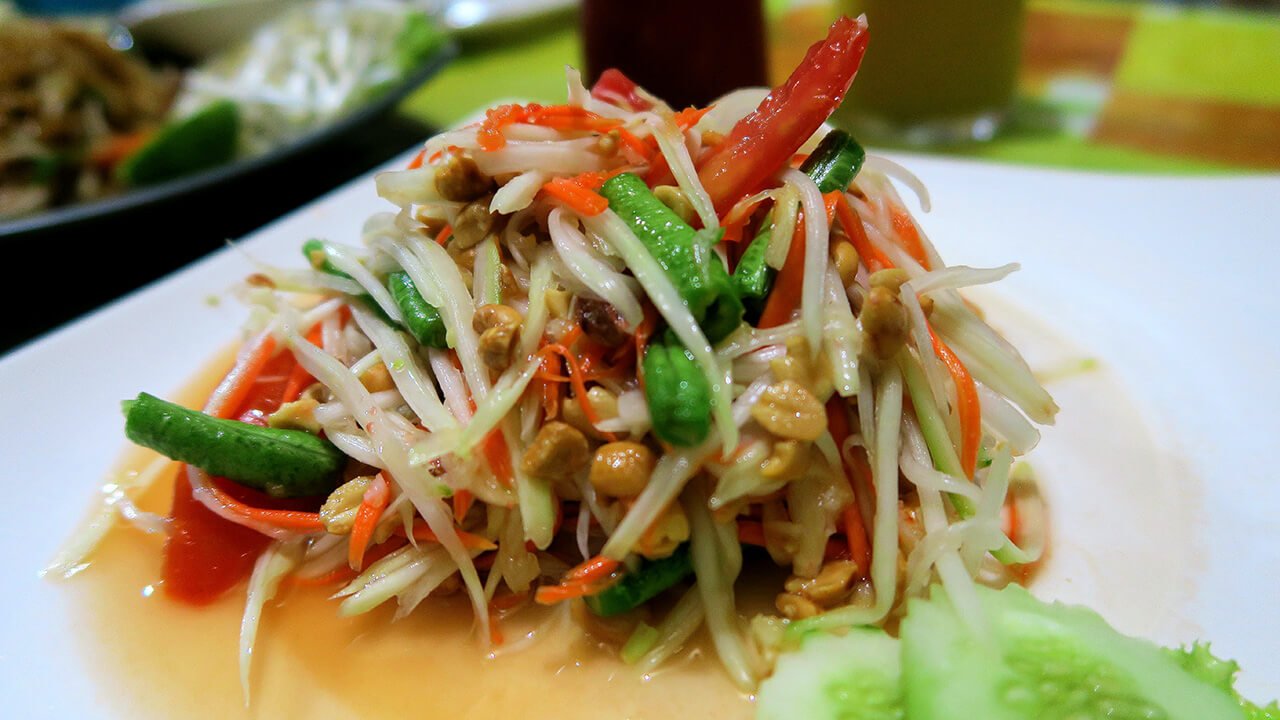 2. Panang Curry
I looove Thai Curry and there are so many different kinds: green, yellow, red, Massaman Curry, Panang Curry… Panang (or Phanaeng) curry is a type of thick red curry which is extremely rich in flavor. Usually this dish is made with meat but you can just ask for tofu or veggies only.
3. Mango Sticky Rice
This is the most typical Thai dessert made of glutinous "sticky" rice, coconut milk and fresh mango. It tastes best in April and May when mangos are in season.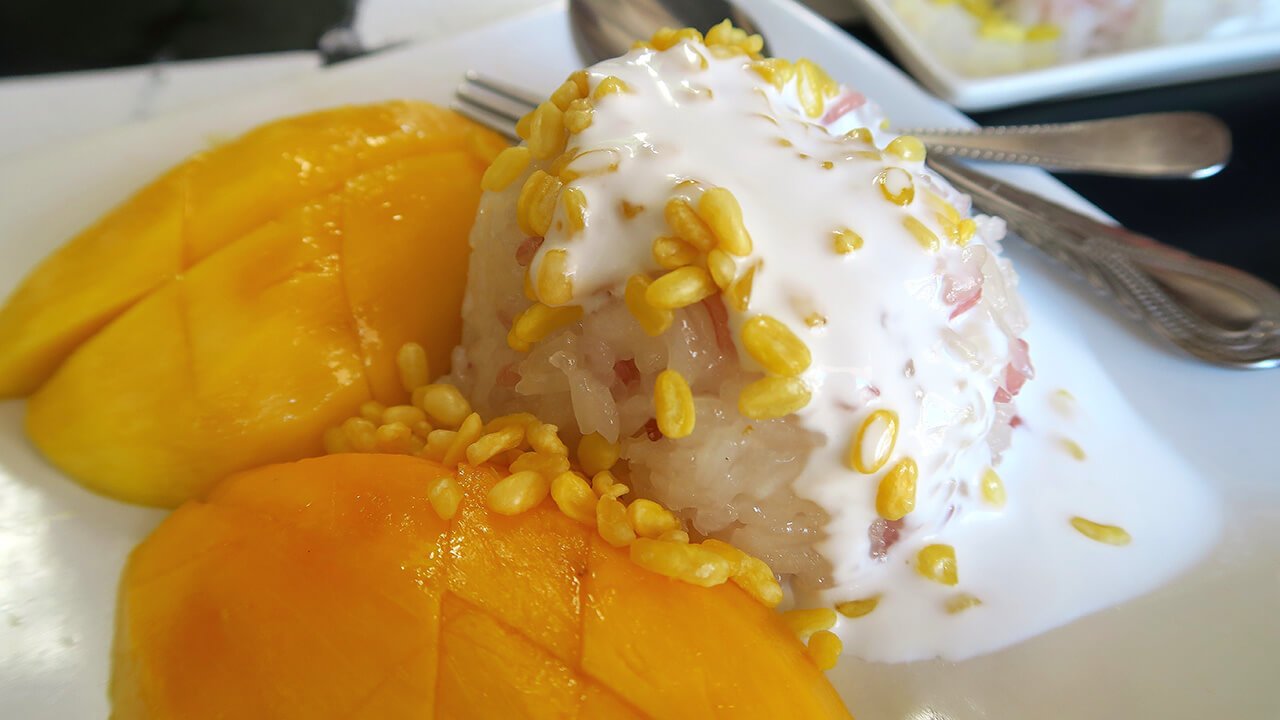 4. Khao Soi
Khao Soi is a Burmese-influenced soup served in northern Thailand. It is a vegetable noodle soup and tastes similar to Massaman curry. Traditionally it is topped with crispy deep fried egg noodles but in vegetarian restaurants you can get the vegan version.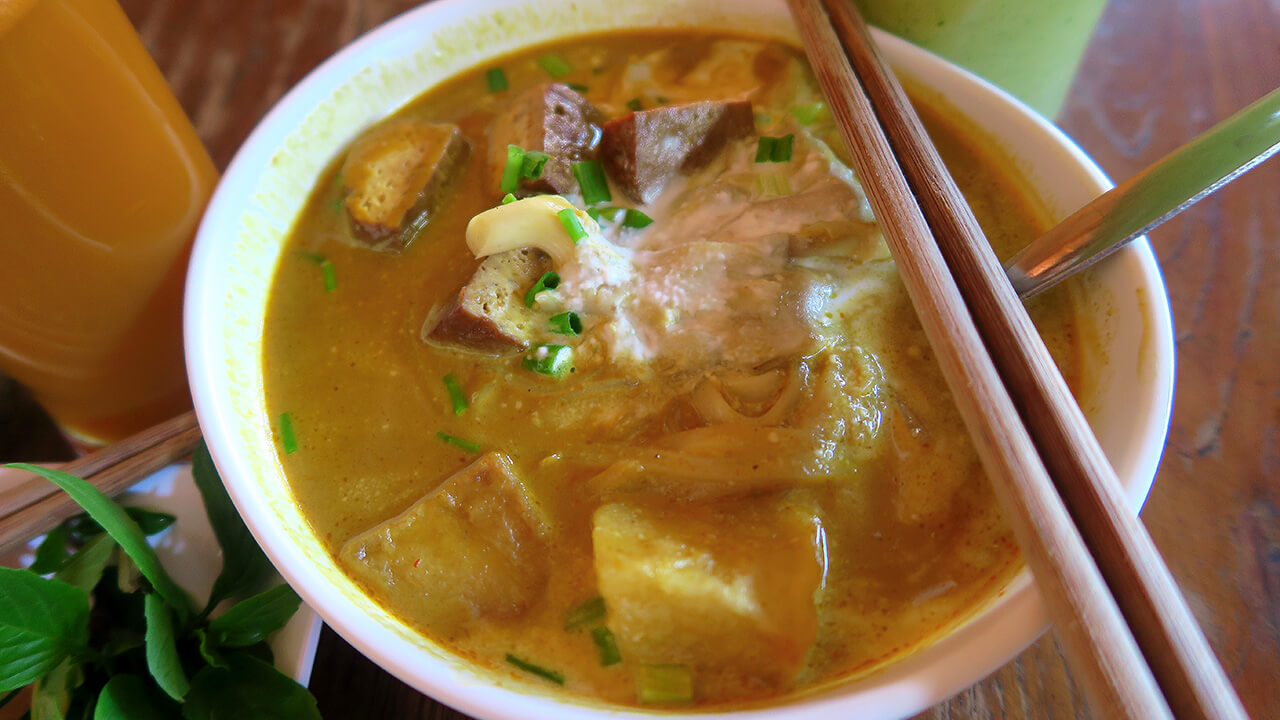 5. Pad Thai
This fried rice noodle dish is typically made with tofu, bean sprouts, eggs and fish sauce topped with chopped roast peanuts. For the vegan version just ask for soy sauce instead of fish sauce and order the noodles without egg.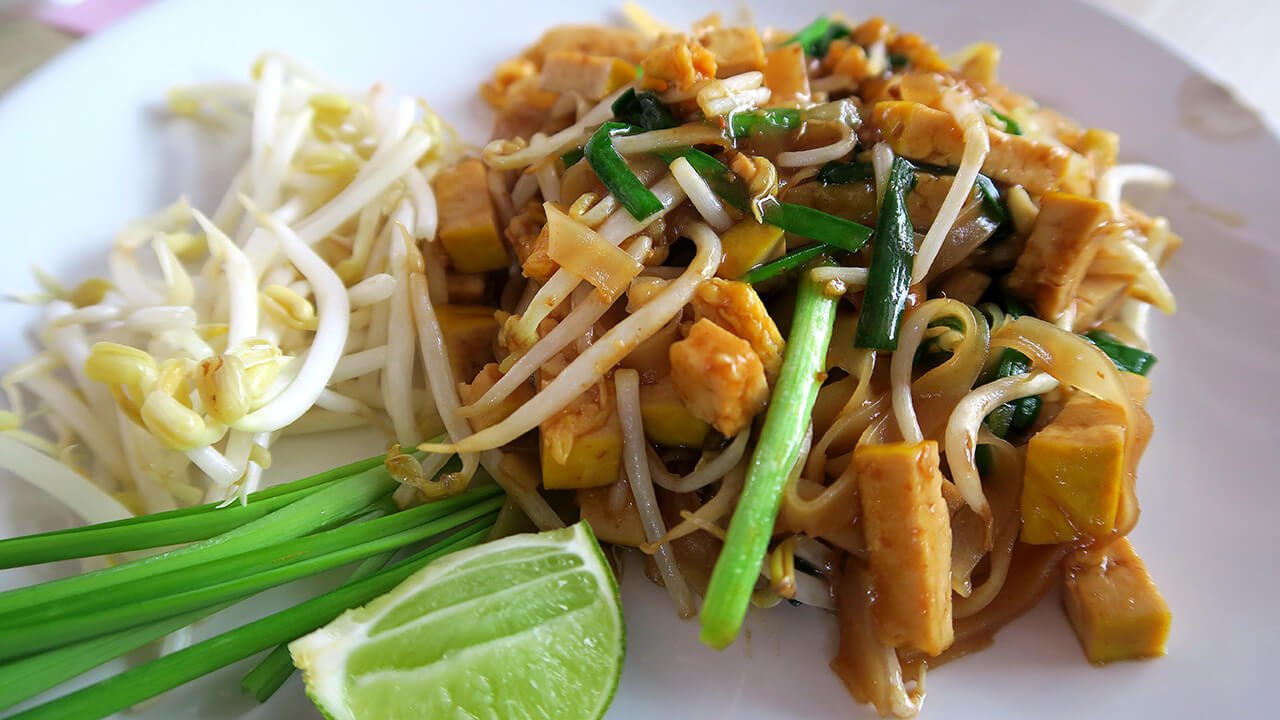 6. Veggie Noodle Soup
I love noodle soup but most street stalls in Thailand serve their veggie soup with meat broth. Expecially in northern Thailand you can find many vegetarian restaurants (labelled with the number 17 which stands for vegetarian) you can get a vegan version of the Chinese style noodle soup. Unlike most of the other thai dishes, noodle soup is eaten with chop sticks.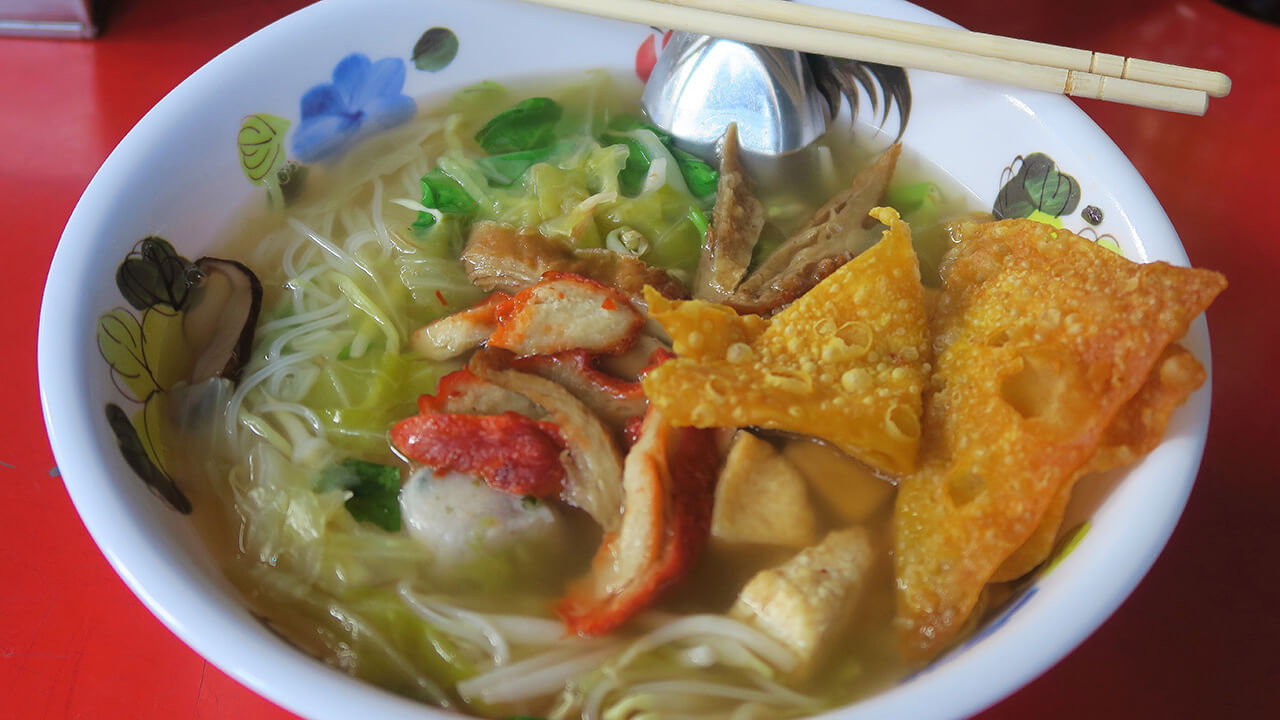 7. Fried Morning Glory
Pak Boong or water morning glory is a spinach-like vegetable and one of Thailand's most common greens. Stir fried morning glory is a must-eat because usually Thai Restaurants in Europe, North America, etc. don't serve it. It is usually seasoned with soy bean paste, chili, garlic, soy or oyster sauce. To make sure you get the vegan version ask for soy sauce only.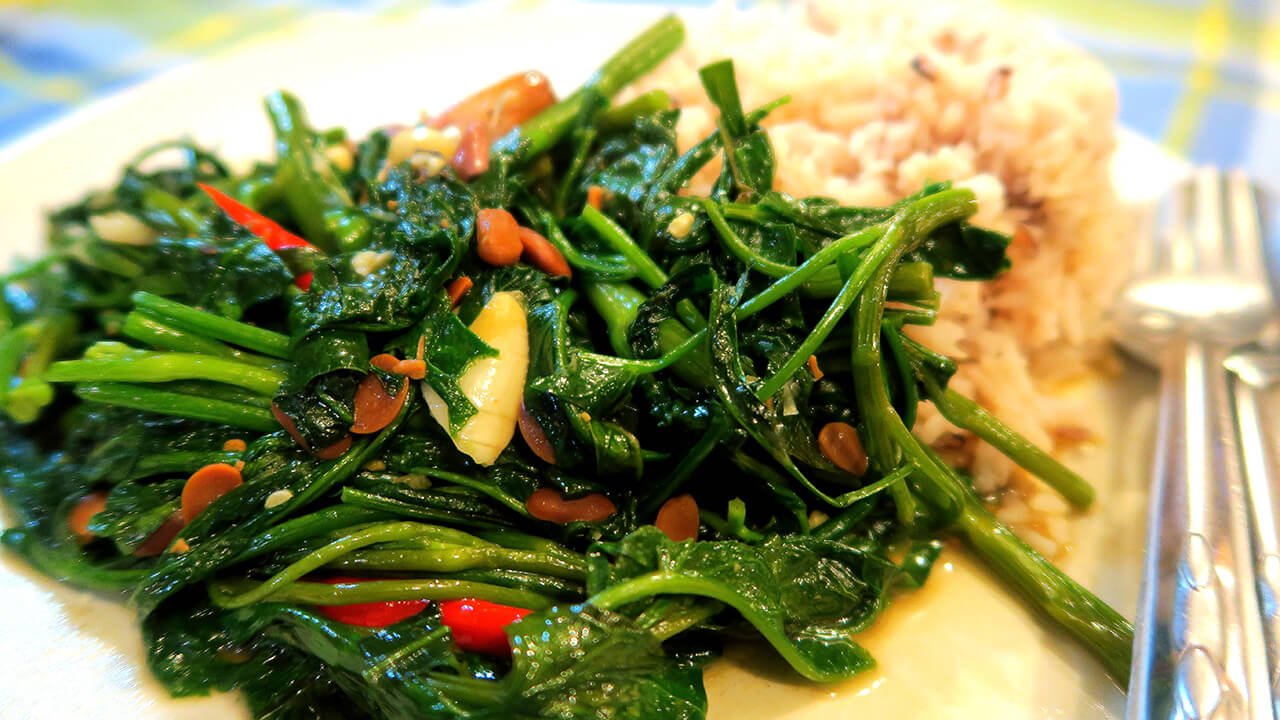 And what's your favorite Thai dish? Can't wait to read your comments below 😊
Please don't forget to follow, upvote, & resteem, if you liked this post 💚
Are you interested in some delicious and healthy vegan recipes? Then check out the following links: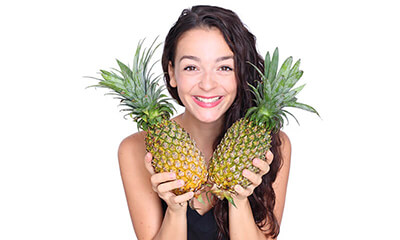 ---
German
Lust auf mehr Thai Food Inspiration? Dann schau unbedingt hier vorbei: