Burning Man | The Desert Diaries | pt. #1
"I have got 600 bicycles sitting in a Boeing 747 in the middle of the Nevada desert"
This is how my Burning Man adventure began earlier this year, with a good friend and some local beers in Kathmandu, Nepal.
---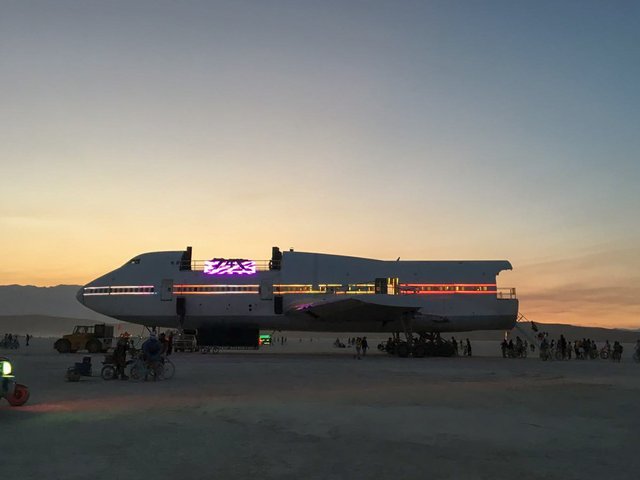 yes, it is an actual Boeing 747

Namaste friends,
The last two months must have been the most intense time of my life. In this series of posts, I am going to write about my experiences of setting up an ambitious project at Burning Man 2018.
For all of you who missed out, Burning Man is an annual gathering held in the Nevada desert, it manifests in "Black Rock City", a temporary city with more than 75.000 inhabitants, most likely the biggest one on the planet. It combines art, music, spirituality, consumerism and radical self expression in an eruption of installations, creativity, workshops and performances.
The city is so big, that you certainly need a bike to get around the event. Every year, an incredible amount of bikes is left behind, abandoned on the playa. This is where our project starts.
Burning Man is a decomodified event, all money and advertising is banned from the playa. This leads to a pretty schizophrenic outcome. There might be no paper bills on the playa but the amount of money involved in the whole event is absolutely incredible. There are private companies making millions from RV rentals, selling ice, flying people in the event or offering a plug and play burning man experience.
The idea was born, to rent out upcycled playa bikes and fund the work of disasterhack.org, the NGO we are working for. (Check us out on Steemit, earlier this year we got an incredible donation from utopian.io). Disasterhack is a non profit organisation, helping people in disaster struck countries through art, tech and innovation.
I booked my flight to San Francisco earlier this year, excited to be part of the project. I planned to fly from Frankfurt and spend some time with my family before I would leave for the next adventure. It was a pretty rough July for me, my grandmother passed away in the middle of my exams, I travelled back and forth to my home town and found myself with a lot of emotions and not enough time to digest.
When I finally arrived at the airport, it felt like the beginning of something big. I had mild butterflies in my stomach which is usually an indicator for me, that I am on the right path. Whilst smoking a last cigarette, I mentally prepared myself for the upcoming weeks.
It took me a while until I exactly understood what happened. I was looking at the departures and could not find my flight. Had it been cancelled? I checked my smartphone and looked at the e ticket in absolute disbelief. I had booked a flight from Berlin instead of Frankfurt, which was about to leave in two hours. How the **** did this happen? Is this real? How could you be that stupid?
Those were the questions flying around my head when I realized that I fucked up big time.
This day, I ended up back at my dads place, angry at myself, with no money for a new ticket and a lot of doubts if I would be able to actually attend Burning Man.

I hope you enjoyed the content! Please leave me an upvote, so I can continue doing the stuff I do.
Much love