The Grandeur of the Golden Pagoda from Lumbini Natural Park "Replica of the Shwedagon Pagoda" Berastagi
---
---
English
---
---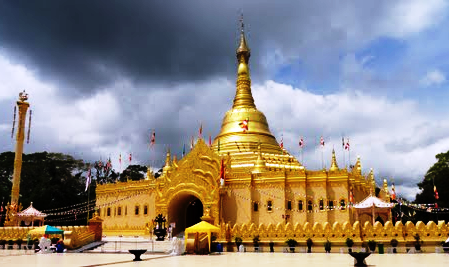 Hello Steemit friends, On this occasion I would like to continue the episode of my next tourist destination. Hopefully steemit friends are all right to now and keep the spirit in the activities of pouring knowledge and sharing.
The Location of Lumbini Natural Park
In
North Sumatra
lies a city with an incredible natural charm that is
Berastagi.
The city is located in
Karo Regency
is located 70 kilometers from the center of
Medan
with a height reaching 1300 meters above sea level. The city is flanked by two active volcanoes,
Mount Sibayak and Mount Sinabung.
Speaking of Berastagi tourist sites, there is one location that must be visited when stopped at Berastagi. Tourist destination that makes you not feel in Indonesia. This tourist destination is Berastagi Lumbini Natural Park which became one of the favorite tourist destinations when visiting there.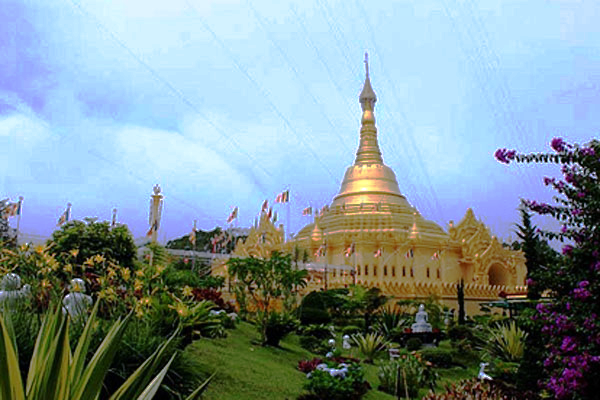 Lumbini Natural Park Located in Tongkoh Village, Dolat rayat Sub-district, Karo District. It is 70 km from Medan.

History of Lumbini Natural Park
Lumbini,
based on Buddhism, was the place where
Siddhartha Gautama
was born by
Queen Mayadevi
before getting the Enlightenment a few years later and became a
Buddha Gautama
as well as the inventor of Buddhism.
Lumbini
itself is located in the
Rupandehi District
of
Nepal.
The name of
Lumbini Natural Park Berastagi
is taken from the name of the location. The difference is, if the
original Lumbini is located in Nepal.
Lumbini Natural Park opened since 2010, this 3 hectare park has many interesting things that become the reason tourists come all the way here. One of the most famous is a replica of the "Shwedagon Pagoda". Construction began in 2007, The project was successfully completed in 2010. Height 46.8 meters, 68 meters in length and 68 meters wide and was inaugurated with a major ceremony in October 2010. The ceremony was attended by more than 1,300 monks and over 200 lay people from around the world.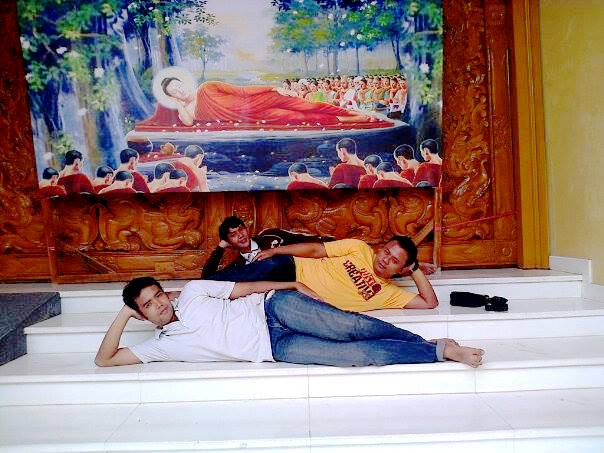 Lumbini Natural Park is a replica of the "Shwedagon Pagoda" in Yangon, Myanmar. Its architecture is similar to a gold-plated Thai pagoda. It hosts an elephant statue and the door looks like an Indian craft.
This replica consists of :
• 1 unit of the Large Pagoda, 42 feet tall, 25.8 meters wide, 25.8 meters wide.
• 8 units of Small Pagodas with a height of 7.18 meters, 5.38 meters long, 5.38 meters wide.
• 1 unit of Ashoka Pillar with height 19,8 meter and pole 0,9 meter in diameter.
• 4 units Sakyamuni Buddha Statue made of green jade.
Access to Lumbini Natural Park Berastagi
For travelers who want to visit and see the grandeur of the golden pagoda at
Lumbini Natural Park Berastagi,
can start their journey from the city of
Medan,
North Sumatra.
The distance between the city of
Medan
with
Berastagi
not too far away. The distance between these two cities can be reached either using public transportation or private vehicles.
For those who use private vehicles, travel time between Medan to Berastagi ranged from 2 hours to 3 hours of travel. Meanwhile, for traveler who prefer using public transportation, public transportation tariff from Medan city.
Privileges Lumbini Natural Park Berastagi
Lumbini Natural Park
not far from downtown
Berastagi.
When entering the area of
Berastagi Lumbini Natural Park,
Must report first at the security post which is located beside the entrance gate. And for entrance tickets do not need to pay at all alias
FREE
. All you have to do is fill in the guest book in front of the entrance gate. Although free, but this location has a complete facility and convenient for visitors.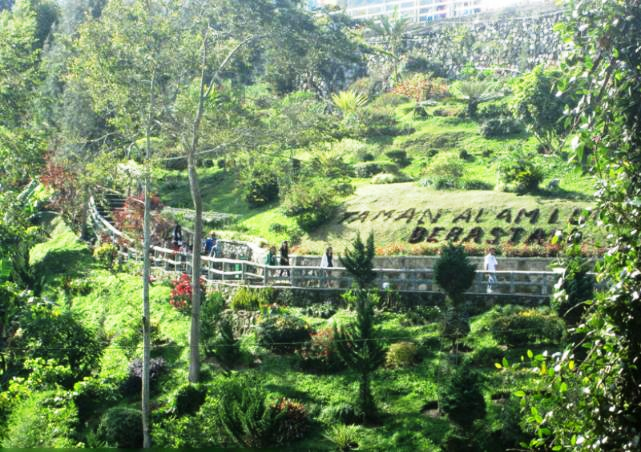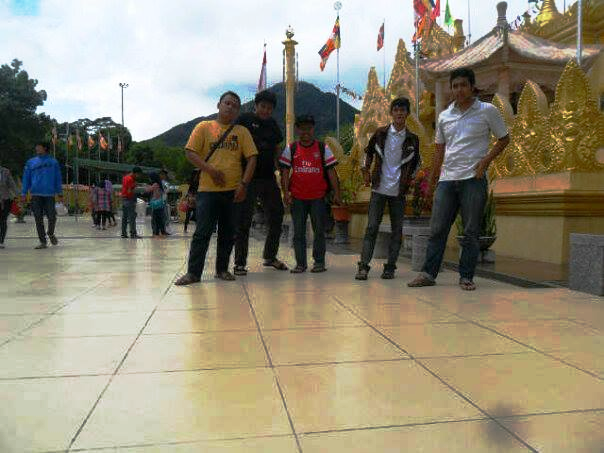 To get to this Pagoda, you will pass a golden suspension bridge as a scattering infrastructure of the overpass combined with dozens of hanging lanterns. The 20 meter long suspension bridge is known as Titi Lumbini. Underneath is a beautifully landscaped garden laid out nicely and attractively, fish ponds and various types of flowers and trees that add to the coolness. As a harmonization of the natural forest atmosphere around it.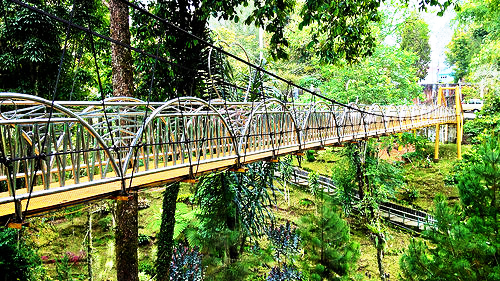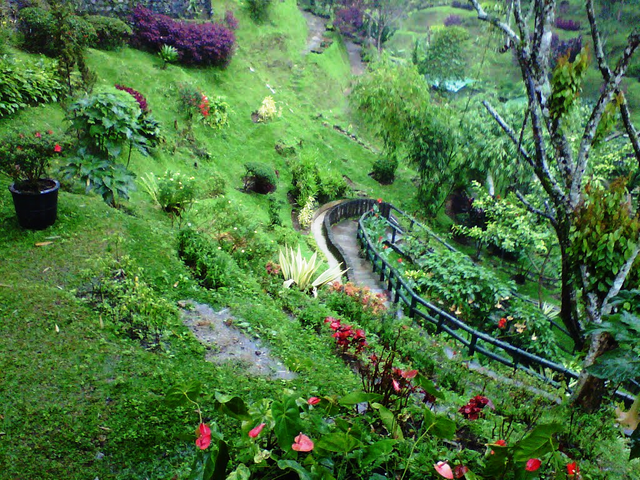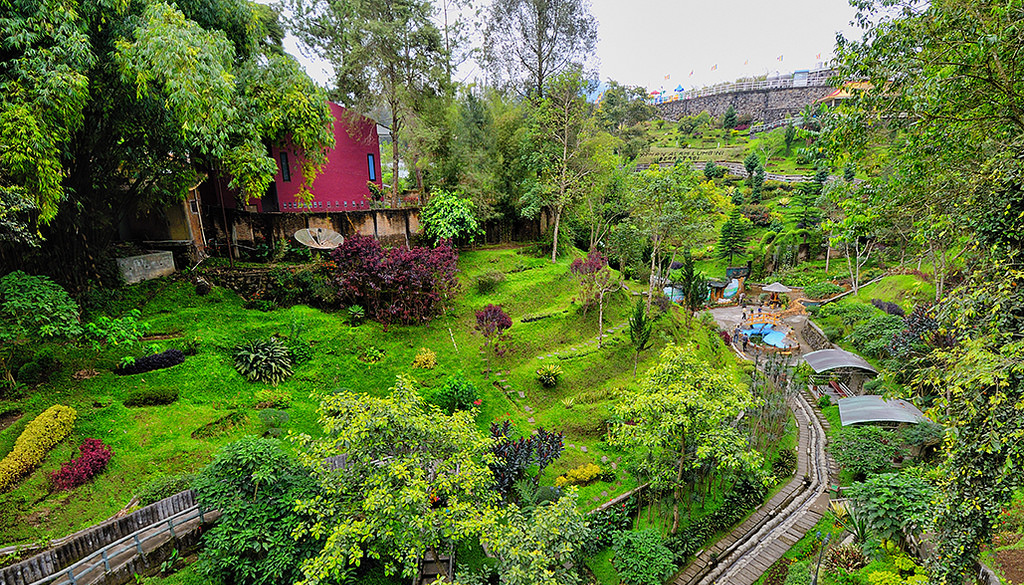 Magnificent pagoda
Arriving in the Pagoda area, you seemed to be greeted by the splendor of
"Replica Shwedagon Pagoda"
is painted gold with a beautiful architecture. Unique reliefs and Buddha statues adorn the main building of this Pagoda. To the left of the main building of Pagoda, there is a tower that has a peak-shaped peak. Underneath there are vine tendrils in the form of gold bracelets. Interestingly, at the top of Pagoda there are dozens of bells as decoration that will clink when blown.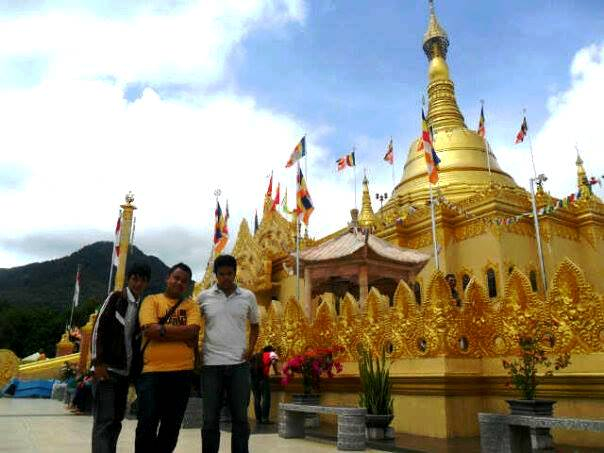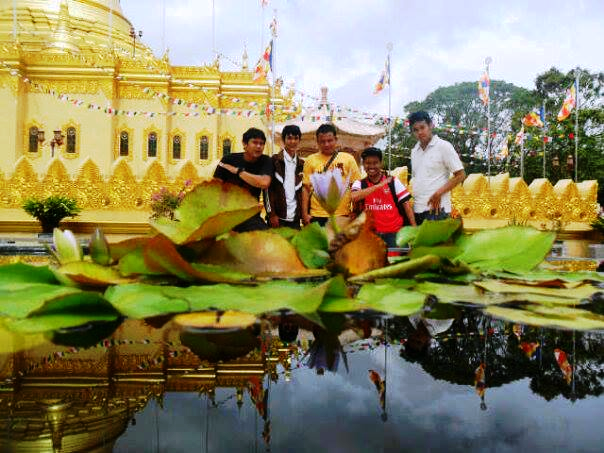 Not only that, building the gold pagoda Lumbini Natural Park Berastagi also presents its own luxury. Moreover most of these buildings are lined with distinctive ornaments and golden colors, this pagoda building looks so beautiful and very grand. Architectural design was quite interesting, because it has similarities with pagoda-pagoda in the country of Thailand. Being around this pagoda makes you feel like abroad.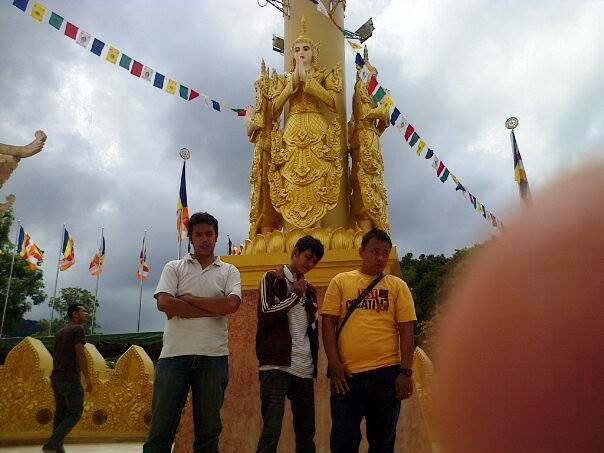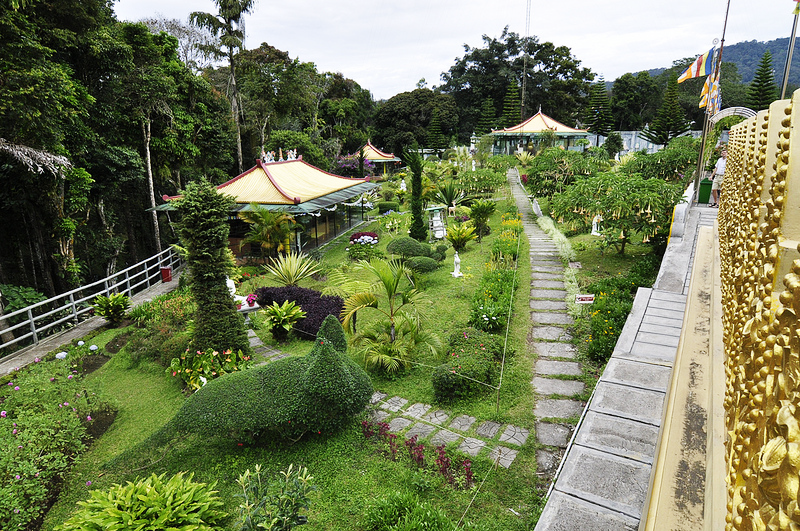 To enjoy the beauty of the pagoda from outside and inside the building, everyone can enter. Before entering we have to remove the footwear and put it on the shelf that has been provided beside the entrance. In addition to pagoda buildings there is also a garden with blooming flowers and sculptures that add to the beauty of the pagoda in Lumbini Natural Park is.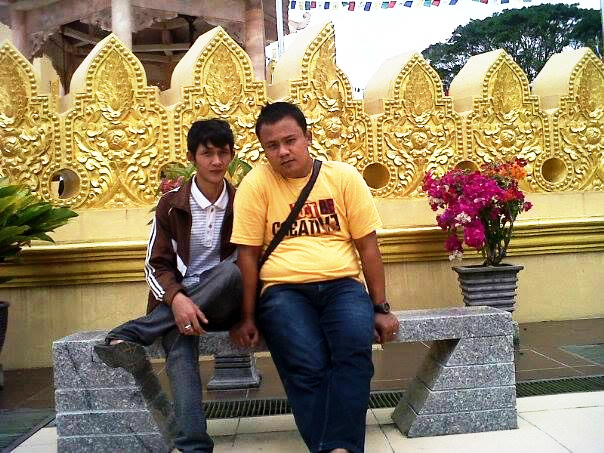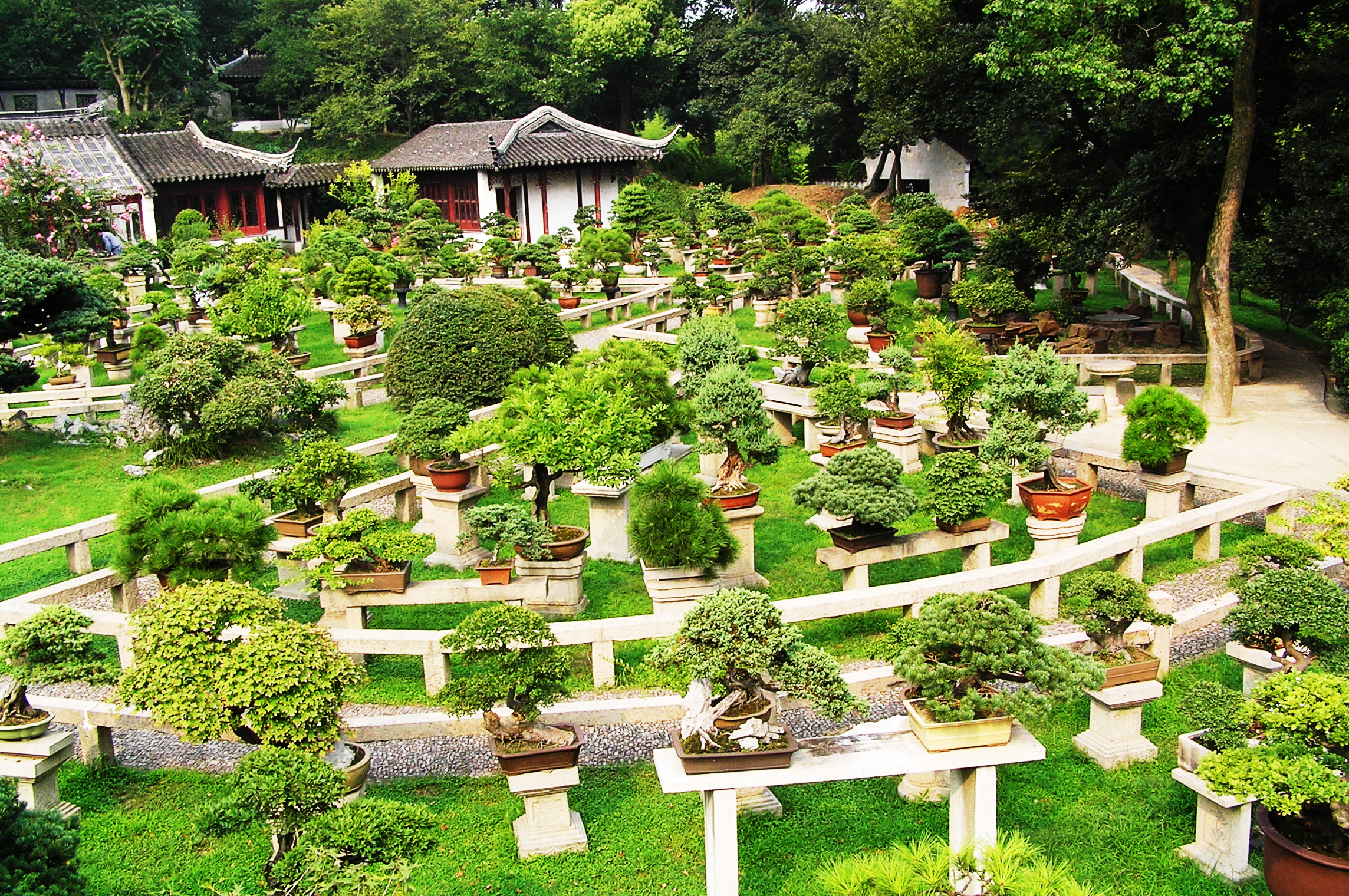 In addition to the Temple or pagoda, you can also walk around and see the gardens. Around the pagoda there are a lot of strawberry and vegetable garden that grows fertile. The park has its own beauty and uniqueness.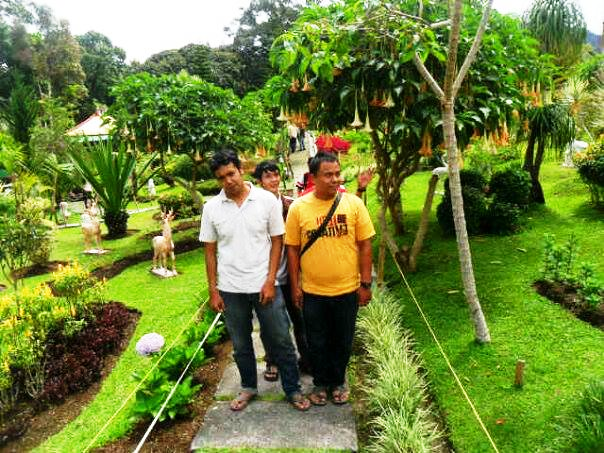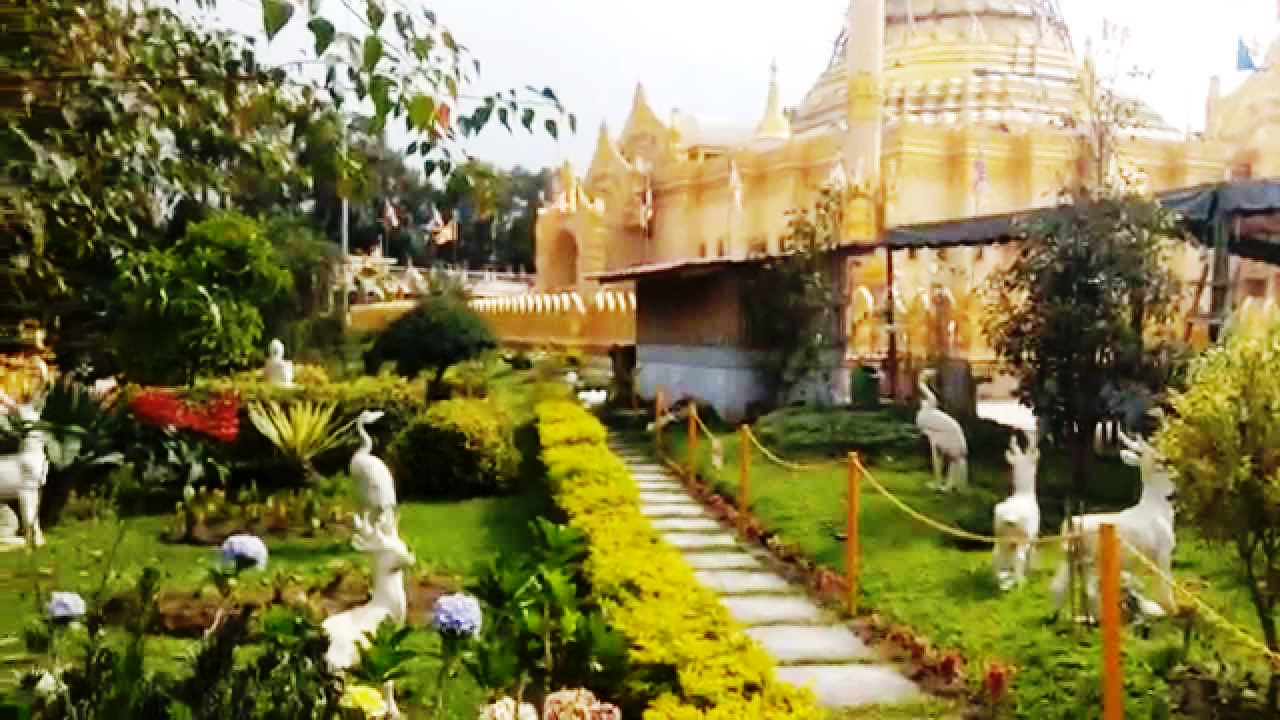 That's all the information from me, Hopefully it can be a reference for your tourist destination.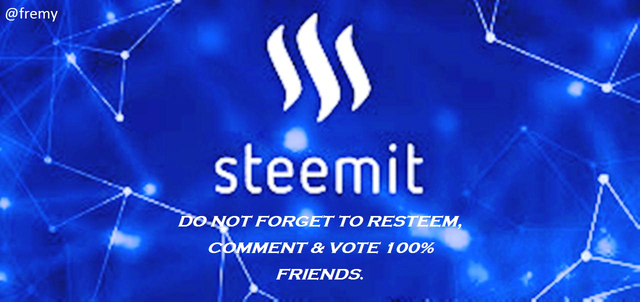 ---
---
Indonesia
---
---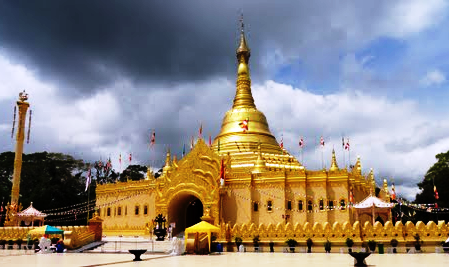 Halo teman Steemit, Pada kesempatan ini saya ingin melanjutkan episode tujuan wisata saya selanjutnya. Semoga teman-teman steemit baik-baik saja sekarang serta tetap semangat dalam beraktivitas menuang ilmu dan berbagi.
Lokasi Taman Alam Lumbini
Di
Sumatera Utara
terletak sebuah kota dengan pesona alam yang luar biasa yaitu
Berastagi.
Kota yang terletak di
Kabupaten Karo
ini berjarak 70 kilometer dari pusat
kota Medan
dengan ketinggian mencapai 1.300 meter di atas permukaan laut. Kota ini diapit oleh dua gunung berapi yang masih aktif, yaitu
Gunung Sibayak dan Gunung Sinabung.
Berbicara mengenai lokasi wisata Berastagi, ada salah satu lokasi yang wajib dikunjungi ketika mampir di Berastagi. Destinasi wisata yang membuat Anda tidak merasa di Indonesia. Destinasi wisata ini adalah Taman Alam Lumbini Berastagi yang menjadi salah satu favorit destinasi wisatawan ketika berkunjung di sana.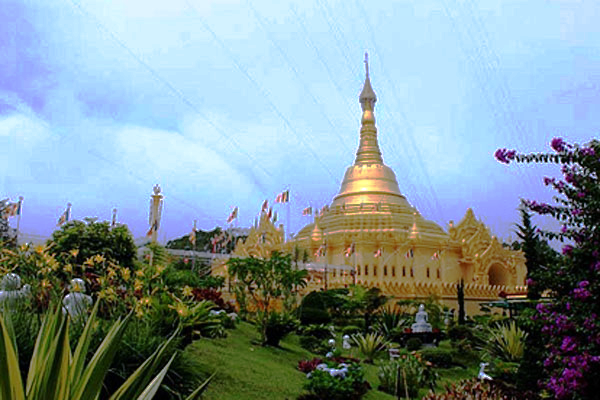 Taman Alam Lumbini Terletak di Desa Tongkoh, Kecamatan Dolatrayat, Kabupaten Karo. Letaknya 70 km dari Medan.

History Taman Alam Lumbini
Lumbini
, berdasarkan ajaran Buddha, adalah tempat dilahirkannya
Siddhartha Gautama
oleh
Ratu Mayadevi
sebelum mendapatkan Pencerahan beberapa tahun kemudian dan menjadi
Buddha Gautama
sekaligus sebagai penemu ajaran Buddha.
Lumbini
sendiri terletak di
Distrik Rupandehi
di
Nepal.
Nama
Taman Alam Lumbini
Berastagi
memang diambil dari nama lokasi tersebut. Bedanya, bila
Lumbini
yang asli terletak di
Nepal
.
Taman Alam Lumbini dibuka sejak tahun 2010, taman seluas 3 hektar ini punya banyak hal menarik yang jadi alasan para wisatawan jauh-jauh berkunjung kemari. Salah satu yang paling terkenal adalah replika Pagoda Shwedagon. Konstruksi dimulai pada tahun 2007. Proyek ini berhasil diselesaikan pada tahun 2010. Tinggi 46,8 meter, panjangnya 68 meter dan lebar 68 meter dan diresmikan dengan sebuah upacara besar pada bulan Oktober 2010. Upacara tersebut dihadiri oleh lebih dari 1.300 biksu dan lebih dari 200 orang awam dari seluruh dunia.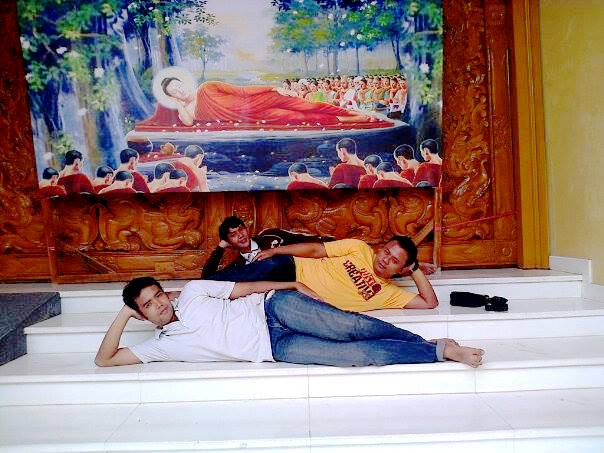 Taman Alam Lumbini merupakan replika "Shwedagon Pagoda" di Yangon, Myanmar. Arsitekturnya mirip dengan Pagoda Thailand yang dilapisi emas. Ini menjadi tuan rumah patung gajah dan pintunya tampak seperti kerajinan India. Replika ini terdiri dari:
• 1 unit Pagoda Besar, dengan tinggi badan 42 meter, lebar 25,8 meter, lebar 25,8 meter.
• 8 unit Pagoda Kecil dengan tinggi skala 7.18 meter, panjang 5,38 meter, lebar 5,38 meter.
• 1 unit Pilar Ashoka dengan tinggi 19,8 meter dan tiang berdiameter 0,9 meter.
• 4 unit Patung Buddha Sakyamuni terbuat dari giok hijau
Akses ke Taman Alam Lumbini Berastagi
Bagi para traveler yang ingin berkunjung dan melihat kemegahan pagoda emas di
Taman Alam Lumbini Berastagi,
bisa memulai perjalanannya dari
kota Medan,
Sumatera Utara.
Jarak antara
kota Medan
dengan
Berastagi
tidak terlalu jauh. Jarak antara kedua kota ini pun bisa ditempuh baik menggunakan kendaraan umum ataupun kendaraan pribadi.
Bagi yang menggunakan kendaraan pribadi, waktu tempuh antara Medan menuju Berastagi berkisar antara 2 jam hingga 3 jam perjalanan. Sementara itu untuk traveler yang lebih memilih menggunakan kendaraan umum, tarif angkutan umum dari kota Medan.
Keistimewaan Taman Alam Lumbini Berastagi
Taman Alam Lumbini
tak jauh dari
pusat Kota Berastagi.
ketika masuk di area
Taman Alam Lumbini
Berastagi,
Harus lapor terlebih dahulu di pos satpam yang terletak disamping gerbang masuk. Dan untuk tiket masuk ke dalam tidak perlu membayar sedikitpun alias
Gratis
. Yang kalian harus lakukan hanyalah mengisi buku tamu yang terdapat di depan gerbang masuk. Meski gratis, namun lokasi ini punya fasilitas yang lengkap dan nyaman khusus untuk para pengunjung.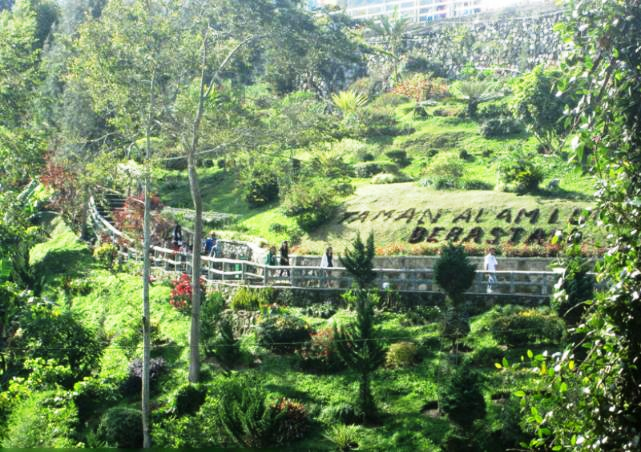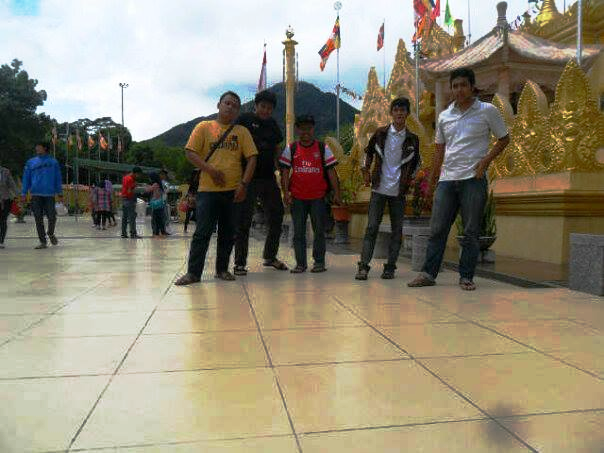 Untuk menuju ke Pagoda ini, Anda akan melewati sebuah jembatan gantung berwarna emas sebagai infrastruktur penyebarangan yang dipadukan dengan puluhan lentera yang bergelantungan. Jembatan gantung sepanjang 20 meter ini dikenal dengan nama Titi Lumbini. Di bawahnya terdapat taman yang indah yang ditata dengan apik dan menarik, kolam-kolam ikan serta berbagai jenis bunga dan pohon yang menambah kesejukan. Sebagai harmonisasi suasana hutan alam disekitarnya.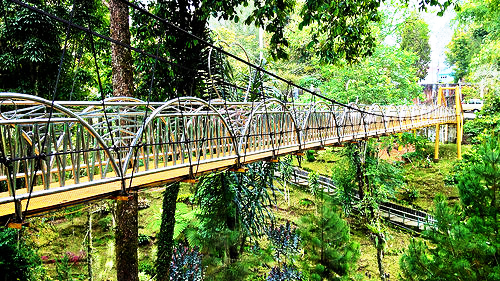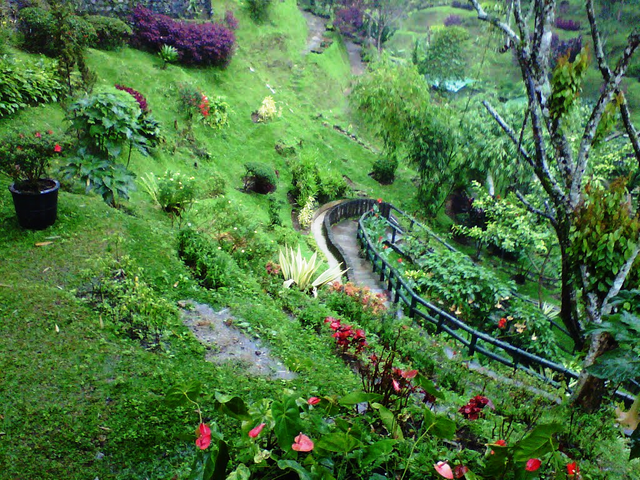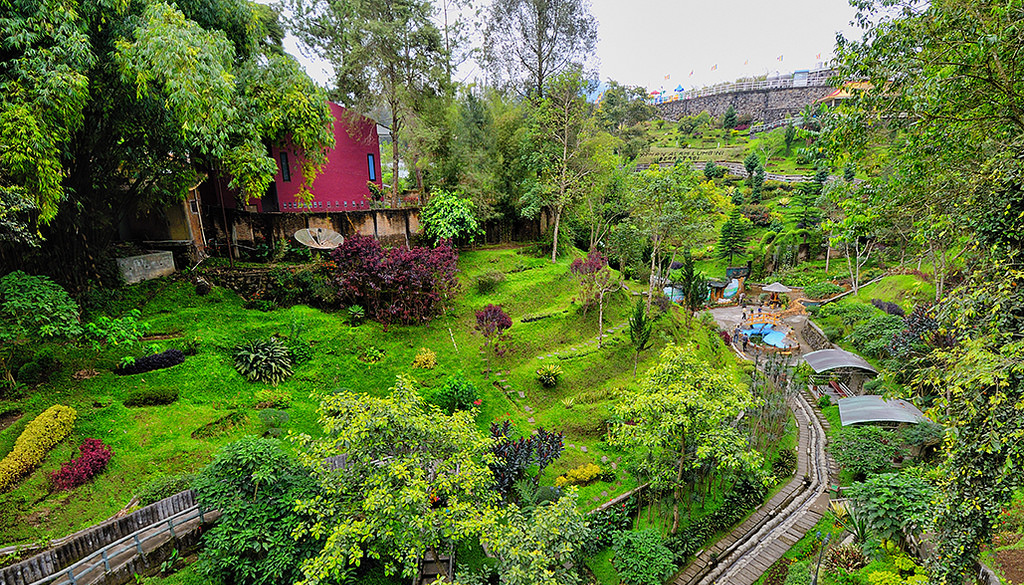 MEGAHNYA PAGODA
Sesampainya di area Pagoda, Anda seolah disambut oleh kemegahan Replika
"Pagoda Shwedagon"
yang bercat emas dengan arsitektur yang begitu indah. Relief unik dan patung Buddha menghiasi bangunan utama Pagoda ini. Di sebelah kiri bangunan utama Pagoda, ada sebuah menara yang memiliki puncak berbentuk puncak. Di bawahnya terdapat sulur sulam dalam bentuk gelang emas. Yang menarik, di puncak Pagoda terdapat puluhan lonceng sebagai penghias yang akan berdenting ketika tertiup angin.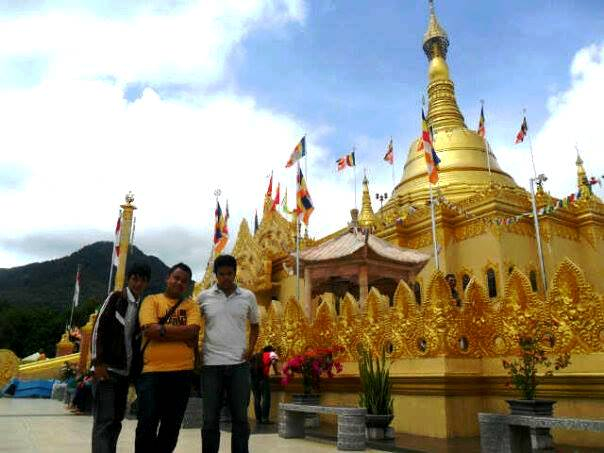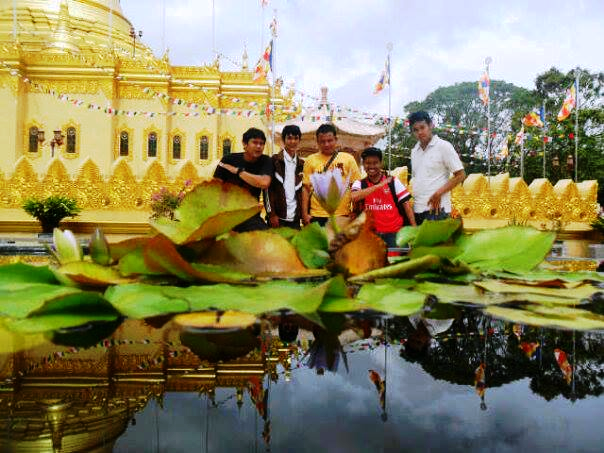 Tak hanya itu, bangunan pagoda emas Taman Alam Lumbini Berastagi ini juga menyajikan kemewahan tersendiri. Terlebih lagi sebagian besar bangunan ini dilapisi dengan ornamen yang khas dan warnanya yang keemasan, bangunan pagoda ini terlihat begitu indah dan sangat megah. Desain arsitekturnya pun cukup menarik, karena mempunyai kemiripan dengan pagoda-pagoda yang ada di negara Thailand. Berada di sekitar pagoda ini membuat anda merasa seperti di luar negeri.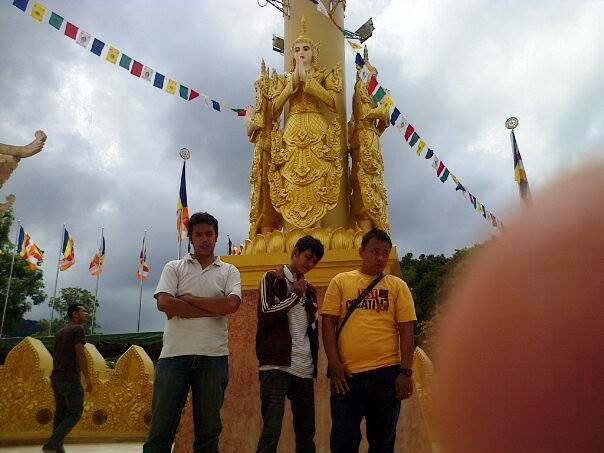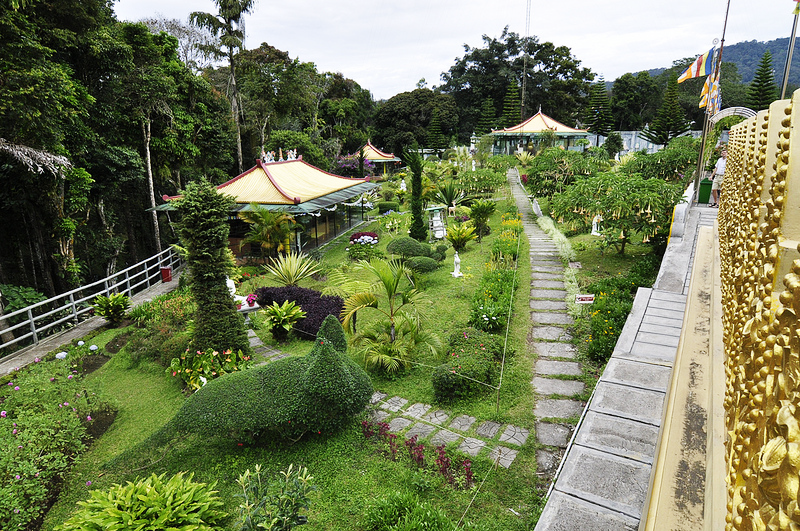 Untuk menikmati indahnya pagoda dari luar dan dalam bangunan, semua orang boleh masuk. Sebelum masuk kita harus melepas alas kaki dan meletakkannya di rak yang telah disediakan disamping pintu masuk. Di samping bangunan pagoda juga terdapat taman dengan bungan-bunga yang bermekaran dan patung-patung yang menambah indahnya pagoda di Taman Alam Lumbini ini.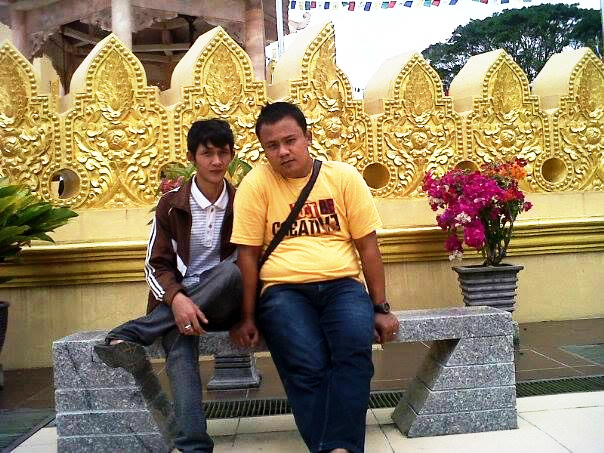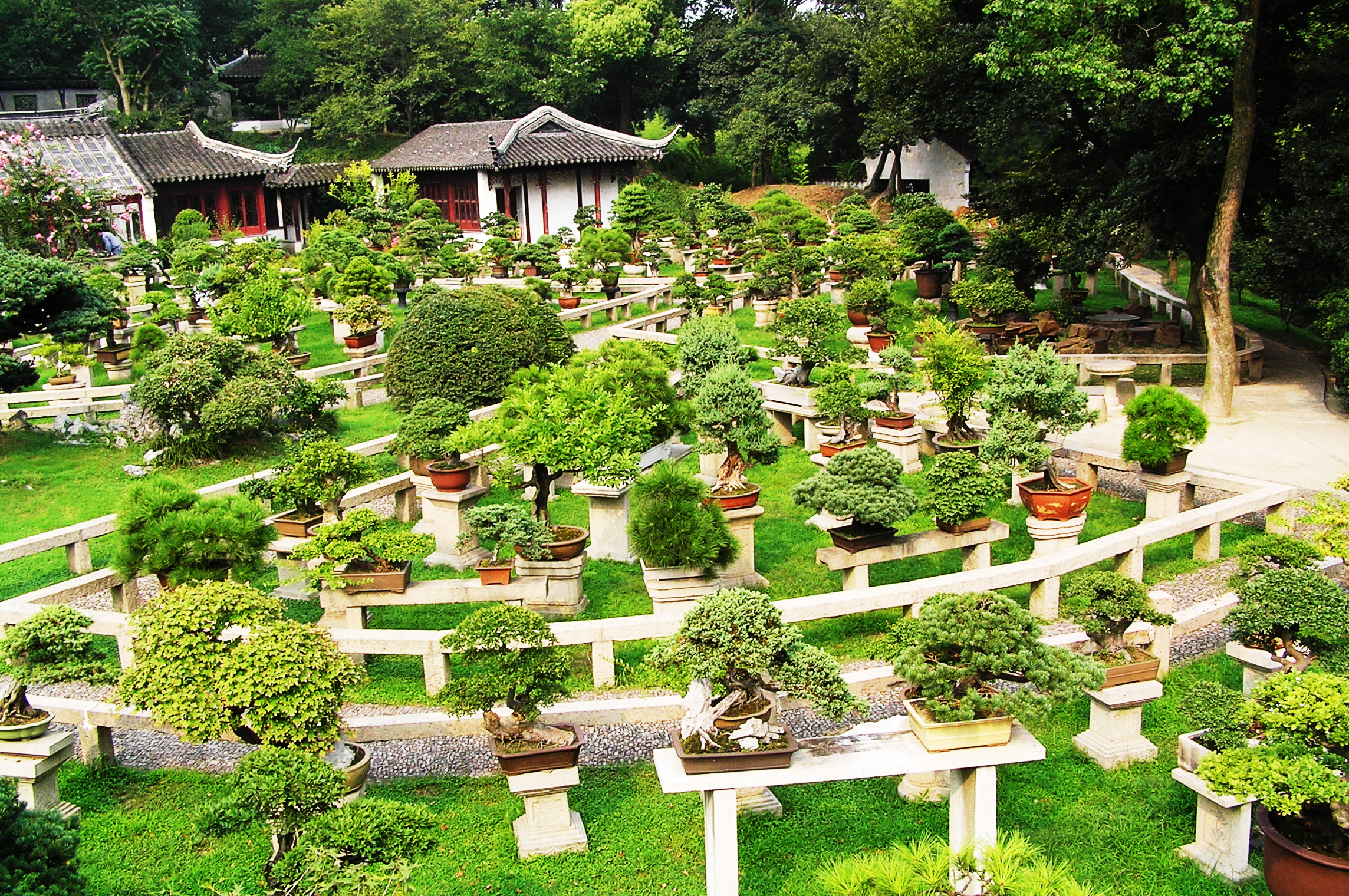 Selain Kuil atau pagoda, anda juga bisa berkeliling dan melihat taman-taman. Di sekitar pagoda terdapat banyak sekali kebun strowberry dan sayuran yang tumbuh dengan subur. Taman yang ada memiliki keindahan dan keunikan tersendiri.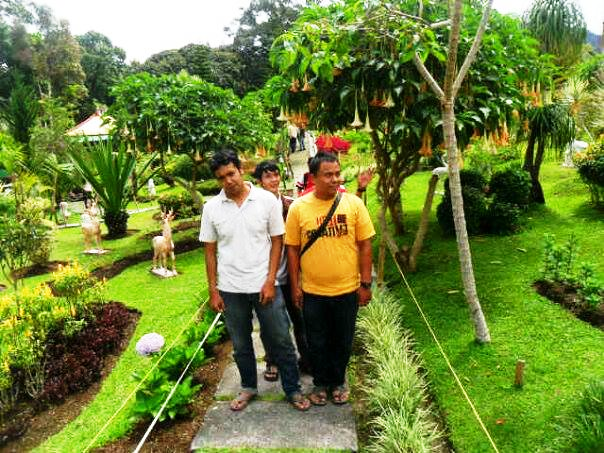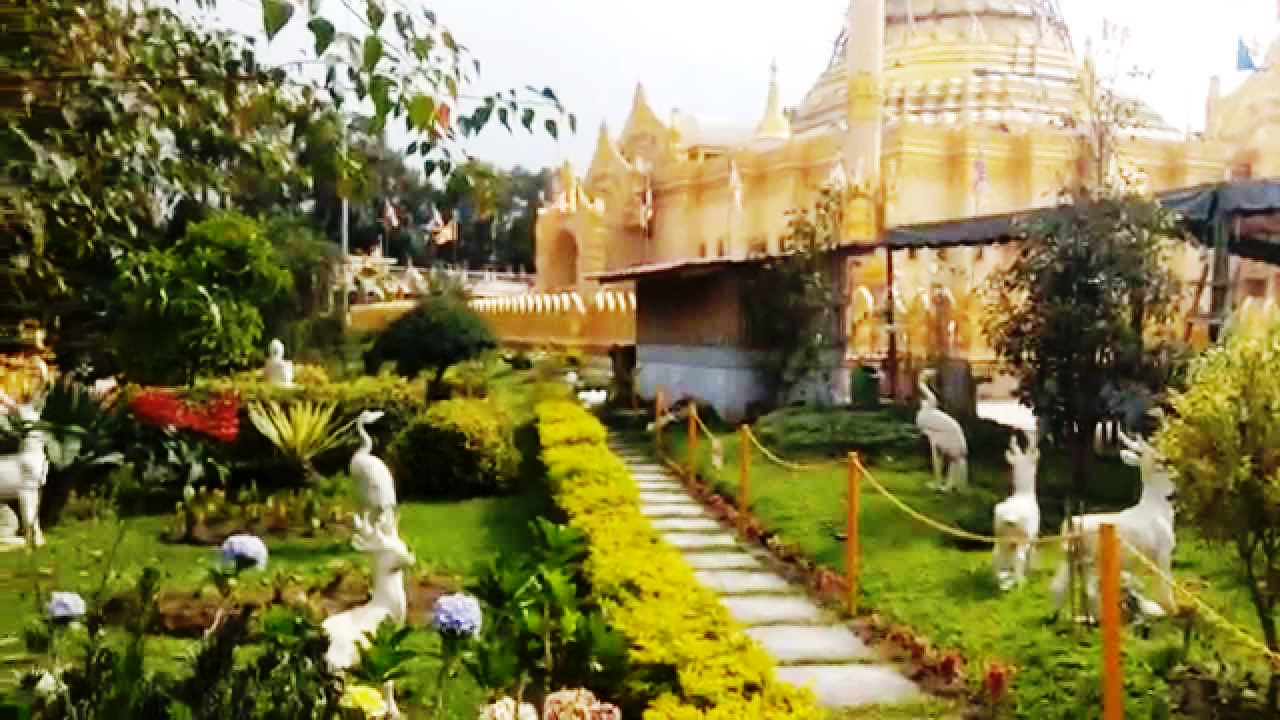 Sekian saja informasi dari saya, Semoga saja bisa menjadi referensi untuk destinasi wisata anda.