The Secret Mysteries Of The Ancient City Of Petra ~ Part 4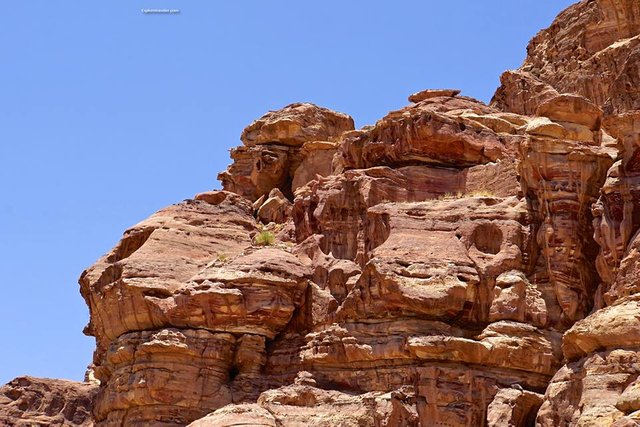 The Beautiful "Rose City" Boulders And Cliffs
Magnificent Boulders and cliffs of tinted sandstone greet you as you come near to the city. If you take time to look at the layers of reds, browns, oranges, and yellows of the rocks, cliffs,columns and the tombs themselves, you will be amazed. Because of the uniqueness of the sandstone cliffs that they are carved from, there are no two tombs or facades exactly the same. Your eyes will see only amazing elegance with a raw beauty that has lasted for over two thousand years. These are the boulders and cliffs that have helped keep the mysteries of the lost city hidden for centuries.
These boulders are like the canvas that a master painter has spent hours designing. Could any paintbrush ever touch the tones and uniqueness of the spectacular cliffs and boulders that were placed and painted by nature itself? Amazing sandstone carved with the skill of the masters. The rain and wind has helped with the sanding and buffering of these astonishing facades.  The sand that has built up over the years of driving winds keep the main city hidden. And last, but not least, the earthquakes helped with the placement of the boulders which guard the secrets of the "Rose City."
If you like to get out and walk, the challenge of Petra is waiting. Her mysteries are still hidden and waiting to be found. Take time to climb the boulders and scale the cliffs. You will even find a set of somewhat unique stone steps built into the cliffs themselves that lead to the monastery on top. You will see the gods of Petra on the sides of the cliffs and in the tombs. It seems to be a city with many gods. Stretch your legs and take a hike on the many trails around and within the city. Discover new things each time you come.  The adventure of Petra is never ending. New things are discovered daily. Now, is an excellent time to seek out the secret mysteries of this ancient city. 
If you have come from our website, ExploreTraveler.com
Twitter Page, ExploreTraveler
Facebook Page, ExploreTraveler 
  "Helping bring the world together one friend at a time. So travel
 and discover that the world is full of wonderful people." - ExploreTraveler
  We have a travel tip audio book that you can purchase at Audible --> Here
Happy Travels, 
 © 2017 ExploreTraveler. All Rights Reserved