The Secret Mysteries Of The Ancient City Of Petra ~ Part 3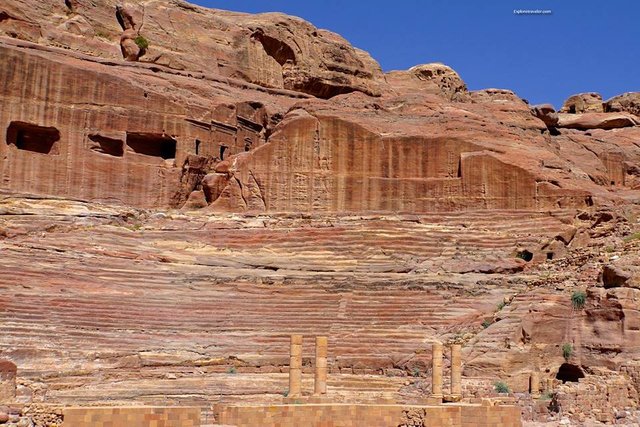 The Nabataean Amphitheater Of Petra
The spectacular amphitheater in Petra is amazing in it size, seating between 6,000-8,000 people. Can you imagine the excitement of the crowd as they watched events in this massive amphitheater? The amphitheater was built previous to the time of the Roman occupation of Petra. This very unique theater was carved into the sandstone rocks. The other unique thing about the theater is that it is surrounded by the tombs. Sitting at the bottom of a mountain called en-Nejr, it was uniquely built so as to see as many tombs as possible. It is at the theater that the valley begins to open up reveling the city when coming from the valley. The way it was cut into the tombs with deep fissures and ornate carvings it divided the theater into groups. It was even complete with tall towers looming overhead. 
So little information has been revealed as yet as to what they may have watched? Perhaps as the city is continued to be  dug out of the rubble more of the mysteries of Petra will be revealed. There is a stage floor , complete with a curtain that could be lowered through a slot at the beginning of a performance. This leads us to believe that it must have been more of a traditional theater for that time. Beneath the floor there are many store rooms  that were found.  These appeared to be very functional. There  was  even a marble statue of Hercules that could go up through the slot.  
This unique theater is still being discovered one piece at a time. So many mysteries are still hidden under the sand!
 If you have come from our website, ExploreTraveler.com
Twitter Page, ExploreTraveler
Facebook Page, ExploreTraveler  
 "Helping bring the world together one friend at a time. So travel 
and discover that the world is full of wonderful people." - ExploreTraveler
 We have a travel tip audio book that you can purchase at Audible --> Here
Happy Travels,
 © 2017 ExploreTraveler. All Rights Reserved