Photo of the Day ~ The Lost City Of Petra In Jordan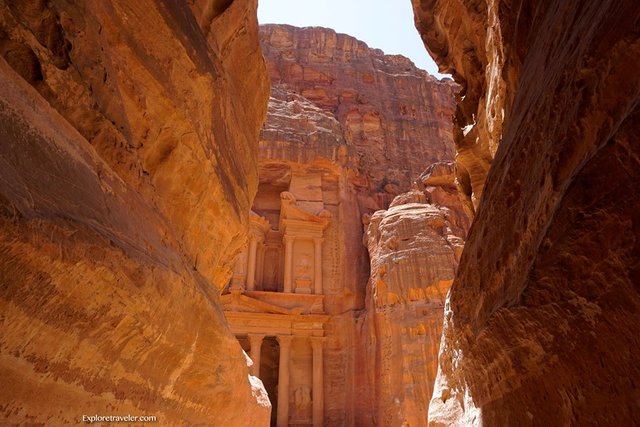 Journey Into The Lost City Of Petra In Jordan
Deep in the rugged pink sandstone hills, surrounding one of the harshest deserts in the world, you will find one of the Jewels of the ancient world. Welcome to Jordan and the unique city of Petra. Petra, with it's  rock-cut architecture, is magnificent. Built around the year of 300 BC by the Nabatean, Petra was the capital of the Kingdom of the Nabatean.  The only entrance into this mysterious city is a narrow opening in the rocks called "Al Siq." It takes a little less than an hour to walk into this amazing city. The first thing you see as you arrive is the Al Khazneh.  The temple is breathtaking with it's Greek architectural style for the facade.
 ExploreTraveler has been creating travel articles, books, videos, and podcasts for several years now. It is our intention to bring our older material for others here to enjoy here on Steemit, and to create new material here as well. We invite you to click on our links to the original content, and to also follow us there as well.    
  This photo  was originally published on  exploretraveler.com as The Photo of The Day.      
 If you have come from our website, ExploreTraveler.com
Twitter Page, ExploreTraveler
Facebook Page, ExploreTraveler   
 Helping bring the world together one friend at a time. So travel
 and discover that the world is full of wonderful people." - ExploreTraveler 
 We have a travel tip audio book that you can purchase at Audible --> Here
Happy Travels, 
 © 2017 ExploreTraveler. All Rights Reserved