Photo of the Day ~ The Ancient Nabataean City Of Petra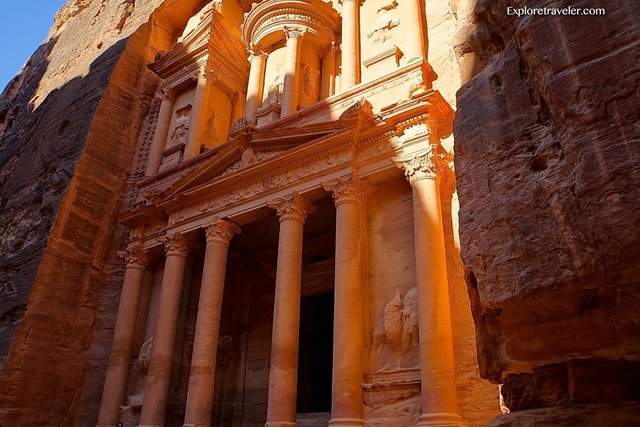 The Ancient Nabataean  City Of Petra In The Southern Jordanian  Governorate of Maan  
In Southwest Jordan you will find an amazing desert, colorful, extremly hot, with rugged mountains and deep canyons. Amid all this natural beauty you will find the city of Petra, built during the time of the Nabataean Kingdom between 100 B.C. to 106 A.D. For years Petra was a major trading center and capital city of the empire of the Nabataean people. Then for centuries it lay in ruin, empty, and forgotten. The city was lost for centuries. Now this beautiful hidden city is a UNESCO World Heritage Center. 
   ExploreTraveler has been creating travel articles, books, videos, and podcasts for several years now. It is our intention to bring our older material for others here to enjoy here on Steemit, and to create new material here as well. We invite you to click on our links to the original content, and to also follow us there as well.   
   This photo  was originally published on  June 19, 2015 at:   
https://www.facebook.com/exploretraveler/photos/a.1441342589430682.1073741828.1441019006129707/1651250565106549/?type=3&theater
 If you have come from our website, ExploreTraveler.com
Twitter Page, ExploreTraveler
Facebook Page, ExploreTraveler 
 Or any of our other social media channels, please consider getting your free account here on Steemit, and make sure to follow all of us @exploretraveler @pilgrimtraveler @johngentry @vetvso @johngentryjr @karengentry @elijahgentry @floridagypsy and we will follow you back.    
 Helping bring the world together one friend at a time. So travel and discover that the world is full of wonderful people." - ExploreTraveler @exploretraveler 
We have a travel tip audio book that you can purchase at Audible --> Here
 Happy Travels, 
  © 2017 ExploreTraveler. All Rights Reserved.