Photo of the Day ~ The Amazing Ruins Of The Greco-Roman City Of Gerasa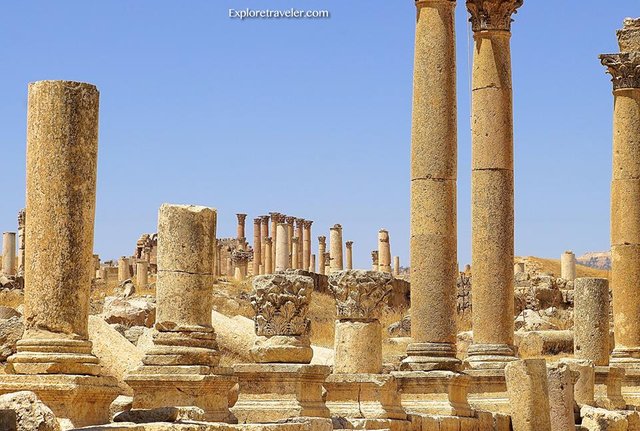 Jerash Is An Archaeology Site Of The Greco-Roman Ruins 
At Jerash the first thing you note is the condition of the ruins. What a marvelous site. The city of Gerasa was also called Antioch and is found in the North of Jordan.  This magnificent site shows the quality of the city. It is indeed the best of the Roman ruins we have seen outside of Italy.  You will find the ancient city among green hills and valleys filled with olive, plum, fig, and other fruit trees. This city was know for it's year around fresh water supply and as a bonus was set in a fertile valley. The city was destroyed and buried by an earthquake in 749 AD. The buried city was found in 1806 by an German explorer. 
   ExploreTraveler has been creating travel articles, books, videos, and podcasts for several years now. It is our intention to bring our older material for others here to enjoy here on Steemit, and to create new material here as well. We invite you to click on our links to the original content, and to also follow us there as well.    
  This photo  was originally published on  exploretraveler.com as The Photo of The Day.  
 If you have come from our website, ExploreTraveler.com
Twitter Page, ExploreTraveler
Facebook Page, ExploreTraveler 
Or any of our other social media channels, please consider getting your free account here on Steemit, and make sure to follow all of us @exploretraveler @pilgrimtraveler @johngentry @vetvso @johngentryjr @karengentry @elijahgentry @floridagypsy and we will follow you back.  
   Helping bring the world together one friend at a time. So travel and discover that the world is full of wonderful people." - ExploreTraveler @exploretraveler 
We have a travel tip audio book that you can purchase at Audible --> Here
Happy Travels, 
  © 2017 ExploreTraveler. All Rights Reserved