Photo of the Day ~ Adventuring Into The Wadi Rum Desert Of Jordan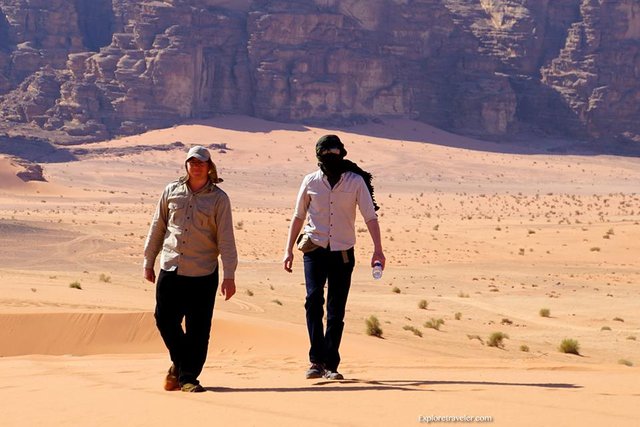 Exploretraveler team members John Gentry and Elijah Gentry 
Exploring The Wadi Rum Desert
This astonishing Red Desert is surrounded by amazing red sandstone mountains and made complete with amazing canyons. Walking through the desert you will see nothing until you come upon a tent of friendly Bedouins inviting you to join them for tea. Jordan has amazing deserts and hidden cities!
 ExploreTraveler has been creating travel articles, books, videos, and podcasts for several years now. It is our intention to bring our older material for others here to enjoy here on Steemit, and to create new material here as well. We invite you to click on our links to the original content, and to also follow us there as well.     
 This photo  was originally published on exploretraveler.com as The Photo of The Day.     
 If you have come from our website, ExploreTraveler.com
Twitter Page, ExploreTraveler
Facebook Page, ExploreTraveler 
  "Helping bring the world together one friend at a time. So travel 
and discover that the world is full of wonderful people." - ExploreTraveler
  We have a travel tip audio book that you can purchase at Audible --> Here
Happy Travels, 
  © 2017 ExploreTraveler. All Rights Reserved