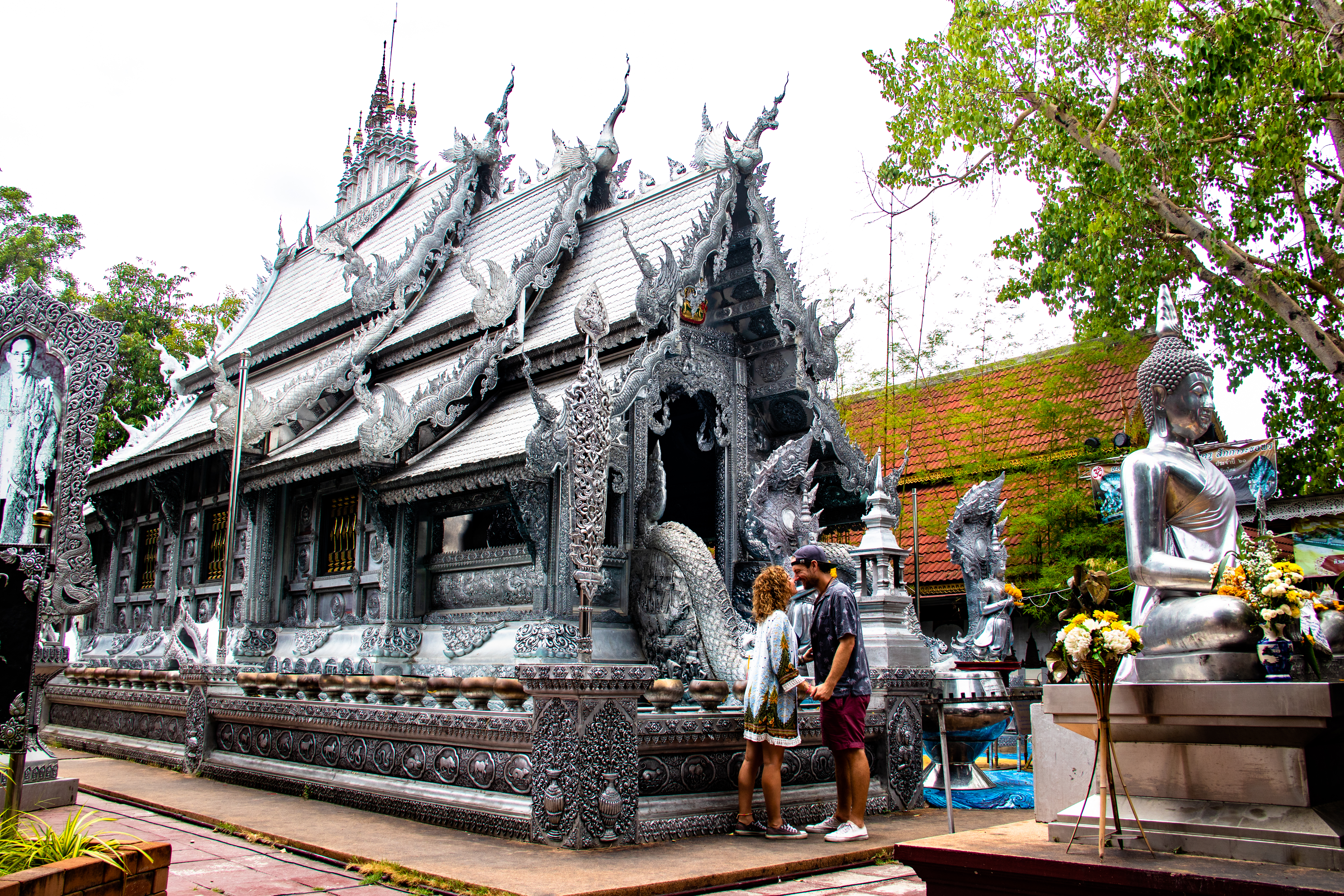 You could spend weeks in Chiang Mai and still not discover all of the hundreds of stunning ancient temples, explore the vastness of the mountainside, or visit all of the restaurants, shops, parks and museums the city has to offer. Our list of what to do in Chiang Mai below will help you narrow your conquest!
Known as the "Rose of the North", Chiang Mai is Thailand's largest Northern city offering a ton to explore and discover. In the heart of Chiang Mai lies the old walled city thats surrounded by an almost perfectly square moat. Everything outside of this area is considered the "new city" and if you only have a short amount of time in this beautiful northern hub as we did, you can certainly check off all of our top things to do in Chiang Mai.
What To Do in Chiang Mai
Spend Time With Elephants
It's not (or shouldn't be) news to most that the majority of entertainment and day trips surrounding elephants in Asia are awful for the elephants as they are abused daily. Elephants have been poached from the wild and undergo torture in order to be trained or endure forced breading in captivity. Sadly, their lives are not spent the way nature intended and the elephants spend their lives as slaves to entertain humans.
However, there is an alternative. One of the absolute best things to do in Chiang Mai is visit Elephant Nature Park for a day trip (many options are available) or spend a week or more volunteering there, as we did. It's a great way to get up close to the elephants while respecting their space and putting them first, instead of vice versa. During our time at the park we walked around the grounds learning about the rescued elephants as they walked freely beside us. We fed them bananas and watched them bathe. In some case's during day trips guests can bathe with them. Trips to Elephant Nature Park often include lunch which is an amazing vegan buffet!
There are other organizations such as Elephant Jungle Sanctuary that treat the elephants with respect and are hook and saddle free. Just make sure you do your research before booking a trip. The industry will change based on where the demand lies and these beautiful animals deserve their freedom.

Watch a Live Muay Thai Match
Also known as Thai Boxing, Muay Thai is Thailand's combat sport utilizing "8 limbs" with a combination of kicks, punches, knees, elbows and various clinching techniques.
On every Monday, Thursday and Saturday, from 8:30-11:30pm at Chiang Mai Boxing Stadium, you can catch a full card of live Muay Thai matches. The stadium is located a short eight-minute drive from the heart of the old city. There's a bar just outside the stadium selling beer and mixed drinks at a reasonable price that you can bring into the venue. On the night that we went there were about seven fights that were all really entertaining. The night ended with two young lads (13-year olds we found out after) who were really impressive and went the distance.
It's a small stadium I recommend buying the cheapest seats in the grand stand, as there wasn't a bad seat in the house. We paid 600 Baht ($25CAD) per person on the stadium's website.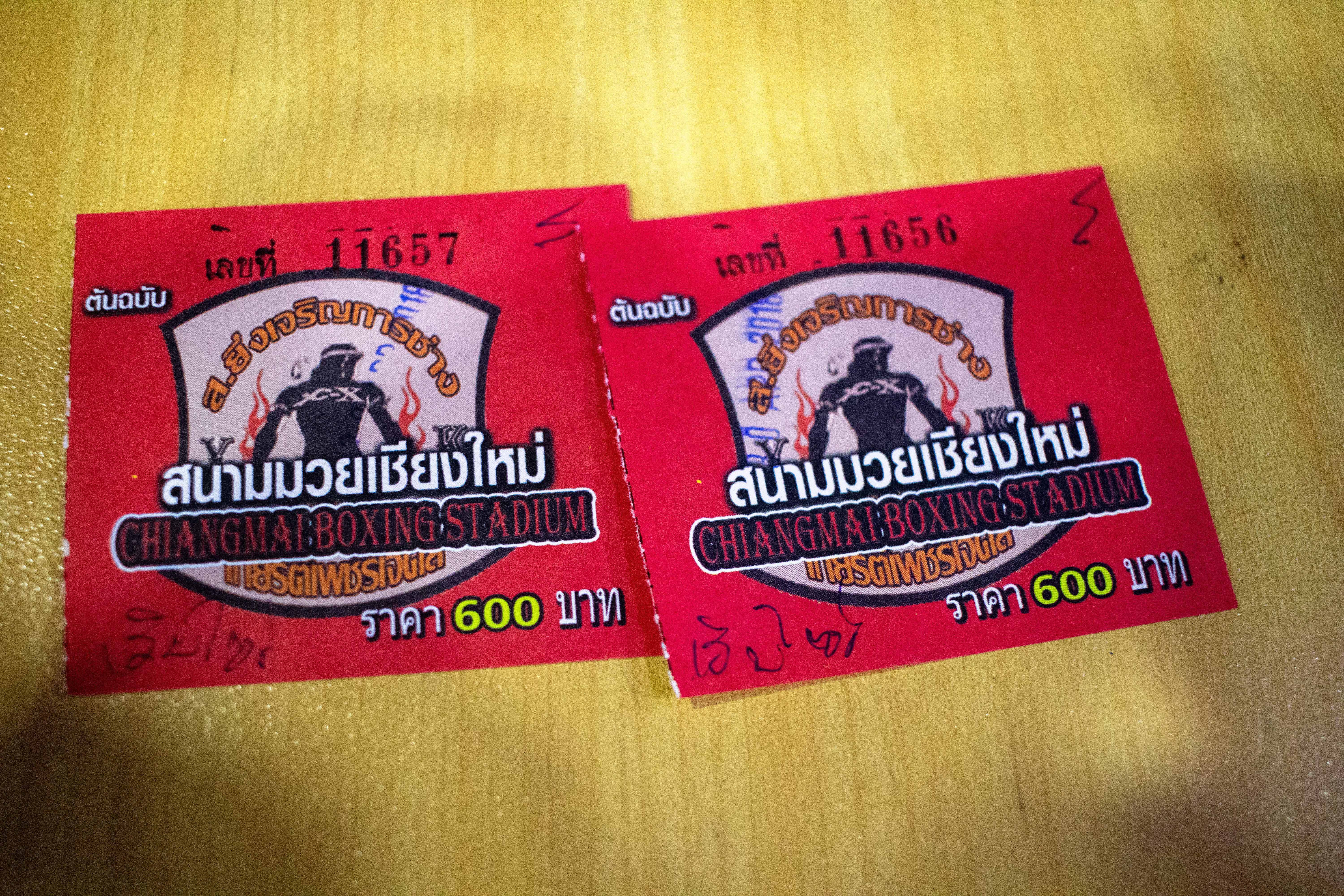 Visit the Silver Temple – and others
Located just outside of old town on the south-side of Chiang Mai is one of northern Thailand's most amazing religious sites, the Silver Temple. Although there're literally hundreds of temples in the area, the Silver Temple is truly unique and one of the top things to do in Chiang Mai.
The temple is situated in the traditional silver making district where it was first constructed back in 1501. Since then it's been rebuilt and remodelled many times, most recently in 2004 using the skill of local silversmiths from the Ancient Lanna Arts study centre.
We had to leave Chiang Mai later in the afternoon the day that we visited, but in the evening, the temple is lit up with colourful lights. There're also monk chats every Tuesday, Thursday and Sunday from 5:30-9:00pm where you're able to talk to the monks in English, ask them questions and also meditate with them. Meditation courses are also offered at the temple. We've visited countless religious sites in Asia but this was one of our favourite things to do in Chiang Mai.
Note that women are not allowed inside the temple (due to Thai customs) and shoulders and knees must be covered when entering the temple grounds.
Conveniently located in the centre of old town are also two more impressive temples; Wat Phan Tao and Wat Chedi Luang, get there around sunset to see them in the best light.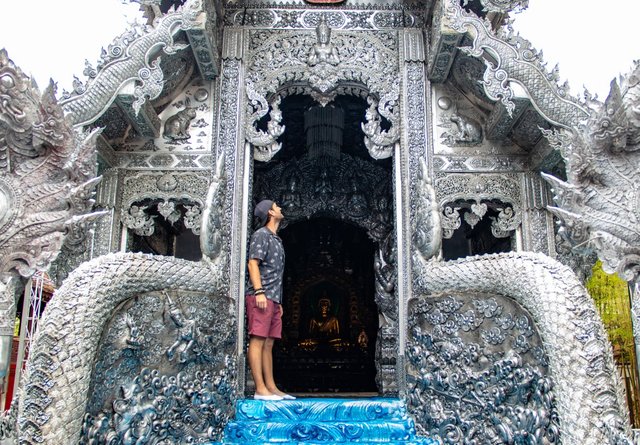 Enjoy Cheap Eats & Music at Ploen Night Market
This quirky international food market is the perfect spot to grab a bite in Chiang Mai. It opens around sunset every evening and continues until midnight. There are a range of Chiang Mai's best street eats with inspiration from around the world as well as local cuisine. If you haven't tried Northern Thailand's signature dish, Khao Soi, now is your chance.
In the middle of Ploen night market you'll find tables with haystacks to sit while enjoying some free entertainment featuring local artists. There are also many bar stalls offering hand crafted cocktails, sangria, wine and beer.

Shop for Unique Handicraft at the Sunday Night Market (4pm – midnight)
This was one of our favourite markets during our 3 months in Asia and one of the best things to do in Chiang Mai. The market is conveniently located in the centre of the old city and consists of 1km worth of stalls with delicious food, beautiful art, handicrafts, jewelry and more. We found that the vendors here were selling many unique items compared to what we'd seen at other markets around Asia. Most stalls were selling beautifully constructed hand-made items. There are a number of restaurants and cafes in the area where you can take a browsing break, watch the action or opt to get a 70 baht foot massage for 30min.
I recommend heading to the market at about 6pm when it isn't too busy and the entertainment hasn't yet commenced. The vibe is festive and fun, bright street lights are turned on and live music and dancing begins.

Enjoy the Amazing Vegetarian Food Scene
Neil and I eat a mostly vegetarian diet so we were thrilled to discover the countless vegetarian and vegan restaurants scattered throughout Chiang Mai. We only had two full days there and we wish we could have tried more places than we did. Here are a few that stood out:
Salsa Kitchen
We absolutely love Mexican food and were delighted to see that salsa kitchen, just around the corner from the hostel we were staying at, offered an additional vegan menu! We split a burrito and enchiladas, the portions were big and prices reasonable for non-local food. We left full and happy.
Birds Nest Café
Upon arriving in Chaing Mai late one afternoon we popped into Birds Nest Cafe for a much needed coffee and a bite. Unfortunately, when we arrived the'd closed their kitchen for the day, but the menu looked incredible. They have so many delicious homemade organic and healthy options and are definitely vegetarian friendly. We both had coffee which was very good and I especially enjoyed my creamy coconut milk coffee. We loved the chilled out hippy atmosphere within their airy bungalow. Many seating options were available, inviting us to sit back and relax among the earthy decor.
Vegan Heaven
On our second evening in Chiang Mai we had dinner at vegan heaven and were impressed with the extensive menu. We ordered the cauliflower wings to start, followed by two falafel wraps for our main (with an always welcome generous portion of hummus) and to finish it off spilt a chocolate brownie with ice cream. Everything was amazing!

The Hideout
Although The Hideout is not fully vegetarian, it is vegetarian friendly and makes our list because of its high quality ingredients and delicious flavours. They make their own Greek and probiotic yogurt in-house, as well as muesli and challah bread. The menu, that consisted of sandwiches, salads, breakfast sets, french toast, coffee, smoothies and tea was a bit on the shorter side but everything that came out of the kitchen looked divine. I highly recommend getting a mixed fruit smoothie, it was one of the best I've had in Asia.
Side Note: If you are traveling through South East Asia and looking for the best eats check out our food guides:
Organic Vegetarian and Vegan Food Guide – Siem Reap (Cambodia)
Top 8 Places to Eat and Drink – Hanoi (Vietnam)
Organic Cafe Paradise – Canguu, Bali (Indonesia)
Although we only had a few days in Chiang Mai (we spent a week at Elephant Nature Park), we left feeling as though we experienced the best of what this beautiful and historic northern hub has to offer. I hope our reco's for the top things to do in Chiang Mai helps you on your next adventure there!
If you have any questions let us know in the comments section below, and if you enjoyed this article please like, share or subscribe to our newsletter so we can keep bringing you our best travel advice!
Wishing you peace, love and epic adventures,