I'm sure you've been wondering, where we are, and what we are doing! Maybe where have we been?
What ever happened to that Undocumented Human boy?
Well, here's an update!
We came to Texas back in June 2017, to look for a sailboat, and someone willing to trade one for our RV, ATV, Jeep, and trailer if needed. At 7 months pregnant we drove from Arizona to Texas.
We left Freedom Ranch for the second time, and made the long journey. Arriving in Texas at my battle buddies house, we settled in.
Image of Me at Freedom Ranch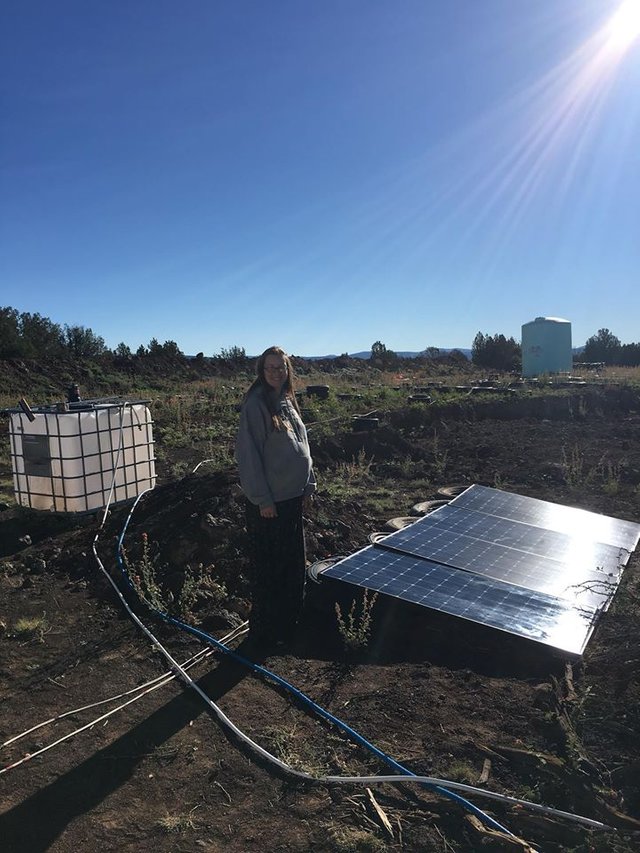 Brian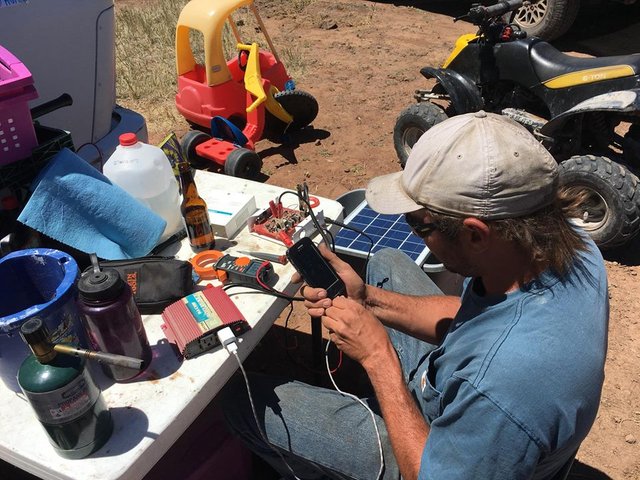 The first boat we looked was in Lake Conroe, it had an exhaust issue, unfinished plumbing and the guy wanted all of our things. Well this was obvious to me, we couldn't give away our current working home and everything else, with Tate on the way. So we turned it down and continued looking.
A man from Aransas Pass came out to see the Winnebago in July, he was willing to trade for the RV, but I started having contractions before we could make the 4 hour drive to check out his sailboat. It took a couple of weeks, but Tate made her appearance on Aug 6th.
Does this post technically document her on the blockchain? .......By that time the boat had been sold.
We took Tate to meet a guy with a 40' steel ketch anchored out in Clearlake. People who stayed at the Hilton will remember what some called an eye sore. This was our next possible trade.
Then Hurricane Harvey struck and devastation hit. The 40' ketch washed up on the shore. It became a landmark. This horrible event and the ones that followed striking the islands after Harvey have affected me immensely.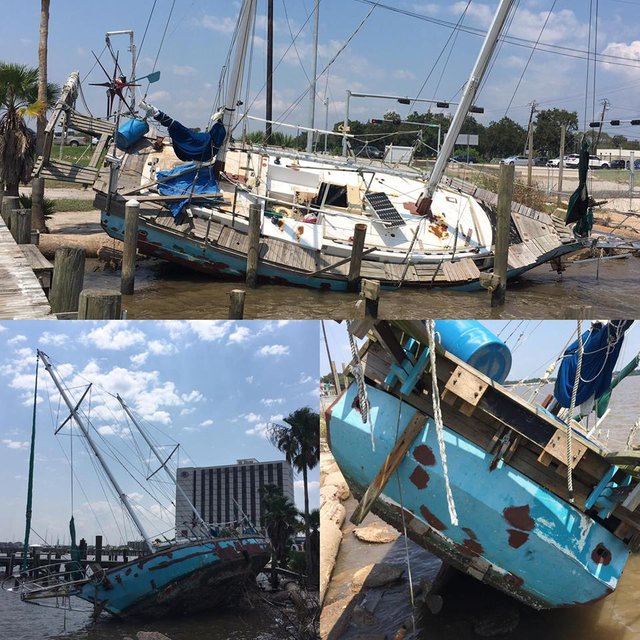 I have a huge connection to the islands since Brian took me to the Virgin Islands in 2011 and 2012, the same years I went to PorcFest for the first time and came up with the idea for Jackalope, which followed the next year.
Our family has traveled the U.S. for the last two years in our 1986 Winnebago. We have journeyed to find our sailboat, and we have finally found her.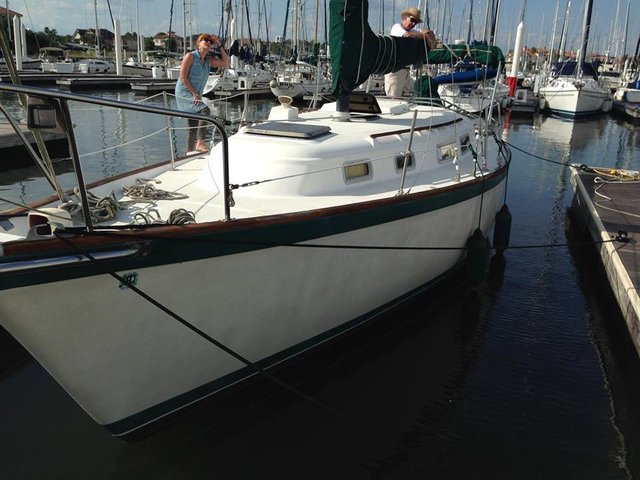 After the disaster of the hurricane, a girl I met on Spybook sent me a photo of a listing in her marina bulletin board for a Pearson 323. So we scheduled to see it the same day as we scheduled to see another Morgan. The Morgan owner was down to Trade, but we still had the Pearson to look at. When we first saw the Pearson we knew it was the perfect boat for our family. Unfortunately the Pearson owner wasn't interested in any trades, he wanted $5000. He said he had it listed with a broker for over a year and just wanted to sell it. He's 78 and didn't want the overhead. He's owned it for 20 years and kept it in immaculate condition. Even with a bottom job done in the last two years. We realized we couldn't pass up the offer. This boat had a working engine, working sails, working pipes, water heater and more! So I started begging to borrow, anyone I could think of, we put a rush to sell the Winnebago because this would allow us to buy it and have some money to put into the boat.
I went on Declare Your Independence with Ernest Hancock and told the story. Shortly after, a long time friend contacted me asking to purchase the Winnebago for Bitcoin. At the same time I was waiting for my Grandpa to decide if he would loan us the $4,000 we needed to buy it. Brian came up with the best idea in the whole world. He said, "If your Grandpa decides to loan us the money, let's keep making monthly payments to him so we can hold onto the Bitcoin from the sale of the Winnebago.
https://www.freedomsphoenix.com/Media/Media-Files/001-1025132515-2017-10-25-Hour-2-Alma-Sommer---APiratesLifeForMe.mp3
This was the best decision we could have made. Even with Bitcoin down as low as it is right now, it is still avove the value it was when we sold the Winnebago. My grandpa did agree, and this decision has allowed us to buy super important things needed for the boat. Navigation equipment, a Generator, a refrigeration unit for the ice box, safety equipment for us and the kids, LED lights, the list goes on. The reason I'm deciding to be open about this, is because our family lives on crypto. We have for years now. It has benefited and enriched our lives for the better, unlike the Federal Reserve Note and the slavery through taxation that the U.S. offers.
We now are planning the biggest adventure of our lives, to start sailing with our two undocumented humans, without permission. Yes, Tate was born in a hospital and we refused government forms as well for her. It is her choice what nation she decides to be a part of.
There may be times where we interact with a human who claims authority, but we have the knowledge that every interaction is Voluntary until it is not. I have been doing extensive research on alternative travel documents and I've been working closely with the Bitnation Core team. We will be documenting our boat and identities on the blockchain, but for now we have the basic forms of identity and proof of birth.
We have launched a new channel currently on YouTube called Sailing Bangarang, where you can view our promo video. We are also on Spybook and Instagram.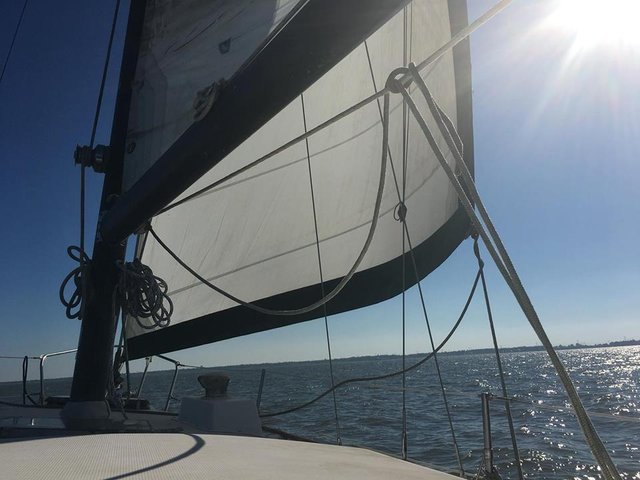 Next up….
The Bitnation Borderless Tour. Check out our next Steemit post for more details! See you at Anarchaforko!
Promo Video