Exploring All the Best Angkor Temples in One Day
Yesterday, I posted about my first day exploring Angkor temples around Siem Reap by going to the Roluos Group. You can read that post HERE. Today I will tell you about the best temples to see around there and how you can do it all in one day.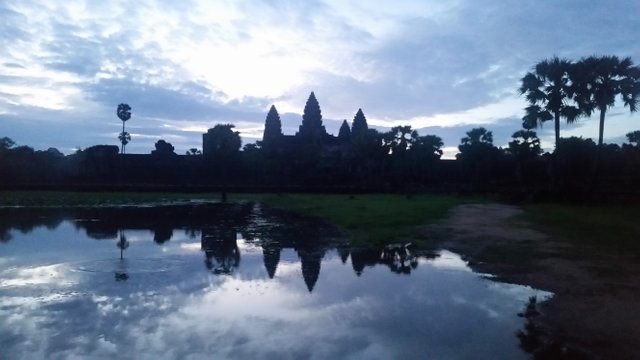 My brother, Joe, and I booked a tuktuk driver for the day through our hostel. We signed up to do the Small Circuit. This is how you can see all the best temples in the area in one day. There is also a Grand Circuit that will take a little longer and gets you out further but it misses a couple of the best temples, so if you can only do one, definitely opt for the Small Circuit.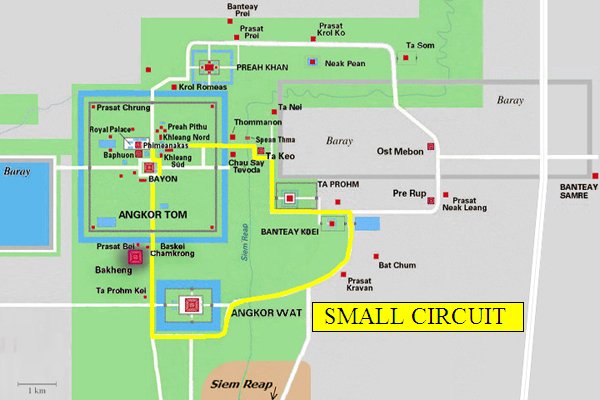 Map of Small Circuit
Source: angkor-travels.com
If you have the tuktuk to yourself, you can choose what time to go and which direction to go. Most people choose to see Angkor Wat first and go clockwise around the circuit from there. That is what we did. Joe and I wanted to see the sunrise over Angkor Wat so we woke up early to leave the hostel at 4:30 am. We got to the temple while it was still dark and got a decent spot to view the sunrise. And when I say decent spot, I mean it was where all the other 500 tourists were but we were able to get in the front of them by getting there early.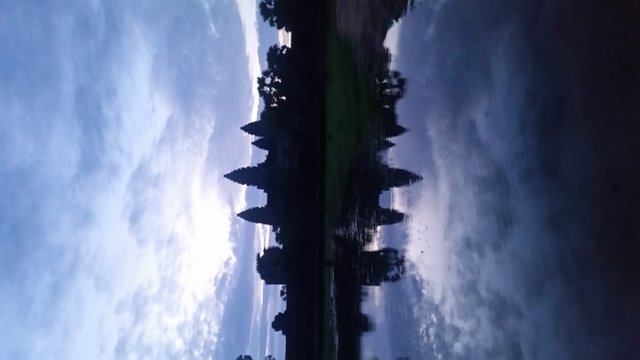 The sunrise didn't give us much color aside from a greyish blue, so we went inside the temple to try to explore it before all the rest of the tourists piled in. It can get crowded in there, especially in the center pagoda where people have to line up to climb the stairs to see it.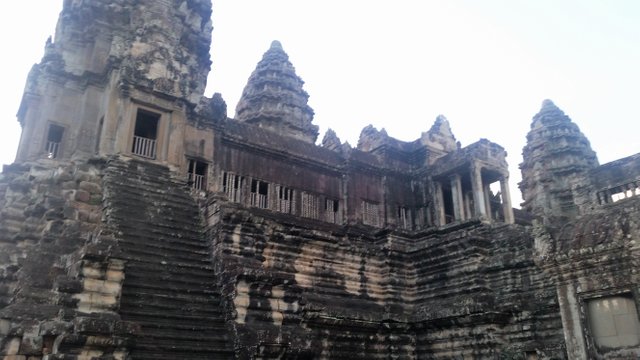 Inside Angkor Wat
Wanting to stay ahead of the masses, we met our tuktuk driver who took us to the next site on the circuit, Angkor Thom. This site is a whole complex of temples, pagodas, stone carvings, and ruins surrounded by a moat. It covers an area of 9 sq. kms (much larger than Angkor Wat) and was the last capital city of the Khmer Empire. Our driver dropped us off at Bayon and we were free to roam and see all we wanted for 2 hours before we met him on the other side of the complex.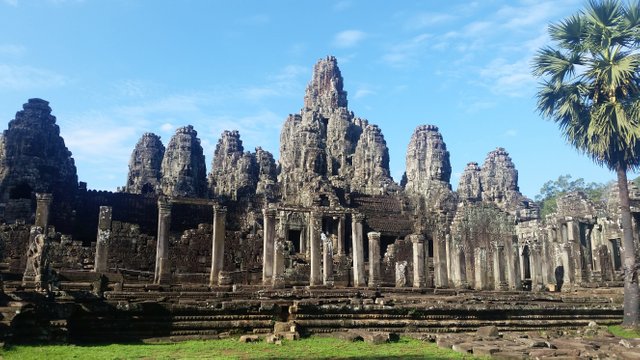 Bayon
Bayon is the center of Angkor Thom and is a very cool structure. It has many faces of King Jayavarman VII who ruled the Khmer Empire from Angkor Thom. Exploring here is an adventure. You may lose your bearings once or twice, but the best part is climbing up to the second story to get a closer look at the giant stone-carved faces and peek inside the different towers spiking out of it.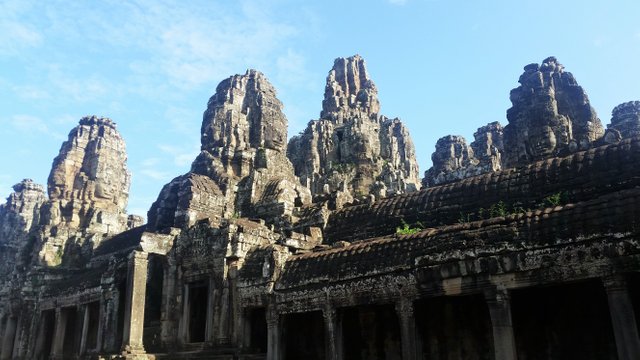 Can you spot the faces?
A short walk from Bayon is Baphuon, a pyramid-style temple that you can climb to the top of and get great views. Originally a Hindu temple dedicated to Shiva, it was converted to a Buddhist temple a few centuries later.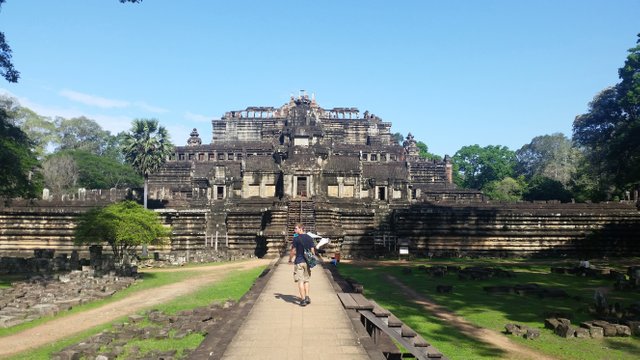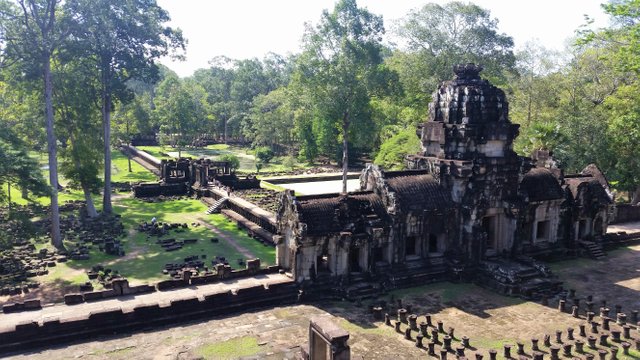 Baphuon
The other notable thing to see are the carvings at the Terrace of the Elephants and Terrace of the Leper King. Hundreds of carvings of people and animals can be seen and is really impressive.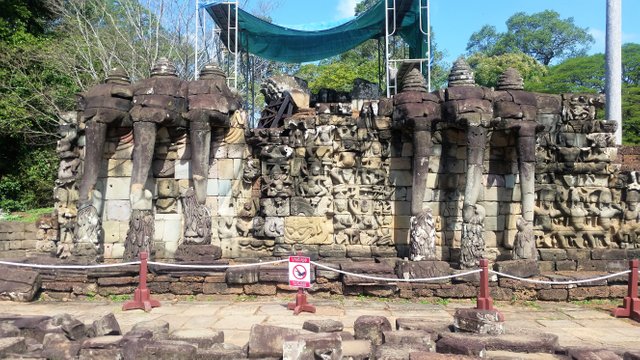 Terrace of the Elephants
After Angkor Thom there are a few small temples you can stop at if you wish but you are not missing much if you skip them. Te Keo is the next big temple that is worth a stop and a climb up. It is a step pyramid-style temple that is a bit simpler than other temples around it. There are few elaborate carvings and the towers are more square and don't have the frills of the towers of Angkor Wat or Bayon. It reminded me more of the dwarf-style architecture depicted in the Lord of the Rings movies where the dwarfs make things more geometric. It is a very steep climb to the top of this temple so be careful.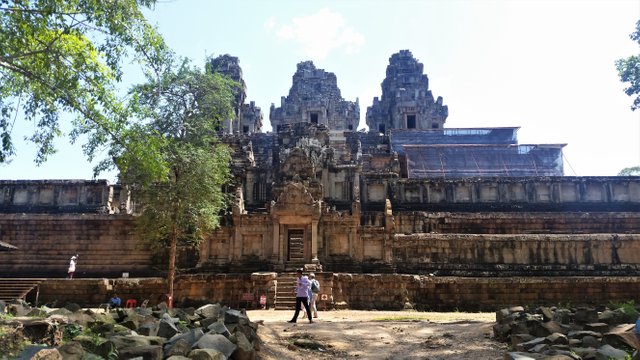 Ta Keo
That leads us to Ta Prohm. This is probably the second most popular temple site in Siem Reap because a portion of Lara Croft: Tomb Raider was filmed there. Ta Prohm is not nearly as restored as other sites but I am glad it isn't. Seeing the jungle and massive trees overtake the man-made stone buildings is an awe-inspiring thing. Exploring this place is really really cool. Scrambling over rectangular stones left in ruin from the walls and towers, getting lost by picking a random doorway to go through and seeing where it takes you, touching the roots of giant trees that grow over the stone structures... I have to say this was my favorite Khmer temple to explore out of all the ones I had seen there. Definitely put this temple on the list of must-sees.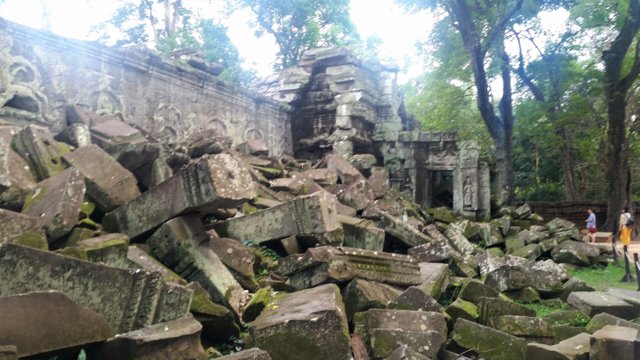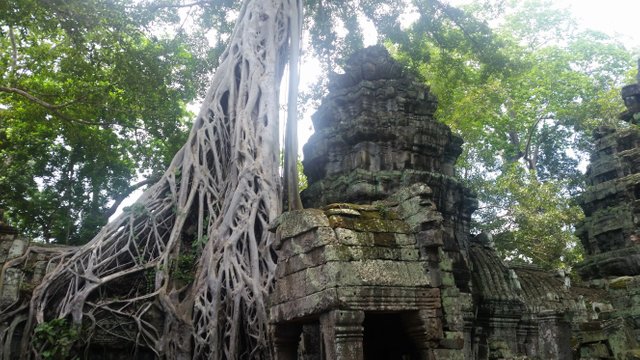 Ta Prohm
Those are all the main temples that I recommend seeing when you go to Siem Reap. There are more temples you can stop at on the small circuit if you wish, but if you're tired by this time you can just tell your driver to take you back to your hotel.
Here is a video of Joe and I exploring all these places in one day.
Which ones look the best to you?