Marjana Argan Oil Cooperative - Essaouira, Morocco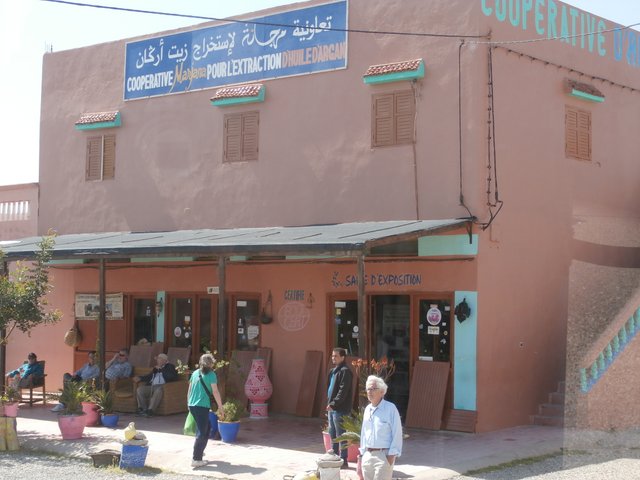 On our way to Essaouira, Morocco, our tour group stopped at the Marjana Cooperative just outside Essaouira. The cooperative was established to empower local rural women by creating a safe work environment and fair wages. The cooperative makes argon oil for culinary use and cosmetics. The majority of the world's argon oil production takes place in a small area surrounding Essaouira, Morocco. While some argon oil is mass-produced, there are still many small cooperatives that provide sustainable livelihood for the local economy.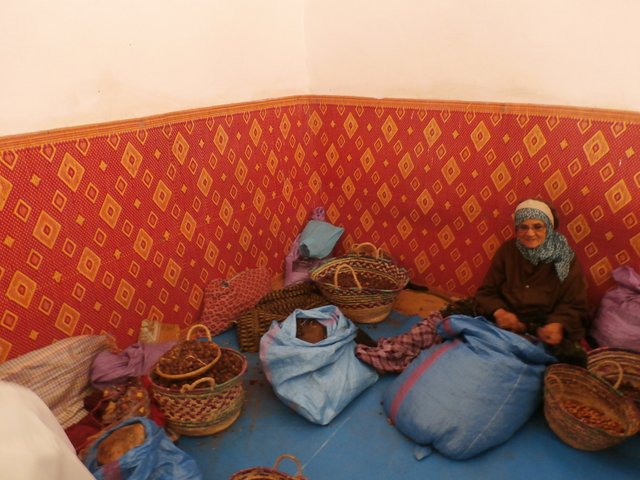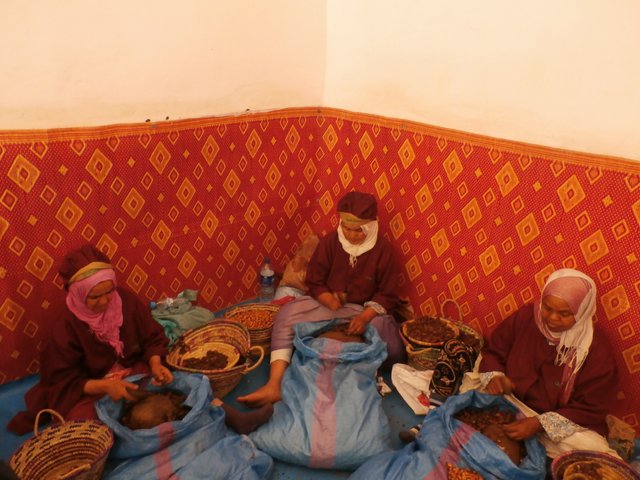 Producing argon oil is a labor intensive process. I am sure the mechanized version is far more efficient, but less economically empowering to local residents. The process begins with cracking the shell of the nuts. The women sit on the floor with large bags of argon nuts waiting to be shelled. It appears much like a knitting club, where the women work independently, while socializing. It seemed to be a relaxed environment, but a tricky process. The women skillfully strike the nut with a stone, cracking the shell. Those guests who attempted it quickly realized how difficult it is. The women work deftly, making the process appear simple. Watching my fellow travelers struggle to crack a single nut suggests otherwise. I didn't bother embarrassing myself by trying.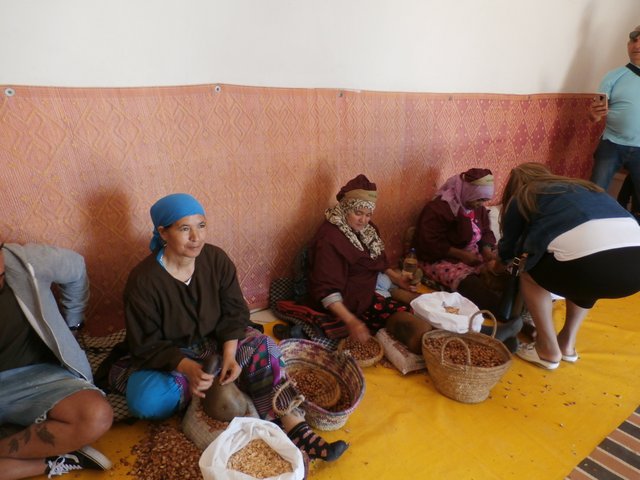 The argon nuts have a peanut-butter like texture and aroma as they are carefully ground and mixed at another station. The crushed argon nuts are mixed to a thick paste before moving on to another station where it is churned down into oil. The nuts are placed into a stone grinder that the women spin, allowing the thick, reddish oil to trickle into a large clay basin.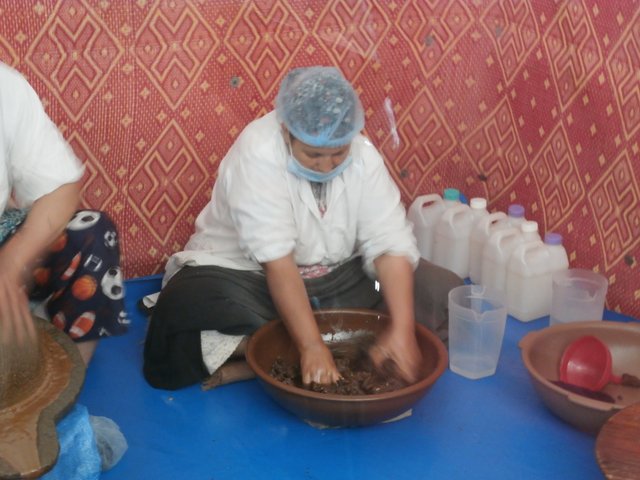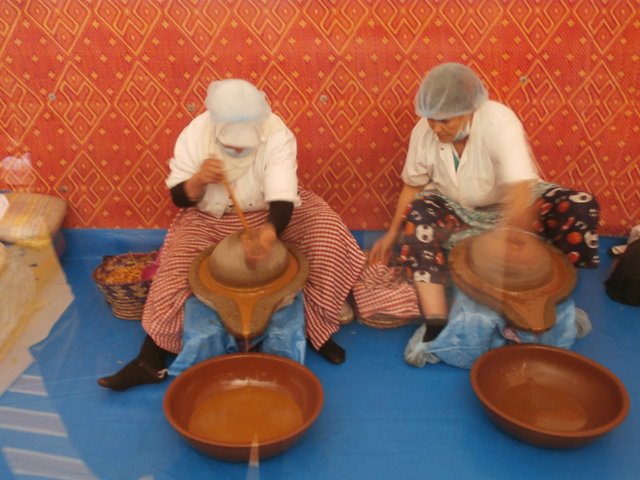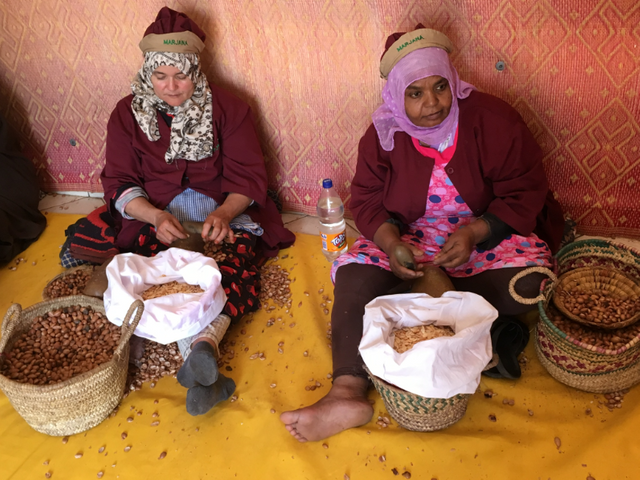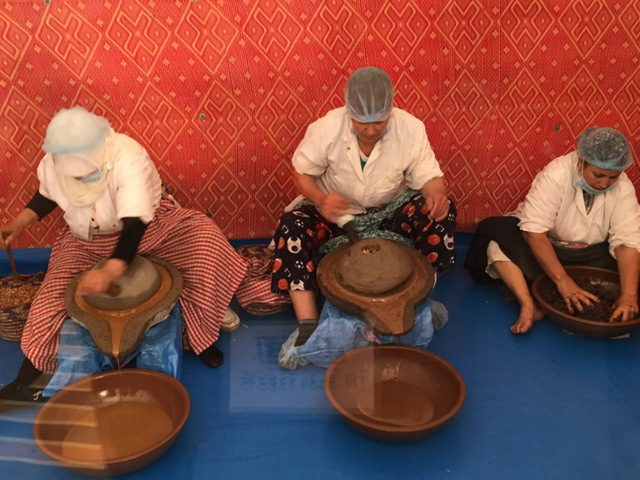 While I don't have photos of it, the leftover solids from the argon nuts is formed into large bricks. We were told that the solids were rich in protein and were used as animal feed as well as for other cosmetic purposes. After watching the labor intensive process of creating the oil, we were taken to the adjoining gift shop where we were able to purchase argon products. They were not cheap, but less expensive than what you would pay elsewhere. The products included several spreads (one tasted a lot like peanut butter), soaps and hair products. We were given some demonstrations on the various uses for the oils as well. My wife and I made several purchases, which quickly added up. But since she uses argon oil, the reduced price and knowing it was hand rendered were a bonus.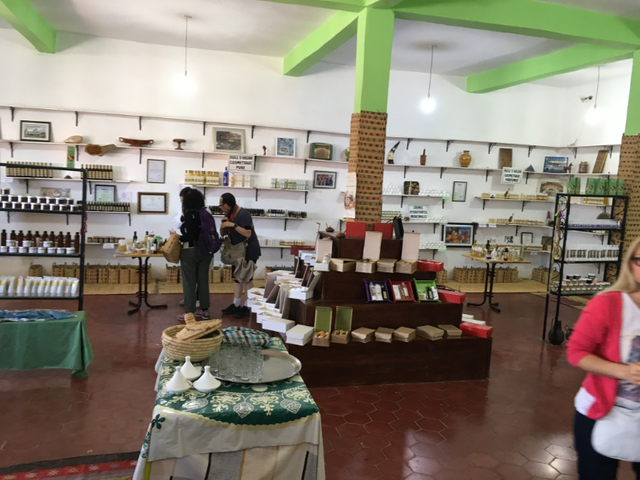 The Marjana Cooperative is located at Lahrarta 44000 Ounara - Essaouira, Maroc. They maintain a website where you can purchase Fair Trade products online: http://coopmarjana.com/index.php. The items listed on the website are limited. There are quite a few products in the store that are not available online. If you get to Morocco, don't forget to stop and visit. It is a fun learning experience, you can save a few dollars on Argon oil and you can benefit the local community.
All photos are my own. They may be reproduced with prior permission.