They say "No Man is an Island". I did not believe in this quote before. I've always thought that I'm fine being with myself. I grew up as an only child so I'm used to doing things alone, being independent, not relying on anybody else, and just enjoying my own company. But as I go through life, I've come to realize the importance of having people surround you, of building friendships and relationships with each other, of not having your thoughts only to yourself but also sharing it with others, of how fun it is doing things together than alone, of how much more meaningful and happier life is if spent with people close to you and of how much impact you can make to the lives of others if you do something for them. Creating and nurturing relationships is the key to day-to-day survival. More than ever, what we need in this harsh and challenging world is a community of friendships and support from one another.
So aside from the family I have at home, I'm also very thankful that I was able to find a group of people at work whom I can share my thoughts with and whom I can trust and care for. Because of them, I've learned that being a family does not end with blood, that being a family starts the moment you're there for each other and when you love, care and support one another. I'm glad that I became a part of this team/family -- of a set of people that is goal-driven, who lifts you up and always brings out the best in you, who supports you no matter what and saves you when you're in distress.
---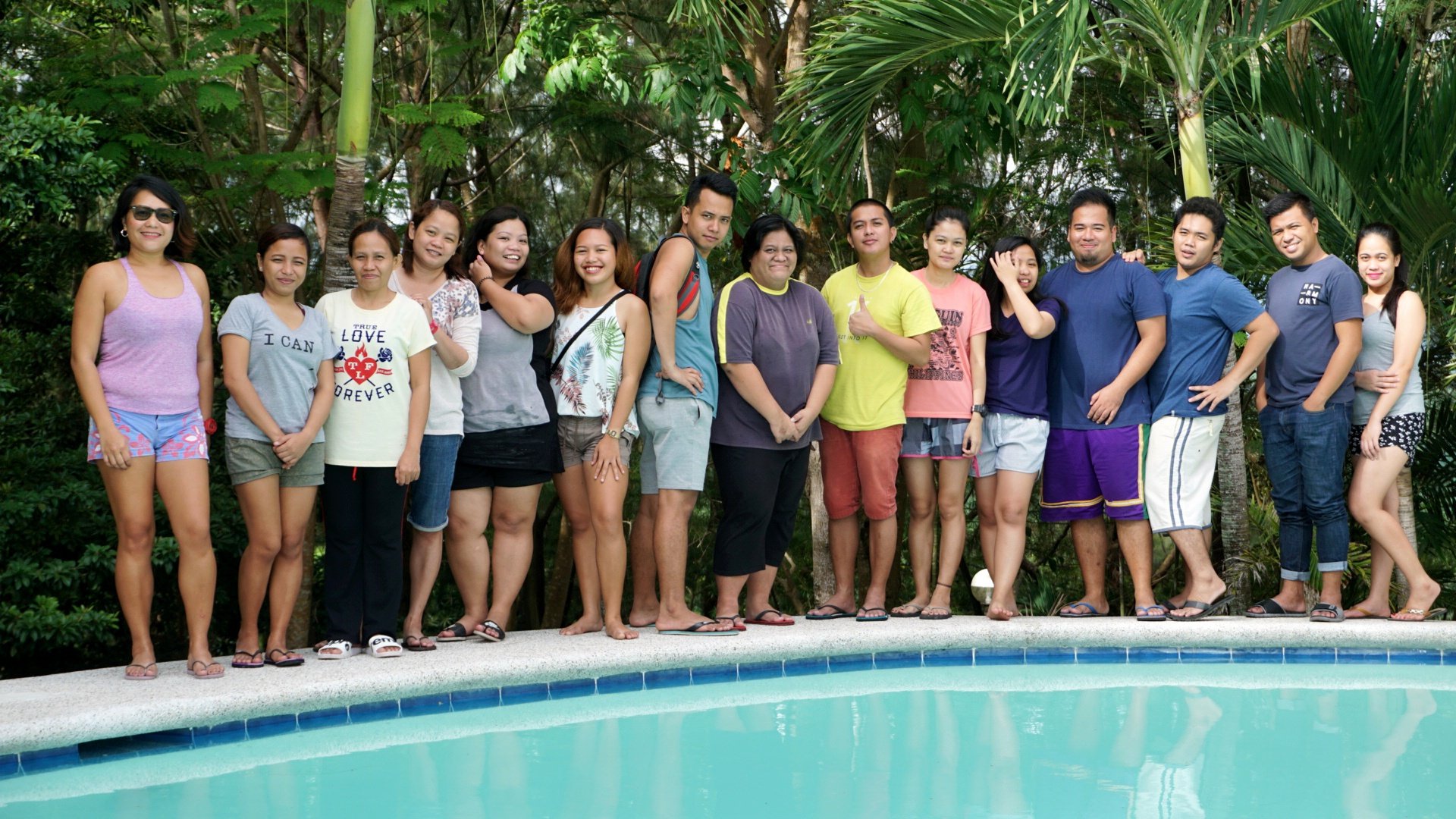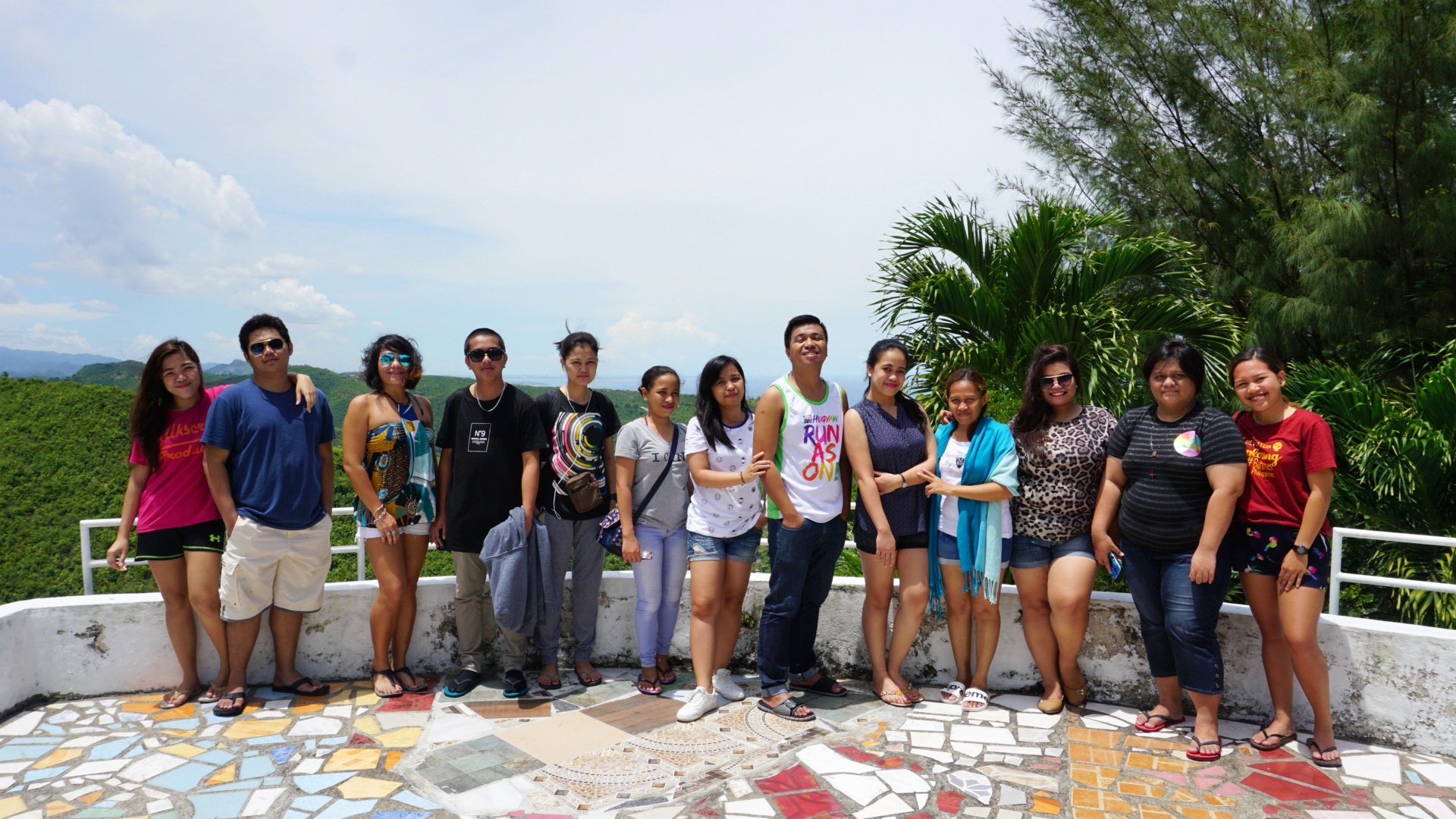 ---
Last Sunday, in order to celebrate our little achievements and our Team Lead's birthday, our team decided to go for a Weekend Getaway. This time we decided to have it on a Mountain Resort since it's summer and most people will be flocking on beaches right now. This place is just perfect for a time off social media since there's not much of a data connection signal here, which would give us more time for a real and personal connection and conversation. We are lucky enough to be able to book the whole place for a very affordable price. The place is located in San Fernando, Cebu and name of the resort is Singli Mountain Resort. We got the exclusive villa with spacious rooms, a veranda overlooking the mountains and the city, the kitchen, the sala, the vast green yard, the pool, and of course, the very much needed Videoke Machine. (Lol)
---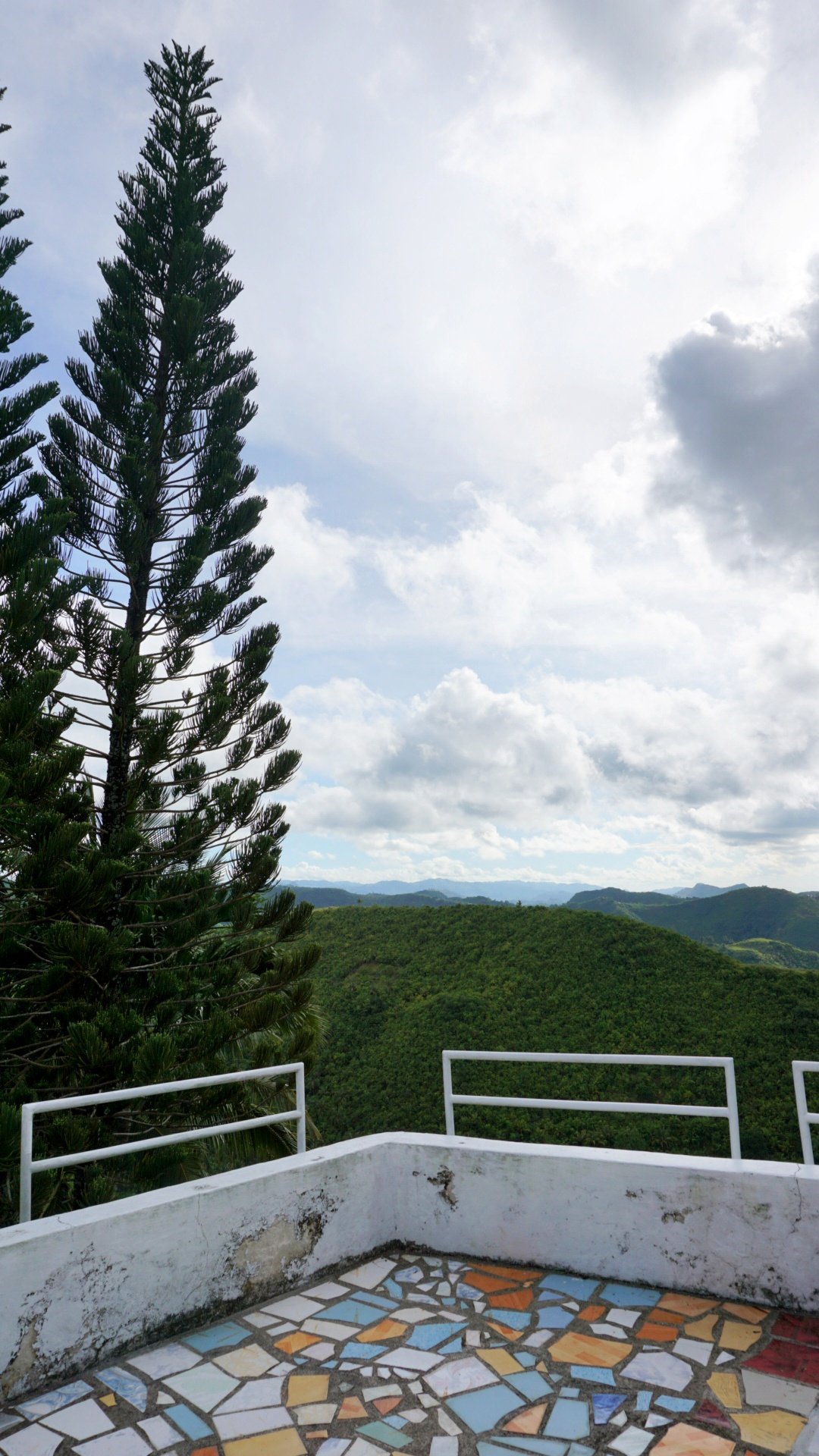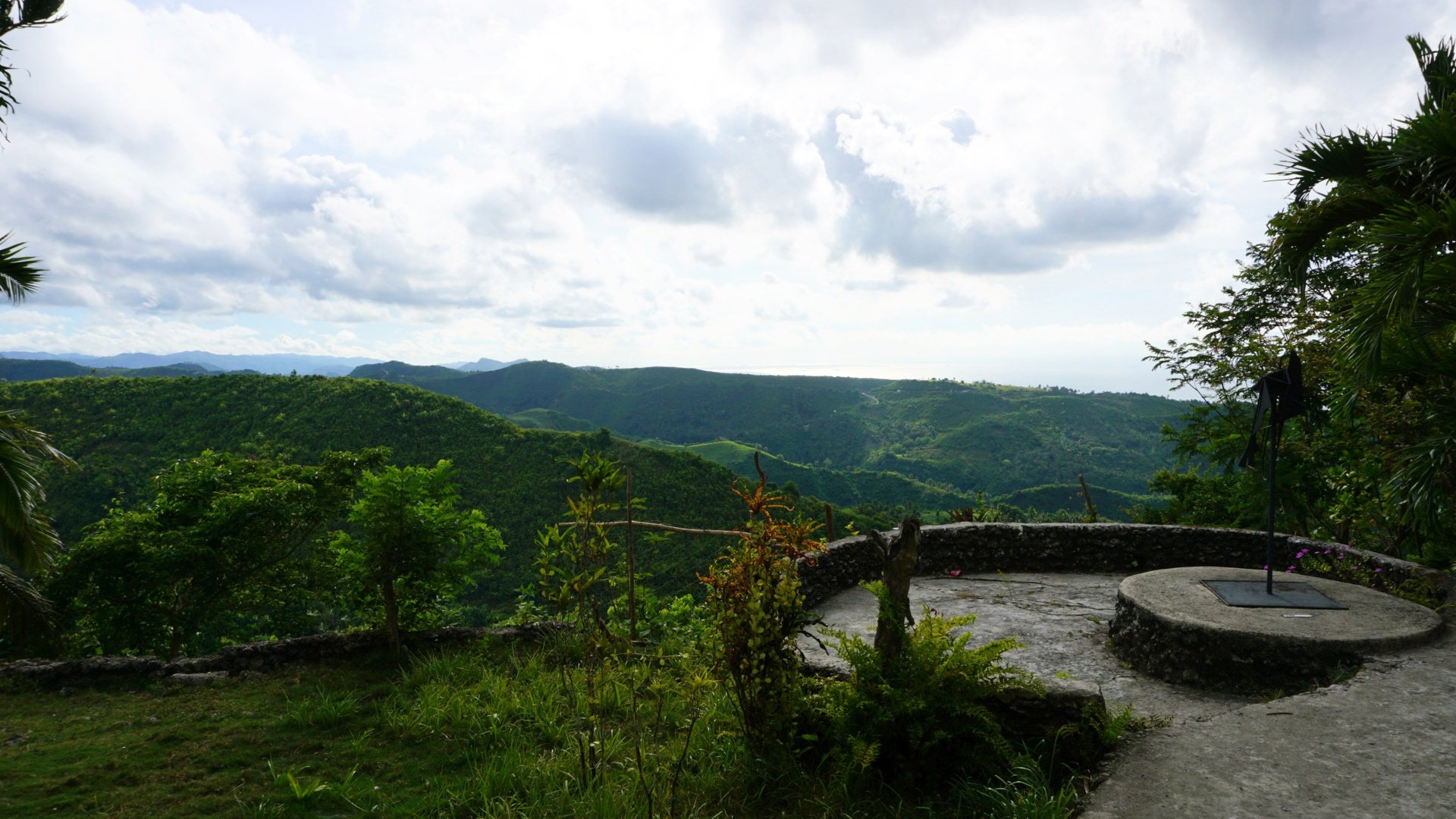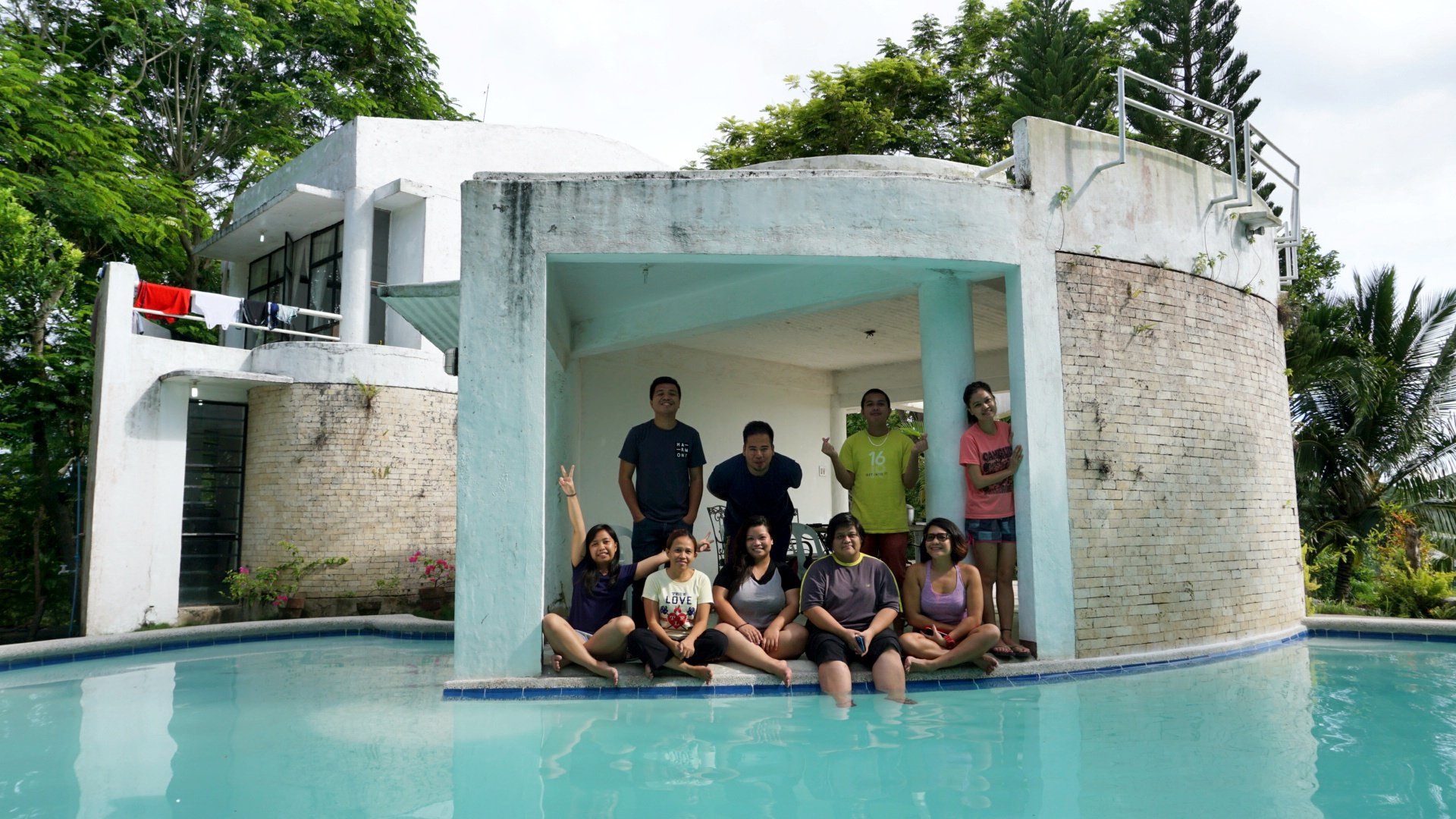 ---
The place is situated on top of a mountain so from here you can definitely see everything. The air is cool and fresh so we did not need to have an air conditioner. There are trees everywhere and you have a very great view of the sunset and sunrise. And of the moon and the stars at night.
---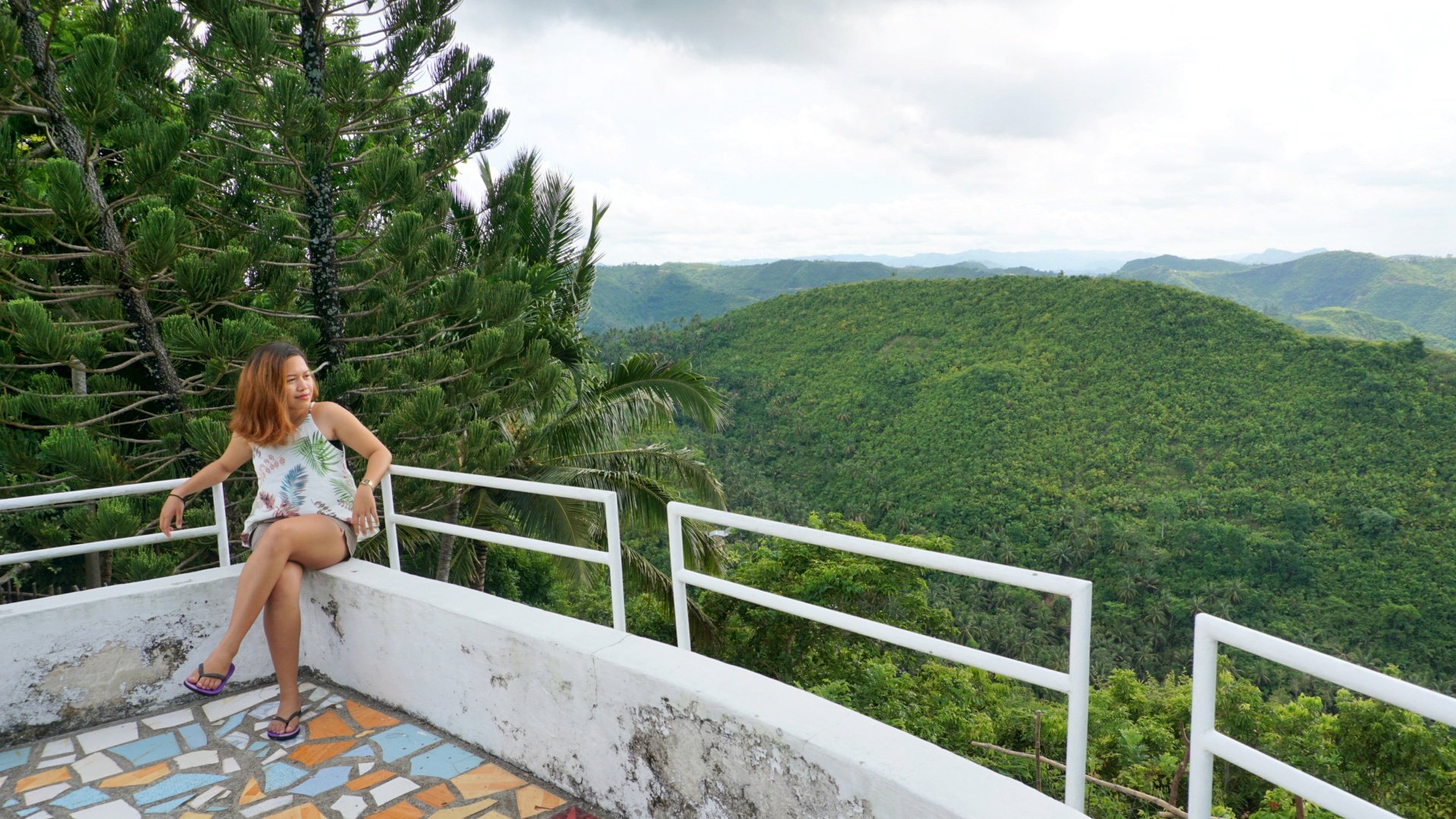 (My magnificent view in the veranda)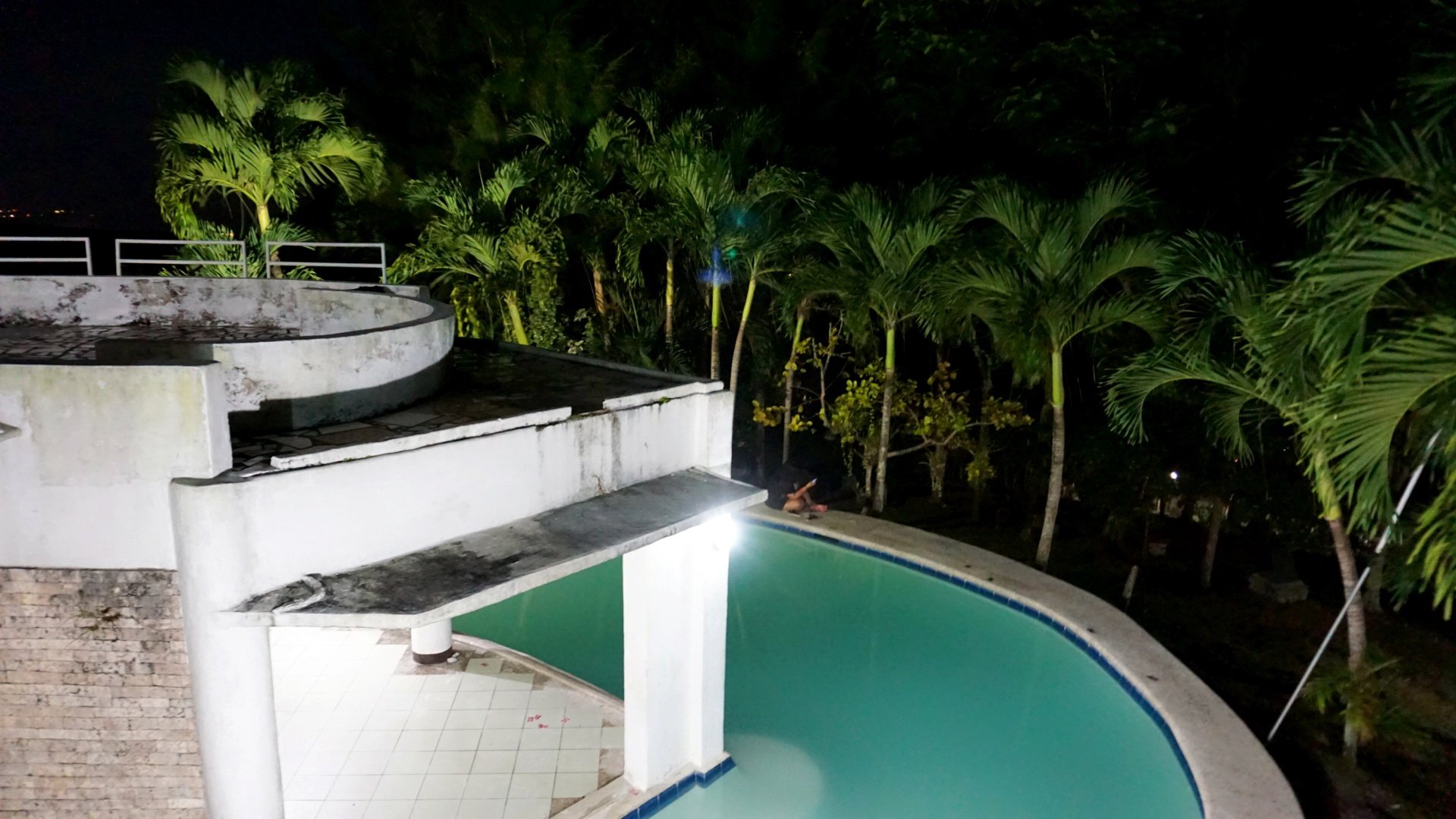 (Perfect for night swimming)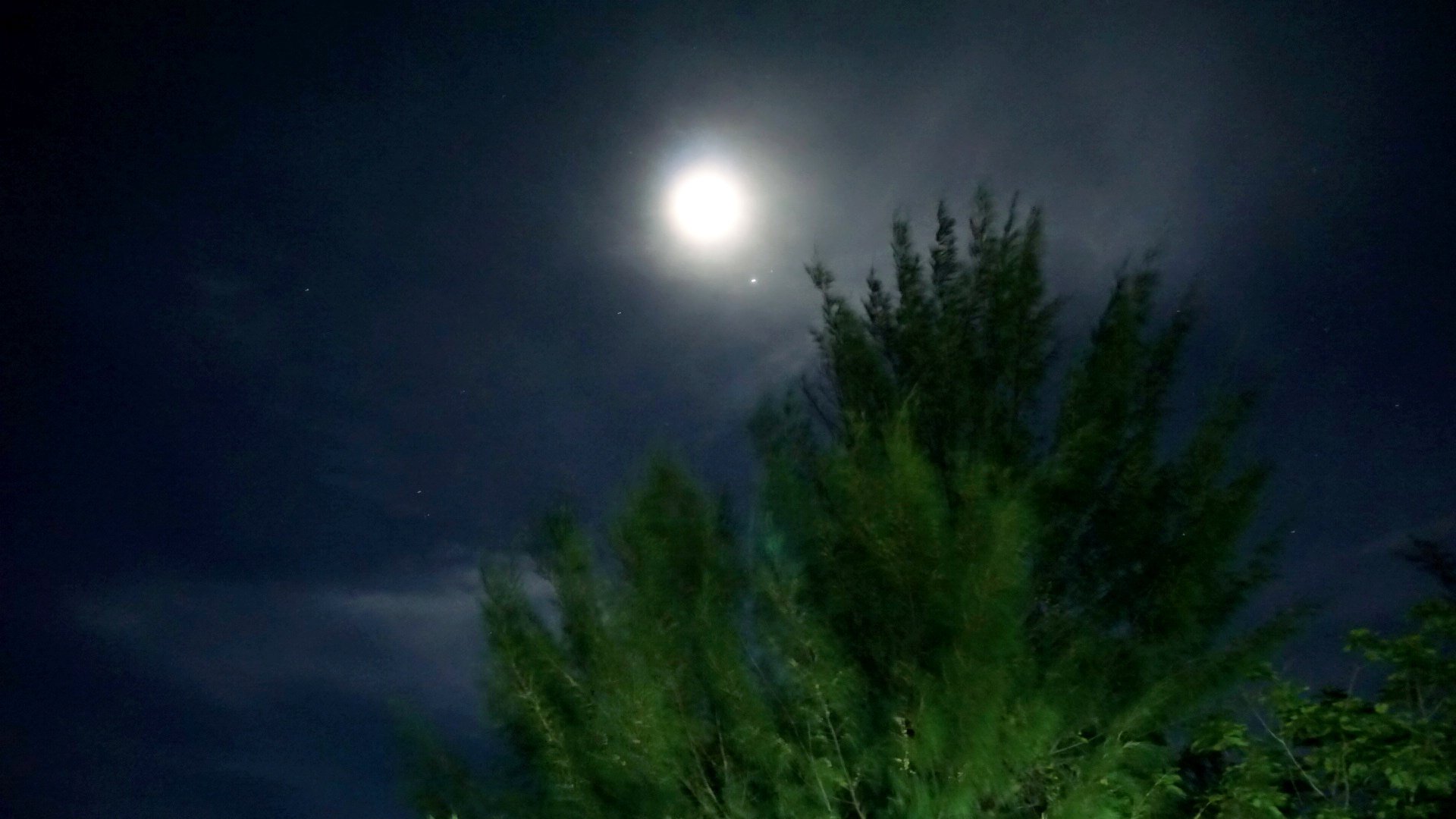 (The night sky and the moon looks so magnificent from this angle)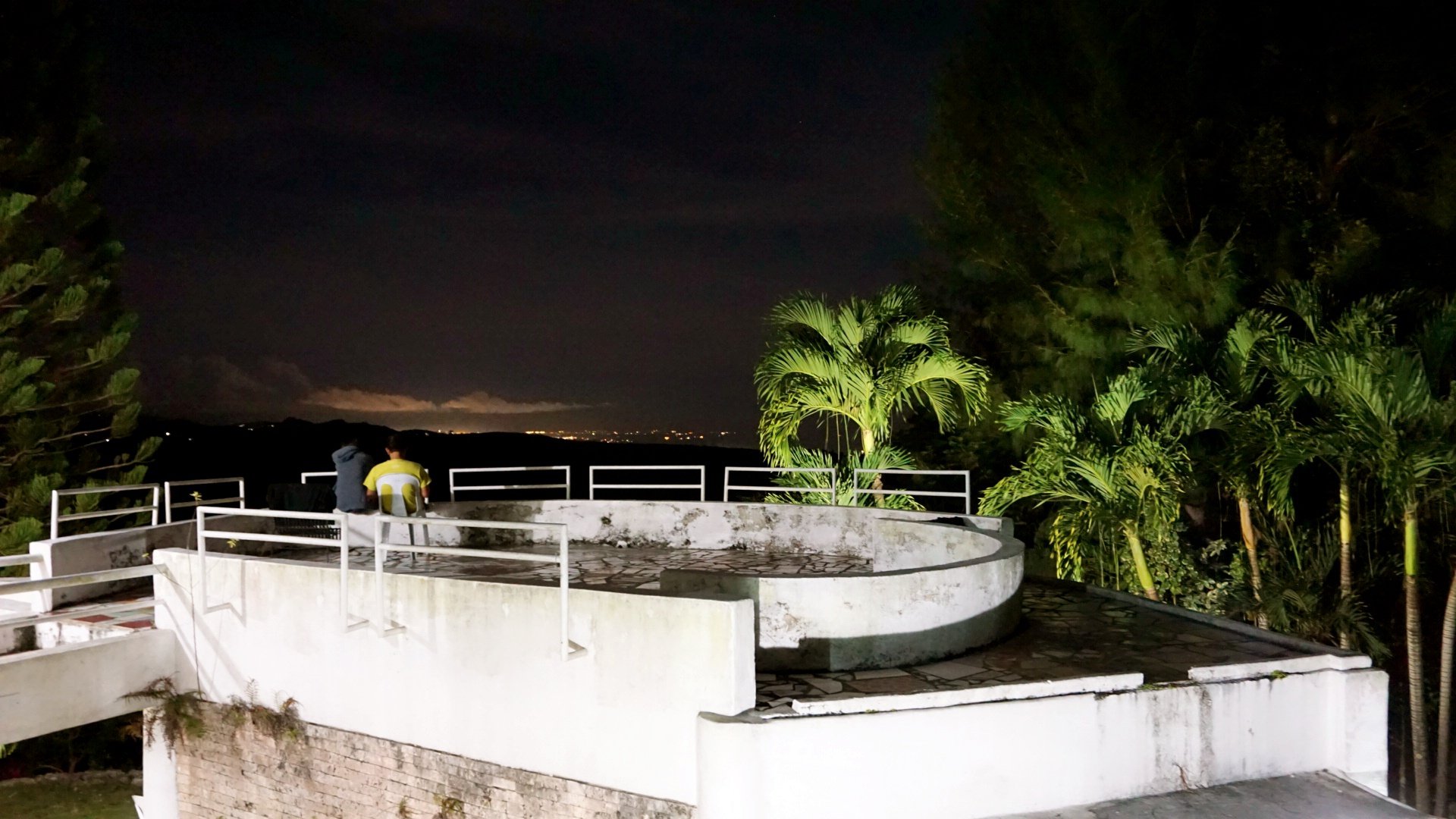 (Caught my teammates having a deep conversation in this silent night)
---
By early afternoon, we spent the time doing hilarious games that boosts and develops teamwork and also creates a fun atmosphere. We just laughed all throughout the game because it's just simply funny.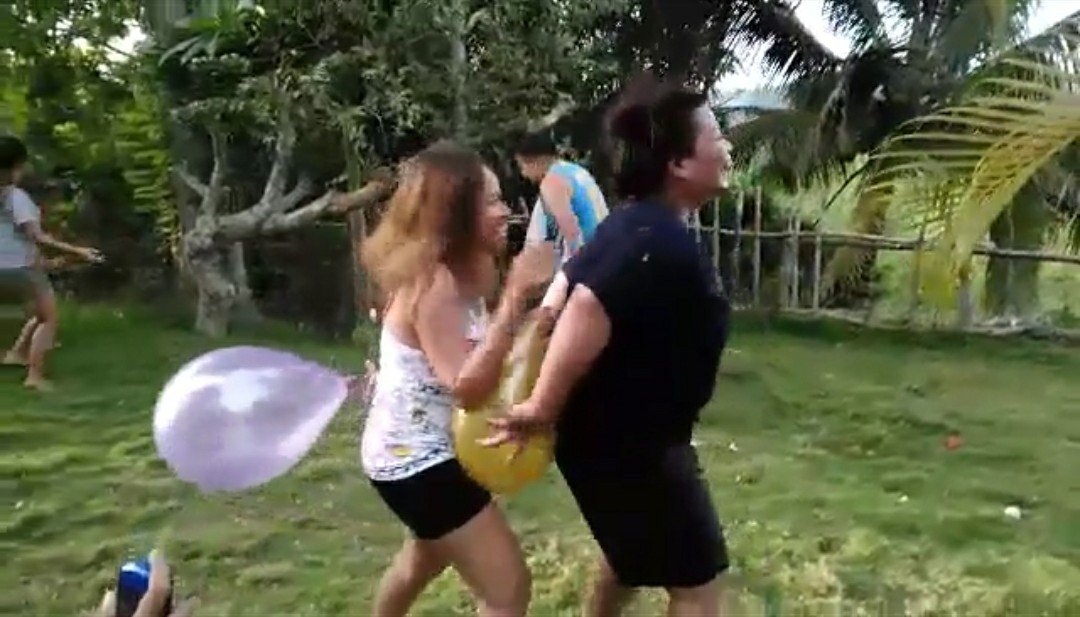 In this game we had to tie a balloon around our waist for the person behind us to pop so we had to find a good strategy since the balloon does not pop that easy. Surprisingly, our group won!
After that, some of us spent the rest of the time diving into the cool pool and some show off their singing prowess through the videoke and some others prepared and grilled the pork and the fish for our dinner.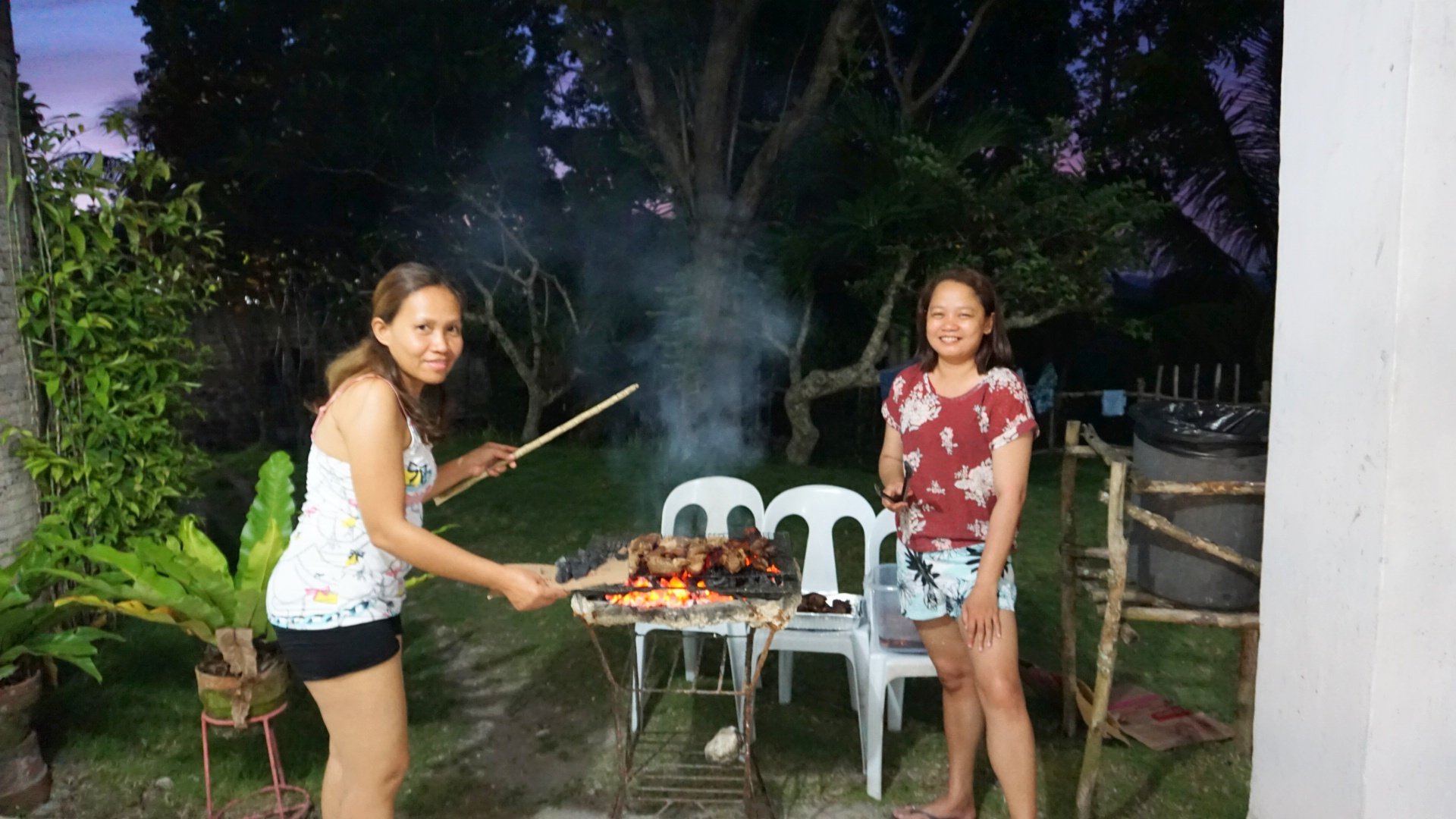 ---
By evening, we then all gathered around to enjoy our simple yet sumptuous dinner and gave thanks for we are all together in this wonderful night and are able to enjoy each other's company and strengthen our bond in this very peaceful and breathtaking place.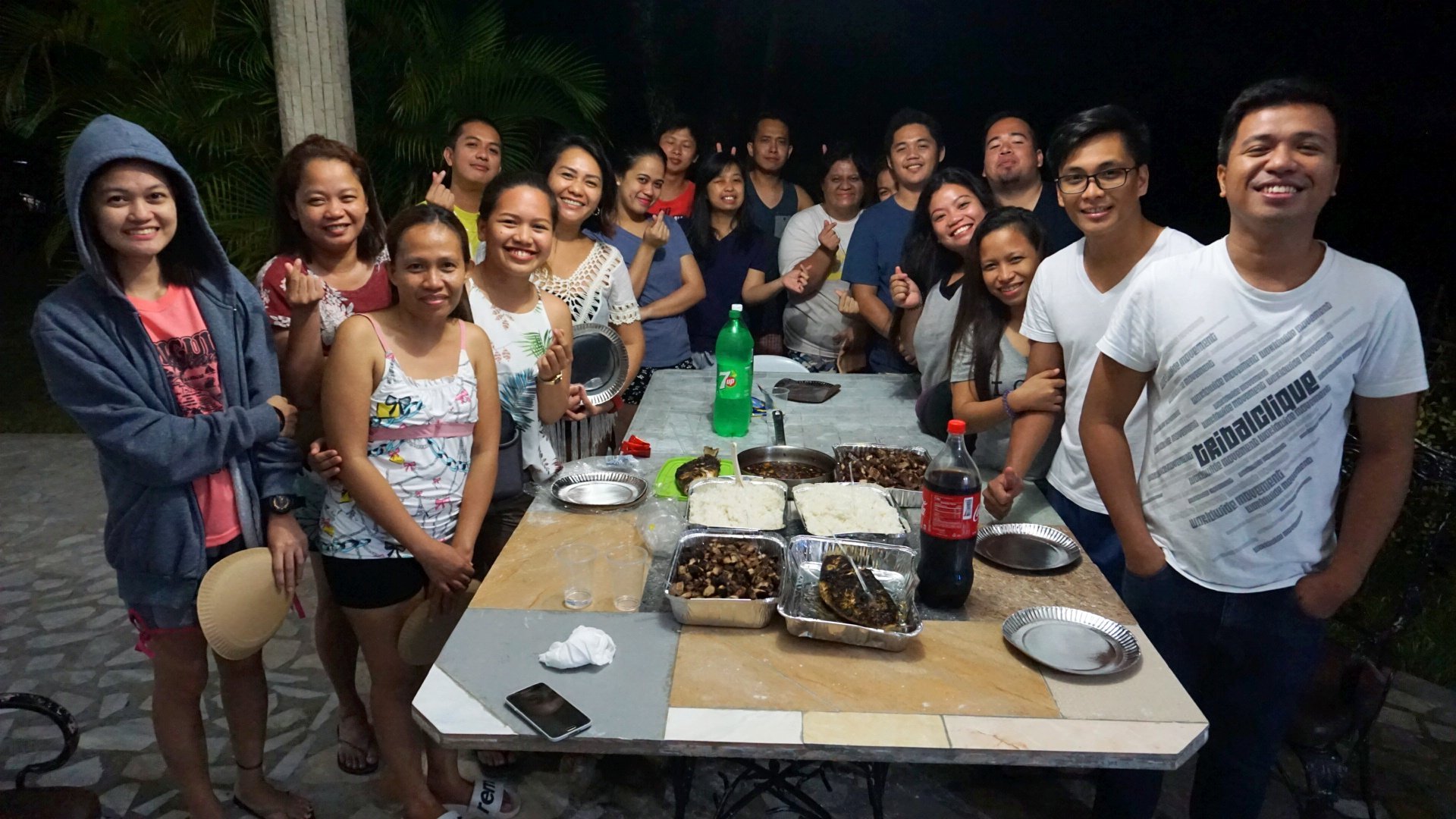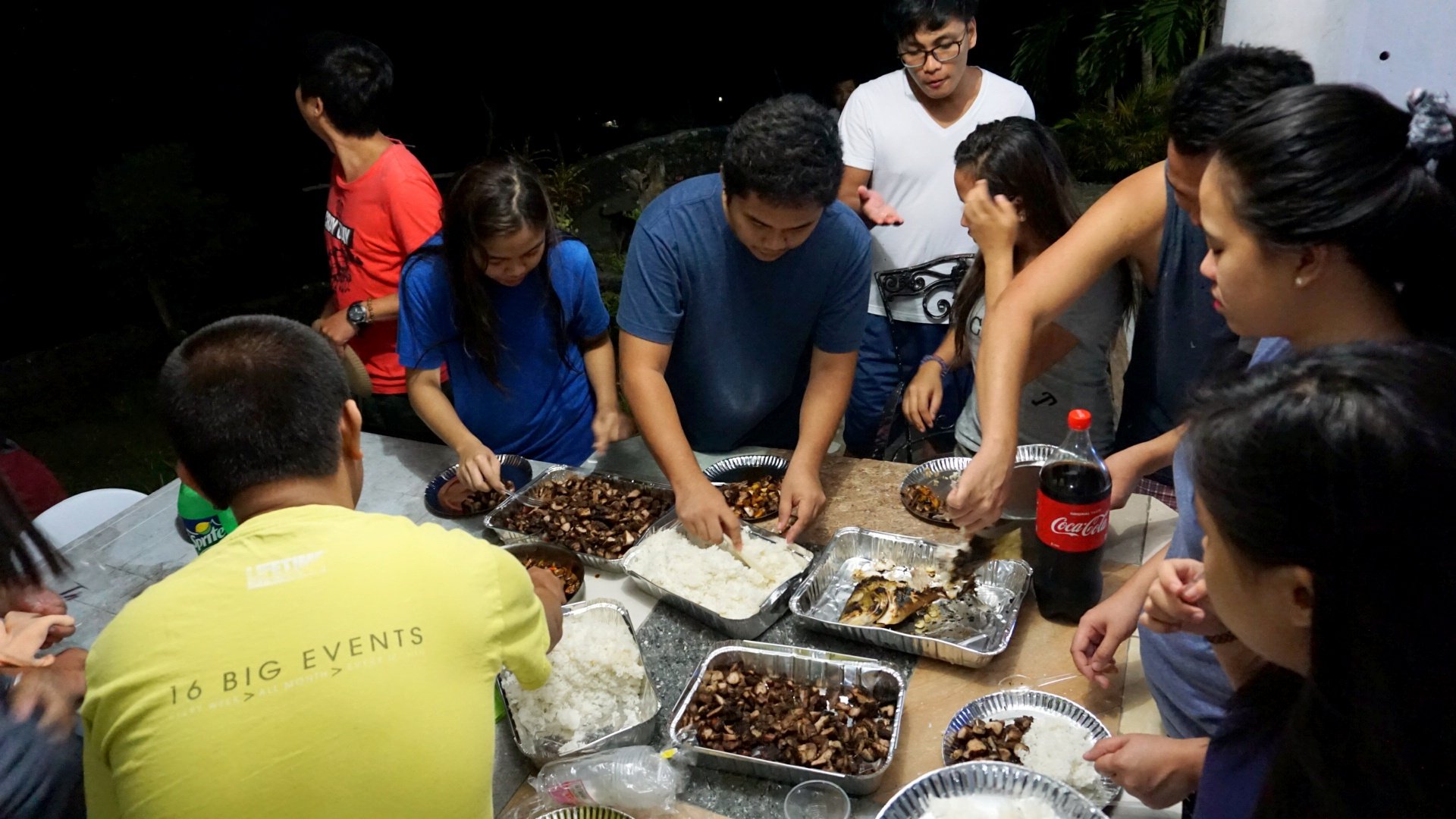 After dinner, some of our teammates also prepared a small birthday surprise for our Team Lead, Steve. They came up with a cake and letter balloons that spell his name.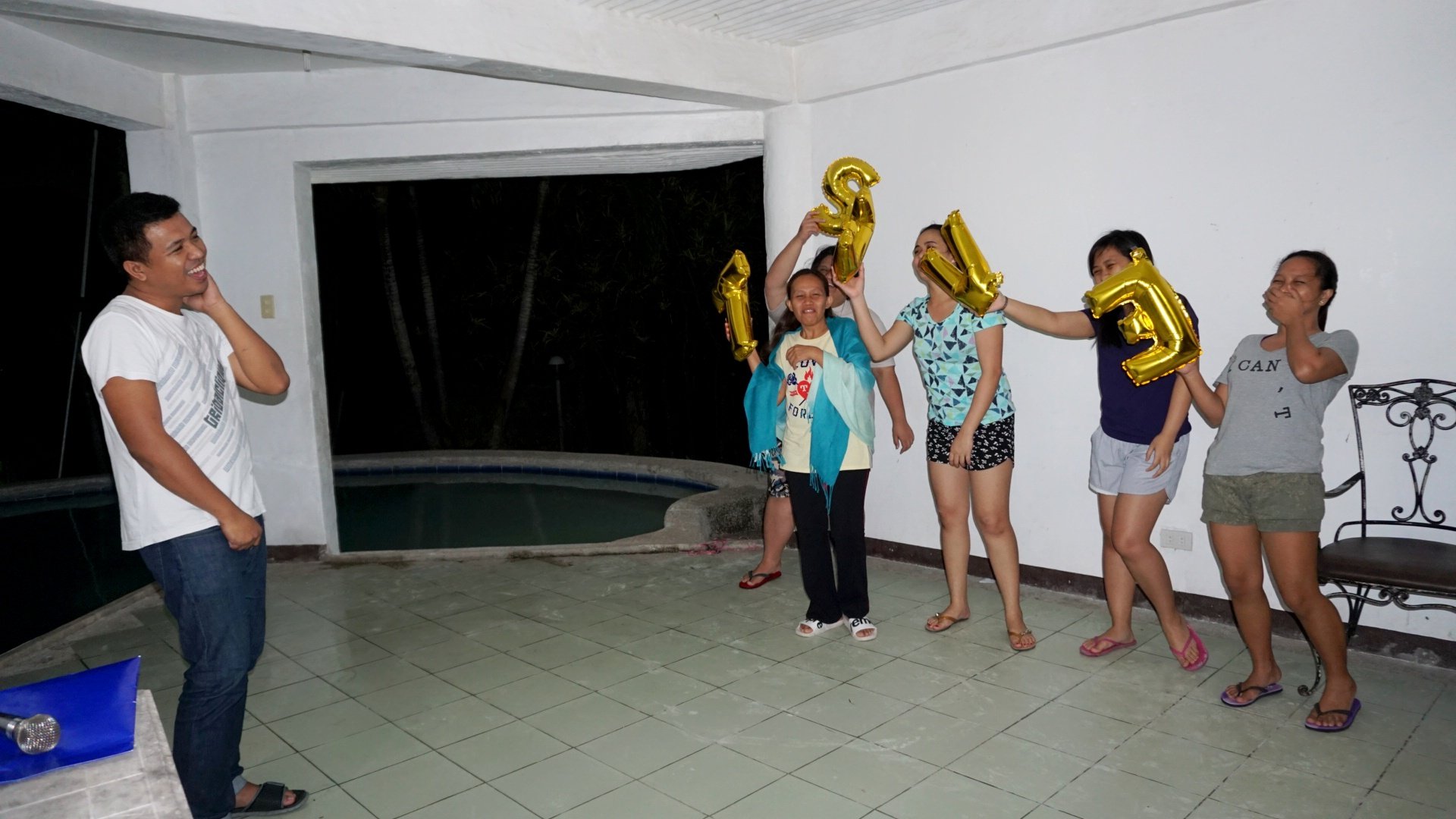 We're glad Steve did not expect this since the cake was well-hidden all throughout the day so he was surprised when we got it out. Steve is really a very good and genuine Team Lead. He supports all of us and brings out the best in us. He does not make us feel like he's the boss and we're his subordinates, rather, he treats us all as his friends and family. He's very humble and approachable so making him happy and giving back to him is one of the goals we're trying to achieve in this Team Building. That's why we poured our hearts out when we sang the "Happy Birthday" song for him.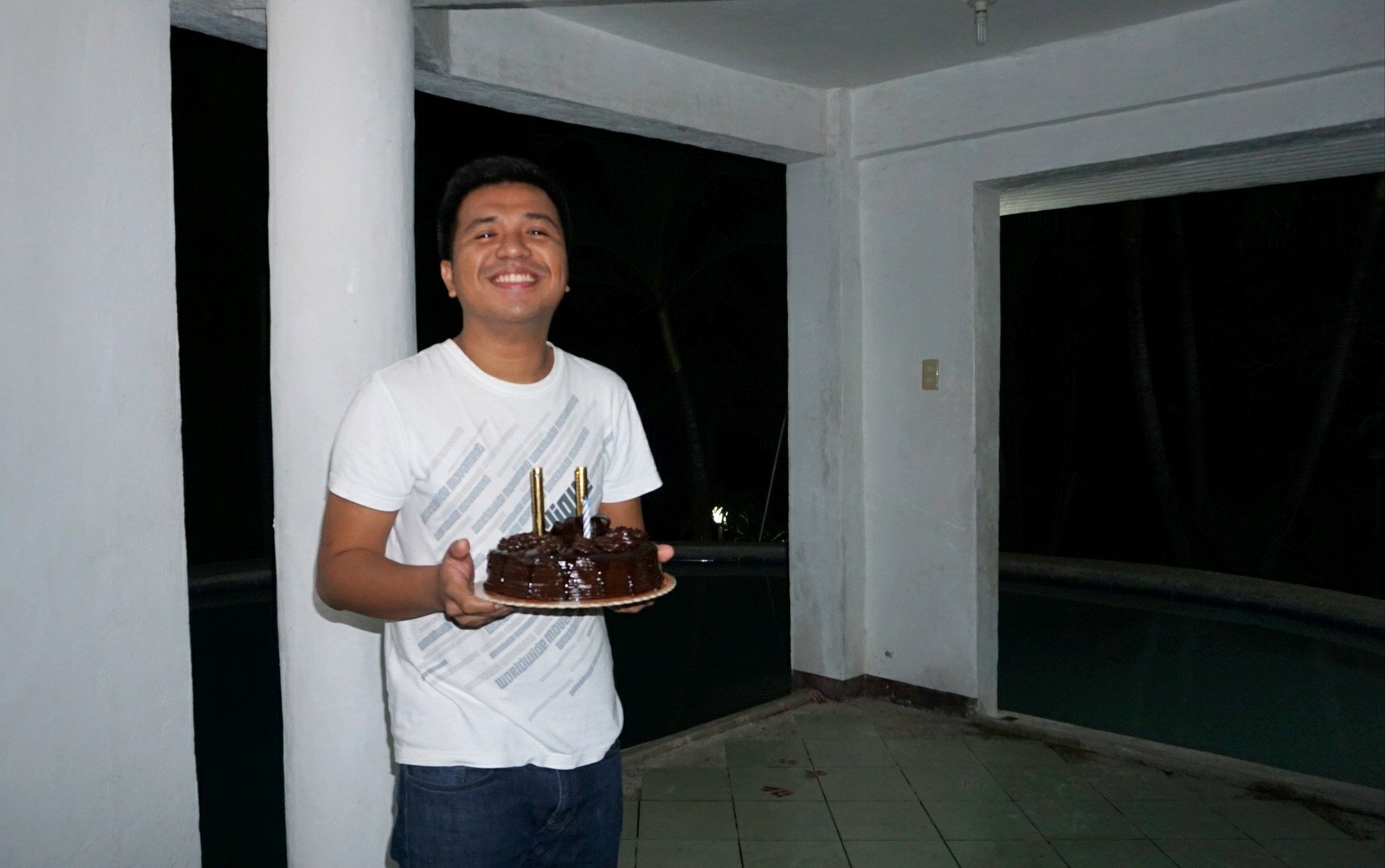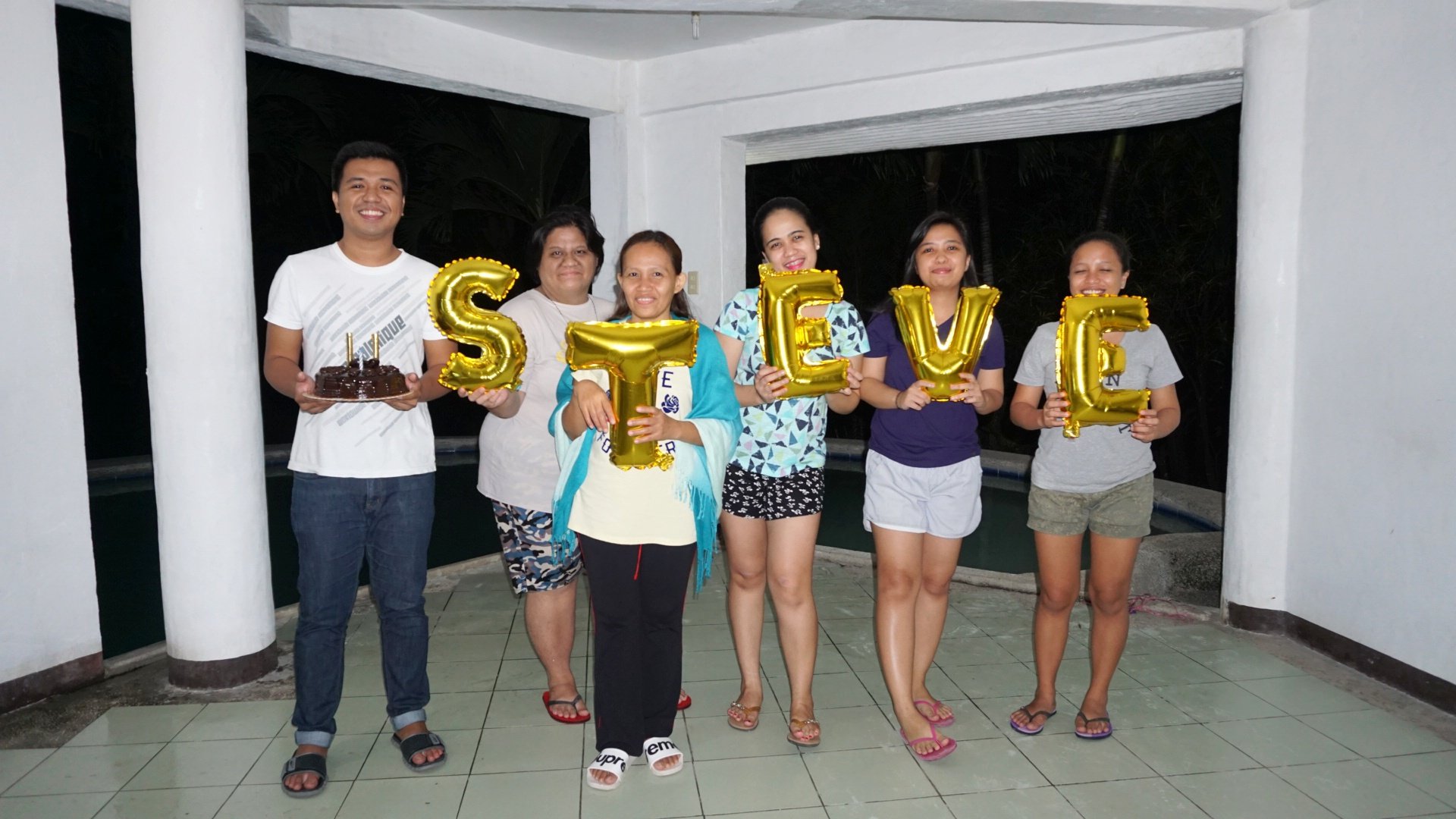 ---
After that we also had a little awarding ceremony for our teammates who excel in metrics, scores, and performance for the past month. And then after all of those, the long night of singing, laughing, and having deep conversation began. It was one of those nights where you just stop and notice where you are right now in your life and realize the blessings you have received so far and appreciate the people around you. Indeed, I wouldn't be able to survive the day-to-day challenges at work without having these people that surround me.
We definitely had a very meaningful night and I slept so late so I'm also the very last one to wake up for the early morning breakfast. We feasted on hotdogs, hams, and eggs which became more special because we ate them together. We then spent the last remaining hours by enjoying the pool, soaking in the view, singing and taking pictures as a souvenir.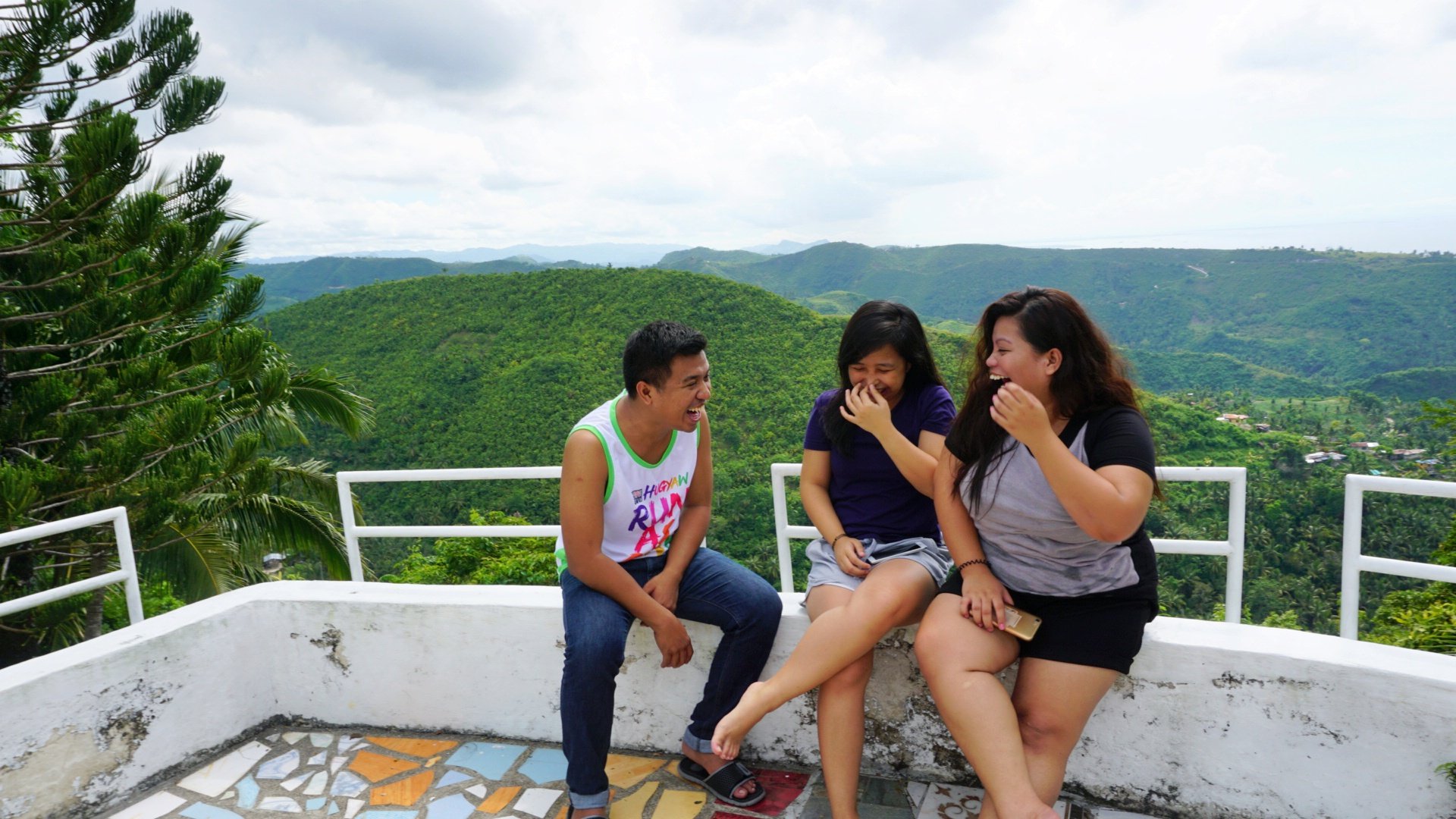 ---
So far, this is one of those Team Buildings which is so much more than a gathering. Each person is unique and had something to share and is very willing to care and lend a hand. Our Team Lead is also very genuine and we all just had a great time. To add more, the place itself is very suitable for clearing the mind of worries and offers a breathtaking view. What happened there is something beautiful and something to be added to my list of favorite moments. Indeed, life is a journey and you wouldn't be able to make it alone. Believe it or not, you need somebody. "No man is an island". So while you still have the chance, take that opportunity to nurture your relationships, create many happy memories and always be thankful. Because life is too short to be anything but...
Happy.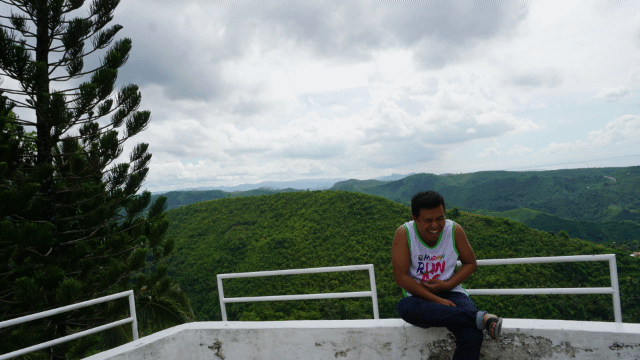 May you all have a good day fellow Steemians. Thank you.