Tours to Boracay Island in the Philippines
This trip to Boracay was one trip I had never planned before. For one reason or another, the previous vacation destination must be canceled. Suddenly I was reminded of the story of one of my friends who had studied in the Philippines, Boracay thought was like a beautiful island of dreams. Made me love the beach, so curious.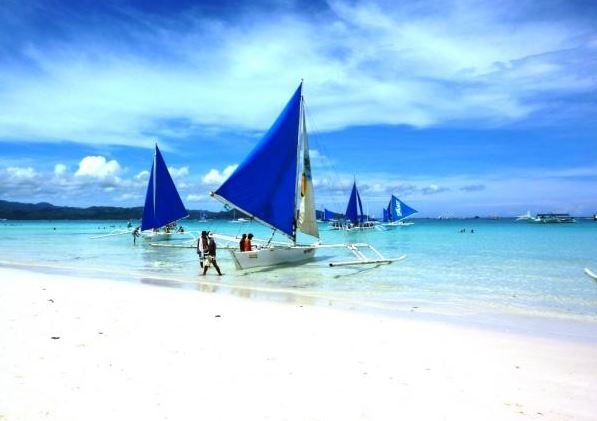 I decided to plan a trip to the island which is the most popular tourist destination in the Philippines. If Indonesia has the island of Bali, arguably Boracay like Bali Philippines it. For Boracay there are no direct flights from Jakarta or other major cities in Indonesia, you have to go to Manila first. This is the shortest journey. Direct airline options to Manila and also often provide promotional rates are Cebu Pacific Air. Depart from Jakarta after midnight, 00.30 and will land at Ninoy Aquino International Airport at 05.30 WIB.
Transportation For Tour to Boracay Island in the Philippines
To proceed to Boracay, do not forget to provide a distance of about 4 hours from the scheduled landing in Manila, to avoid delay if there is a delay. With Cebu Pacific, can choose schedule Manila - Boracay (Caticlan), at 09:35 or 11.30 for example. You can also use AirAsia, where you will fly to Kuala Lumpur, and from there continue flying to Clark airport (Philippines). For the record, Cebu Pacific Air's flight schedule from Clark to Boracay is very limited, and not daily. So make sure first if you plan to take this route. Another option from Clark is to use Tiger Airways. Where you will land at Kalibo airport (not Caticlan, like using Cebu Pacific), from Kalibo have to take the road again about nearly 2 hours drive to Boracay, of course, longer travel time.
This trip was my first experience flying to the Philippines. It is time to start an adventure in a new country, which will certainly bring new experiences as well. When checking in at Ninoy Aquino airport, there are some funny incidents. Suddenly I saw only one announcement that we were not allowed to carry an umbrella to the plane (I do not seem to ever find a rule like this in any other country I've ever visited), which friends and I soon put our umbrellas in the suitcase to put in luggage plane. Then after weighing the luggage, we are required to go to one counter again to weigh the weight ... hemm! And lately I discovered that the plane we're flying is a propeller plane, and weighing is needed to determine the sitting position, so that the plane is balanced, not heavier on one side.
From Manila, traveling around 315, takes only about 1 hour. As we approach the destination, from a height we can see a long green island with white sand surrounding it. How beautiful the scenery!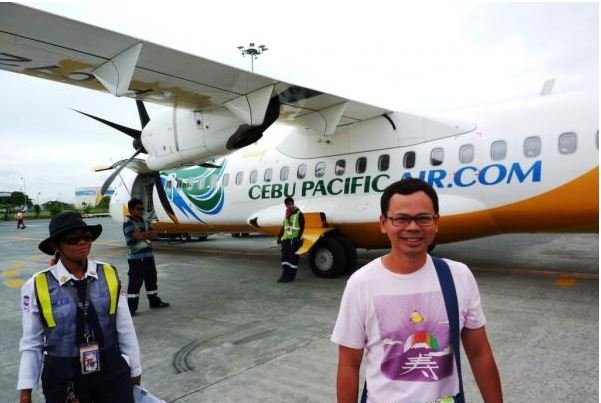 Godofredo P. Ramos Airport (also known as Boracay Airport) is on the island across greater Boracay, in the Caticlan area. The airport is quite small and simple. Even for luggage, we took it not in the main building, but on the side and will be placed on a long table after being transported by a car carrier parked beside the table.
From the airport we still have to go to the harbor for a motor boat ride across to Boracay. To reach the port of Caticlan Jetty Port, we can choose to walk about 15 minutes or ride a tricycle by paying 50 pesos (about Rp 10,000), simply buy a ticket at the counter there and then handed over to the driver, so no need to bargain again Practical and comfortable!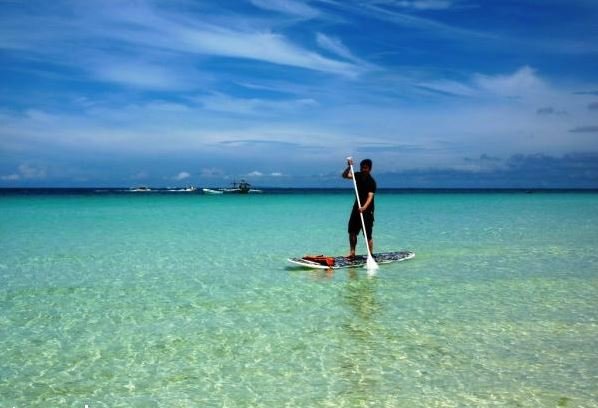 The view of the sea around the harbor was already making amazed, because it is so clear that we can see various types of fish swimming in it. To cross to the island of Boracay, we boarded a motorized wooden boat that can carry about 40 people, known as bancas. In addition to paying boat tickets, to enter the Boracay area is also required to pay the environmental fee fee of 75 Pesos (about Rp 15,000).
Arriving at Cagban Jetty Port, we have to continue the journey by tricycle again, which is actually a motor with a connection on the side to transport passengers, a bit like a bajaj. Although it looks small, but a tricycle was able to carry a total of 6 people. It costs between 25 Pesos a person at close range, or if you bring a suitcase, you have to rent a tricycle for around 150 pesos.
Because it was the first time I visited this island, and I can not imagine whether it is difficult to cross to Boracay or not, I finally used the pick-up service from the lodge. One of the hotel staffs was waiting for us at the airport in Caticlan.
Finally arrived! We entered a pearl-like island amid a stretch of blue ocean, Boracay! A small paradise in the Philippines. On the next occasion, I will tell you more about the experience of the exciting streets of Boracay.