[Catt's Travel] Costa Rica: (La Fortuna) Arenal Volcano, Cerro Chato Volcano, Fortuna Waterfall
As we arrived, it was gloomy with light showers. Although reviews and forums mentioned there would be rain in weather forecasts, it cannot be certain because weather is not easily predictable and it's usually dryer than what's stated. Because of that tip (and knowing we went during dry-season), we disregarded the weather forecasts.
We explored the town of Fortuna; tons of restaurants and stores. Definitely looking forward to exploring and seeing:
Arenal Volcano,
Cerro Chato Volcano, and
Fortuna waterfall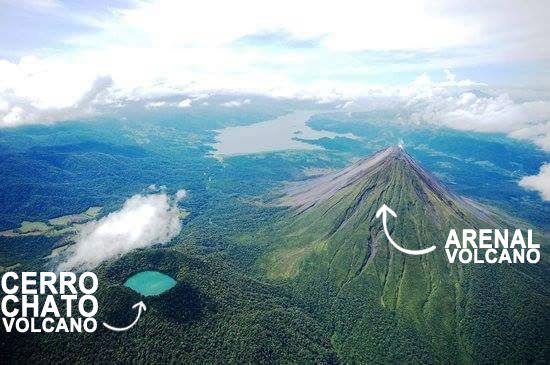 | Volcano Details | Arenal | Cerro Chato | Waterfall |
| --- | --- | --- | --- |
| Elevation | 1,670 m (5,480 ft) | 1,140 m (3,740 ft) | 75 m (246 ft) total height |
| Last Eruption | 5/1998 | ~3,500 years ago | N/A |
| Hike: Distance | 3.2 km (8.25 mi) | 6.4 km (4 mi) | 1 km (0.6 miles) |
| Hike: Elevation Change | 74 m/243 ft | 659 m/2,162 ft | 52m/171 ft |
Can you see why I want to go to Cerro Chato volcano so badly? You can swim in the lagoon of bluish-green water that fills the crater! (Crater is 500 (1,640 ft) wide. Praying to the weather gods that it will be sunny and dry!!
Although the government closed the trails to Cerro Chato Volcano (as of July 2017), we were still planning on hiking it. We wanted to hike the Cerro Chato volcano, but we opted to go the Fortuna Observatory because we knew the 'trail' to Cerro Chato volcano was not maintained and will be very difficult (it was also highly advised to go when the grounds are dry). Instead, we explored Fortuna Observatory; there were scattered showers, so we got wet but also dried up. Please note the photos above do not belong to me, although I wish they did!
After exploring the Arenal Observatory, we then headed to Fortuna Waterfall. Breathtaking and a really large waterfall! Because the storm rolled in when we arrived, it was chilly and the water was freezing-hence why I didn't get to take a dip :(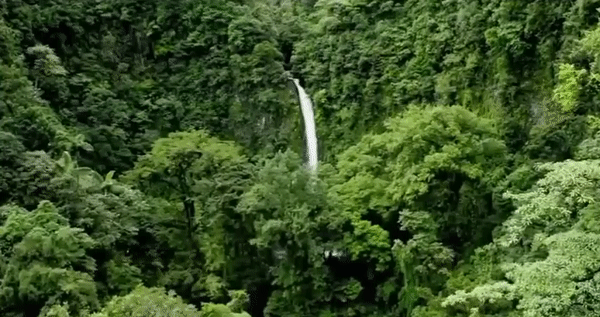 There were scattered showers and have been progressively getting clearer during the days we have been here, so let's hope the weather continues to get better because I'm zip lining tomorrow! Hopefully after zip lining, we can swim in the lagoon in the volcano! Praying to the weather gods that it will be sunny and dry!!
---
Costa Rica Travel
See previous post: Landing in Costa Rica
See next post: Ziplining 937m/3,074ft high
---
---
BTC:
1Br9DQPYZRcE3GPRyHJT2vpge1pEiEfHz2
BCH:
1NgXoAqi62J49ap6GDpuaqT7Y8SwEfmewL
ETH:
0x50a1A0fF45514960188a42313AEdc6DA4Ced4384
LTC:
LXCZ2x5nw8cQ4nWQ3xPrJ93q3Na8HvyFSL