Beautiful trip to GuiZhou (two ) 醉美贵州之行二 荔波小七孔
Today I will introduce the Seven hole view area to my dear steemit friends. In the morning we took the bus and set off . It is located in the southwest of Libo County, about 28 kilometers away.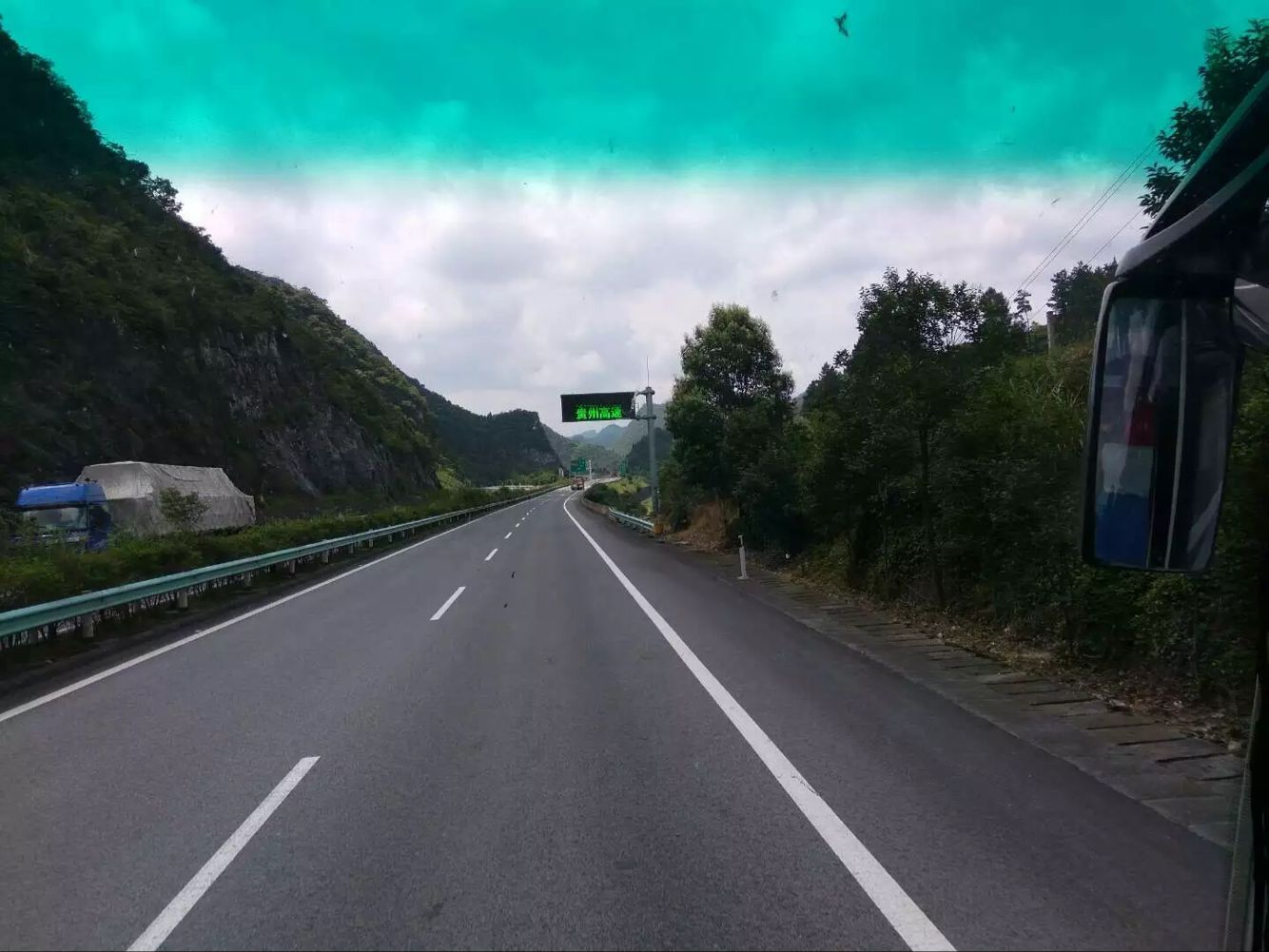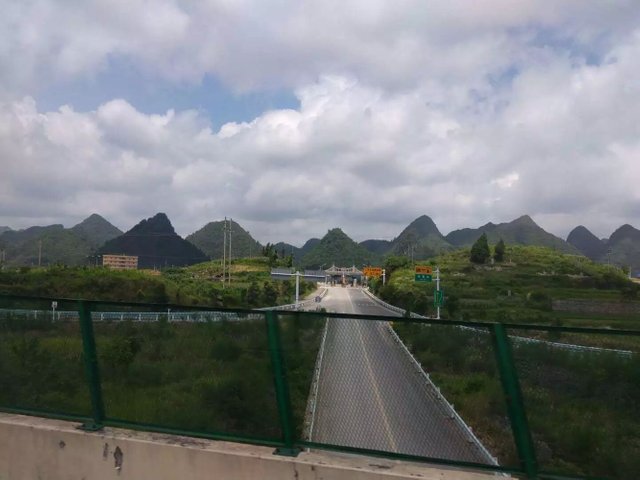 It is only 1 kilo meters wide and 12 kilometers long deep narrow valley with holes , forests, lakes ,waterfalls , strange stones, and so on . It is so wonderful that every tourist here will feel shocked and excited. The scenic spots are Tong Gu bridge and seven hole view ancient bridge, culvert Bitan, Rajat falls and Wolong river ecological corridor drift etc..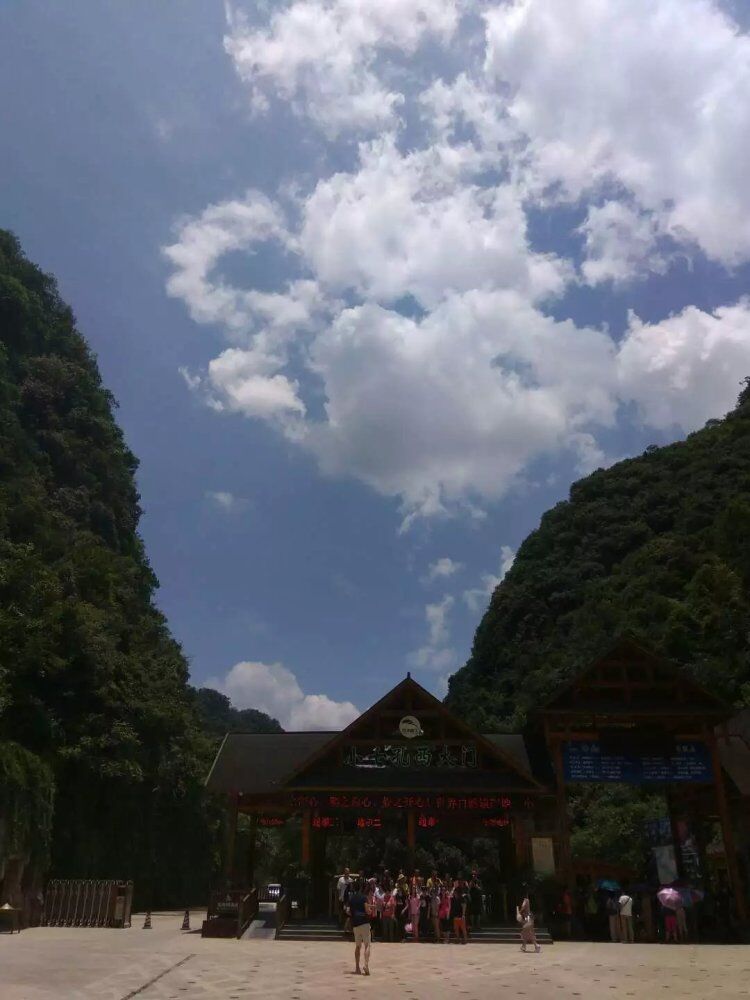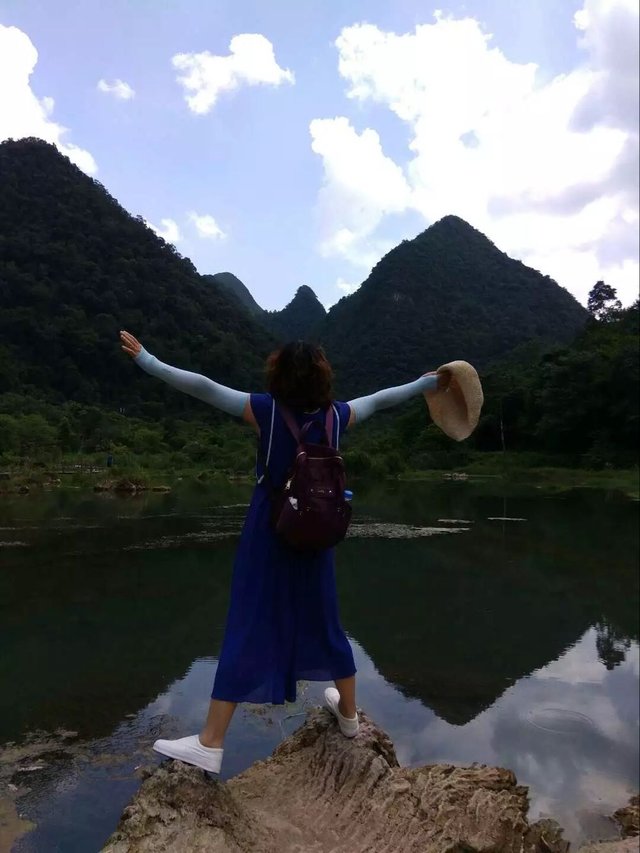 Tonggu Bridge
The bridge is located in Seven hole view area East Gate, across the River Zhang. It is the shape of Dayaoshan Tong Gu, so called "Tong Gu drum bridge".
Tong Gu is regarded as a present sent by god , great treasure of the house . It is also a symbol of power. The totem pole of the bridge symbolizes Yao's dignity, the ancestors and gods worship, to conquer the natural confidence and strength. The column of the relief patterns shows Yao's , traditional unique and ancient culture.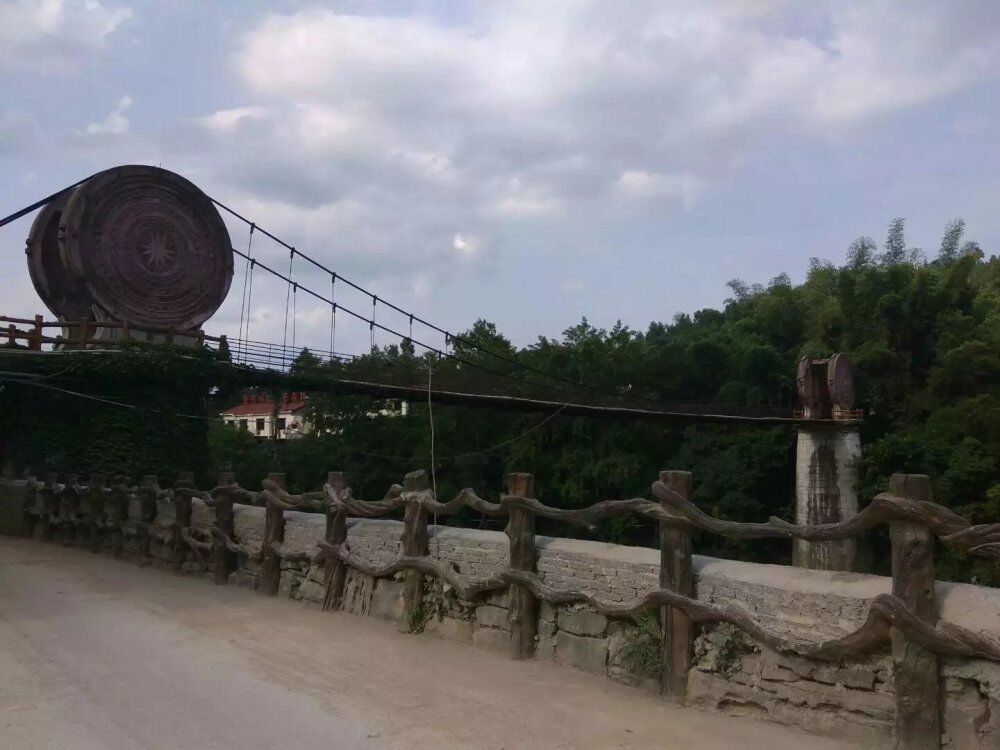 The beautiful old stone bridge has a beautiful fairy tale. In ancient times there was a man named Ji Yao . His right hand only has a finger, but the finger alone has the power of magic. He can make the hard rock into general soft mud, more amazingly , after a night , it can restore the nature of hard rock. There were seven girls. They saw the villagers for the culvert Bitan resistance, they decided to work together in building a culvert Bitan bridge. They came in Xiaoshan,. The man with a single finger poking stones, then the girls changed soft pinch stone into a brick bridge. a girl is responsible for a hole. They worked and worked for about forty –nine days . it was finished successfully. And because the bridge was made of seven girls, it had another name called "Seven Bridges".
Let's enjoy the seven hole bridge, The mist durian, drifting profusely and disorderly to give visitors to blowing, cool and beautiful enjoyment. It can wash the dust and heat fatigue, then you will feel relaxed and excited. isn't it beautiful ?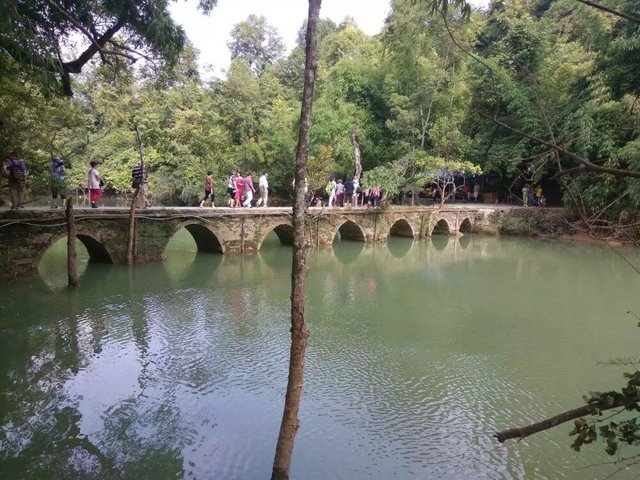 Raja waterfall !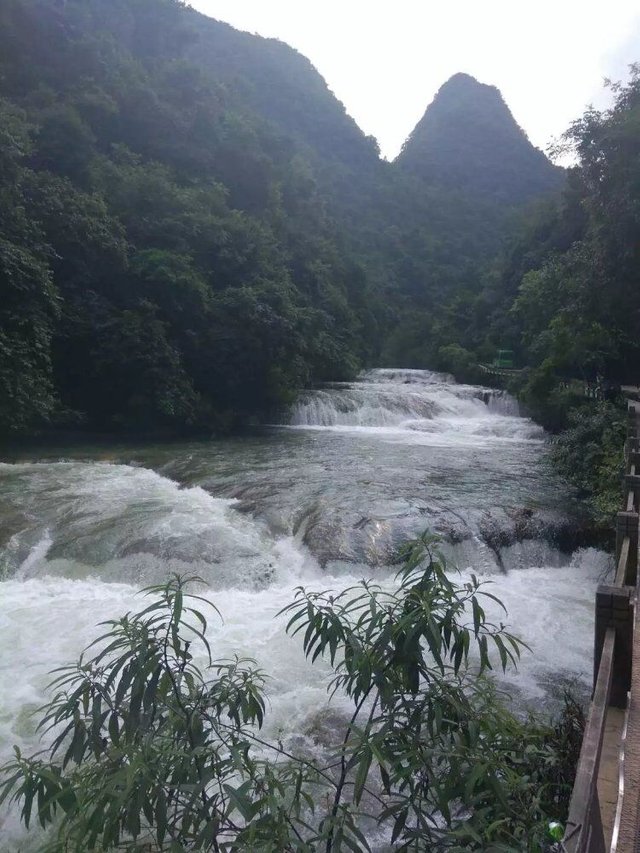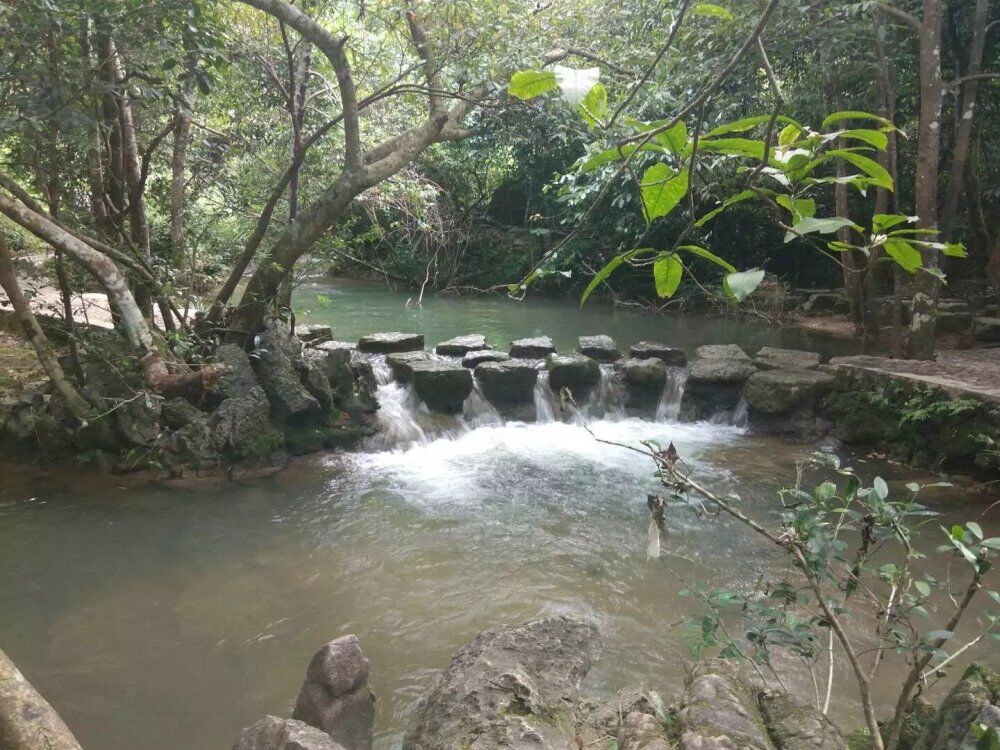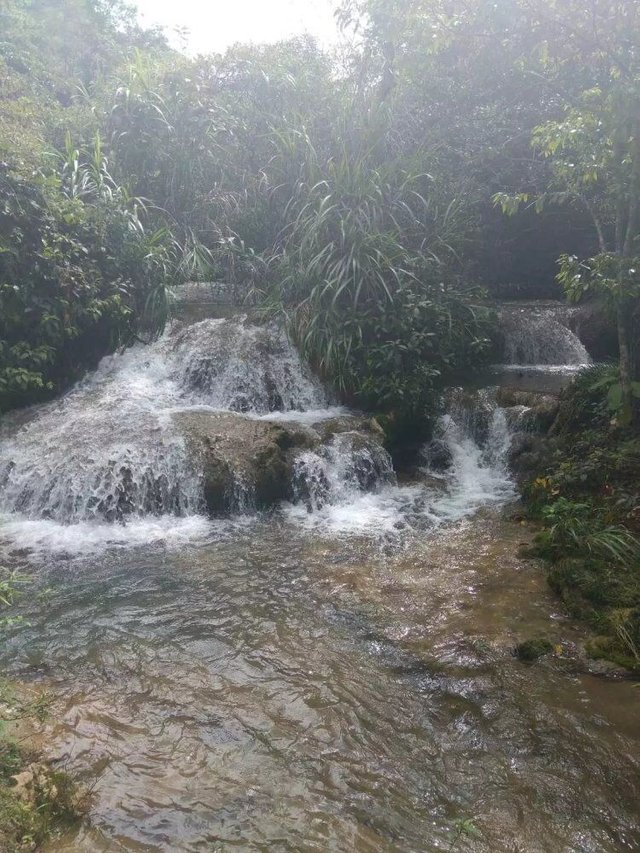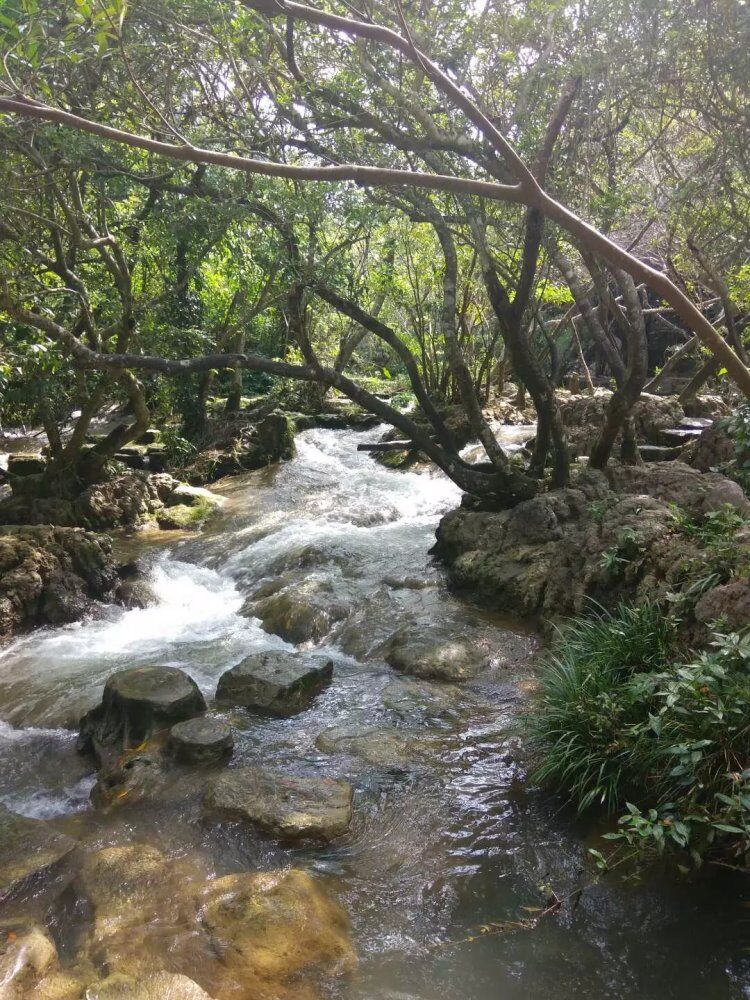 This is WoLong waterfall , wonderfull ?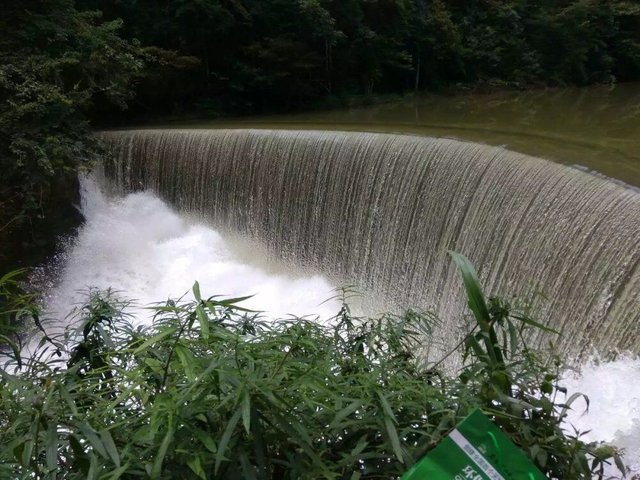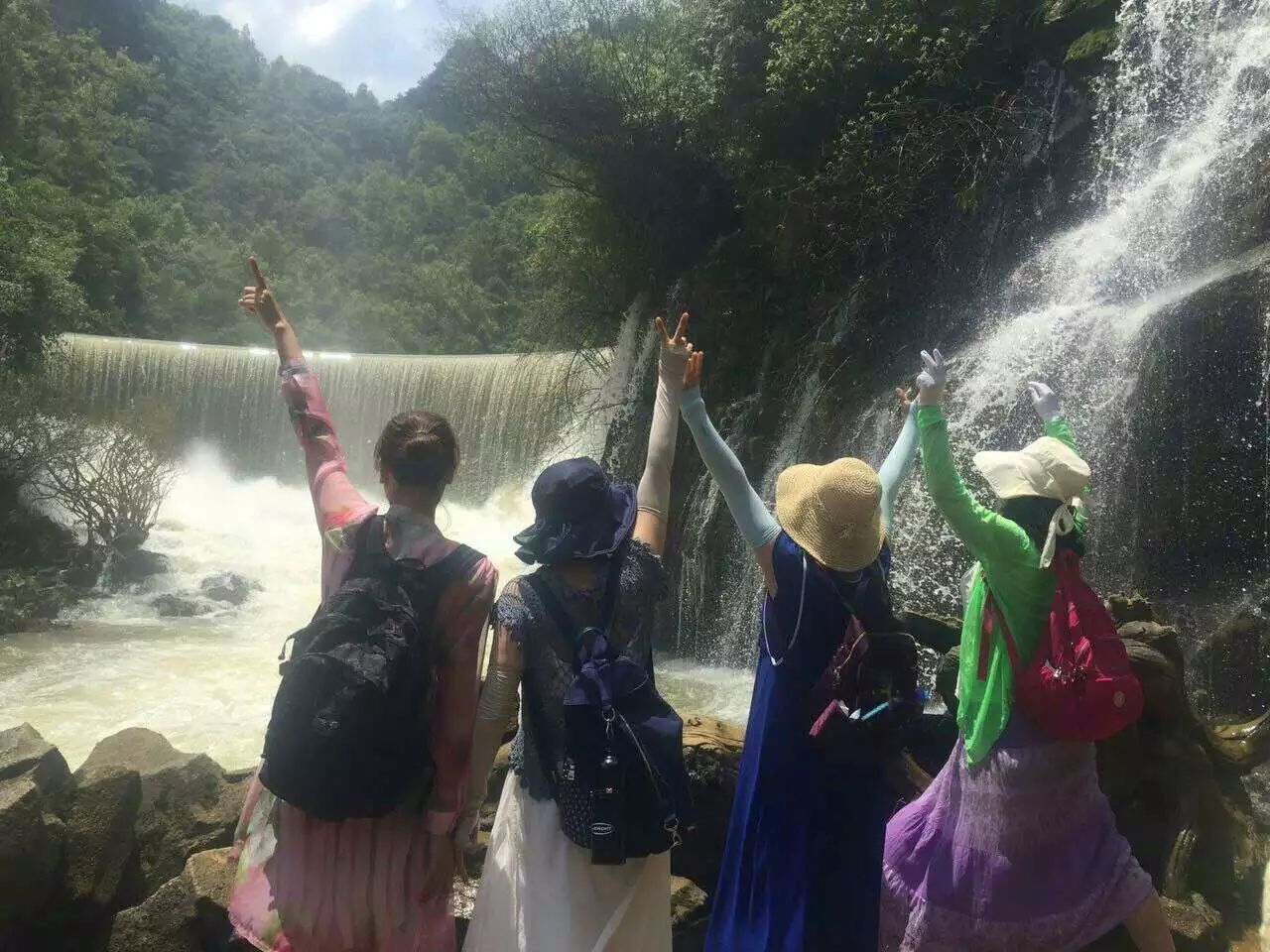 On the way to the forest, we also found this wild fruit. We do not know whether it can be eat or not , but it looks good, doesn't it ?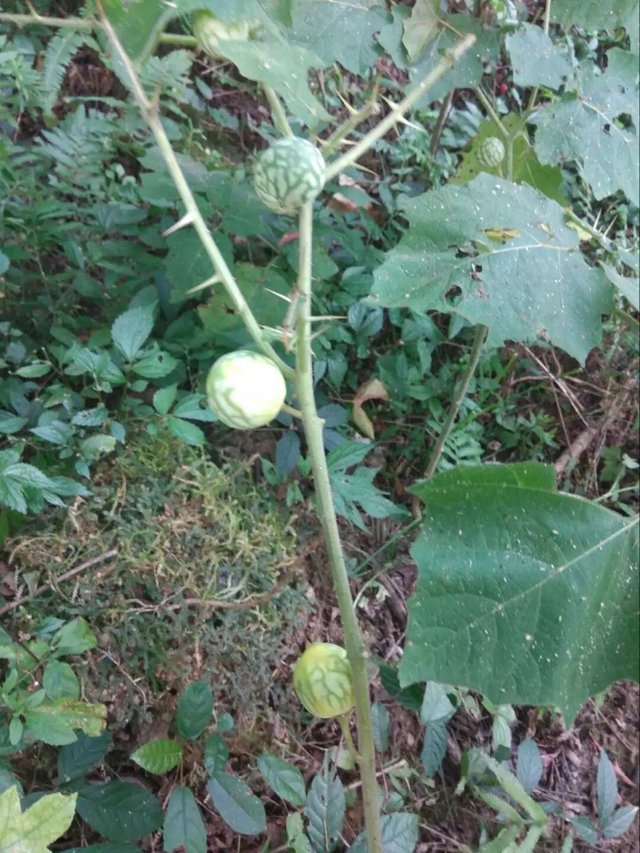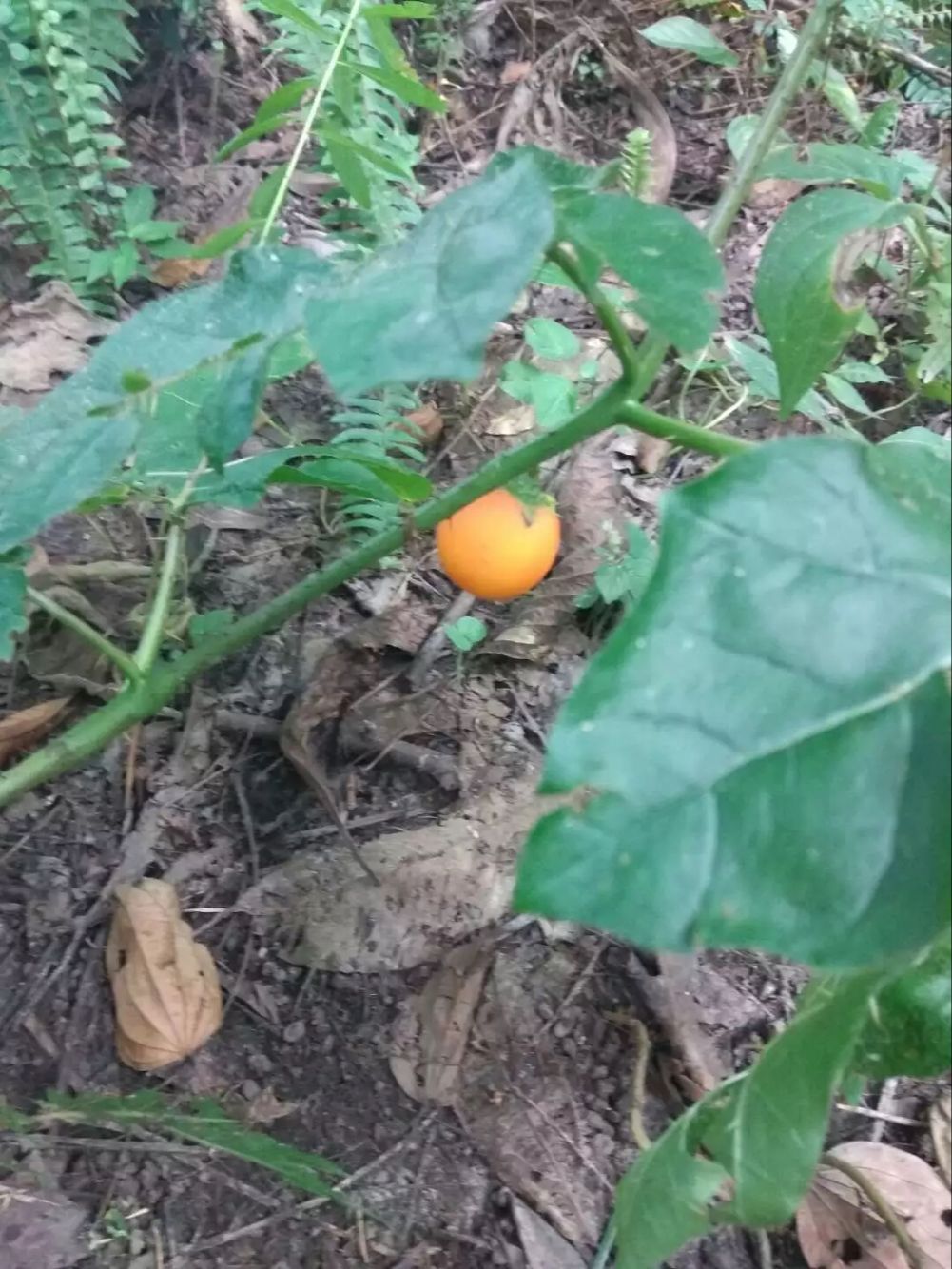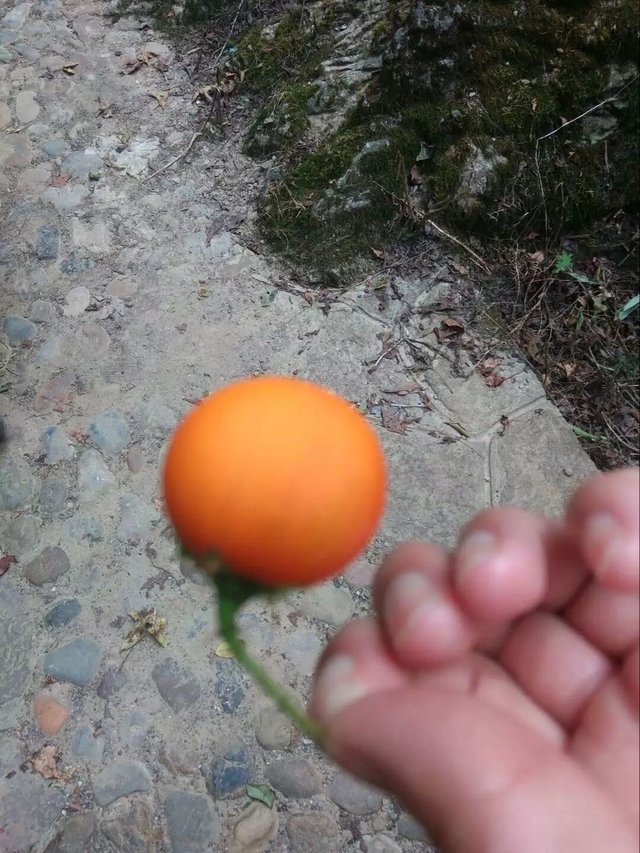 After a whole day's trip , we relaxed in the hotel , small but clean.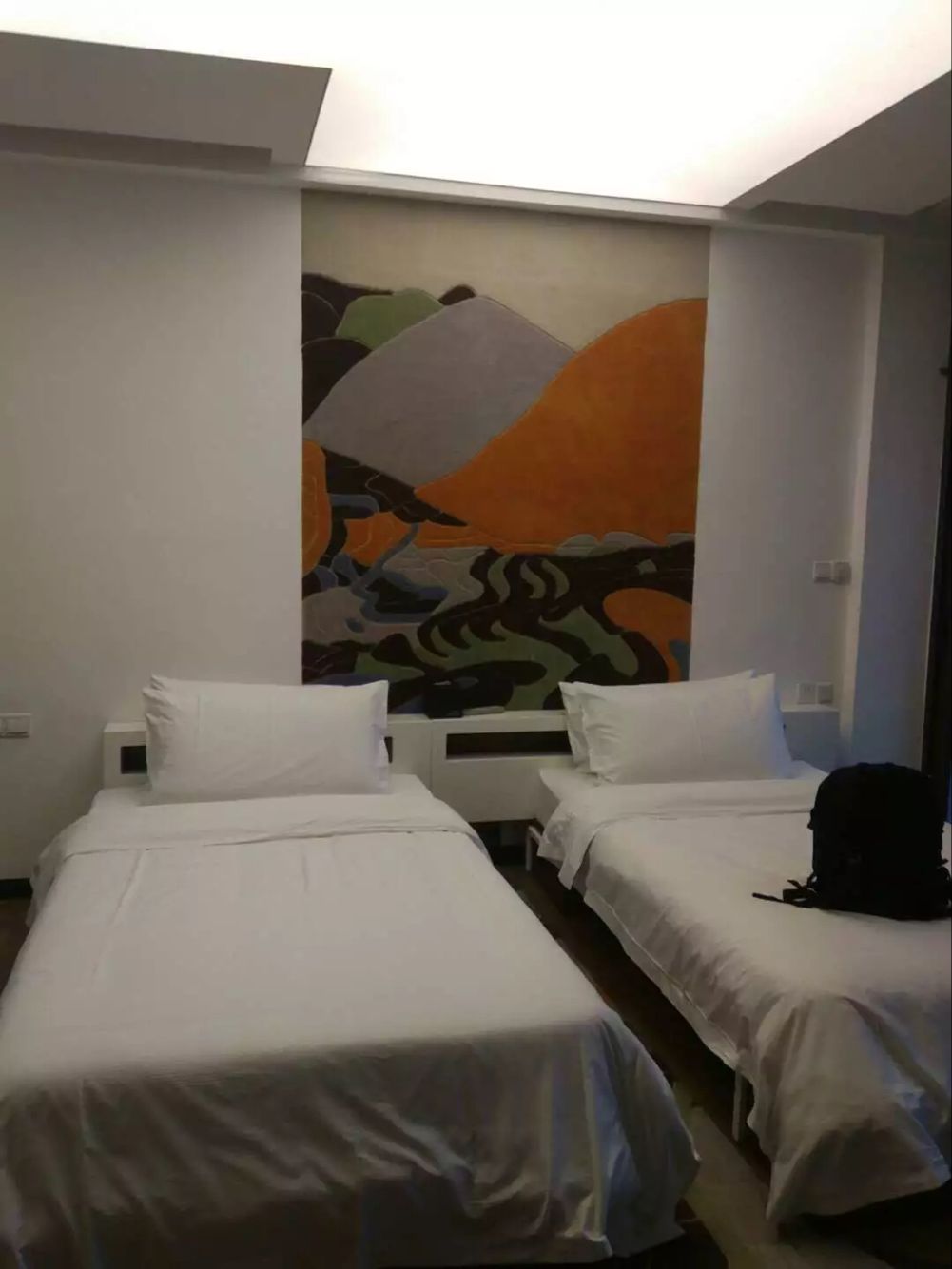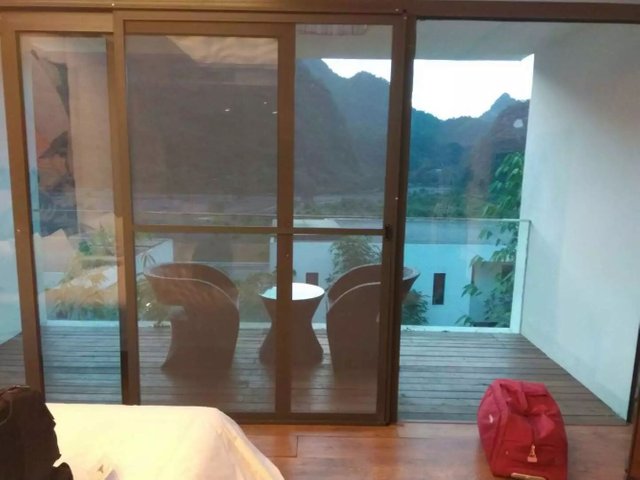 This is my wonderful Seven hole view area travel . If you like it , I always appreciate your upvote , be sure to follow my other post and leave the comment , let me know what you think.
今天我向大家介绍我的贵州之行第二天,荔波小七孔之旅。 小七孔景区位于荔波县西南部,距县城28公里。早上我们坐大巴旅游车开始出发了。
小七孔景区在宽仅1公里、长12公里的狭长幽谷里,集洞、林、湖、瀑、石、水多种景观于一体,玲珑秀丽,令游客耳目常新,有"超级盆景"的美誉。景点有铜鼓桥、小七孔古桥、涵碧潭、拉雅瀑布、卧龙河生态长廊漂游等。
铜鼓桥
该桥位于小七孔景区东大门处,横跨樟江河,铜鼓桥长126米,净跨60米,宽2.4米,高25米,桥身两端采用瑶山铜鼓造型,故称此桥为"铜鼓桥"。
瑶山瑶族将铜鼓视为神赐之物,镇寨之宝,是权力的象征。桥头设立的图腾柱象征着瑶族的尊严,对祖先、神灵的崇敬,征服自然的信心和力量,柱身上的浮雕图案展示了瑶族传统、独特而古老的民族文化,具有浓郁的地方民族特色。
小七孔古桥
这是一座小巧玲珑的七孔古石桥,建于清道光15(1836)年,是沟通荔波至广西的重要桥梁。桥由麻石条砌成,桥身爬满藤蔓和蕨类;古色古香的桥下是绿得令人心醉的涵碧潭。两岸古木参天,巨大的虬枝沿着桥伸臂,宛如巨伞撑在桥上。
这座漂亮的古石桥有个美丽的神话故事。远古时候有一个名叫阿吉的瑶族的小伙子,他的右手只有一个指头,但是这个独指却有神奇的威力,能把坚硬如钢的岩石戳成烂泥一般绵软,更奇的是,过上一夜岩石又能恢复其坚硬本性。阿吉的寨子有七位天仙一般美丽的姑娘。阿吉和七位姑娘看见乡亲们为涵碧潭所阻,不能到对岸去赶场和耕种,便决心在涵碧潭上合力修建一座石桥。他们来到板崤山下,阿吉用独指戳石头,姑娘们便用变软的石头捏砌成桥,一个姑娘负责砌一孔。他们戳呀堆呀捏呀,一口气干了七七四十九天,终于堆捏成了一座七孔石桥。因五里之外另有一座大七孔石桥,本桥遂名小七孔桥。又因这座桥是由七位姑娘捏砌成的,所以它还有一个别称叫"七姑桥。
拉雅瀑布
过小七孔桥,曲行百米许,即见拉雅瀑布。是不是很震撼? 反正我是无法表达啦!水雾飘飘洒洒,纷纷扬扬,那扑面的凉爽和美的享受,可一洗你征尘的暑热和劳乏,让人顿觉轻松和振奋。
卧龙潭
卧龙潭,因拦河坝形成的绿水深潭和滚水瀑布及传说的卧龙而得名。卧龙潭,喀斯特暗河——卧龙河的出口处。 从地表看它只是卧龙河的源头。暗河从崖底涌出,潭面上不见踪影,只有坝上雪崩似的滚水瀑布,才感到卧龙河在潭底翻动,潭边怪石奇树林立,古木森森,潭外水声轰鸣,雾雨蒙蒙,四周高山紧锁,水犹如地底深渊,即便是发洪水时,潭面也犹如镜子般平静。卧龙潭湖水湛蓝清澈,岸上的山峰、绿树、竹林倒映湖中,色彩斑斓绚丽,置身其间,犹如画中游。
在通往林中走的路上,我们还发现了这种野果,不知道能不能吃, 但看起来是不是很好看呢?
今天的小七孔旅行,就先介绍到这里,希望你喜欢,也欢迎你留言给我!期待你的支持,之后还将有后续与大家分享哦!