Mexican drinking, a tricycle with a chihuahua, some hikes and a soulmate: Nelson / Abel Tasman NP, New Zealand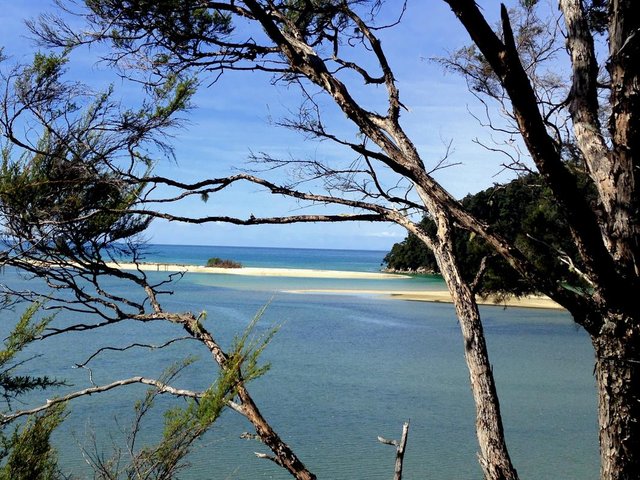 A hangover isn't a good state to be in when spending several hours on the rough sea. Yet that's what happens if you come across Mexicans and their drinking habits a night previous to your travel date.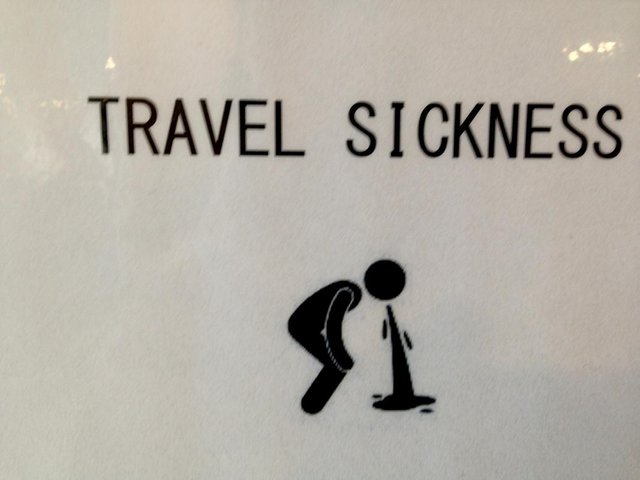 Green was my face when I set foot on South Island for the very first time, struggling to process the overwhelming sights that previously slid passed my vision while sailing into the scenic Marlborough Sounds before mooring at the port of Picton.
Picturesque Picton.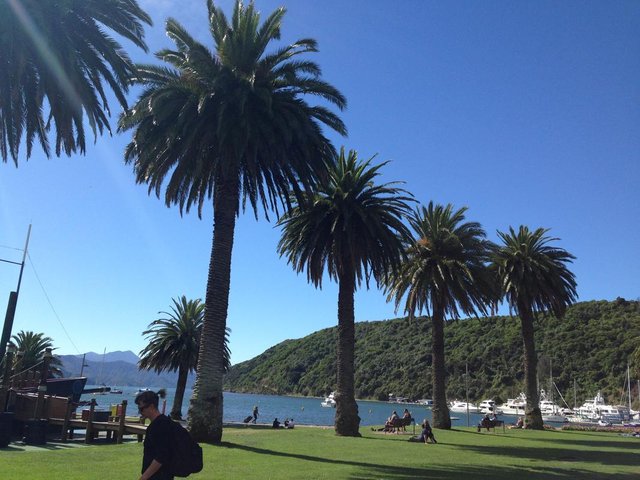 Hastily I smashed in a sandwich. I didn't have much time to enjoy this place: If I wanted to hitchhike out of here I'd have to get my thumb up before the ferry had entirely emptied itself from all cars, as Picton is a dead end. As usually, it didn't take long. Boobs go a long way. Three rides were offered in rapid succession, in no-time driving me to Blenheim and northwards again, swirling through landscapes of glorious vineyards.
Yes, you might not know it because of the lack of exportation (old pre-NZ-Steph is holding up her hand: guilty as charged), but New Zealand knows them grapes. And especially the fermentation of them, which is where stuff gets interesting.
The results of that I was dealing with at this very moment, eliminating every chance of me hopping in for a tasting. But I wasn't there for the wine, wine is usually just there for me... I was here to visit Nelson.
I had a friend in Nelson. At this point I just didn't know it yet, I had to come in as a stranger first.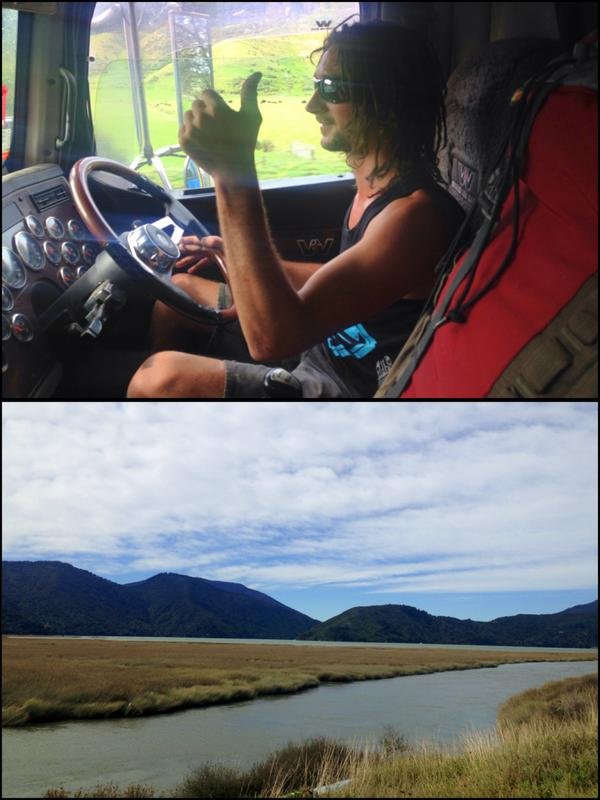 A 'friend' is an understatement of what Robbie turned out to be. I have to throw in terms like 'soulmate' or his description 'yin & yang' to kind of capture what this man blossomed to be in my life. We were the exact opposites, which is what you need sometimes to define what you are, where you stand and where is room for learning. This Samoan-Kiwi blend of a legend defines what it must mean to be a hippie, without wanting or implying to be, unwilfully coloring it in with his flair of spontaneous creativity. At the age of 52 he gave life to six good-looking children already, willing to plant a seed for the next whenever a set of good genes crosses his path. He lead the lives of many, be it a creative director, record boss, rope-worker, cookie-baker or barista, but above all preferring to lead a life under a blanket while watching the sunset.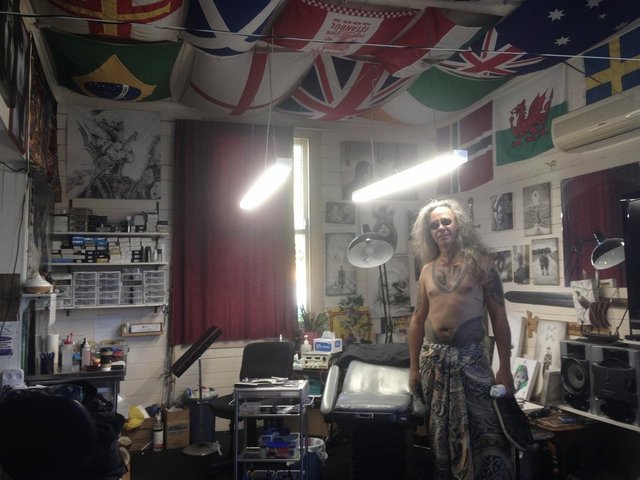 I didn't need much more from Nelson then the introduction of this person into my life. This laidback coastal town is just that typical locale to lean back and breathe... but as I listen to the description 'travelblogger' I figured I might as well make an effort.
So not only did I go out to explore the calming cityscape, I did so on a three-wheeler electronic bike with a chihuahua at the front. You can only rock it if you commit to the full swagger.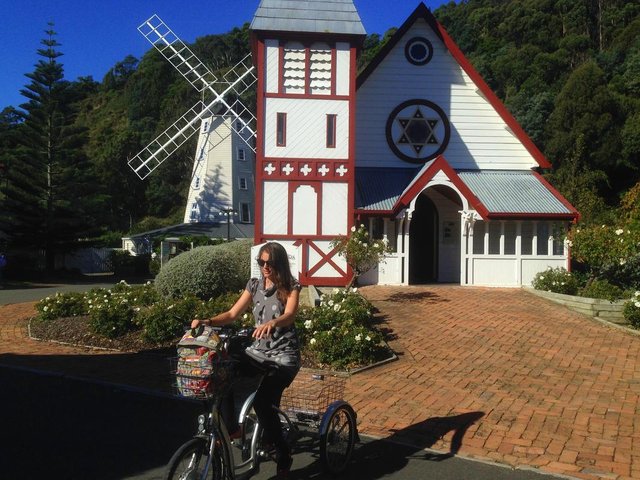 First I cruised to Founders Park, a miniature village built to reflect the (white kiwi) local history. As Robbie is responsible for the mouth-watering coffee and cookies in this tiny open air museum I could skip the admission price and cruise right in.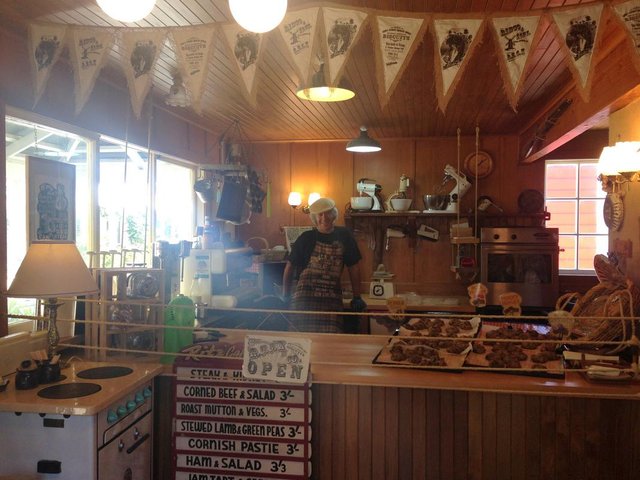 All fueled up by an instant sugar rush I raced over to Botanical Hill to climb up to the look-out point which is simultaneously the geographical center of New Zealand. By doing so I actually made money as in an attempt to be as kind as the kiwis accepted a Bible, which turned out to be filled with money. Thanks Jesus!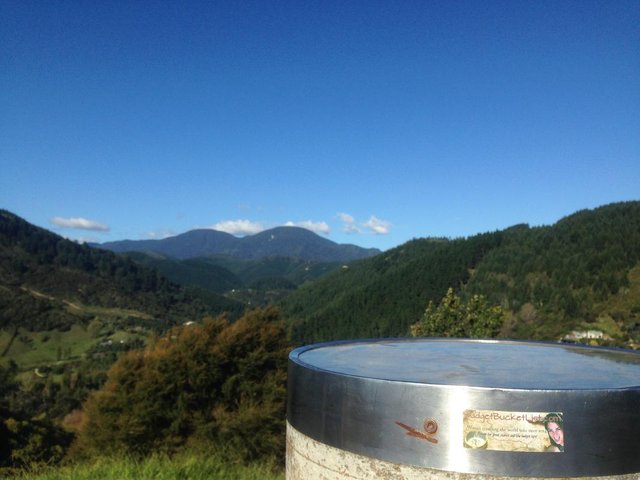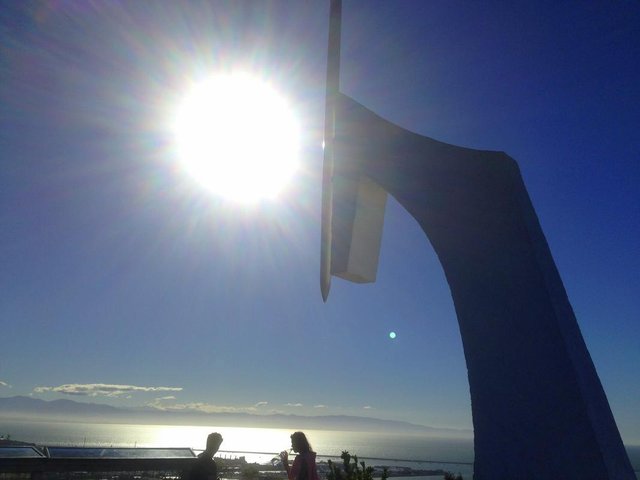 Another highlight you might bump into on the average travelblog (and also this hopefully-not-so-average-one) is the WoW. Wow? Yeah WOW! The World of Wearable Art, a fashion extravaganza held yearly in Wellington, but its hysterical pieces are stored in this futuristic building in Nelson for the public eye to admire. If you're looking for some pointers as to what to wear on your next job interview or upcoming date, you might be looking in the wrong place: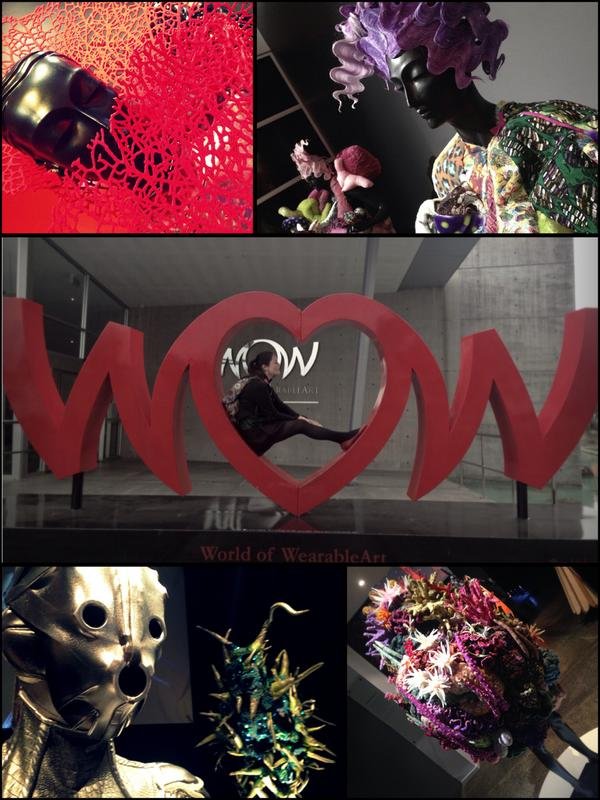 Although respect if you decide to do so. I honestly would have a high chance of falling for the man that won't run off when I'll be wearing a latex dragon-alien suit to our first date. 
This is however the ultimate place to visit if you're curious about finding out to which extremes the imaginative mind can stretch. Approved.
You're probably waiting for me to start rambling on about the flashy famous Abel Tasman National Park, home of one of the heavily marketed New Zealand Great Walks, welcoming about 100,000 visitors on a yearly basis.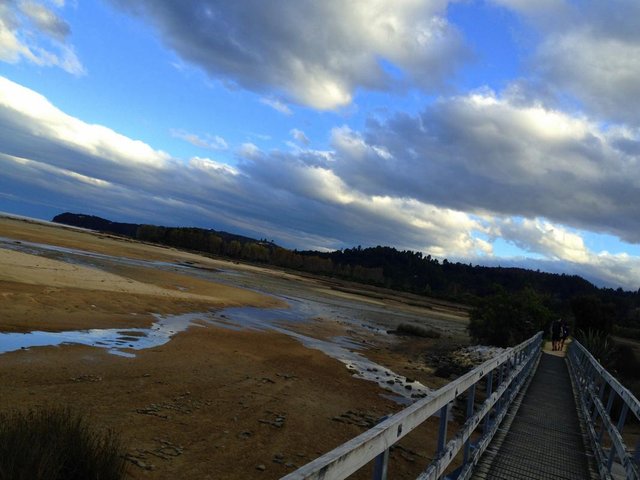 It's the reason why you clicked on this link, admit it (and yes, I totally used that opening photo as bait, 100% guilty). No, don't be scared: I know I have a way of verbally turning everything with the slightest connotation to mass tourism to ashes, ridiculizing the choices travellers think they make with a free independent-vagabond-#wanderlust-mind whereas in reality it's forced into their brains by means of the continuous guerrilla marketing of giants like Instagram, Tripadvisor and CNN Travel. But Abel Tasman is actually pretty damn good. There's no way to deny it.
True, the wide, flat, rock-free, basically wheelchair-accessible paths leave little room for true adventure, but the excellent views totally make up for that.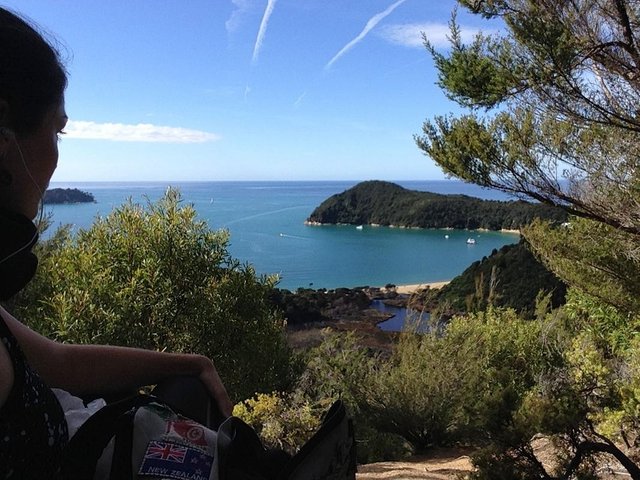 I read the famous Coast Track would take about 4-5 days. So I decided to do 50% of it in one afternoon. Which was very doable. In the morning I hitchhiked to Kaiteriteri, helped out by a polite woman from Malaysia and a rowdy French-Italian travelcombo, from where I took a boat to halfway the trail. Pleasant and sunny as the boat ride already was, the captain added a notch to the fun by sailing out to Adele Island and Anchor Bay to spot some seal colonies and tribes (?) of manta rays. Cool guy cappie!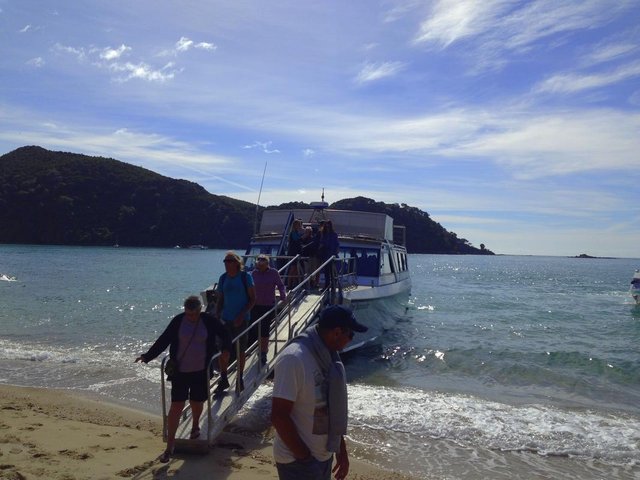 ​In about four hours I had walked back to Marahau, even taking the (supposedly) one-hour-detour due to high tide. My timing was spot on, as I hardly ran into any tourists on the surprisingly quiet trail, escaping the crowds by visiting in the low season of April just in between local holidays. Excellent, I go into nature to avoid people, not to meet any new ones. Nature is enough to keep me company.
Especially in New Zealand, especially in South Island, and especially in the Abel Tasman National Park.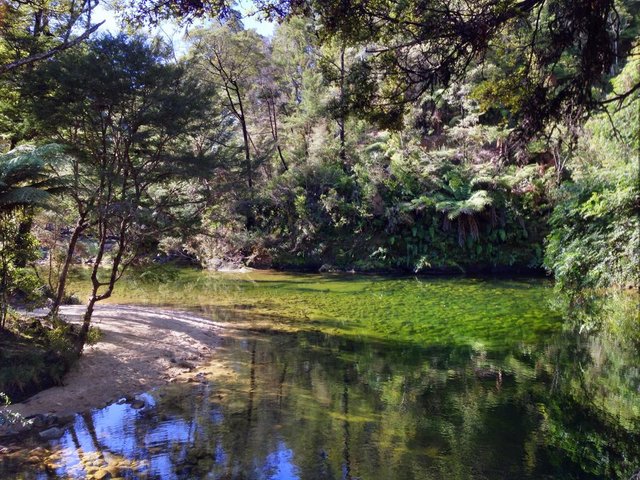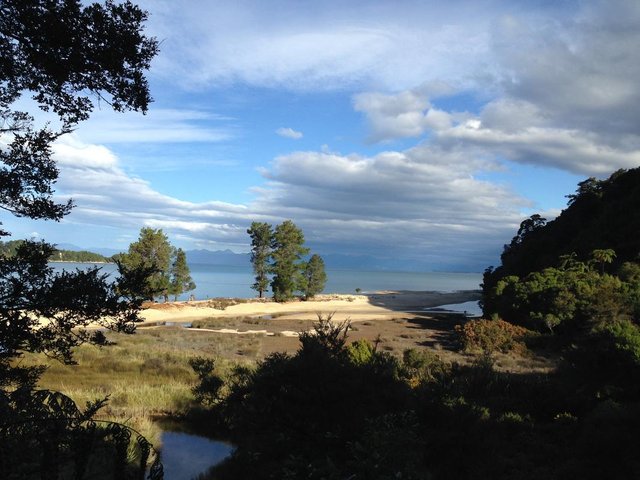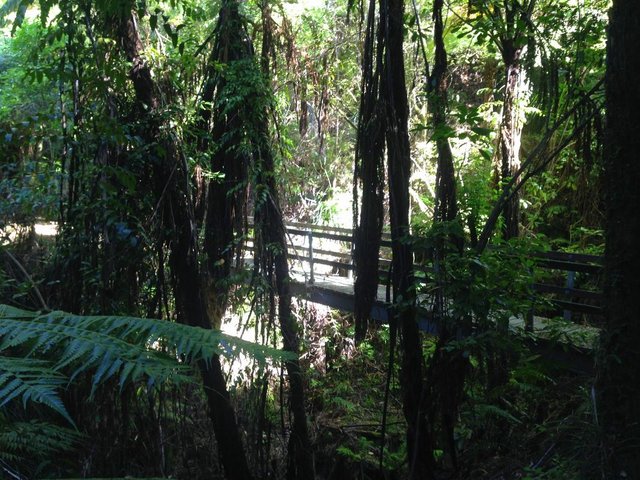 But hey, can you keep a secret? The Nelson area has two more national parks in store for you! I guess social media forgot to tell you that.
Adjacent to Abel Tasman you'll find the way bigger Kahurangi National Park with the legendary Heaphy Trail (spitting you out at the other side of the bush-bush, requiring a 5-hour drive back) and just down south you drive right into Nelson Lakes National Park, the place favoured by the locals. Also I booked me a night at a camp spot, right overlooking the splendour of one of kiwi's dazzling bodies of water: Lake Rotoiti... BUT the weather didn't agree with me. I'm generally not quite the pussy, a thunderstorm doesn't even form a red light for me, but -5 with a +15 sleeping bag doesn't sound like my ultimate Friday night out.
Which was another unneeded excuse to extend my stay in Nelson one more time, tripling my intended travel period here. 
Until we meet.