In the Kruger National Park you have to be in camp before dark, otherwise you may find the camp gates closed before you can book in.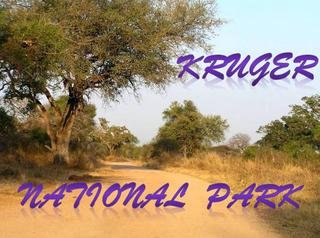 But we were early: 
We felt the day had been really long, maybe because we had stopped so many times, and seen so many animals along the way. 
And been well before sunset, we had plenty time to unpack into our booked bungalow and look around the camp. 
Our cottage had a lovely big veranda. 
And out front, there was bare sand and some trees. And when I looked up in the nearest tree, there was this… 
Black-collared Barbet: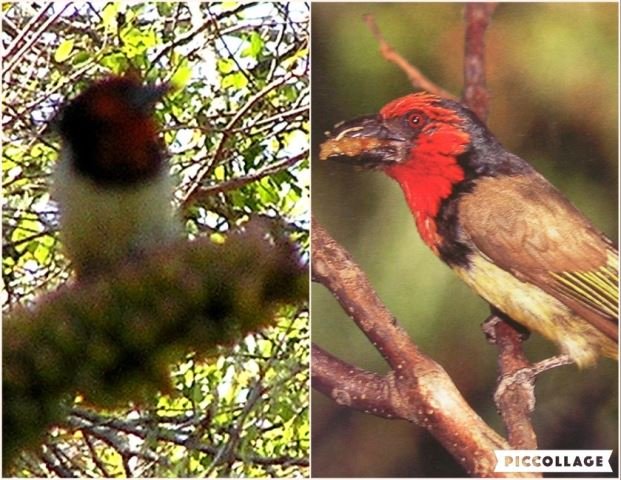 Sorry my photo was so blurred. It was hard to focus because of there been so many twigs in the way. Maybe he had a nest in the tree, because barbets make nests out of dry dead twigs.  
He or she seemed warily as he checked us out… would we be the right folks to have his collage and could he trust us?! 
As you can see I also include in the collage a black-collared barbet, from my husband's bird book: 
I think black-collared barbets are fascinating colourful birds. They are about 19-20cm long and a very entertaining bird with their song and performance. 
Their synchronized duet call starts with a "skizzing, kerr-kerr-kerr" note and then a "kwe-borra, kwe-borra or too-puddely, too-puddely" or "clink-collar" sound that's repeated about eight times, accompanied by wing-quivering and bobbing. And when alarmed will give out a "whaa or snaar" sound. 
Barbets like eating fruit and berries, particularly figs, so I wonder if there was any wild fig trees close by in the camp area. Oh, and they eat insects, termites and beetles too. Maybe they find the white-ants in the dry parts of trees they conveniently make their nests in! 
And after taking a photo of the barbet, I wondered off in search of more stuff to photograph. 
The camp was big and vast:
There are many cottages to rent and many activities you can take part in. So it took some times to wonder down to the Sabie River side. Looking out over the Sabie River to my right I saw this bridge spanning the river: 
Then looking to my left out onto the river, this is what I saw: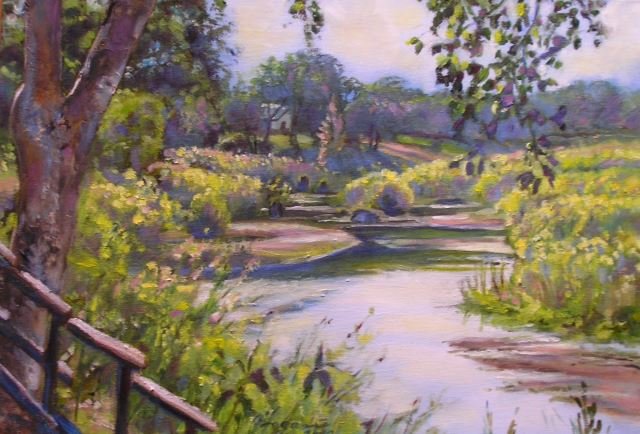 Such a lush scene after all the dry scenes up till now! 
Here is how I painted that oil painting:
As with most of my landscape oil paintings, I apply a raw sienna undercoat turps wash. Why do I do that? Well if you miss spots while painting, you see the yellow of raw sienna radiating through. This gives your painting the effect of the sun shining. It also creates overall unity throughout the composition. 
And when that undercoat is dry, I draw and block in the basic shapes of the scenes elements. In this painting I especially took care of the bark of the tree on the left. I started by painting it a dark brown. 
And in the next layer, I applied my paint with a small `diamond' shaped palette knife. This was to build up a rough textured foundation. And when that was dry, I into-play the bark colours until I get the right effect of its bark. 
The power of painting: 
Creating the effect of rough bark can be fun and also nerve racking. Because the technic can be to some degree unpredictable! But the challenge fires you up and adds exhilarating tension. How will it turn out? That's when you have to have courage to do your thing.  
So what if you don't get the right effect you hoped for. Perhaps it will turn out better than you intended. There again, to be an artist is not for sissies! And Aaah, it's like an adventure. It's what excites me, and spurs me on, to keep painting, scene after scene, year after year.
So this painting was exciting and exhilarating to paint. Hope you enjoy it.