Everything was going swell and we were having a time of our lives, but unknown to us we were heading into something so unexpected.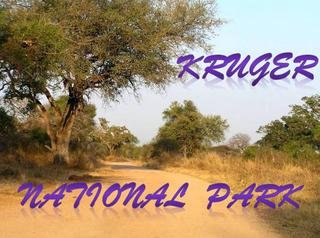 Isn't the river beautiful?
That was what we were saying, as we moved along the road. And entranced with what we were looking at, I took another photo of the river. This is the photo I took just then: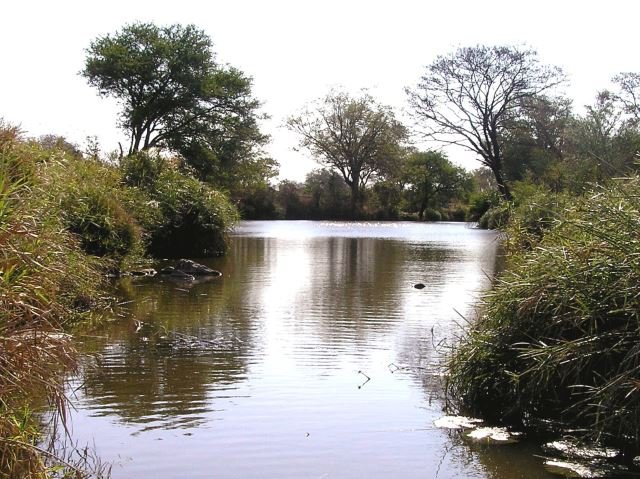 Still engrossed with what we were seeing, we didn't realize how dangerous the road ahead was! 
Like I said:
In my last travel blog I said… `now the road started to dip lower…'  
        Do you remember me saying that? 
We should have realized then… 
Well, we didn't really take notice of the road starting to go downhill, until it was too late. We didn't even see a warning road sign beforehand, because we were so engrossed in the beauty of our surroundings. 
Suddenly our car was in deep water. Would our car stall and get bogged down in the river? 
Oh dear, what were we to do?
Well I wasn't driving. Our daughter was. So while she put the car into proper gear, I quickly took another photo of the river.  
Here is a watercolour I've done of it, for you to see: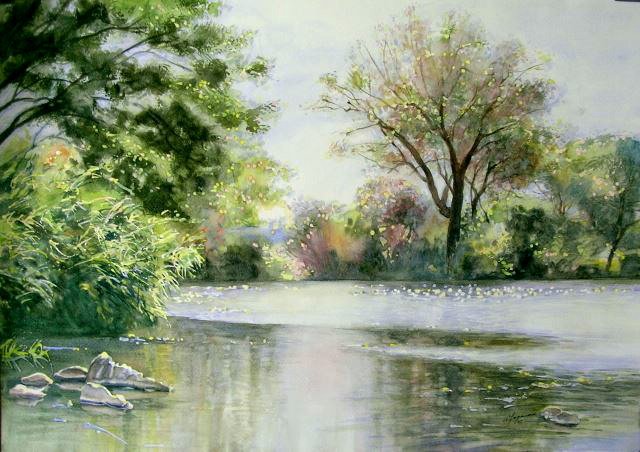 By the angle of perspective, you can see we were deep in the river, in the deep dip in the road! It was a scary moment. 
Lucky for us:
We managed to drive on through the river and up onto the opposite bank, here the road continued as if nothing was a problem! 
Wow, what a relief. We were out! …And then we began to laugh. Oh, what a dramatic moment of excitement and tension. The water didn't even come through under the car doors. Lucky us! 
And to think, I had the cheek to take a photo in our moment of disaster! Actually our daughter had said, "Take a picture Mom!" She wanted something to remember the moment. So I did. 
How I painted the watercolour:
Painting watercolours is a lot different to painting oil paintings, usually: 
Oil paints: You begin with blocking in basic shapes and building up dark colours. And then add the detail later. 
With Watercolours: You usually begin with very light washes of colour. Then filling the darker areas to create form, leaving the lighter areas and highlight spots.  And watercolours are usually lighter than oil paintings.
But in this watercolour painting:
I started by first assessing the composition and where the highlights would be. 
Then using masking liquid, I dabbed the paper with an eyedropper, to where I wanted highlights to be later. 
When the masking was dried, I laid in a light wash of colour, all over the masking too, to where it was needed to create the lighter areas of the scene. 
When that was dry, I filled in the darker areas and spots to create form. The timing of adding additional colours depends on how subtle you want the blurring or sharp the edges of your detail. 
When the basic of the painting was done and dry, I rubbed the masking off and filled in the colours of the highlights. 
My style of working watercolours: 
I often like to use masking this way, to create `bubble' highlight and rim-light effects. It gives my art a somewhat impressionistic touch.