New Plymouth's attractions!
New Plymouth is a little city on the west coast of New Zealand's North Island, and a couple hours' drive from Mount Taranaki.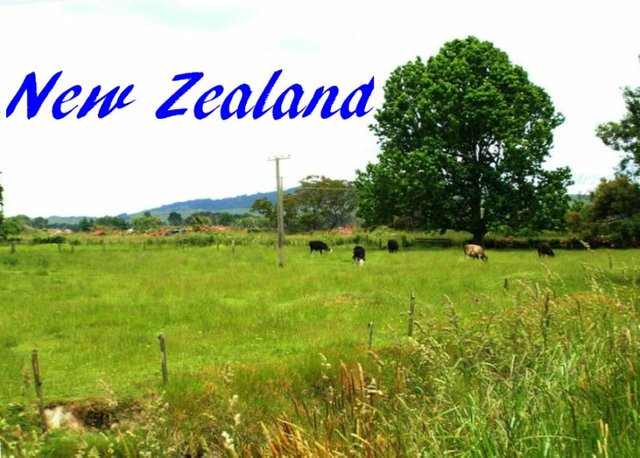 Before I start talking about our trip to New Plymouth, 
I would like to tell you:
Since our trip to Palmerston North (my lost travel blog) I had started on two medium sized oil paintings of Taranaki Mountain that were requested by family. The oil paint tubes were bought in Palmerston North, because it wasn't wise to bring them over in our plane luggage. 
It was planned that I would start working on them as early as possible, in between our activities and travels. The idea been that they would be finished in time before we were due to go back home to South Africa. 
So if you continue to follow through on my travel blog series in New Zealand, I design to show you the finished oil paintings of Taranaki when they were completed. 
Now let's go to New Plymouth and what we saw there: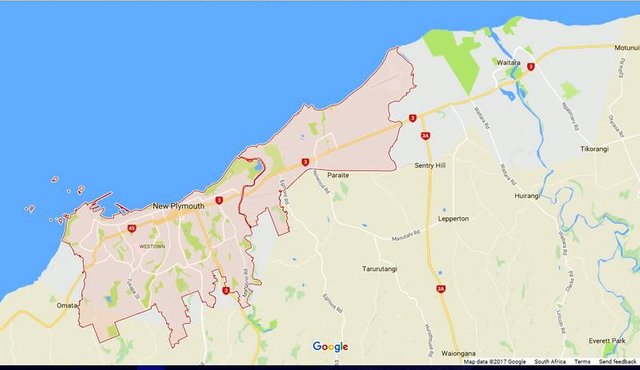 It was overcast on the day we travelled to New Plymouth. But that didn't dampen our expectations. Knowing New Zealand is an exciting beautiful place, we were looking forward to another adventure into the unknown. Well, that is, unknown to us South Africans. 
Just traveling through the country side on the way was a thrill. It seems you just can't get enough of looking out on New Zealand's country side as we passed by in the car. 
First we stopped briefly for something delicious to eat and drink at a lovely tearoom, then off we were again.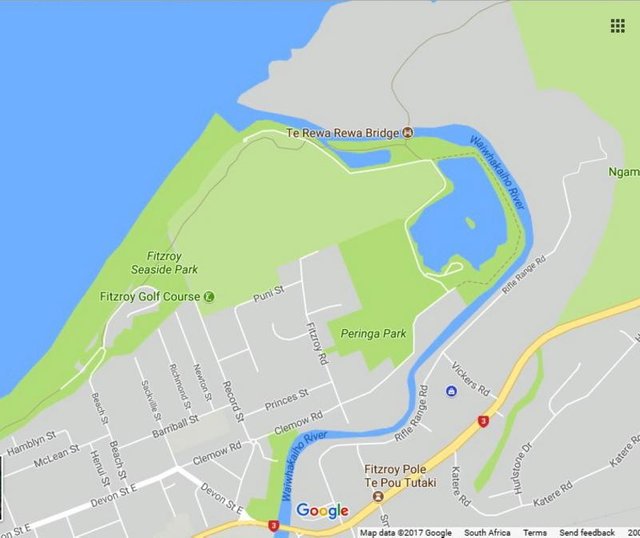 Te Rewa Rewa Bridge:
(Check out the map of New Plymouth's coastline, and then the college photos of the bridge).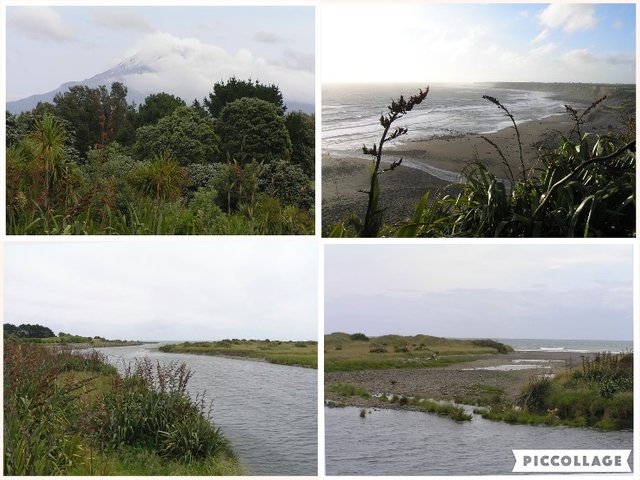 You park your car and then walk along pathways that lead you to the bridge. 
The first thing that catches your eye is the whale bone shape of the bridge's design. The structure is huge and very impressive when you are standing within its framework.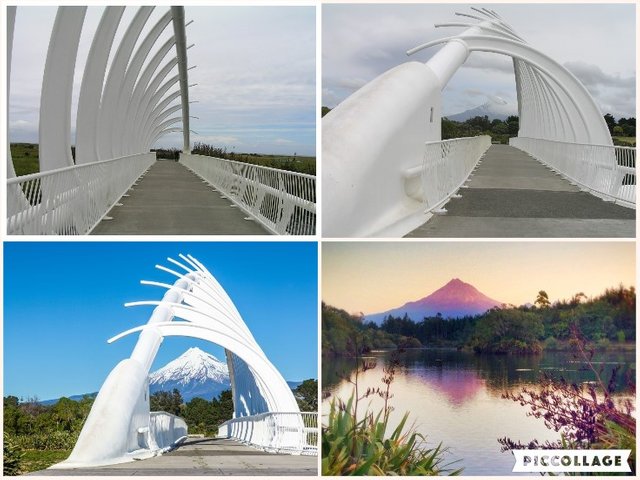 You wonder through, over the bridge, first to look down into the Walwhakaiho River and then naturally look up and around at the surrounding march scenery. And then looking ahead, you see the shrubs and coastline through the whale bone arch. 
Then, when you get to the shoreline side of the bridge and look back, and around, you see Mount Taranaki framed neatly within the bridge's bone-structure arch. It's so dramatic! The designers of the bridge must have really planned that angle `to-the-inch… both ways! 
My photographs didn't do it any justice I'm afraid, because of it been a grey overcast day. So I've added some more colourful photos, which I'm sure you will enjoy more. 
After having fun there at the bridge, we took time to meander down the many miscellaneous walkways. We enjoy the quietness and the peacefulness of the place from different angles, as we at last headed for the sea shore. 
The rock peer and surrounding nature:
The peer is on the left side of the Walwhakaiho River mouth.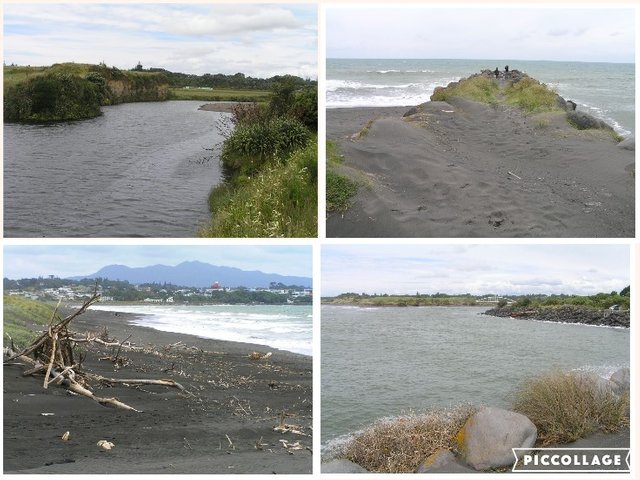 As you can see in the photos the sea sand is a grey colour. To non-New Zealanders the black-greyness of the sand may seem dismal. But let me tell you, it's absolutely beautiful when you're actually there looking at it. Why… because it sparkles with minuscule silica quarts. Like tiny diamonds freely scattered lavishly everywhere! 
Maori woodpiles:
Most beaches we saw during our travels had driftwood on the beach shores. So check out the photo of the beach. Notice how the branches and sticks of driftwood are heaped tidily up on the beach. That's what Maoris do with dead tree branches and twigs everywhere throughout the North Island, even on the farms.  It's a symbolic holistic arrangement. Notice how it's fashioned and points outward! 
Possum trap:
Then returning off the rock-sandy peer, our son pointed out to us a possum trap, nestled in the undergrowth on the right hand side. It seemed strange to me that you would find possums so close to the seashore! Apparently New Zealand has a serious problem with possums. 
See the possum trap photo. I love the tiny leaves and grass seeds. To me the whole setup of the picture looks somewhat like an abstract. Of cause, that's an artist's perception talking for you. He-he!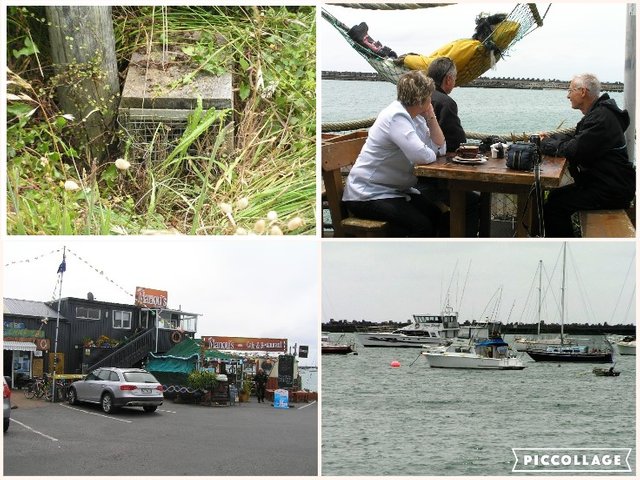 View of New Plymouth's harbour:
Then we travelled through town and landed up on one of the harbour peers, where we found shops and a restaurant huddled together at the water's edge. 
The restaurant was quaint with well-worn wooden benches. I must say, everywhere we went through New Zealand we were in a bewildered state. You never knew what you would see next. 
And here was an unusual sight. Can you believe it, a weird ragdoll big enough to look like `sailor man' hanging and lying in a fishing net `hammock', right there on this restaurant's veranda overlooking the bay. It gave the place a fun, dramatic touch. Just like some guy was snoozing there after a long day's fishing trip out to sea! 
After taking a few photos of the gulls and boats in the harbour and having some ice-cream, and the others having something to drink… we sauntered off into the closest shop, which happened to be brim full with fishing gear, nick-knacks and clothing. Of cause knowing men, been in their element there, we spent a lot of time looking at this and that. Truly a man's paradise!