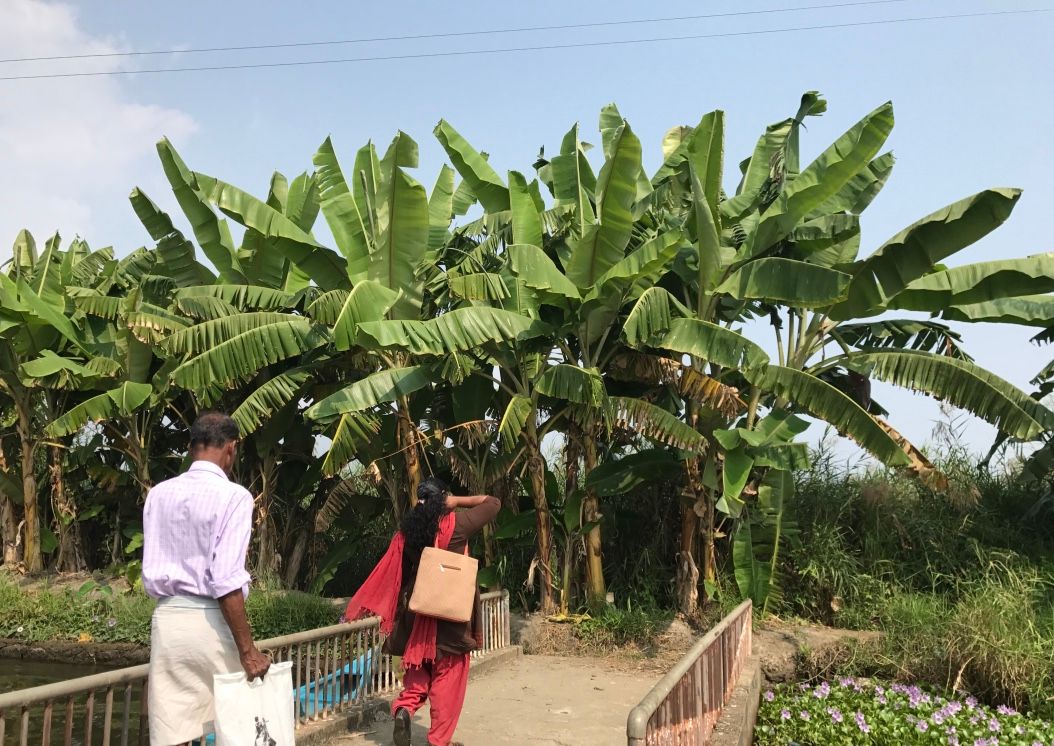 Bus Strikes
On my 7th day in India, I travelled from Alleppey to Kumily, the town that caters to Periyar Wildlife Sanctuary. Periyar Wildlife Sanctuary is a wildlife sanctuary with bison, sambar, wild boar, langur, elephants, and tigers.
I went to sleep the night before unsure of whether or not I'd be able to make it to Kumily the next day. The petrol prices had just risen, and in response almost all rickshaw and bus drivers were on strike. No buses were running, and I met a couple at my homestay who had to take an expensive cab from Kumily to Alleppey in order to make it for their flight the next day. No one knew how long the strike would last, though most guessed that it would only go for a day. Upon waking up, I walked to the bus station to check the status of the strike. It was over and the bus drivers were all working. I went to the station master and asked what time the next bus to Kumily left, and he told me 9am. I ran back to my homestay, packed my bags, and got to the bus station at 8:45. I asked another station worker where the bus to Kumily was, and he looked at me confused and told me that the next bus wasn't until 1pm and there was a 9am bus to Munnar but not Kumily (Munnar is about 5 hours from Kumily but equally touristic, so the first guy must have just assumed that I was asking for Munnar?).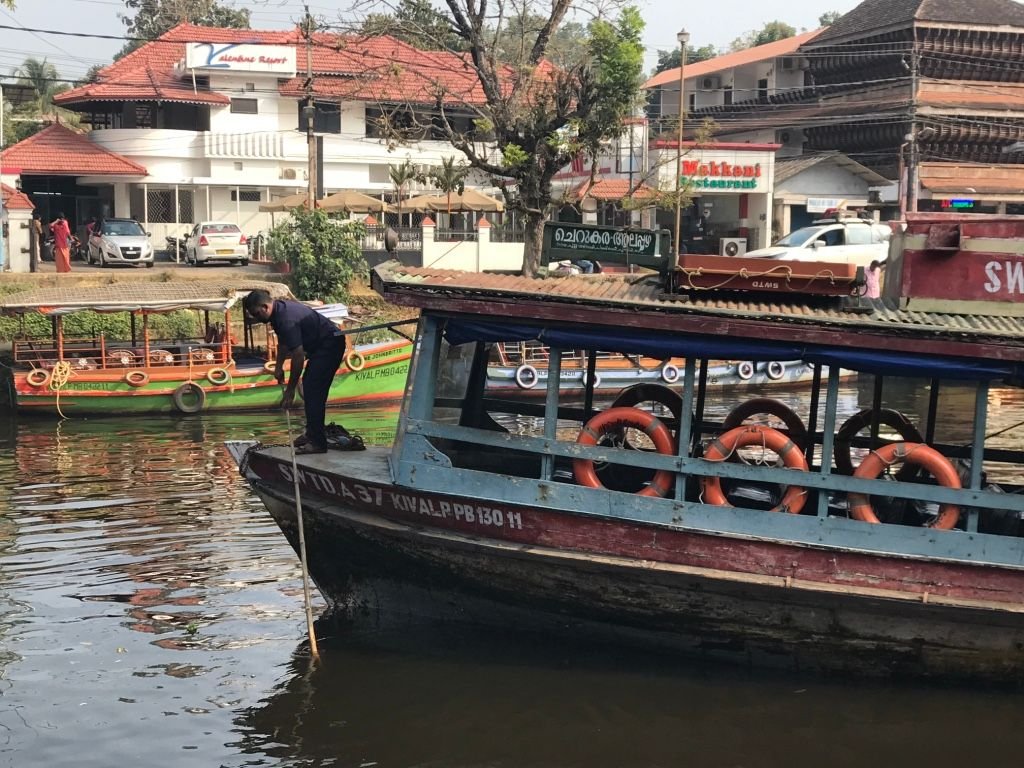 Alternative Route - Ferry Ride from Alleppey to Kottayam
Not wanting to wait until 1pm, I walked to the ferry station and waited for the 9:30 ferry to Kottayam (19 INR), where buses to Kumily run every 30 minutes. The ferry came, we piled on, and then they told us to get off and that the 9:30 ferry service wasn't running. We got off and waited. I saw one of the ferries come and turn around by a man taking a long bamboo stick that touched the bottom of the canal, and using that bamboo stick to push the ferry to face the other side (photo below). It reminded me of the cable car turn around in San Francisco. Anyways, after waiting for an hour, the same ferry that originally told us to get off shouted "Kottayam" and people rushed on. We embarked for a 2 hour journey through the backwaters.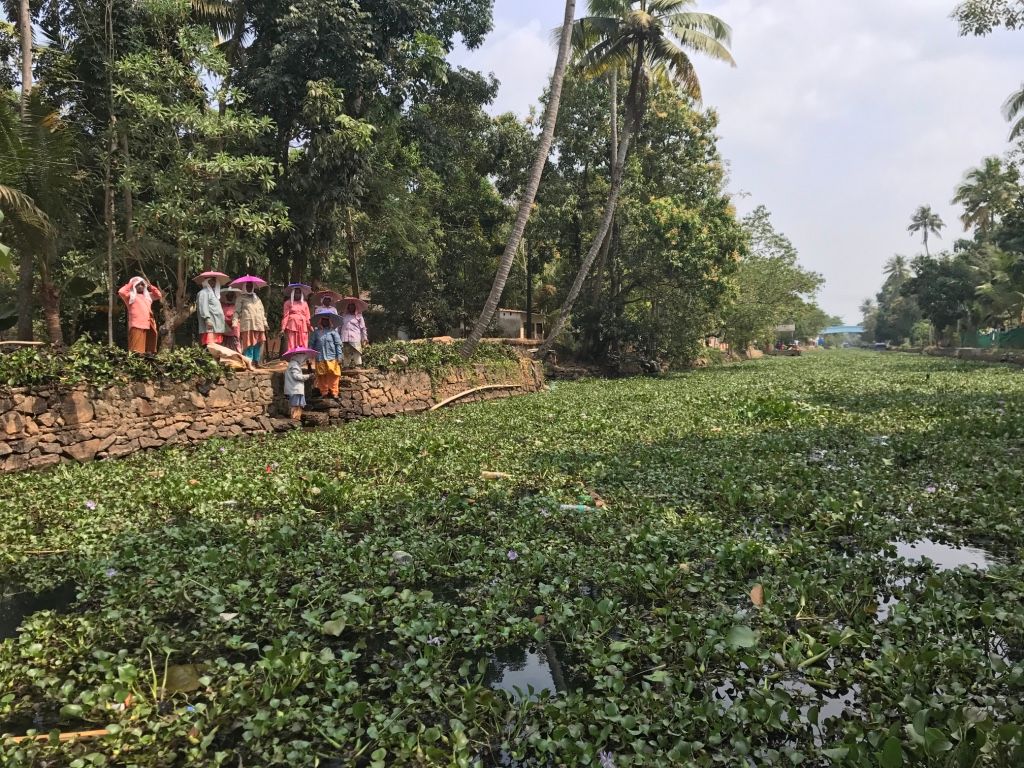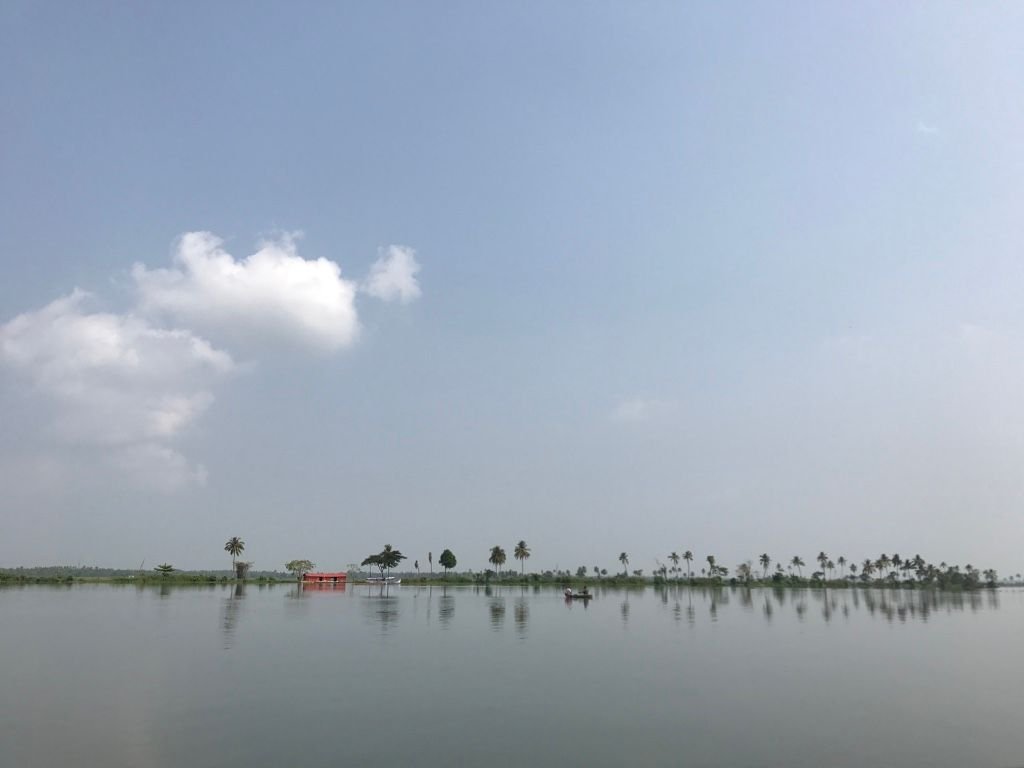 Upon arriving in Kottayam, I split a taxi with a German couple to the bus station (120 INR total, 40 INR/person). Our taxi driver recommended an incredible restaurant, which I forgot to write down the name of, but it was the best meal I've had in India so far. It's called "hotel" something or another, is air-conditioned (this is rare), and is right across the street from the bus station. I got their lunch time thali, which is a pre-set menu of rice, papadams, and whatever chutneys and veggie dishes they have premade (110 INR). In the other thalis that I've had, there are usually around 4-5 side dishes to accompany the rice. In this thali, there were 11, and they were all delicious.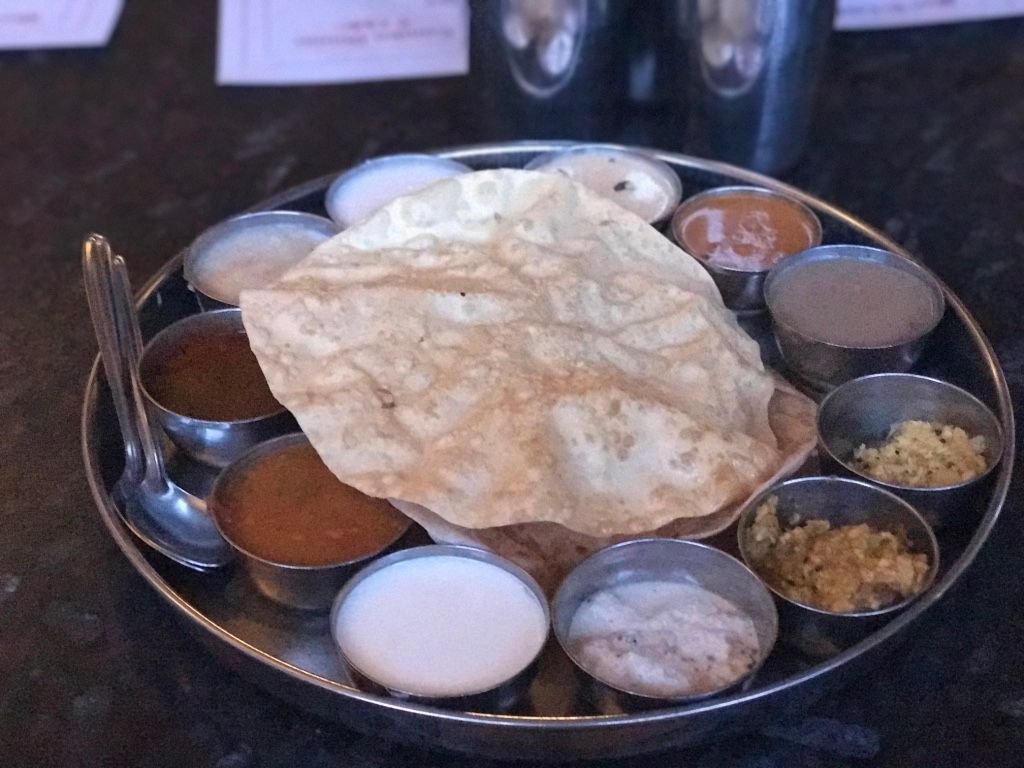 Bus from Kottayam to Kumily & Personal Space
After lunch, we crossed the street to the bus station and hopped on the next bus to Kumily (74 INR). The bus ride was 4 hours long, full of stops, windy roads, steep mountain passes, and lots of hectic mountain towns. We were heading up the Western Ghats! The bus was pretty packed, as people hopped on every 10 or so minutes. It was three people per seat-bench, and the seat material was very slippery. Every time the bus made a sharp turn (which was very frequently), everyone would play "jello" and slide into each other's laps. It was pretty entertaining as well as nauseating. At one point a woman sat next to me and put her baby in my lap while she was getting situated. Another time, a woman sat down and put her bag in my lap for a while. I saw multiple school girls hop on and give their bags to people sitting down in order to allow more people to get on the bus. Personal space in India is so different from personal space in the West. However, this was not new to me since I've spent so much time in China.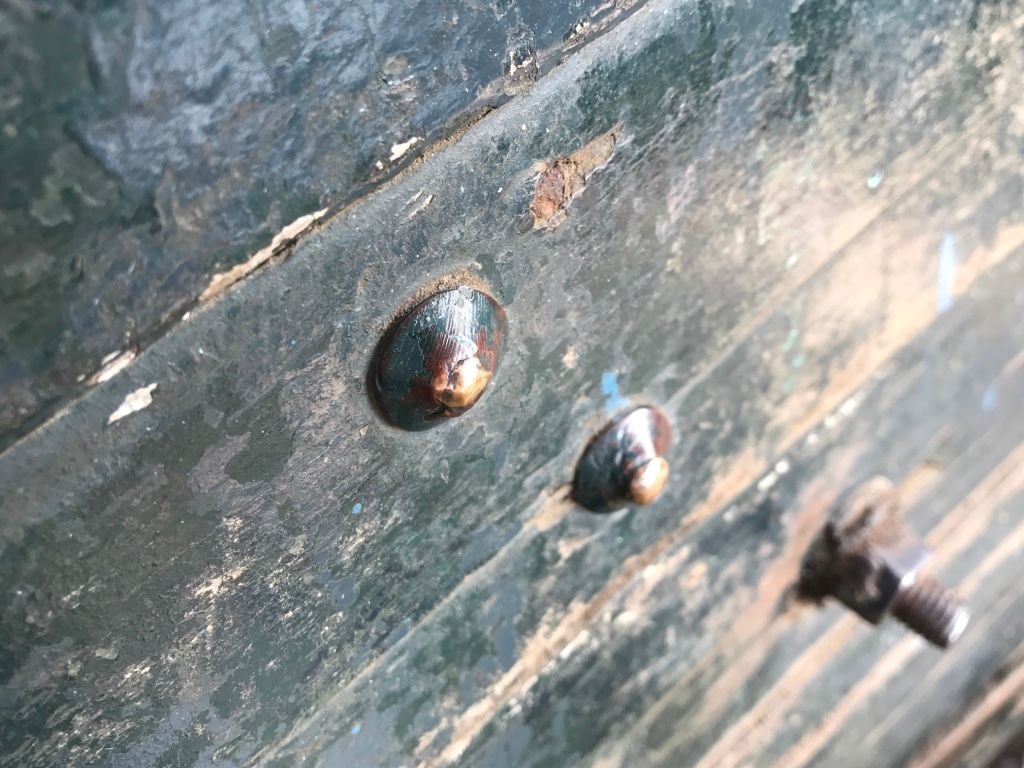 Serendipity
The bus ride offered some beautiful views of the mountains and, closer to Kumily, of tea plantations. After arriving in Kumily, I hopped off the bus without a place to go, planning to find a homestay by walking around. I originally really wanted to stay at Green View Homestay, as recommended in Lonely Planet, but they were all booked up online. Within two minutes a man approached me asking if I needed a homestay and said that he had a nice room at Green View. It was too perfect. Ramesh led me to Green View, got me situated, and then took me to the Ecotourism Center where you can book any of the activities in Periyar Wildlife Sanctuary. I booked the bamboo rafting and hiking. They didn't have another opening for three days, so travelers beware, do not expect to be able to book for the next day during high season. He also got me situated with a full day tour and a cooking class (more on that tomorrow).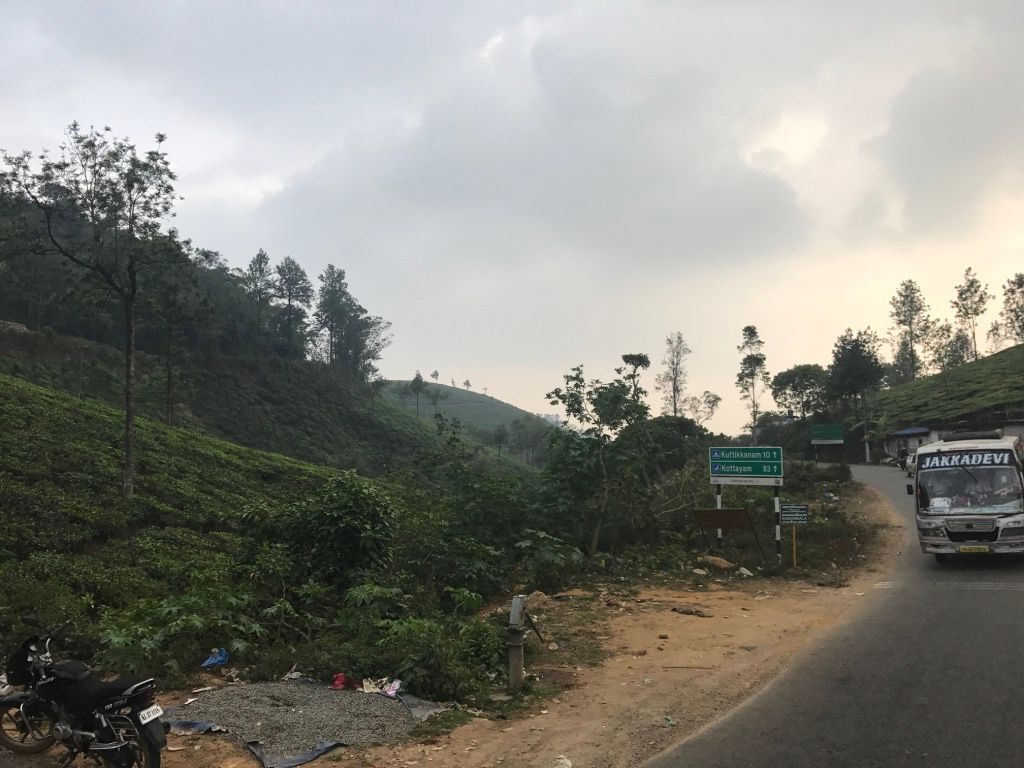 Lessons learned for this day
Traveling in India always takes much longer than expected
Sometimes the longer and slower route is the more educational route
In a country where population density is the highest in the world, people learn how to live in close quarters with each other and the need for personal space is not as prevalent
Not having a plan was the best plan that I could make