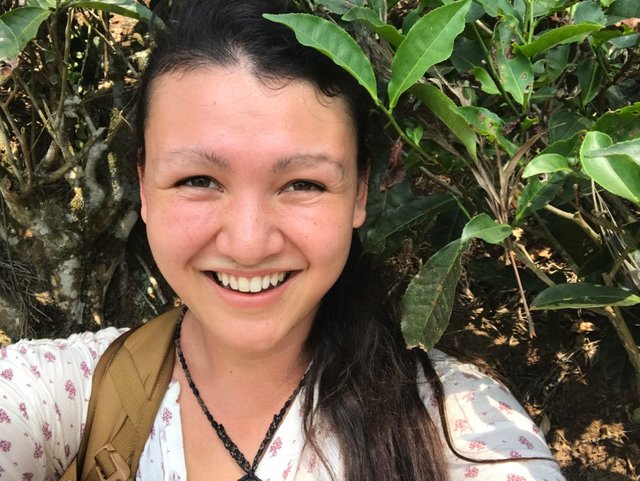 This was my favorite day traveling through India. I woke up in Green View Homestay in Kumily, the town that caters to Periyar Wildlife Sanctuary. Periyar Wildlife Sanctuary is a wildlife sanctuary with bison, sambar, wild boar, langur, elephants, and tigers. The surrounding area is known for its cardamom and tea plantations. I had a whole day of a spice farm/tea plantation/coffee plantation tour. I booked the tour through Ramesh of Thekkady Tourist Guide's Association (phone 9447383583). I paid 2500 INR for the whole day (it would've been cheaper per person if I had one or two travel companions).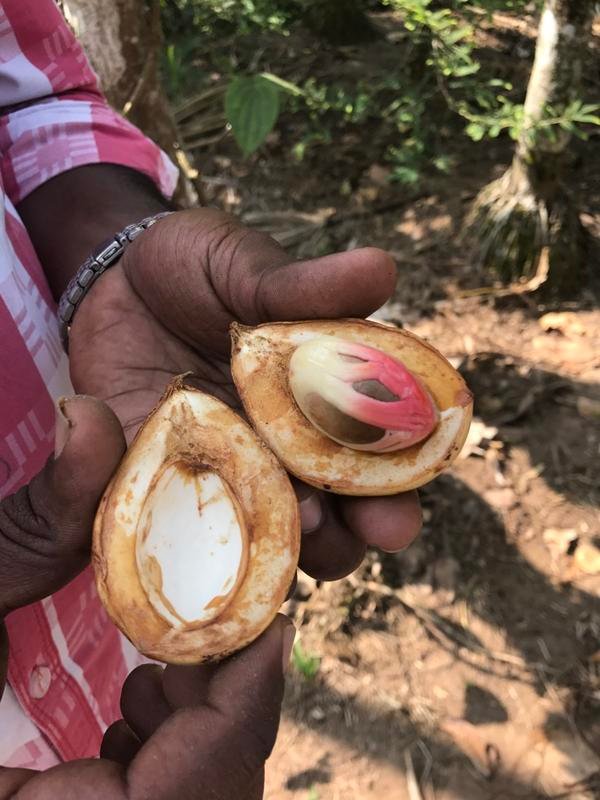 My tuktuk driver/guide picked me up from my homestay at 8am and we headed to Green Park Spice Plantation for a spice garden tour. I am a studying herbalists and grow a lot of herbs myself, so this was a pretty exciting trip for me. I got to see plants that I've used in herbal creations and cooking but I haven't been able to grow myself due to the climate. The tour guide met me and a Swedish couple and began a one hour tour of the grounds. He showed us a nutmeg tree, a cinnamon tree, cardamon plants, vanilla bean vines, allspice, cloves, pepper vines, and more. It was an organic farm, using techniques that I use on my farm. He pointed to tobacco plants and neem trees, saying that they used the both as natural pesticides.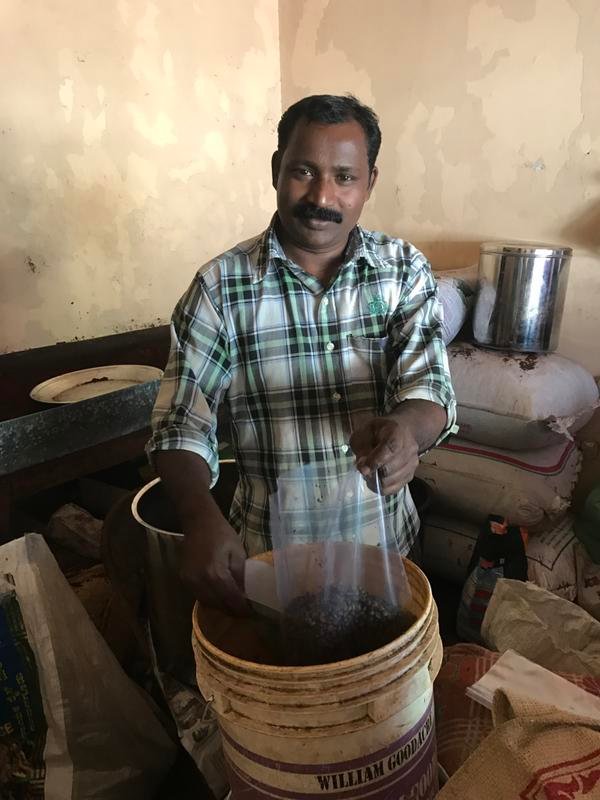 Every minute our guide would move onto a new plant and list all of the health benefits of the plant. Mimosa is good for diabetes, bryophyllum for incest bites, mace for cholesterol, beetle leaf for anti-poison, and so on. Beetle nut is used as a stimulant and it used to be the main cash crop of the region. Now one of the main crops is cardamom. He told us that cardamom can be harvested up to 7 times a year, and one woman can harvest 20 kilos per day (only women harvest the cardamom). That is a ton of cardamom. My homestay was actually next to a large cardamom auction house. Our guide pointed to banana trees and told us that there are more than 300 varieties of banana in India. The had a great shop at the end of the tour where you can buy whole spices fresh from their plantation.

Next, we headed over to a tea plantation. This part of the day was my favorite. The tea plantations cover the hills around Kumily, and hiking to the top offers incredible views. I think this part of the tour is supposed to be a lot shorter than what I made it to be. All I wanted to do was spend an hour or so running around the tea plantation paths. My driver laughed at me and came along. At the very top of the hill we found some porcupine quills. I was grinning the whole time, touching the camila sinensus plants that originated from my ancestral land, China. Afterwards we headed to a tea factory only to find it closed. It was Independence Day and the workers were on holiday.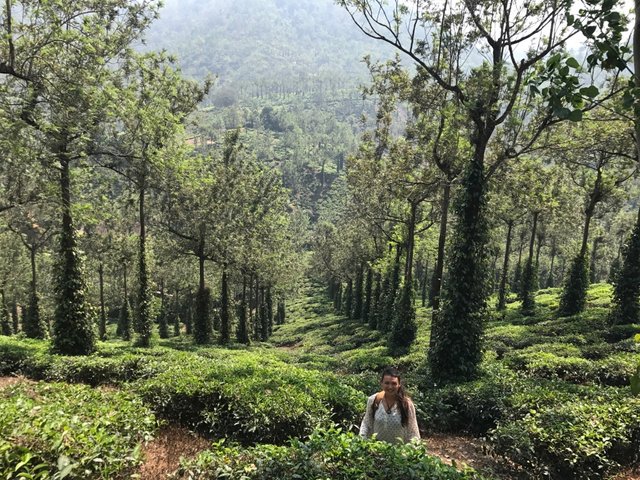 After lunch, we headed over to a coffee farm where I saw some biodiversity at work. The coffee plants were planted underneath Australian silky oak, which provided shade and erosion control. Pepper vines also made their way up the oak trees. I saw a man high up in a tree with a sack on his back harvesting the peppers one by one. Next, we drove to the coffee processing office in town. It consisted of a few rooms where two men were roasting and grinding the coffee beans. They had two kinds, arabica and robusta, which I bought to take home.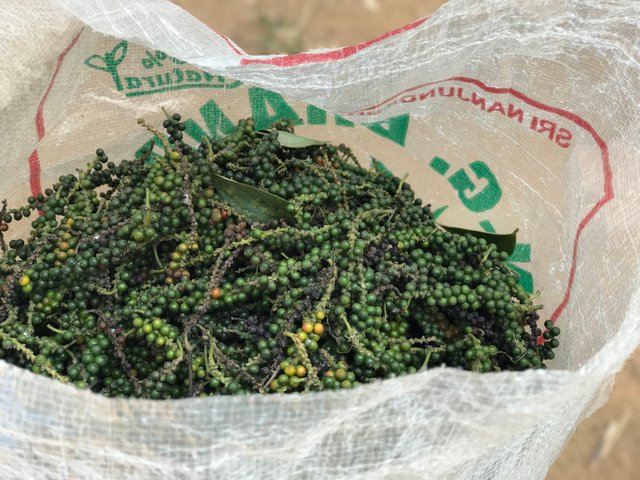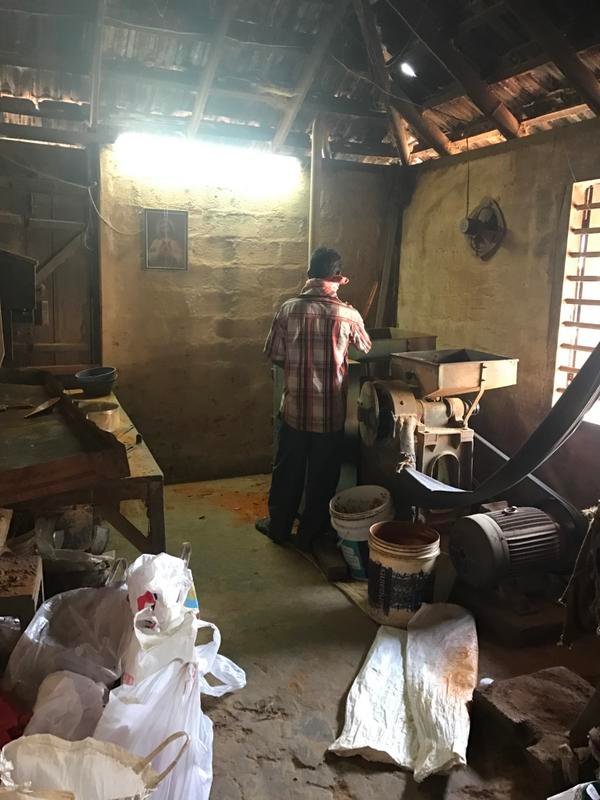 Our next stop was an incredible look out on the mountainside. Kumily is situated on the Western Ghats, which divides the states of Kerala and Tamil Nadu. We took the tuktuk up a bumpy dirt road and reached our destination. I was amazed and horrified at the same time. Amazed at the views…and horrified by the steep and deadly cliff drop that was in front of me. In the photo below I'm standing on a rock, which I had to hop onto, and if I stepped forward off the rock I probably would've been vulture food below.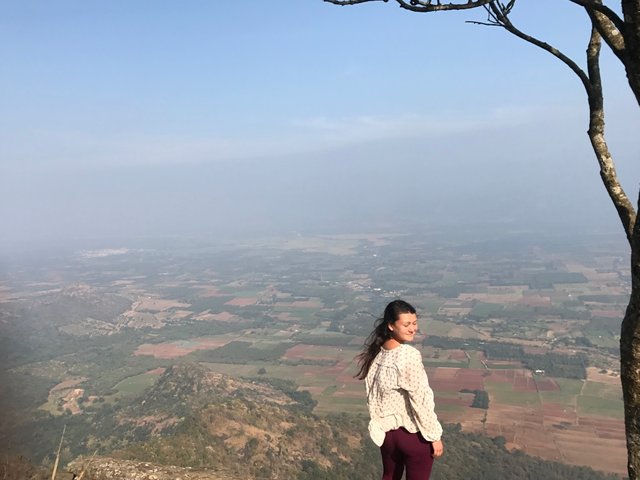 Our last stop of the day was at Elephant Junction. This was a pretty difficult part of the day for me. It was included as part of the whole day tour and definitely would not have been my first pick. There are so many elephants that are tortured and treated horribly in the name of tourism. I asked my driver about the treatment of these elephants, and he smiled and said that they were treated great. Every day a park ranger from the wildlife sanctuary visits to make sure that the elephants are healthy and well-treated. Part of the tour was a 20 minute elephant ride. I was amaze by the beautiful animals. They were huge! I waited my turn and soon I was on the back of an elephant and a trainer was leading the elephant through the surrounding cardamom plantation trails. The elephants name was Lakshmi. I was not feeling great about the experience, since these elephants are ridden for the whole day and my trainer had to keep yelling at the elephant to continue moving. After a while, I realized it was kind of like pony rides at a festival. The difference being that I'm a lot more used to the idea of domesticated horses rather than domesticated elephants. After the ride, I said thanks to Lakshmi as she set off with someone else on her back.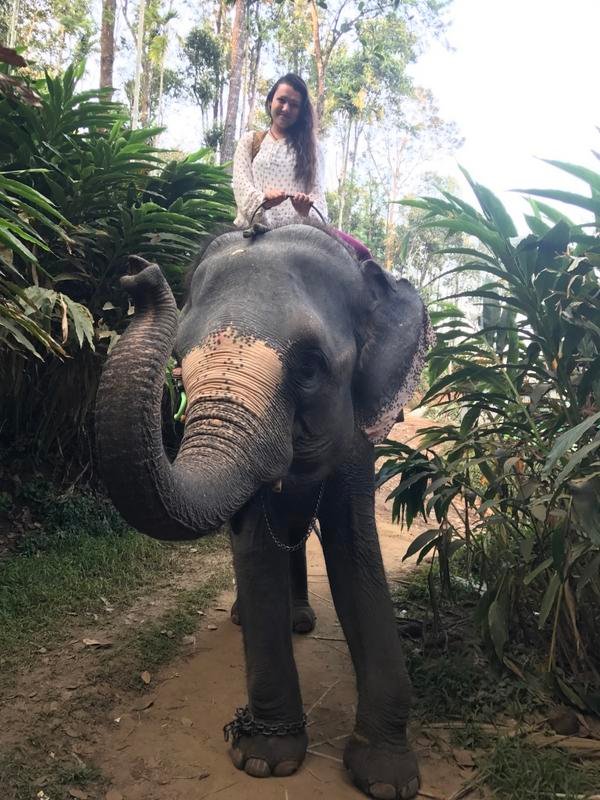 Overall, I had an unforgettable day. From spice gardens to rolling tea hills to fresh coffee to my first elephant encounter. I went to sleep dreaming of spices as the smell of cardamom drifted through my room.