Hurry up and get your stuff packed up for travelling to Iran ✈🚁🚍🚢🚣! One of the most beautiful territories on earth.
Hey fellas. It's been so long since my last post. But I'm back (I know it doesn't matter so much though 😆).
By the time of writing there's less than a month left to the famous Persian new year's eve. Nowruz takes place right at the beginning of spring and means "new day". It's not actually an Iranian eve only. There are many other countries and nationalities that celebrate Nowruz.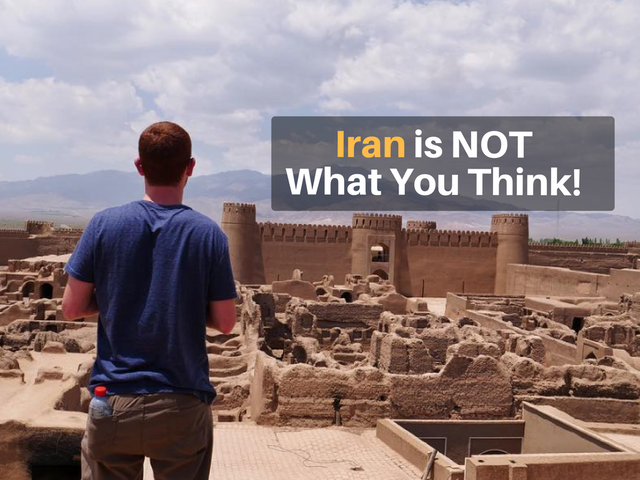 Source
In this post, I wanted to show you where you can enjoy visiting in Iran, and tell you a bit about the season that's about to start by Nowruz. But then I thought that if it's your first time then you probably would face some problems or have lots of questions in your mind. So I decided to first explain some of these issues here and introduce you some couple of sources that you can gain info from. And then, when I wrote the post to the point that I have by far, realized that it will be a very very long post and you can get board reading it, also it will take me a week to mention everything about cities and nature and so on. Finally, I thought it would be better if I finish this post describing the capital and leave other cities and nature for future posts.
Thus, I'm gonna explain few important things about travelling to Iran along with giving some sources from YouTubers I know and then I'll explain why you should pack your things up (make sure you take your camera 📸 as well) and come to Iran. So grab yourself a drink (Though I tried to make the post shorter it's still quite long), sit back down and read this post to the bottom, watch the videos, and enjoy photos I have posted about Tehran, The capital. I hope I can seduce you 😈 😎 to come here afterwards.
Hey, wait a sec, photos I've posted here are taken from different sources (mostly Wikipedia) so I added the related links to them.
Here we go:
➊ Propaganda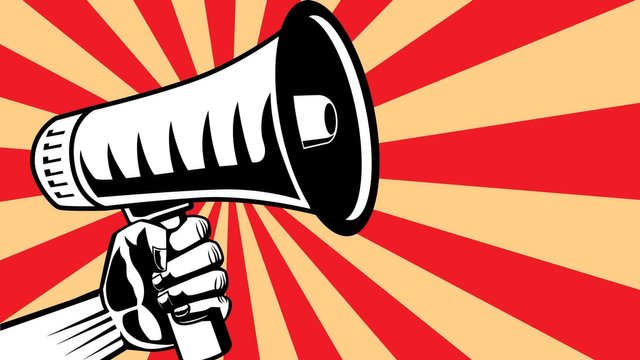 Source
First and most important thing, is to completely forget about the propaganda crap you may have heard all over the media. There's no war going on in Iran, Political situation is a mess of course but it's got nothing to do with you. You may even see some protests but it's not that serious, not yet at least. Remember, you have clearance as a tourist and almost no one can even touch you (I say almost because assholes are everywhere). But I have to admit that there are certain things that you better avoid 🚫 doing, like there are some places that you can't use your camera or you can't wear shorts in public!
I found this video on YouTube, titled as "12 things you should know before visiting Iran" which all 12 things David Bakker mentions in it are very true. You can find the video down below and watching it is highly recommended, specially if reading this post convinced you to pay here a visit.

Within some couple of searches you can find so many videos from tourists all over the world visiting Iran, and here's one of them I found best. Make sure you don't miss it, really helpful.

❷ People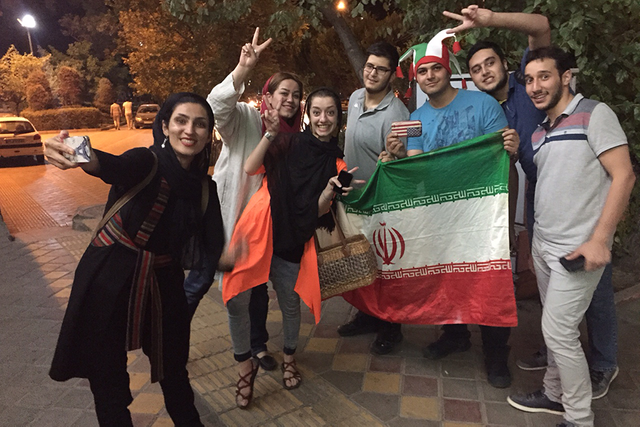 Source
As the first thing that David mentioned in his video, you may face a lot of people come to you and ask about your nationality or so 🙋. Don't panic, there's nothing to worry about, this is really how we Iranians are. No, we're not nosy (we fairly are 😝) but definitely hospitable and welcoming. These guys, as David says just want to have a conversation and welcome you as warm as they can.
I think the real reason behind this popular behavior is that despite the great potential of the country and except for some parts of it, we don't see tourist too much, lately at least. So whenever we see one, we make our best effort to show our hospitality, trying to tell you that we are not really what media (propaganda) defines! We really love to get connected to the rest of the world as our government made it hard for us due to its shitty political approaches (man, I hate politics😡).
You also may feel uncomfortable because people will look at you. Well, this is not because you're from overseas, I don't know why but we look 👀 at each other too (see, we are a bit nosy 👃).
There's something else I should mention which is a little funny. Iranian women 👩 wear makeups 💄 all the time and it's sometime quite heavy (I'm not sure if heavy is a proper word to describe wearing too much makeup). Their not sex-workers, as you may think. There maybe some among them, but not all of'em are! This, I believe is a mental reaction to the mandatory Hijab they have to wear in public, all the time.
One more thing, people are gonna invite to their home or over dinner. Accept it. They will love you more if you do.
❸ Food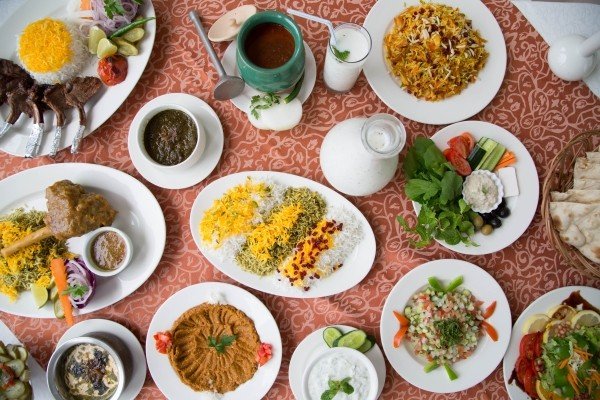 Source
You may have heard that food is awesome here. If you haven't, I suggest you watch this video about Iran, from the series "Part Unknown" by late Anthony Bourdain. We like food so much 🍴 🍖 🍗 🍳 🍲 🍰, therefore, we're great cooks, our women specially and we have a vast variety of cuisines. I'm not sure how accurate this is but I've heard that there are 1400 different Iranian cuisines out there. Also our breads are way different than yours and more delicious 😅 (tough I haven't tried yours yet but out of nowhere I'm just sure 😁).
The most important thing that I can mention about food and eating in Iran (as you can see in both videos above) is that, Iranians do their best to KILL their guests by feeding them 😝. This is an important part of our culture, so relax and let us feed you to death! OK, seriously, we really like to provide the best service we can to our guests, specially if he's a foreigner.
Hence I'm a gutty myself, I can talk about food all day, so highly recommend you to watch Anthony Bourdain's video.
❹ Traffic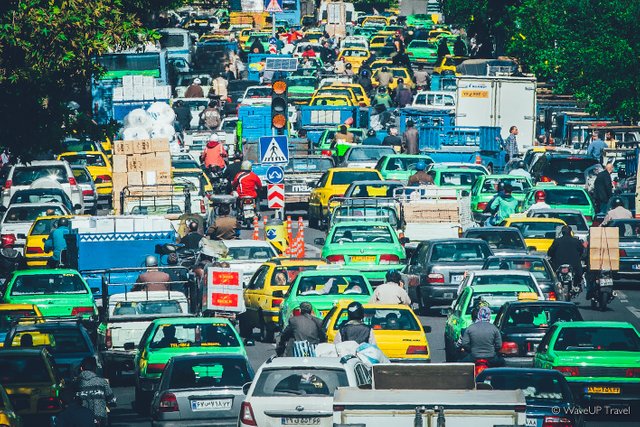 Source
I have to be honest with you; we are terrible drivers! It doesn't mean that we're not good at driving but quite vice versa. Every single Iranian has a bit of Michael Schumacher in his blood, besides not giving a single damn about driving rules (rules kinda get determined by drivers, so the rules depend on drivers feelings here 😅)! So I suggest not to drive yourself and use public transportation.
Public transportation is not bad if you stay away from them during the rush hours. There's also Snapp (Iranian Uber) that you can download and use easily. Public transportation like bus or metro is really cheap. Keep in mind that the yellow and green cabs 🚖 you see are mostly communal and they carry up to 4 passengers. You can rent a cab to take you expressly to your destination but it will cost way more than Snapp or other online taxis like Tap30 and some other more that are emerging nowadays.
❺ Dress code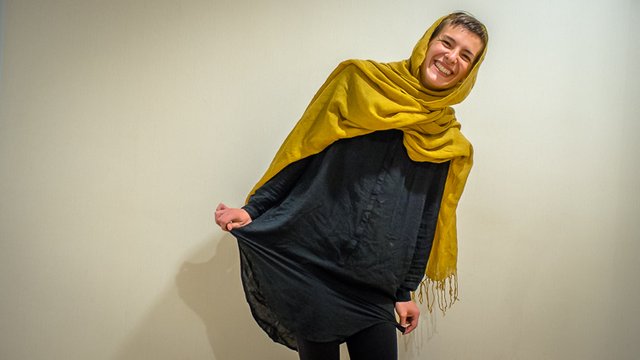 Source
Well, it's not quite a dress code but if you're a woman you should cover you hair with a scarf and wear some kind of long dress, called MANTO, to cover your torso, nearly down to your knees and also not allowed to leave your legs uncovered, in public. And if you're a man, you're also not allowed to wear shorts or sleeveless shirts. Although these are all for public and almost no one has any problem with you, wearing anything you like inside. These prohibitions are because Islam has a huge impact on our constitutional law and that's why Iran is known as Islamic Republic of Iran (almost no one gives a shit about it anymore though 🙄).
❻ Money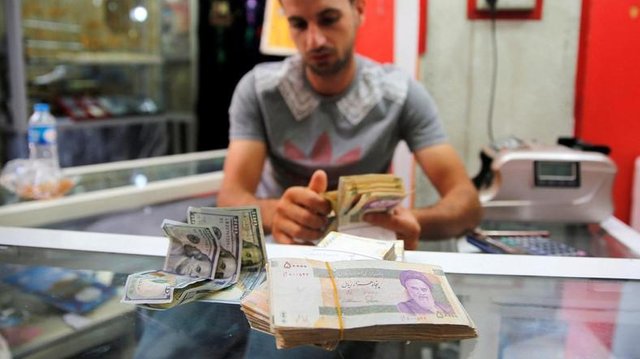 Source
Exchanging money 💵 would be a problem for sure. Iranian Rials (aka "Toman") has lost a lot of value recently, making buying nearly everything dirt chip, specially if you're spending Dollar or Euro. But it's not easy to exchange. Some accept USD but it won't be convenient for you. Also there are small communities and exchanges that you can exchange crypto but you better beware. David also pointed the issue in his video and has a suggestion, so make sure you watch it before coming here.
I really suggest that hiring a guide would work best for you. You can easily find these guys in online platforms like tripadvisor.com or with some google searches.
❼ House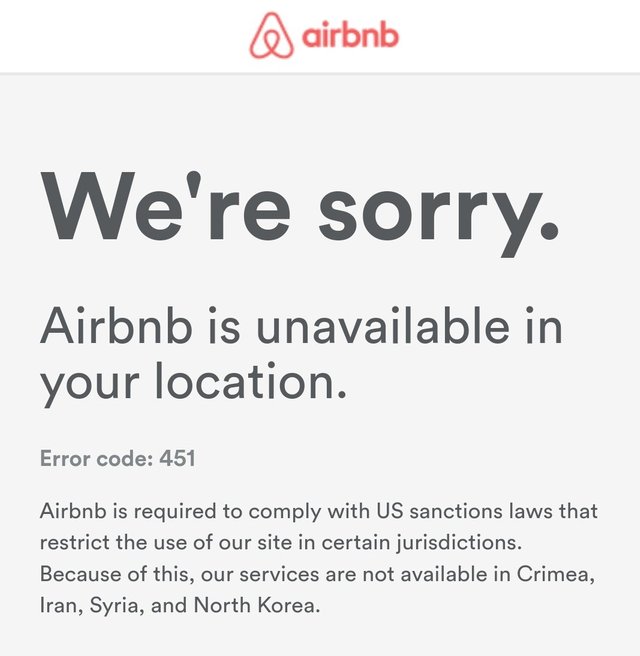 Source
You probably know Airbnb way better than me. So I save you some time and let you do it yourself. Just for you to know, as it's shown in the picture above, Airbnb does not provide services to Iranian IP Addresses. But it's OK, you still are able to find a proper place with it in Iran.
❽ Connection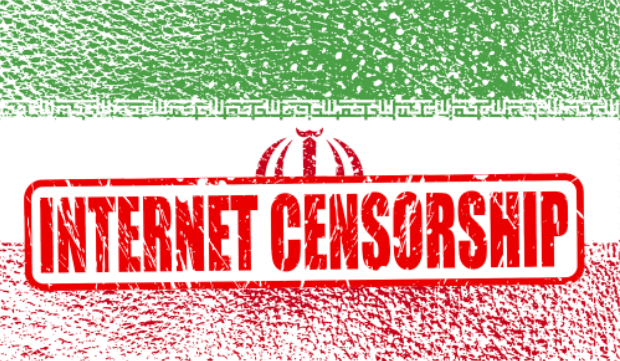 Source
We all do believe that connection 📞 📡 is everything nowadays. You better know that your cellphone 📱 doesn't work here. But no worries. There are prepaid SIM cards you can by for about 50 cents or a Dollar which provide 4G 📶 and the bandwidth is fairly good and stable. But keep in mind that there are certain applications and/or website such as Facebook or Twitter that you can't have access with your 4G connection. Therefore, make sure you have a VPN that you can rely on. There is this VPN provider that I buy my subscription from which accepts crypto as well. I put my referral links below so you can buy your own subscription :
https://vpnmakers.com/order?ref=2576933 ➜ filtered connection (click if you already have a VPN)
https://vmset.site/order?ref=2576933 ➜ no filter
Alright, now that I've mentioned what I thought that will be useful to you, I better tell you a bit more about Tehran, the capital. When I started to write this post, I wanted to give info about all cities, sites, etc. I thought worth visiting. But, then I decided not to duo to the huge number of these places and the post length. Instead I'm gonna tell you about the capital and live the rest for the future posts.
Tehran :
With about 9 to 10 million population, Tehran is the most crowded city in the country and the most populous city in western Asia. Historical places you can visit here that have beautiful architecture are numerous. So I sort some few down below 👇
Golestan Palace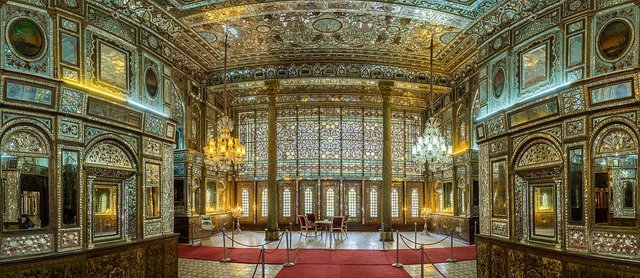 By Diego Delso https://commons.wikimedia.org/w/index.php?curid=52078064
Niavaran Complex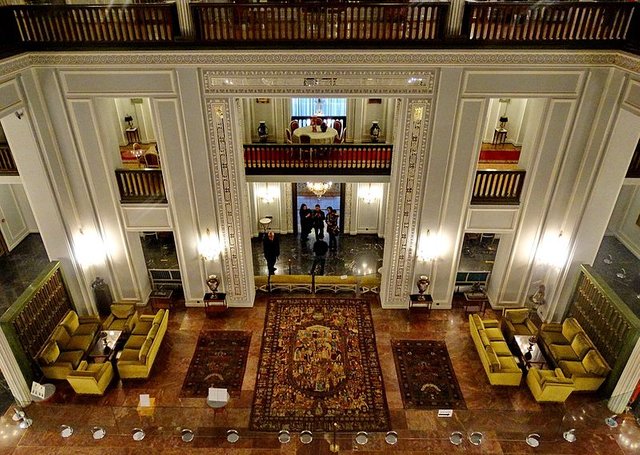 By Rasool abbasi https://commons.wikimedia.org/w/index.php?curid=53921303
Abgineh Museum of Tehran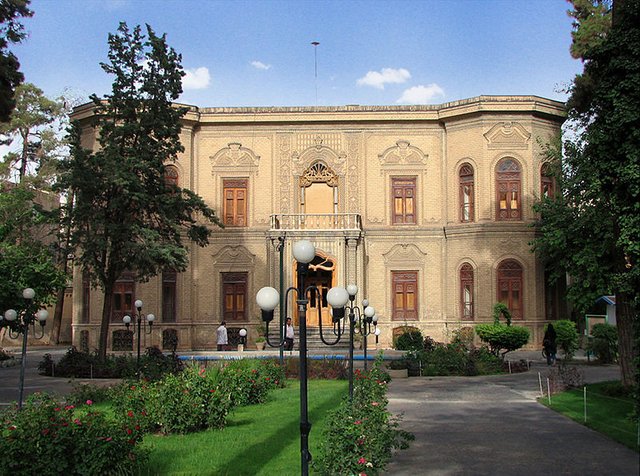 By Leo https://commons.wikimedia.org/w/index.php?curid=36238691
Tehran Museum of Contemporary Art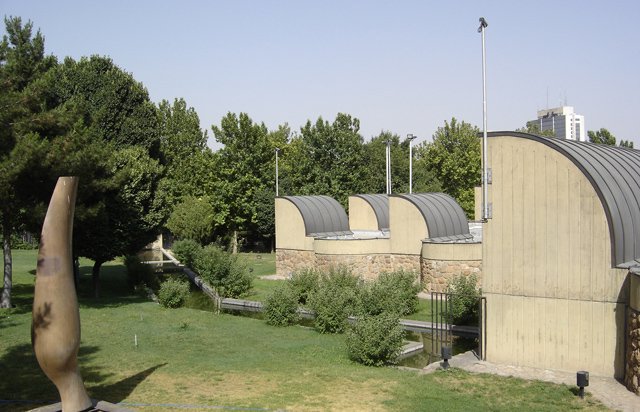 By Zereshk https://commons.wikimedia.org/w/index.php?curid=1409092
Grand Bazaar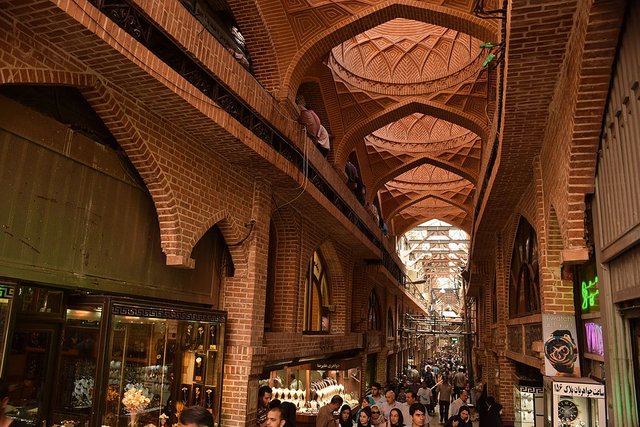 By Hamidreza Hasani https://commons.wikimedia.org/w/index.php?curid=52037645
Museum of the Qasr Prison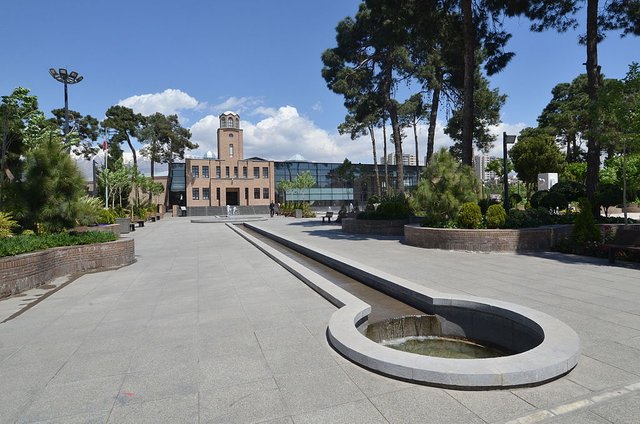 By Hossaien yeganeh pouya https://commons.wikimedia.org/w/index.php?curid=27961672
Considering that there are so many places to visit in Tehran itself, I suggest check out BackPaker Steve YouTube channel who made the series "Inside Iran" which would be quite useful and interesting.
In the end, first, thank you for reading this loooong post, hope you enjoyed. Apart from "please upvote and follow", if you had any question or wanted to know about something specific don't hesitate to drop a comment and ask.
Have a good trip to Iran 😉 😁