Seoul
Seoul (서울) is the capital of South Korea. With a municipal population of more than 15.8 million, the population of the capital is a total of more than 25.6 million, Seoul is currently the largest city in South Korea and one of the financial and cultural epicenters of East Asia.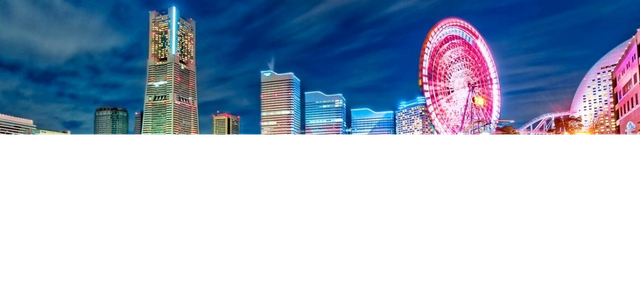 A fascinating combination of ancient traditions and advanced digital technologies, home to endless street food vendors and extensive nightlife, education systems and serene Buddhist temples, up to date on the latest trends in youth culture and often crushing conformism, extraordinary architecture and endless uniform series of gray high rises, Seoul is a city full of contrasts. Seoul looks very beautiful at night. Thousands of lights illuminate the entire city.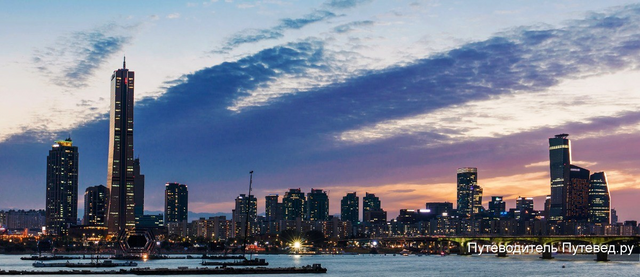 South Korea-land cafe It seems the number of such places can easily compete with a number of shops. Many Koreans dream of having their own coffee place, although with an oversupply of such places, profits are probably very low. Around a lot of large coffee chains, which you will see repeatedly.
Cafe Bar, Closed on Sundays. This is a very special place, Americano, Cappuccino or something else. They even fry their own beans with a gas flame. Choose something with caramel and ask for a real cup. They certainly have Wi-Fi. Exact location: 37 ° 33'59.5 "H 126 ° 59'18.7" E KRW3,500 and up.
In addition to Korean cuisine, Japanese restaurants in Seoul are usually excellent, they have excellent sushi and sashimi. Chinese restaurants are available, but are usually adapted to local preferences. There are several Italian restaurants; These are usually excellent chefs trained in Italy.
Parisian baguette: Very popular in Seoul. This cafe serves delicious pastries, cakes, rice cake, ice cream to drink, coffee, tea and cocktails. A small network is located in the US in Cambridge, Massachusetts, which opened in 2014. This cafe network already exists in New York and California. This cafe is distributed throughout the United States, and is in great demand.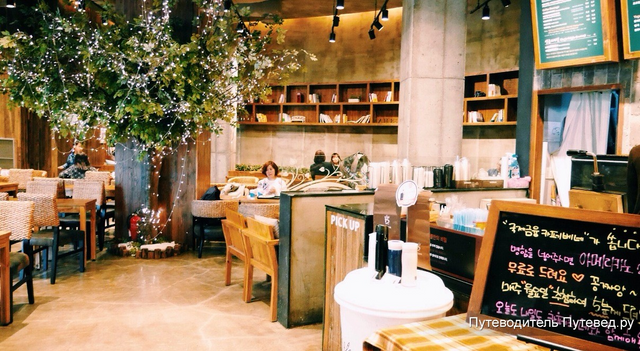 Caffe Bene: Very popular in Seoul. This cafe serves ice cream with a variety of flavors, coffee, tea, pastries and more. There are many other cafes, such as Dunkin Donuts, Krispy Krim, also widely known.
-sights
Gyeongbok-kun, Yulgukno (Gyeongbokkun metro Gwanghwamun). This is the dynasty of the great era of Joseon in Seoul palace and power for centuries before it was destroyed in 1592 the Japanese invasion (and again by the Japanese in 1910). It was the first palace of the Joseon dynasty. Large parts have been restored and the vast territory will also house the Joseon Palace Museum and the Korean Folklore Museum. Reception fee is 3.000 ₩, open from 9:00 to 18:00 (open until 19:00 on public holidays) daily, except Tuesday.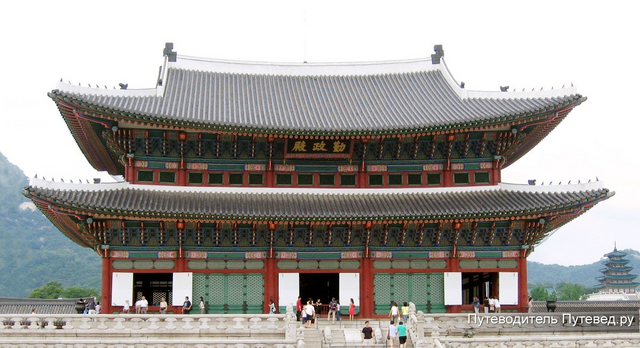 Chandok-kun, 99 Yulgong-RO, Jongno-GU (metro line 3, anguk metro station 5 minutes on foot or jongno-3ga metro station lines 1, 3, 5 at the station). This palace is second only to Gyeongbok-kun (the original Gyeongbok-kun was built before Chandok-kun, but not used for a long time) in historical significance, this one was built in 1405 and was the seat of power, between 1618 and 1896. All buildings were recently restored and recently repainted, creating a dazzling, but still elegant effect, which received the palace included in the UNESCO World Heritage List. The buildings of particular attention include the blue roof of Seonjeongjeon, who was king and Daejojeon ("Great Hall"), his bedchamber, but perhaps the most famous of all is Huwon ("secret garden") in the back. Access to the complex is provided only by guided tours (£ 3,000),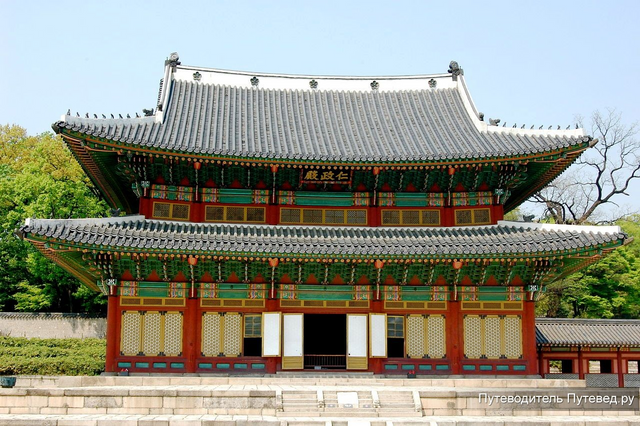 Tours in Korean are conducted every half hour (tours are also available in Japanese), but English tours are only offered at 10:30 am and 2:30 pm, and last about 60 minutes with a walking distance of about 2.5 km, including some steps and slopes for part of Huwon (the area is wheelchair accessible for most parts, but may have to enter certain areas in the opposite direction from the group). Closed on Mondays. Bus bus (blue): 109, 151, 162, 171, 172, 272. Branch line (green): no ..7025.
Toksugun-kun, (Metro City Hall). Located in the center of Seoul, across the street from the City Hall, the Palace of Toksugun, vividly contrasts with other nearby palaces, such as the Palace of Chandok. Built in the middle of the fifteenth century, the architecture of the buildings inside strongly depends on Western design. From here you will see the merging of both Korean and Western architecture. Closed on Mondays. Admission: adults (from 19 to 64 years old): ₩ 1,000 (groups: ₩ 800), children (7-18 years old) and soldiers: ₩ 500 (groups: ₩ 400), children under 6 years old, 65 years old and older: free. Chkangengun-kun, (metro line 4, hyehwa station to 10 minutes walk or 20 minutes walk from Chandok-kun).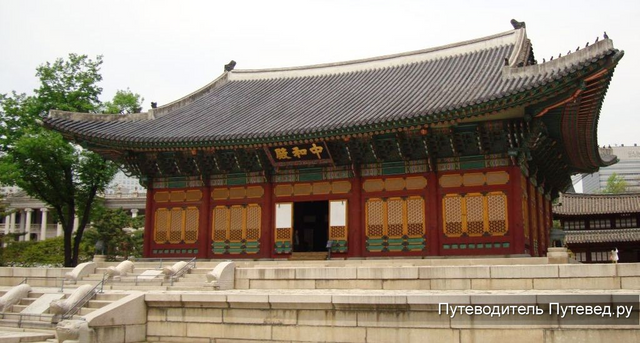 Originally built in 1104 as the summer residence of the kings of the Kings dynasty, it became one of the main palaces during the Chosun dynasty. The palace was used as a temporary home for the king during which the Gyeongbuk palace was built. Unlike other palaces, which has from north to south, the Palace of Changengun overlooks the East-West. Also, what is known about this palace is that it is connected to the shrine of Jongmyo, a holy place for the Joseon dynasty, where sacrificial rites are practiced for the previous kings and queens. Closed on Tuesdays. Entrance fees: adult (19-64): ₩ 1,000 (groups: ₩ 800), children (ages 7-18): ₩ 500 (groups: ₩ 400), children under 6, elderly people 65+: is free.
Gyeonghui-kun and Seoul History Museum, (subway line 5, Sodemun station, exit 4). Originally built in the 17th century, it was burned twice in the 19th century. It was largely destroyed by the Japanese during colonial rule in order to build a school for Japanese children. It was finally restored in 1985 and opened to the public. Free entry.
Klook experience Hanbok, 2nd floor, 4 Bukchonro5-Gil, Jongno-GU, Seoul (about 300 meters walk from exit no. 2 to anguk metro station and across the road from Jae Dong Elementary School). 10:00 AM - 8:00 PM. Stroll through the streets of Seoul and the palaces in the traditional Korean Hanbok, paying entrance tickets to many of the sights if you wear Hanbok during a visit. 13.000 - 4 hours, 26,000 — all day.
-The mountains
Seoul offers many great opportunities for hiking. The mountains of Seoul are at an altitude of no more than 800 m (3000 ft), which can be reached by public transport. Mount Buhan offers probably the best opportunities for hiking in Seoul. It is located in the north of Seoul and can be extremely crowded on holidays. To visit the popular area, on line 1 to Dobongsan station.
Mount Kwanak - Gwanak Station, line 1. Sammak Temple is inside. Mount Samsong-Close to Gwanaksan. Mount Inwang- Located in the center of Seoul.
-Parks
The memorial cemetery-224 people died during the movement on April 19 and were buried in this cemetery. It became a national cemetery in 1995. There is a museum, several statues and a mausoleum. This is a popular park to learn about culture and heritage.
Boramare Park - the former site of the Korean Air Force Academy, which in 1986 was turned into a park - Boramarie, or a hawk in English, symbolizes the Air Force. The park area is about 360,000 square meters and sports fields, a small zoo, a pond and footpaths are well developed. The huge pond, whose area is 9 thousand square meters, is surrounded by willows and benches, and people love to sit here. The pond is full of cool colors in the summer, and is impressive when the snow falls in the winter.



Namsan Park - Located in the center of Seoul and is considered a symbol of Seoul. Namsan Park is an ecological island surrounded by urban areas. Despite the urban ecology of the island, wild animals live in the park. Located in the center of Seoul, mountains filled with pine trees can be seen from almost every corner of the big city, and residents of the surrounding hills enjoy the fresh mountain air.
The Olympic Park was built at the 1986 Asian Games and the 1988 Seoul Olympics. Among the visitors are very popular lake, a large field covered with grass, an area with sculptures. It is frequented by brides and grooms to make their wedding photos. There are several courses that are perfect for running or walking. In addition, an open stage and six stadiums are often used for concerts and other special events. Also known is the SOMA Museum of Contemporary Art. The museum is located in a park that features contemporary works of art by Korean and international artists. museum entrance fee - ₩ 3,000.
Tapgol ("pagoda") - Park - a small park, which is often visited by the elderly and travelers, when they rub their feet, just east of the Chonme sanctuary. It contains a 500+ year old pagoda of the same name under a protective glass, and a nice large summerhouse to get out of the sun. This is when the Korean constituation was first read out loud by the public during the 20th century. Acts as a navigation reference when driving between Men-dong, Chon-no and Insa-dong areas. Citizen Froest Forest - You will find forests on the right if you drive through Gangnam streets. This is a park with streams and a clear view of the sky. It has planted more than 106,600 trees, and is a very popular picnic spot for young students.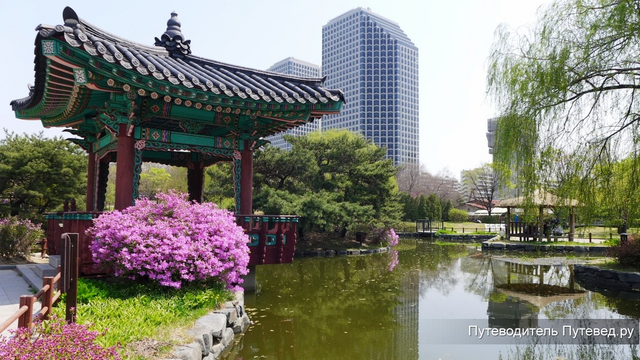 Yoido Park - more than 30,000 visit it on weekdays and 60,000 people visit it on weekends. The park area is 230 000 m2. This giant concrete field was built for military aviation purposes in an emergency. There is a traditional Korean forest, and in many other places you can enjoy concerts, cycling or walking. Hundreds of trees and flowers offer shade and relaxation. It is recommended to visit three ponds. There are basketball courts, so feel free to go in and play. For a nominal fee, you can rent bikes or roller skates for use in the park.
Yongsan Park - Reminds you of famous parks in other countries that you might see in some films. Large grassy fields and dense forests will make you feel much relieved from the busy city life, you will see many types of birds and trees. The park was once used as US military base camps. In 1992, Seoul bought land and built a park.
Hangang Civil Park - located on the banks of the Khan River in 13 districts - Gwangnaru, Jamsil, Gandon, Ttuxseom, Jamwon, Banpo, Ichan, Yeouido, Yanghwa, Mangwon, Seonyudo, Nanji, and Gangseojigu. You can see a lot of people walking or jogging along the paths, as well as in-line skaters, cyclists, and football fields or basketball courts. Yeouido, Seoul, and Ttuxseom areas are especially popular because of cruise services on the Hang River.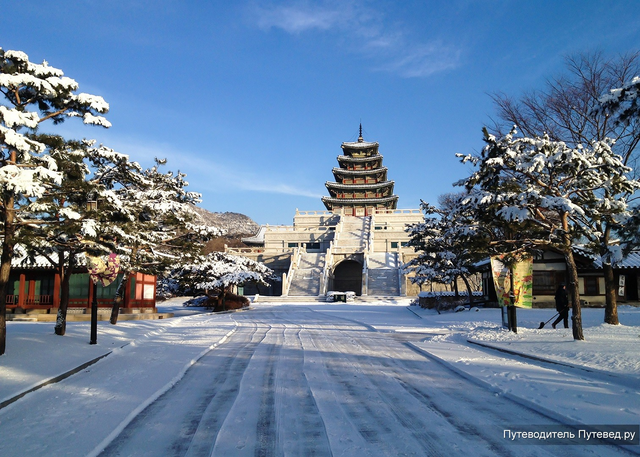 Currency exchange
There is one nuance course at the airport is higher than in the city, so here it makes sense to exchange no more than $ 50-100.
This is enough for you to get to the city and have a snack. There are three ways to get to the city: taxi ($ 100 or more), bus ($ 20-50) and metro ($ 15).
I advise you to get the subway because it is cheaper and in time all three methods are almost the same.
Tickets are bought in special terminals. The country is well adapted for foreigners so all the inscriptions are duplicated in English. So even with the slightest knowledge of the language can move. At the terminal, select ENG and look for Seoul, press and highlight the cost, insert money and pay. You are issued a card for the passage of the turnstile (do not throw out the card and tell you how to get money for it). If you have problems with the purchase then there is a Help button on the machine. By clicking on it, ask the dispatcher for help and an employee who knows English will help you for a couple of minutes and will help you buy a ticket. Next, take the subway time on the way about 40-60 minutes. Upon arrival after the passage of the turnstile at the exit will be another machine in which you insert the card and get 500 won. Now before you start sightseeing you need to be settled,
-Choosing a place to stay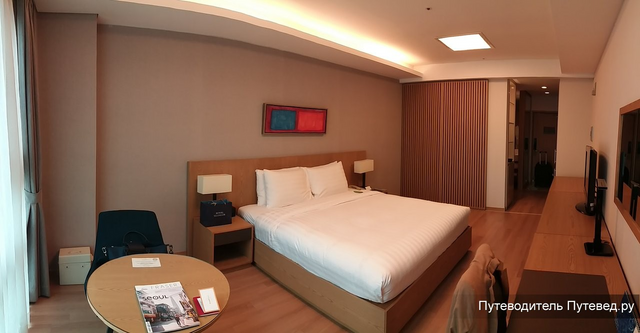 There are three budget options. The most expensive of the budget is to rent a room in a motel. The cost of rooms depending on the area of ​​the city. There is a great motel for $ 70 per day and the next $ 50 per day.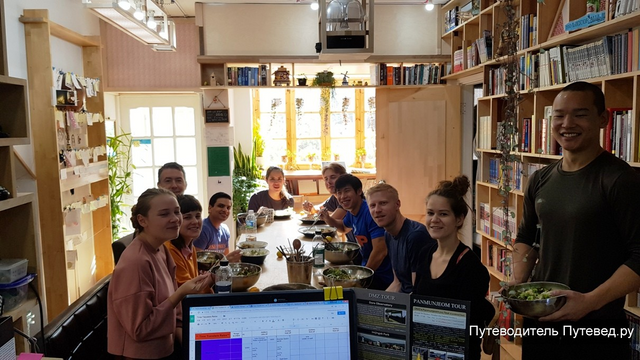 Good service, comfortable rooms. The second option is to settle in the hostel prices of hostels from $ 30 and up. And the cheapest option for one night is a $ 11 sauna. In Korea, large public saunas and a great many. Such saunas are arranged as follows: One floor is reserved for swimming pools, saunas and changing rooms, there are separate women's section and men's section. The second floor is shared with a cafe, medical and game rooms. Have your own + and -. Let's start with the benefits, this is the price and the opportunity to relax after taking bath procedures. The minus is quite noisy for sleeping and from the bedding give their national mattress on which they sleep, and a square pillow. This option is perfect for those who arrived late and have no time to look for a motel or hostel.