Tradition makmeugang / makmugang / meugang (Aceh)/ Tradisi Makmeugang/ Makmugang/ Meugang (Aceh)
Makmugang / makmeugang / meugang tradition Aceh.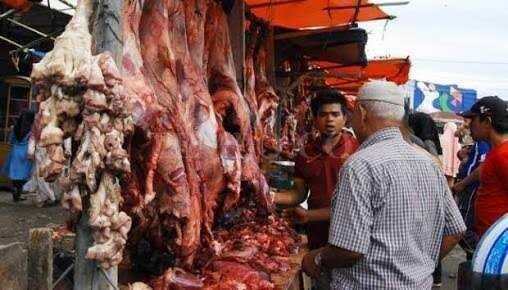 Source
---
---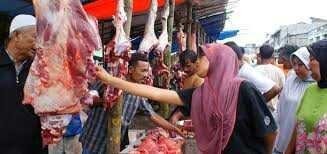 Source
According to some sources I read. Makmeugang tradition originated from an ancient Aceh Darussalam King named Sultan Iskandar Muda. From the beginning, the embryo of Makmeugang Tradition begins to this day. Actually Makmeugang day for aceh people including a sacred day. But not sacred in terms of religious orders.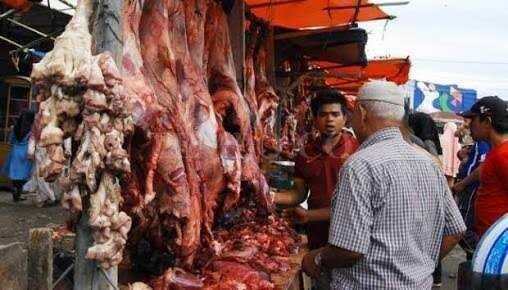 Source
Makmeugang in a year there several times. The first time to welcome the holy month of Ramadzan, when will welcome Idul Fitri (Lebaran Puasa), when welcoming Idul Adha (Lebaran Haji). The people of Aceh commemorate the Makmeugang day in a year as much as 3 (three) times.
On that day the people of Aceh celebrate by shopping for meat (beef, buffalo, goat, chicken and or duck) to be cooked and eaten with beloved family. For those who have relatives in the overseas, usually will gather together on the day Meugang. Sharing with other financially-deficient neighbors has also become a phenomenon on Makmeugang day, such as sharing with the poor, orphans, orphans and orphans.
Although this Makmeugang day is not a religious command. But that day has never been missed by most of the people of Aceh. For people outside Aceh Province there is no such thing as Makmeugang day. For those who come from Aceh and are traveling outside Aceh will commemorate the day Makmeugang fellow Acehnese who are in overseas.
Thus a glimpse of one of the Aceh Traditions that is still being carried out to date.
---
---
---
Makmugang/ Makmeugang/ Meugang Tradisi Aceh.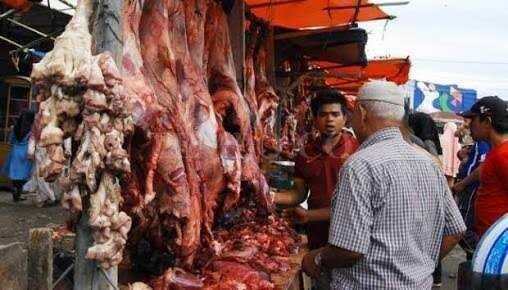 Source
Menurut beberapa sumber yang saya baca. Tradisi Makmeugang berawal dari seorang Raja Aceh Darussalam zaman dulu bernama Sultan Iskandar Muda. Dari beliaulah cikal bakal Tradisi Makmeugang berawal hingga saat ini. Sebenarnya hari Makmeugang bagi orang aceh termasuk hari yang sakral. Namun bukan sakral dalam hal perintah agama.
Makmeugang dalam setahun ada beberapa kali. Pertama saat menyambut bulan Suci Ramadzan, saat akan menyambut Hari Raya Idul Fitri (Lebaran Puasa), saat menyambut Hari Raya Idul Adha (Lebaran Haji). Masyarakat Aceh memperingati hari Makmeugang dalam setahun sebanyak 3 (tiga) kali.
Pada hari tersebut mayarakat Aceh merayakan dengan berbelanja daging (sapi, kerbau, kambing, ayam dan atau itik) untuk dimasak dan dimakan bersama keluarga tercinta. Bagi mereka yang memiliki sanak saudara di perantauan, biasanya akan berkumpul bersama di hari Meugang. Berbagi bersama tetangga yang kekurangan dalam hal finansial juga menjadi fenomena di hari Makmeugang, seperti berbagi kepada fakir miskin, anak yatim, anak piatu dan atau yatim piatu.
Meskipun hari Makmeugang ini bukan perintah agama. Namun hari tersebut tak pernah terlewatkan oleh sebagian besar masyarakat Aceh. Bagi masyarakat di luar Provinsi Aceh tidak ada yang namanya hari Makmeugang. Bagi mereka yang berasal dari Aceh dan sedang merantau di luar Aceh akan memperingati hari Makmeugang tersebut sesama orang Aceh yang ada di perantauan.
Demikianlah sekilas tentang salah satu Tradisi Aceh yang masih dilaksanakan sampai saat ini.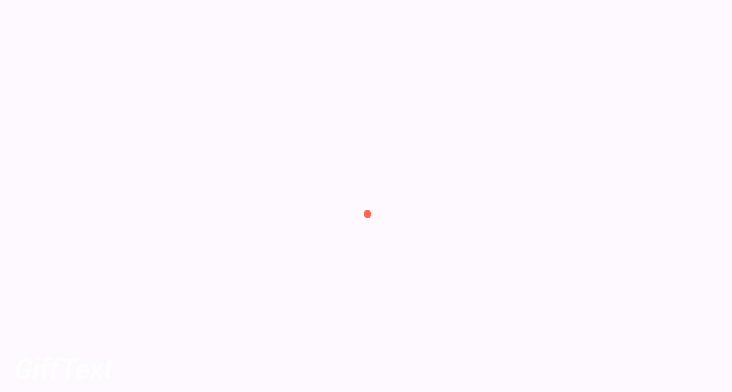 ---
---
---