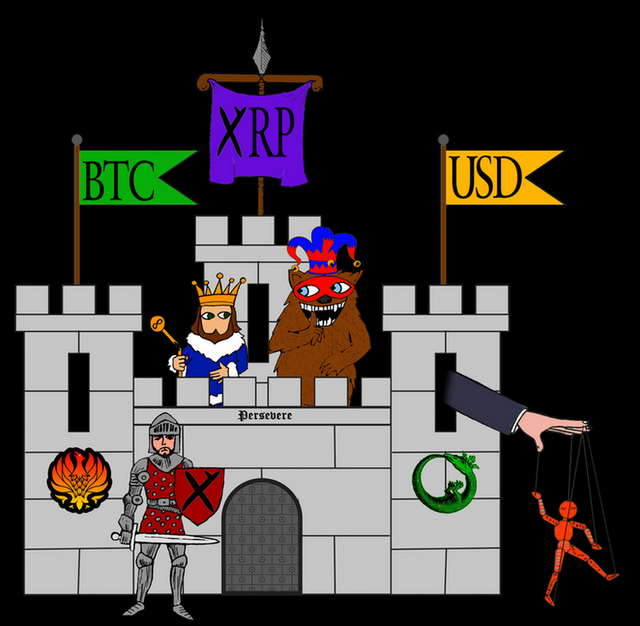 Source: https://www.reddit.com/user/bearableguy123
Already a few months ago, the uneane person "bearableguy123" made a name for himself on Reddit and Twitter.
Bearableguy123 was known for his bizarre and cryptic puzzles and images that pointed to future developments at Ripple, quickly gaining a large following. At this point we have to write "war" because after February 14, 2018, when he published his provocative XRP price forecast, he disappeared by privatizing his subredit and closing his Twitter account a few weeks later. The fact is, he made some wild assertions and predictions that came true. He predicted, for example, that MoneyGram would use the products of Ripple. He also knew before the official announcement that MoneyGram and Walmart would cooperate. In addition, she posted numerous pictures of children before Ripple announced that they had donated to sponchose.org for schoolchildren. Some of his other claims, however, turned out to be wrong.
Probably the most well-known release from bearableguy123 besides the XRP price forecast is the following picture showing XRP at the top of a castle, Bitcoin and the US-Dollar.
What is the message behind the picture?

In the picture you can see several unknown figures, among them a knight resembling Brad Garlinghouse, a king without a mouth, a hand controlling a puppet and bearableguy123 standing next to the mouthless and noseless king in the castle , Next to the knight is a phoenix, a mythical bird that burns or dies at the end of its life cycle to re-emerge from its ashes. Right next to the entrance is Ouroboros, the serpent eating its own tail, which stands for infinity. Exactly above is an arm, possibly a banker who controls the puppet (the population?). The king has no mouth and no nose. In addition, his scepter is broken. Presumably, this indicates that he has lost his power and instead has seized power from the secret person in the castle, the banker.
BTC may be the phoenix rising out of the ashes while the USD is in an infinite cycle of inflation, while XRP will become the new world currency and the new global standard for bank transfer. Also interesting is that the Phoenix resembles the very famous cover of the 1988 Economist. On the former cover was the Phoenix, which predicted a new world currency for the year 2018. This has led many to believe that Ripple is in contact with the old banker's family, the Rothschilds.
A very detailed description also provides the following tweeted picture of Redsaw.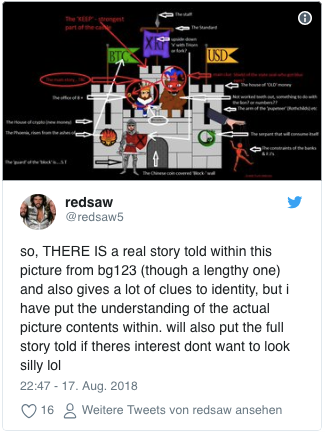 ---
Don't miss out on my next post! Follow me @tradewonk / tradewonk.com