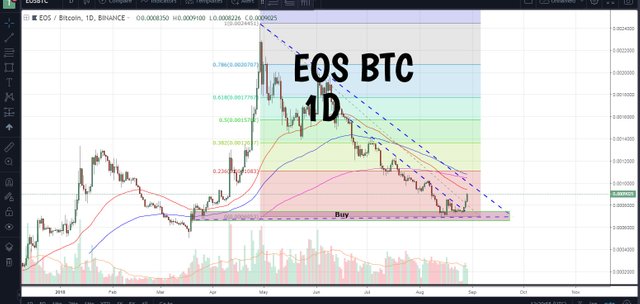 Crazy market oh yeah crazy market!
Tool: TradingViews
Exchange: Binance
Market: EOS BTC
Timeframe: 1D
bum bum bum.....
Let's have a look to the chart
After 3 months dowwntrend seems ready to rock and roll
we have been half month on strong support and now seems to breakout with over 18% profit for early birds
here we see mac d divergence opening
DMI divergence signal
RSI break
Stock opening and pushing up
but what now?
Well we could have a pullback to the support and then go up again....
Adivise is that you monitor EOS and wait if pullback
then you can enter between 7000 and 7500 satoshi with a stop loss on 6500 total stop loss 8% (of trade) 2% max of bakroll
let's put like this
with a 10.000$ bankroll you open position with a 2500$ and if you hit stop loss you lose 200$ = 2% of total roll
profits
you can take profit on 9000 is 25% profit = 625 usd is 1/3 risk ratio.... BOOM!
you can take profit on 11200 is 55% profit= 1375 usd is 1/6.5 ratio.... BOOM!
you can take profit on 15600 is 115% profit = 2925 you never seen it before :D
you can take profit on 20.000 is 185% profit= 4625 this is huge goal...
I use to take profit on varius step and leave 5/10% part of profit there (infinite roi)