Crypto Technical Analysis #3 30.04.2019
Today we will take a look at Steem...
It's hard to be suprised by the situation of good projects like STEEM when we look at Bitcoin dominance and marketcap...
On D1 chart we can see that STEEM might fall even more - at the moment we are close to support at 630-650 sat. If STEEM will fall below 600-610 sat we can expect move towards last flash-crash level that happened back in 2018.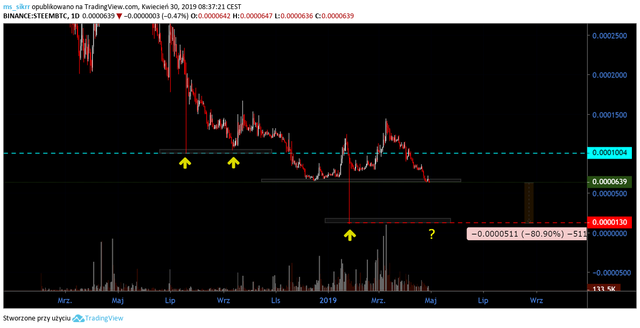 To talk about reversal of trend we need to look for signs on small intervals and of course we need to observe Bitcoin - his domination, end of sell off and if new money going into alts. First important resistance on STEEM is around 800 sat - if you will manage to buy in provided areas, you can sell some part of your STEEM around 800sat.