Chart Whispering... Finished My Bag And It Pumped!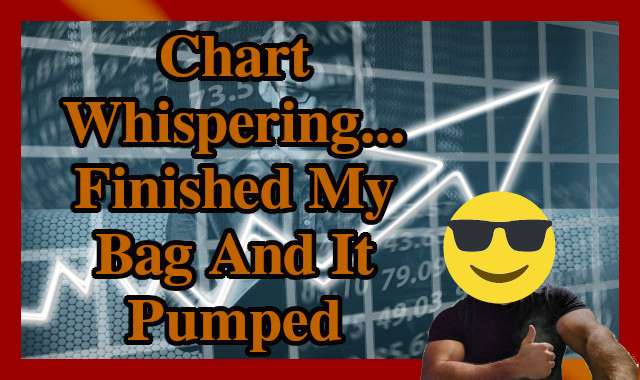 The Charts...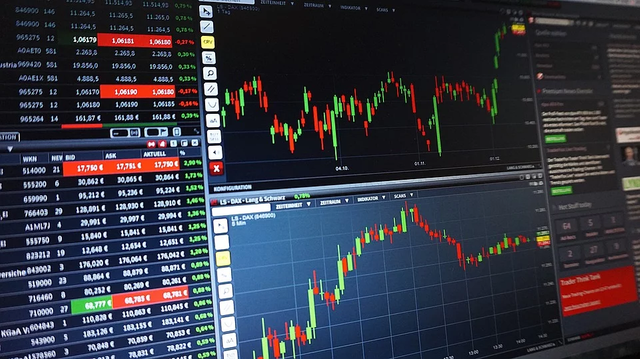 Charts are always whispering things, little words, little patterns, little signs, little indicators, charts are always whispering... the only issue is that most people have no idea how to listen to these whispers. Even so-called TA experts sometimes fail to listen to the chart's whispers. They fail to keep their biases in check and end up failing trades! It's normal, no one can be 100% right, especially when doing TA...
I've dabbled in TA sometimes in the past, I'm no expert, and I always keep my stop losses in the right places and never remove them, if the trade is stopped ..it's stopped!... I see way too many people chasing trades and losing large percentages of their trading accounts trying to chase trades.
I wouldn't be long right now, but I wouldn't be short either, the time to be short would have been before the huge breakdown from the descending triangle. Because it would have allowed for the stop loss to be moved to a profitable zone after the dump.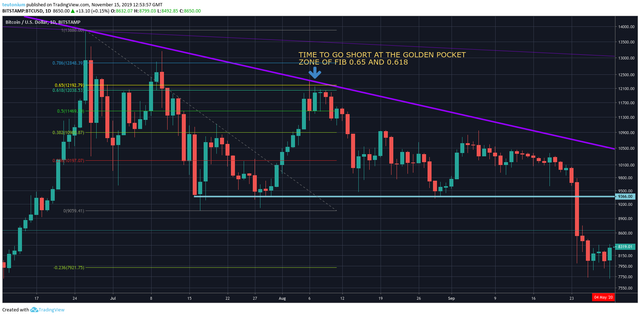 What I'm doing right now is wait... I'm not sure if the correction is done, trying to short or long mid-late correction could be disastrous. Waiting is the right thing to do right now, at least that's is my unprofessional TA opinion. Waiting for a few indicators to line up, let the trade come to you, don't force it.
What I'm looking for right now to get in a long is for the MACD on the daily and especially the weekly to crossover upwards, that would be a clear sign to long BTC. Every time it happens it normally pumps or dumps depending if the crossover was upwards or downwards. And if the crossover happens on the weekly... let's just say last time it happened, BTC went from 3500 to 13000, if it happens again to where will it pump!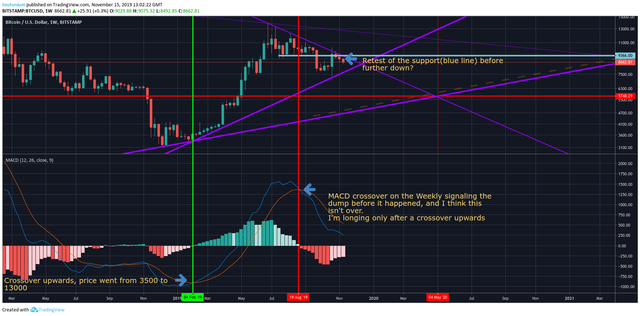 Source
I'm also looking at some MAs like I've mentioned in the past, on the daily the 100 and 200 MAs look like they want to cross over and head down, which is worrisome and can spell a dump further down. I'm also looking at the 200 MA and 100MA on the weekly, the 100MA acted as support last time we dumped a little and the major support MA is the 200MA which we've never gone past since Bitcoin inception.
The weekly 200MA is at 4800$, which too me is the furthest down we can go if we are to go down, but I'm not expecting it, I'm expecting December to be a little bearish before we go on another bullrun starting January.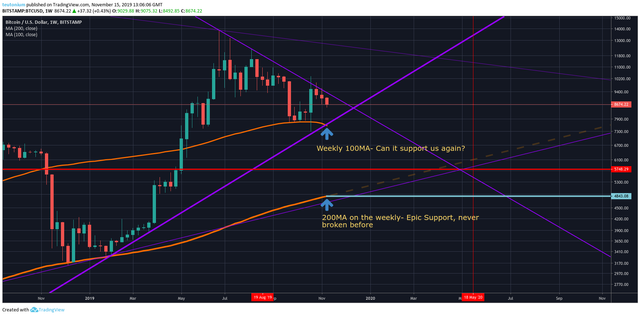 Weekly BTC Chart! Source
My main long signal is the MACD crossover on the weekly, I'll keep watching it, when it crosses over it's a nice buy signal.
I got some news, I've finished one of my bags! Finally, after so many months I've finished one of my bags, and just in time... I've been buying VeChain for some months now, ever since the market bottomed (or at least what I hope it's the bottom). After so much time I've finally finished my VeChain bag and I was so lucky! The exact day I finished my bag It pumped... it pumped really hard! And I mean really really hard!
VeChain has been going up for 22days, it pumped 170%, the day that I finished my bag, news started coming out about China endorsing Blockchain development, VeChain news about Givenchy, Vaccines, Louis Vitton, China-France deals, etc... I'm starting to think my guardian angel is looking out for me!

24 October... now let's see what happened ever since that day with the price...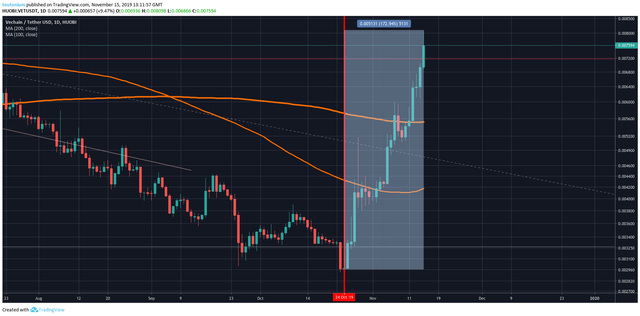 Source
Now my next bag... I'm really unsure about this one, I'm thinking about celebrating my finished bag with a little STEEM buying, I haven't invested heavily in STEEM because I saw way too many issues, but lately, I've been seeing some nice moves towards a better STEEM future. SMTs, tribes, buybacks with ads, this is amazing! Not only will this enable many different websites/communities designed for specific topics, but it will also allow ads cashflow buying STEEM and buying tribe tokens, in the long run, all that cashflow's value will be stored in STEEM and in tribe tokens, and this will only create a vicious cycle of increased STEEM value, more content creators, more ad revenue, more cashflow, more buybacks and more price pumpage! This is what I like in my cryptos, cashflow supporting the price!
I have to sleep on it, I still have 10 more days to think about where to use my next "paycheck"...
Images Free Source - 1, 2,3,4,5,6, 7, 8, 9, 10, 11, 12, 13, 14, 15, 16, 17, 18, 19, 20, 21, 22, 23, 24, 25, 26, 27 - Tradingview snapshots too.

Question of the day: Were you on the VET pump? What indicators are you waiting for to go long or short BTC?


Convert your Bitcoin to EUR/USD : Coinbase
Buy all kinds of Cryptocurrency: Binance
Join Steemmonsters, one of the top dapps on blockchain: Stemmonsters