Mining stocks you should buy right now!
Usually those articles start with fishing for compliments or an introduction of all the reasons why one should believe the author. This is bullshit. I will not do this. Here I am with a bold prediction. It's just me claiming I understand how the stocks move. It's on you to believe me. And I do this more for myself than for someone else, but I honestly believe you can profit from it.
Just let me tell you something. Below you see how a typical precious metal mining stock looks right now. It has proven it's reaction to the gold/silver price. My thesis is that it will continue doing so. And as I believe 2017 is the year precious metal manipulation will come to an end, I truly believe in a huge upturn in the stocks.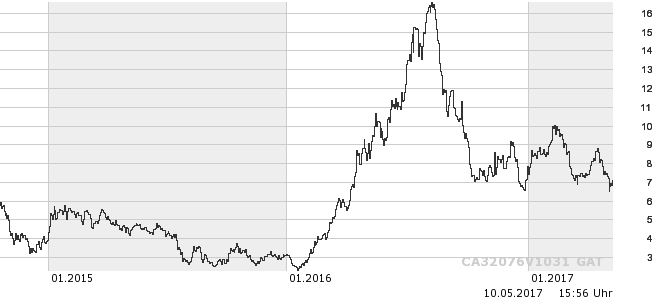 Here are the 10 Mining Stocks that will rally in 2017
First Majestic Silver
ISIN CA32076V1031
7,00 EUR
7,61 USD
EXCELLON RESOURCES INC.
ISIN CA30069C2076
0,92 EUR
1,00 USD
GOLD FIELDS LTD. ADR
ISIN US38059T1060
3,03 EUR
3,29 USD
GOLDEN STAR RESOURCES LTD.
ISIN CA38119T1049
0,63 EUR
0,68 USD
GREAT PANTHER SILVER LTD.
ISIN CA39115V1013
1,11 EUR
1,21 USD
IVANHOE MINES LTD.
ISIN CA46579R1047
2,78 EUR
3,02 USD
NEVSUN RESOURCES LTD.
ISIN CA64156L1013
2,11 EUR
2,29 USD
POLYMET MINING CORP
ISIN CA7319161021
0,60 EUR
0,65 USD
PAN AMERICAN SILVER CORP
ISIN CA6979001089
15,15 EUR
16,46 USD
BEAR CREEK MINING CORP
ISIN CA07380N1042
1,51 EUR
1,64 USD
I'm going to make an update in three months from now and I bet they're up 10% each at least.