Crypto Trading Tools: RoninAi VS Trading View
In response to an article written on Bitcoinist, which you can read for yourself here, we have gotten many questions about how RoninAi stacks up against TradingView. We firmly believe that RoninAi is the best option for crypto investors, especially those who would describe themselves as being beginners or having intermediate skill level when it comes to navigating the crypto space.
Recently, Trading View, a social networking and analytical tools developer for financial industries received $37 million in funds in order to attack the crypto market head-on. This news was undoubtedly received well by those who trade traditional stocks with the aid of Trading View. However, there are strong indications that this move by Trading View is not what is best for crypto investors, especially those without years of experience in the market.
RoninAi, quite to the contrary, is built specifically for cryptocurrency trading, and was founded by a team made up of quant traders, PhD's in topics such as Computer Science, Applied Statistics, and Machine Learning, and others with a massive amount of cryptocurrency experience between them. That know-how in the field cannot be replicated easily, and sets RoninAi up beautifully for the growing crypto space. Regarding RoninAi and similar valuable cryptocurrency tools,
"Bitcoinist concludes that "...those that take notice, both investors and tool developers alike, will reap the benefits that cryptocurrency as a unique asset class has to offer."
First and foremost, Trading View is not, in its current form, a good tool for investment beginners or even some more advanced traders. Simply put, it's not how Trading View is set up, and there have been very few, if any, signs that that will change. As the article on Bitcoinist says, "...very few crypto investors, even the intermediates and those who consider themselves advanced, really understand how to interpret hard data. While Trading View is doing well to provide support and resources to the crypto community, it is not yet effective for the majority of crypto investors."
For example, RSI (Relative Strength Index) is a fantastic tool, particularly for traditional stocks, but it turns rather useless if the person analyzing it cannot understand and extrapolate from the raw data. Again the Bitcoinist article raises a point that many in the crypto trading community have raised: "Few tools give a complete picture of the market in a way that's conducive to both beginners and more advanced traders."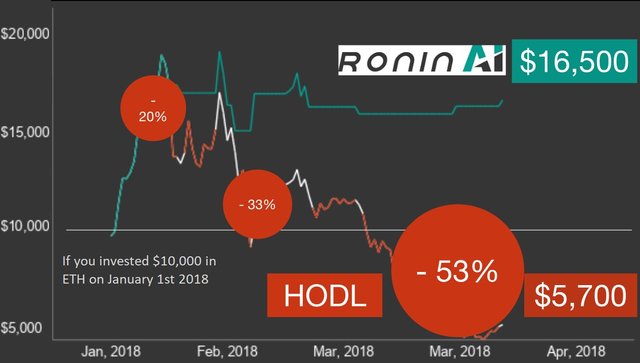 This is where RoninAi's value-add is truly seen. RoninAi is specifically set up in a way that is easy to use and conducive to success for clients with any level of experience and know-how. RoninAi is able to achieve 3.0x return on investment when compared to the strategies, or lack thereof, that beginners are usually employing. Additionally, RoninAi is friendly, easy to use, and is specifically built to be accessible for trading beginners. The multitude of features of RoninAi all work towards making crypto trading easy and profitable for anyone.
Secondly, Trading View is simply not built for the crypto world. As a company that has, until very recently, focused solely on traditional means of trading, Trading View is currently not equipped to make that large of a transition, as much of the value-add that Trading View offers cannot be carried over to crypto. Assuming that because Trading View has had success in the stock market that it will have success in the crypto market is certainly premature.
Much of what Trading View brings to the table is based on the community at large, which as we have seen in the cryptocurrency space can be quite the inconsistent indicator of which cryptocurrencies are smart buys and which ones aren't worth the hype.
Trading View moving into cryptocurrency is an excellent indicator that the crypto world is growing well. However, much of how Trading View is looking to attack the crypto world indicates that they are not the best option for those looking to invest in cryptocurrencies. Instead, RoninAi makes trading easy, intuitive, and lucrative for investors of all experiences and skill levels.