So there is a new blockchain game out called Fishbank.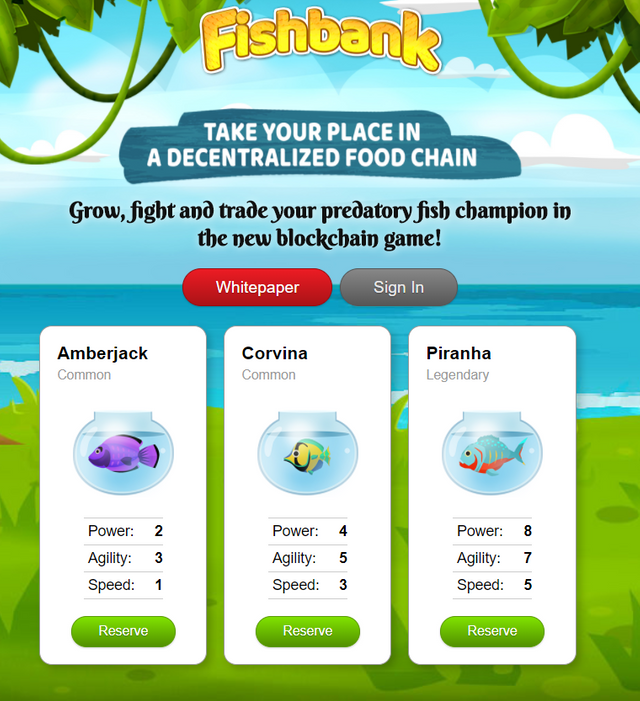 Its like CryptoKitties except its fish and there will be battles. Here is a link to the whitepaper: https://fishbank.io/whitepaper/FISHBANK-V1.pdf
The very first players of CryptoKitties got all the cheap Gen 0 Kitties, and quickly made a killing on them. I started playing CryptoKitties about 2 weeks too late and already the trading was starting to die off, but those first #10,000 Gen 0 Kitties are still worth a mint. Who wouldnt like to go back in time and buy up those before the crowd showed up.
Well here is another chance, with this new game starting "FISHBANK".. But I think this will be even bigger because these guys have a track record of gaming. They have been making games since 2014, they created popular games prior to this like: Dragon Islands and Epic Kingdom. Those games have over 500,000 players already..
Please help me out by using my link to join.
Then after you have registered they will give you your own link to invite others. By inviting 3 friends you will get a free fish. Inviting others is the only way for us to get started for the next few days, until the game goes live.. then we can use our fish to battle and buy even better ones
Let's get some fish..
I really think that these games will become big soon. I can see a wave of new games being release and a game craze coming, just like ICOs popping up every few days. But this is still all new and that gives us a huge advantage. So lets get ahead of the crowd and get involved in the first few games before gaming becomes the new normal.
Luc