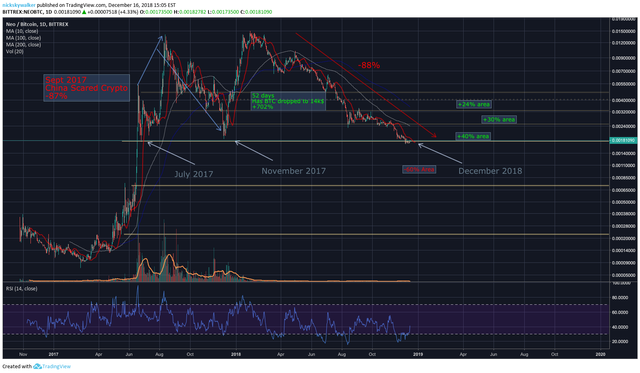 Neo / BTC bottom out at the same level has it's historical fundamental FUD
Same Support as July 2017, before BTC, BCH fork pre-pump, then crash in September due to FUD against crypto... it dropped to the same bottom until November 2017, then pump with the Crypto FOMO of Christmas, but continue to rise even if BTC was on it's declined....
If it drops below... no floor support before it travel down 60% That make me believe if it hold, with stop loss well in place, The risk reward ratio at this level is really interesting... first travel up is a 40% range, 2nd 30% third 24%
Plus holding Neo Coin in a wallet, Binance or Kucoin, you will receive the GAS reward. If you dreamed to own those 10 Neo minimums to receive the gas when the coin was at 20$ - 45$ or 85$ , now it's a deal at 5$
Trade safe, use Stops or HodL!