Even thought I was expecting a triple low, you can't get trapped in desires. So let's stick to what price is showing and the patterns that is projected rather than what I can expect. There is a strong bullish sentiment and this can't be ignored.
Bitcoin/USD is in the middle of a bullish price structure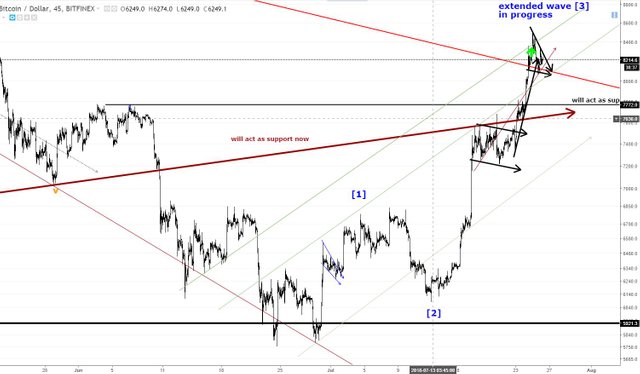 We're clearly in an extended wave [3]. Wave 3 is likely to be an extended wave.
Loads of FOMO lately in Bitcoin. Good increase in price, several key bear trends broken.
Check out the channeling in the green lines.
Let's zoom in to see the bullish pennant currently forming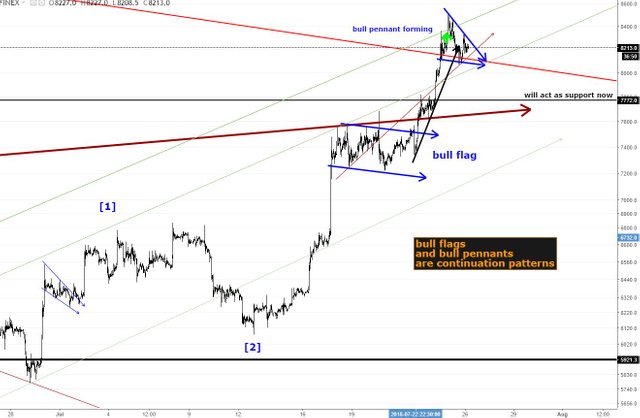 After breakout this bullish pennant will be confirmed. Most likely a continuation pattern.
Certainly triangles can be ending patterns, specially in wave 5.
However I think we're still in an extended wave 3 and this pennant will break upwards.
There is a major fundamental factor going on which is the potential ETF which will drag loads of new money and attention from the media.
Let's point out some conservative targets for this bullish pennant in the short term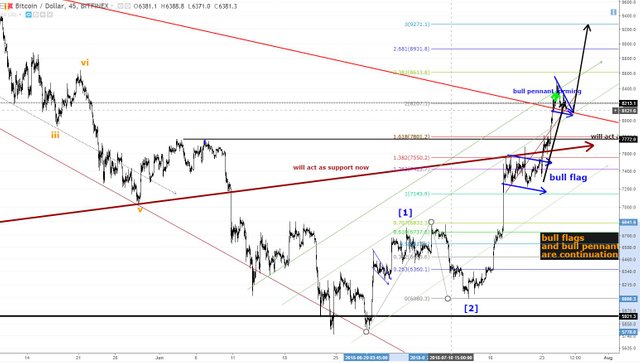 This would be a conservative scenario applying fibonacci projections and technical symmetry of the pennant's move
This would be a conservative target if the pennant breaks upwards.
However I think if we get around 10k is very likely to be a retest level.
Technical analysis gives tools to asses risk/reward strategies but logic is also important.
Thanks for reading!