This guide will show you how to do leverage trading with BTC and ETH. The site that we will use won't require any verification. The site is not usable for clients from the U.S. , Bitmex checks this trough tracking your IP , so you can just use a VPN to hide the fact that you are from the US.
We start of by creating an account on BitMex
After that you can deposit BTC into your account. They will be shown as "XBT balance".
On poloniex and other exchanges without margin/future function, we trade "Spots". You buy or sell coins that you than actually hold.
Poloniex also offers "margin" trading, this offers you the function to borrow funds from lenders and use the funds to buy coins that you therefor not directly own, since you would need to pay of the borrowed funds before really owning them.
Bitmex offers you "Futures" which is like agreeing to a certain amount of coins/contracts for a certain price. Your fee is in most cases lower than in margin trading and won't go up as much as with margin trading.
With margin trading you borrow money whilst with futures you use the counterparty as your leverage in which case no money is borrowed.
Placing an order can be done under the "Limit" tab or under "market" tab. Putting an order in as limit order means that you set the price you want to buy at. Orders in the market tab will buy your contracts at cheapest available rate.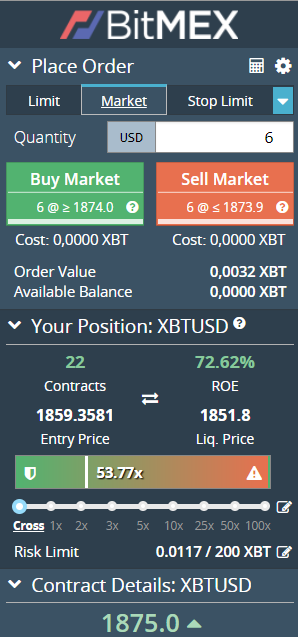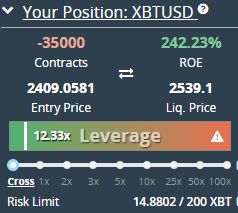 1889,3You can see on under the "Your position" tab what amount of leverage you are using for your trade, and you can change this up and down where the maximum leverage amount is 100x.
If you have any questions, feel free to ask me
Please use my refferal link to support me:
You will receive a 10% discount for using my refferal link aswell :)