Hasenmann Trading #10 | Qiagen Long
English below
Hallo zusammen,
heute habe ich einen Long-Trade auf Qiagen gemacht.
Die Aktie hat seit einiger Zeit einen schönen Trend entwickelt und auch einen stabilen Boden bei ungefähr 39€ ausgebildet.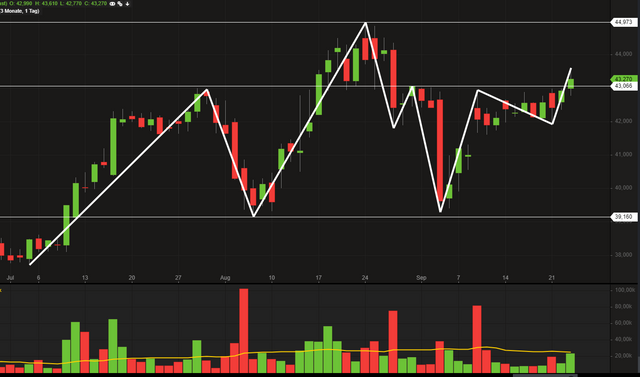 Ausgehend von der im Chart aufgezeichneten Trendfolge bin ich heute beim Ausbruch über den letzten Trendimpuls eingestiegen beim Kurs von 43€.
Mein Stop liegt bei 39€ und ich habe damit ein Risiko von 4€ pro Aktie. Da ich aktuell nur ca. 0,66% meines Depots riskiere habe ich 50 Aktien gekauft.
Bei 4€ pro Aktie habe ich damit ein Positionsrisiko von 200€.
Mein erstes Ziel ist das Hoch der letzten Tage was im Chart auch mit der weissen Linie ganz oben markiert ist.
Wenn der Trade da hin läuft werde ich mein Risiko aus dem Markt nehmen und den Trade breakeven setzen.
Dann kann man weiter sehen ob der Kurs sich weiter positiv entwickelt.
Wünsche euch einen schönen Abend!
Viele Grüße,
Hasenmann

Hello everyone,
today I made a long trade on Qiagen.
The stock has been in a nice trend for some time now and has also formed a stable bottom at around 39€.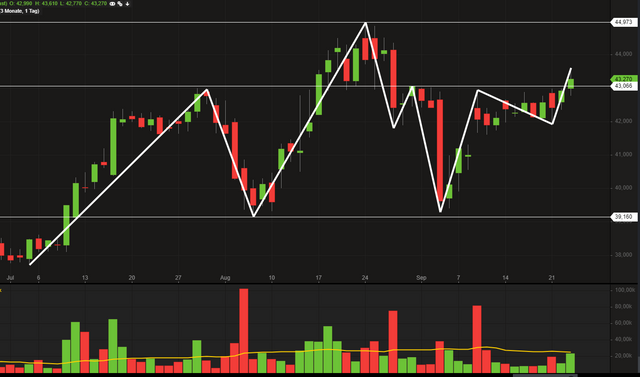 Based on the trend sequence recorded in the chart, I entered the stock at 43€ today when it broke above the last trend impulse.
My stop is at 39€ and I have a risk of 4€ per share. Since I currently only risk about 0.66% of my portfolio, I bought 50 shares.
At 4€ per share I have a position risk of 200€.
My first target is the high of the last few days, which is also marked in the chart with the white line at the top.
If the trade goes there I will take my risk out of the market and set the trade breakven.
Then you can see if the price will continue to develop positively.
Have a nice evening!
Many greetings,
Hasenmann