ETHEREUM RESTEST AREA BEFORE MOON SHOT - BITCOIN NEXT BIG MOVE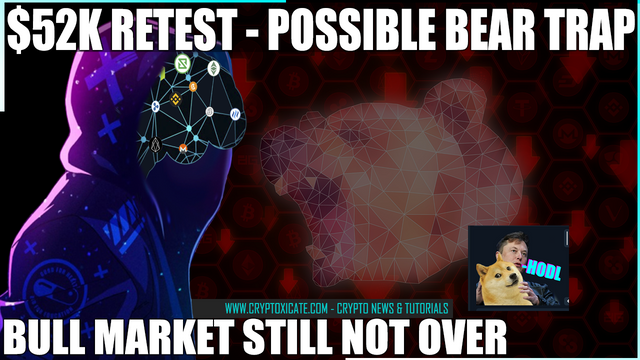 Always take in consideration non of this information is financial advice or official announcement from any specific project, I'm no financial advisor, trader or expert, this is just my personal opinion on certain project mention on this article, cryptocurrencies are extreme high risk assets and you must do you own research, never follow what I or other people say on internet


ETHEREUM RESTEST AREA BEFORE MOON SHOT - BITCOIN NEXT BIG MOVE
For the past three months I have been trying to grow my USDT bags trading altcoins on spot and futures, for the short amount of time I have trading I have come to realize that BIG MONEY is made during bear market and this is not me saying you cant make money on a bull market but its during the bear market that you get the good discounts in price and trying to understand when the cycle will change has become one of my goals, I need more crypto.
Right now we have ETHEREUM staying above $2k but once again an altcoin that prove when BTC is having a bad day like Wednesday April 7 it will drop too, that day ETHEREUM drop $200, not a big move but still drop, my point is that right now ETHEREUM is still at Bitcoin mercy. BTC is consolidating, the market agree that a price between $55k - $60k is fair enough for now, the $55k support looks strong although volume has been decreasing considerable since the January drop and right now its at its lowest since then, in classic crypto market fashion the next move could be a drop to $53k - $52k to retest the 503MA on the 1D tf and from there when everyone is running around like chickens with their head cut off thinking that the market is going to dump then big volume comes in pushing the price to all time highs in a matter of days.
Bitcoin 1D Chart


Its more clear on the line chart how Bitcoin has been very neutral to price action (the blue line), line chart only count the close of each week in this time frame, we can see how Bitcoin has been neutral for a few weeks, IMO not because the bull market for Bitcoin is over but its altcoin season, everyone is into altcoins.
Bitcoin 1W Chart


This is another reason why I think in the short term what comes next is a drop to previous levels, it makes more sense to make a lot of money into altcoins, once altcoins run out of gas dump the price of Bitcoin to take all that money made from altcoins into cheaper Bitcoin, it doesn't need to drop that much and a retest of the 50EMA would be very bullish for those paying attention to the market so it would be an immediate positive reaction bringing the price up, this time around I'm going to set an order at $52,700.
ETHEREUM RETEST
ETHEREUM 1D Chart


After getting to the conclusion of what may happen with Bitcoin I think ETHEREUM is part of the trap, this is the point in the market where everyone think they are a genius, believe me I was there on 2017 when my family thought I was a market genius when every altcoin was pumping so hard and I was just buying and holding, buy and hold works great on a bull market as long as you bought cheap enough, right now ETHEREUM looks just too "safe" above $2k but it really comes to Bitcoin price, even though ETHEREUM is at all time high volume is very low and it hasn't even brake the $2200 range so I think the next shake out will bring ETHEREUM to the $1700 before the entire market goes crazy, this is the EUPHORIA phase of the market many have been talking about where everything goes up, Altcoins and Bitcoin goes up like crazy and this could take weeks or even months just in like previous bull markets where potentially the last three months the entire market goes parabolic,
During the euphoria phase most ppl will keep holding their bags because they going up without doing anything, ppl wake up check Blockfolio and everything is up so day after day is green days on until big players decide they got enough and now want to buy cheaper and this is when the bull market comes to an end creating a cascade effect when big money dumps their positions bringing desperation to the market while retail sale at a lost and bots trigger too dumping very very fast, I can tell you I wont be the one holding the bags.
My first bull market was great, its like when you are a rookie but you are good at the sport you playing, everyone is amaze, you feel good because you are killing it at that level until you are not a rookie anymore and get to compete with better players, you move up a level and start feeling the pressure and have to put more effort into it, that's how I feel my first bull market was and now I'm trying to maximize profits, investing, holding, trading but on every single transaction trying to maximize profits setting up goals and setting up the bar higher and I'm getting prepare for the next bear market, on the next bear market I wont get desperate or overthinking things like when is this going to end, during the next bear market my focus will be accumulate and hold, mining and hold, stake and hold, generate coins and hold, so far I'm happy with my results and I'm still looking for ways to improve.
Few of my last positions on altcoins hit my buying price
ZIL / Entry $0.20
DGB / Entry $0.08398
Still holding this too spot, still waiting on DASH and CAKE although I think those two might not hit
CELSIUS NETWORK 1D Chart


Every single altcoin drop during a bear market, there is not altcoin that doesn't drop when the bear market starts but CELSIUS NETWORK is a coin that Ill be buying too, right now it just broke out again sitting at a new ALL TIME HIGH , as users have to lock down coins and CEL buy coins from the market to pay interest its a perfect circle, I hope it goes as high enough so when it drops doesn't go under $3 and I can hold the bag I have since $2.33 that was my last purchase, before that I have two more purchases one at $0.35 and $1.23, still feel that I don't have enough since the yield this project gives is not high although the appreciation in value of the coin has been growing slow and steady.


.



.
.
👇🏻Consider Supporting the channel by using my affiliate links👇🏻


CLICK HERE FOR CRYPTO LOAN: https://celsiusnetwork.app.link/10474294f5


CLICK HERE TO TRADE: https://www.binance.com/en/register?ref=LOEHBWXR
LINKS:
► Start Trading Altcoins: https://bit.ly/startaltcointrading
► Start Mining: http://bit.ly/2LPfJly
► Start Trading Stocks: https://ftx.com/#a=604743
More of my content
LBRY: https://lbry.tv/@cryptoxicate
Hive: https://peakd.com/@cryptoxicate/posts
Publish0x: https://www.publish0x.com/@CRYPTOXICATE
Youtube: http://bit.ly/CRYPTOXICATEYT
Website: https://Cryptoxicate.com
Music: https://bit.ly/GREATCREATORMUSIC

CLICK HERE TO RENT MINER: https://www.miningrigrentals.com/register?ref=44378
DISCLAIMER: The information Cryptoxicate.com or its media channels not limited to Twitter, Telegram, Discord, Instagram, Facebook, or any upcoming social media platform or internet search engine results is not financial advice. This information is for informational and entertainment purposes only. Any information provided are only and simple thoughts and opinions, you must not follow any of this thoughts and look for a professional financial advisor since we are not any type of advisors. Dont not get into crypto currencies since its a high risk investment if you do not have the proper guidance and any investment that you made is your own responsibility and no one else.
#bitcoinhalving #bitcoin #ethereum #cryptocurrency #blockchain #crypto #tron #nuls #hive #binance