ALTCOINS BUSSY WEEK AHEAD - ETHEREUM PRICE DISCOVERY STARTS NOW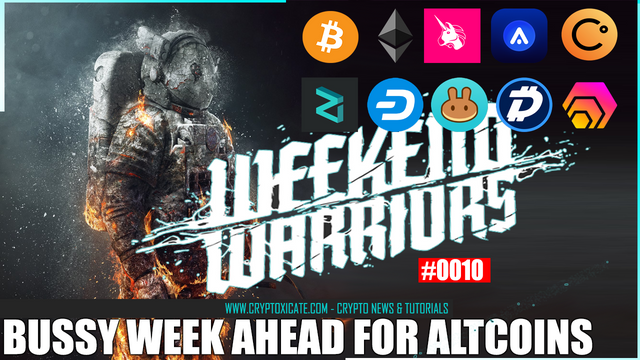 Always take in consideration non of this information is financial advice or official announcement from any specific project, I'm no financial advisor, trader or expert, this is just my personal opinion on certain project mention on this article, cryptocurrencies are extreme high risk assets and you must do you own research, never follow what I or other people say on internet


ALTCOINS BUSSY WEEK AHEAD - ETHEREUM PRICE DISCOVERY STARTS NOW
Right now there are a lot of coins in price discovery and for the past week I cant stop looking at the Bitcoin Dominance and Ethereum chart just going, BTC.D currently at 57.08 and if this thing brakes 57 the next stop could be 53 this is a chart you would be looking to be very bearish if you are into altcoins and right now its the best moment this cycle of altcoins is crazy and I believe this is just starting, attention has change into altcoins while Bitcoin is not doing that much, it was about time that BTC only range and don't skyrocket, I thought bulls were getting weak but it doesn't seem to be the case its just that money is flowing into altcoins.

CEL 1D Chart


Lets start with a banger, CEL weekly interest is not that much but the appreciation in its USD price is crazy how it went from $0.25 the first time I bought and its currently sitting at $5.98, I'm really not into DEFI because all the hacks and rug pulls but CEL as a CEFI platform and its marketing has push the price of their token very high, yes its not high crazy like other DEFI projects but I'm the type of person that prefers slow growth and stability and 1000x in a few months to then take back 50% in a shorter period. CEL has been ranging since January within a bull flag and it just brake out with +28% since two days ago, volume is just coming back and oscillators look very bullish, I already have a long term back but I'm waiting for confirmation to buy another bag to trade, if this brakes $6.45 I'm going in.

BTC 1W Chart


I don't expect that much upside for Bitcoin this week, I'm not bearish on Bitcoin but probably just time for it to cool down, right now for Bitcoin is a no trade zone IMO, it has been ranging since March 21st not really making any moves upside but respecting support areas like $50k, at worst I could see Bitcoin revisit $52k - $50k that's where I'm going to place a small order just in case to let a small long position run, next target $70k, saying that the market is going to crash with how bullish altcoins are right now I don't think is the case.
I have been thinking a lot lately that Bitcoin already has 10 years and there are a lot of promising altcoins that are not even half way of 10 years, altcoins that provide some sort of reward or yield, since I only have a few years now and its my first market I really didn't understand the power of holding an asset for so long until this year when for the first time held three altcoins for over a year and all three are above 100x, saying this I think I'm ready for the next bear market, cant wait to buy all this altcoins that will continue to develop and perform and buy them for -50% or less, who knows but the only sure thing is that at some point the market will blow up again, just not yet.

ETHEREUM 1D CHART


For the first time history ETHEREUM has close a week so high at $2092 after getting to $2144, the fact that altcoins are booming and so is ETH could potentially means we are getting to the peak of altcoins, right now from the top 20 coins on the market probably 5 are on price discovery and the rest running too, ETHEREUM has been lagging hard against the rest of the market but right now . Last week ETHEREUM did a 28% to the upside, last time ETH had such a good week it did 40% in two weeks, if history repeats we can see a new all time high before the end of May and I would put ETH anything between $2500 - $3000, right now I'm holding ETHEREUM from what I have been mining again since last year and waiting for it to retest the top of the prev structure something around $1937 is were I'm placing an order just to open a long position if it ever comes back hope it does.

UNI 1D CHART


UNI Im still holding my position and my chart remains the same, got it at $28.68 a few days back when I post it; Im trying to document my TA and trades to keep record of when I screw up, but yes I think UNI is going to blow up soon once we get more information about UNISWAP V3 and I dont think this is going to be a sell the news event because of the state of the market, altcoins are so bullish besides there still ETHEREUM EIP-1559 coming up and anything that improves ETH provides value to ERC-20 tokens on the ETH pair so Im not selling UNI right now unless it brakes ATH, probably around $40 I can sell some that would put my spot trade close to 40%, two days ago hit $32
UNISWAP V3 ON THE WAY WHILE ETHEREUM BRAKES OUT - APRIL BULLISH MONTH
https://peakd.com/hive-167922/@cryptoxicate/uniswap-v3-on-the-way

AIOZ 1H CHART


AIOZ Chart doesn't have much data since it just launch, you can now trade it on UNISWAP and PANCAKESWAP, not sure if there are pools to stake but still the price action on the 1hr chart is looking to form a base, Im not buying this yet until we have more data on the charts although Im running a node and will probably setup two more.
AIOZ finish their IDO on BSC Launch Pad, this are private sales that are hard to get in and as usual there were tons of ppl complaining, this is a platform that Im going to start to use tomorrow, doing some tutorials for the Lick Hunter community, anyways this is a project that aim to deliever a Decentralize Content Delivery platform, I'm already running a node without mayor problems so far, they are in testnet right now. Few days ago publish my first impression of the project just hope the coins from nodes on testnet get swap once mainnet launch
AIOZ NETWORK DECENTRALIZE CDN - A REVOLUTIONARY DISTRIBUTED CONTENT DELIVERY NETWORK
https://peakd.com/hive-167922/@cryptoxicate/aioz-network-decentralize-cdn-a

ZIL 1D CHART


I haven't had the chance to jump into ZIL and will probably take a chance the next time it revisit the 20EMA, on my post from yesterday I was saying how bullish ZIL has been and just yesterday after my post it pull another 20%, if price keep going higher and revisit the 20EMA it would be gift from the GODS that I wont miss next time, the market is a opportunity generator, it creates opportunities everyday that's why I don't mind missing on trades, there will always be a next trade either up or down, the pattern remains the same and if that's the case I expect ZIL to keep going up this week, now that it broke $0.20 next target could be $0.25 but if comes back to $0.20 I would also buy there since its not too far from the 20EMA at the moment it does the 20EMA could be around $0.19 but that's if it ever comes down.
DASH 1W CHART


DASH this is an OG coin that I usually don't pay attention too but I recently notice one of my algo starting to short DASH and besides that got mention on Mitch Ray stream, the setup was so bullish with a potential not perfect double bottom, this is what I mean that I don't get mad when loose this type of opportunity, DASH went up 50% since the time the double bottom was hit, its currently hitting resistance at the $280 with very low volume but I think there will be another chance to jump in, I'm not going in since its most likely bit late, not bearish just trying to be cautious, this could be a brake with support at $230 to then keep going up so I'm going to wait on this one, just another coin Ill be watching during the week but not in atm.
CAKE 1D CHART


My chart for CAKE remains the same as I post a few days ago, btw since then BNB did a good 15% right now there are so many things pumping I cant keep up besides I have a job, the other day saw a scanner service that I may buy its from @devchart you can check out here https://chartalerts.io/
BINANCE COIN AND CAKE ABOUT TO POP - BINANCE SMARTCHAIN BULLISH
https://peakd.com/hive-167922/@cryptoxicate/binance-coin-and-cake-about
The strategy for this trade has not change at all, this coin ran a lot on Feb. but I don't think its over, I'm sure they going to pull something from the hat although UNISWAP V3 might kill the momentum in the short term but also take in consideration if the next leg up for the market is the EUPHORIA stage everything is going to pump so hard even coins like this that already pump, keeping an eye on CAKE too with a potential entry of $14.00.

DGB 1D Chart


DGB just brake out from its previous top and I would like it to retrace to $0.08398 to then jump into this trade, I really don't know much about DGB and for most of my trades I don't really on the project itself that much since what I'm trying to learn is excusing the chart and not depending on what ppl say about the project or the news although I cant denied its important part of the equation, for now DGB is an OG coin with a big community, is listed on mayor exchanges like Binance and Bitrex, this most likely will be a quick flip probably looking for anything between 15% to 25% if this thing finds support on that area its very unlikely it will retrace hard.

HEX 1D Chart


I really cant wait for my stake to finish, it ends in about 25 days, bit less, but this thing is on fire rights now about to break from its previous all time high, if we look at the chart potentially at the end of the month could be around $0.035 if history repeats and breaks out in massive pump fashion as it has done in the past manytimes, I bought back on April last year and open a stake for 1 year, so far it has done 10x my investment since then, many have speculated this project is a Ponzi and it could be but I still gave Richard a vote of confidence, this project I don't like that much because of the amount of HYPE behind it, they are about to fork ETHEREUM, the new project name is Pulse Chain, probably HEX holders might get some PULSE but I'm not really looking into that, all I want right now is take out my money and think what will be the next step.
Short story:
SPOT TRADES
Positions Im in:
CEL / Entry $2.33
UNI / Entry $28.68
Waiting on some potential entries:
ZIL / Entry $0.20
DASH / Entry $230.00
CAKE / Entry $14.00
DGB / Entry $0.08398
This are some of the alts Ill be watching during the week, lets hope Bitcoin don't sht the bed but if it does then most like all my orders will get fill, I'm not risking more than 15% of my portfolio on this trades and on all have stop loss of -35% meaning I'm willing to risk 5% of my portfolio and consider this are all spot positions so in any case I can sit on all this coins.


.
👇🏻Consider Supporting the channel by using my affiliate links👇🏻


CLICK HERE FOR CRYPTO LOAN: https://celsiusnetwork.app.link/10474294f5


CLICK HERE TO TRADE: https://www.binance.com/en/register?ref=LOEHBWXR
LINKS:
► Start Trading Altcoins: https://bit.ly/startaltcointrading
► Start Mining: http://bit.ly/2LPfJly
► Start Trading Stocks: https://ftx.com/#a=604743
More of my content
LBRY: https://lbry.tv/@cryptoxicate
Hive: https://peakd.com/@cryptoxicate/posts
Publish0x: https://www.publish0x.com/@CRYPTOXICATE
Youtube: http://bit.ly/CRYPTOXICATEYT
Website: https://Cryptoxicate.com
Music: https://bit.ly/GREATCREATORMUSIC

CLICK HERE TO RENT MINER: https://www.miningrigrentals.com/register?ref=44378
DISCLAIMER: The information Cryptoxicate.com or its media channels not limited to Twitter, Telegram, Discord, Instagram, Facebook, or any upcoming social media platform or internet search engine results is not financial advice. This information is for informational and entertainment purposes only. Any information provided are only and simple thoughts and opinions, you must not follow any of this thoughts and look for a professional financial advisor since we are not any type of advisors. Dont not get into crypto currencies since its a high risk investment if you do not have the proper guidance and any investment that you made is your own responsibility and no one else.
#bitcoinhalving #bitcoin #ethereum #cryptocurrency #blockchain #crypto #tron #nuls #hive #binance