The charts speak louder than words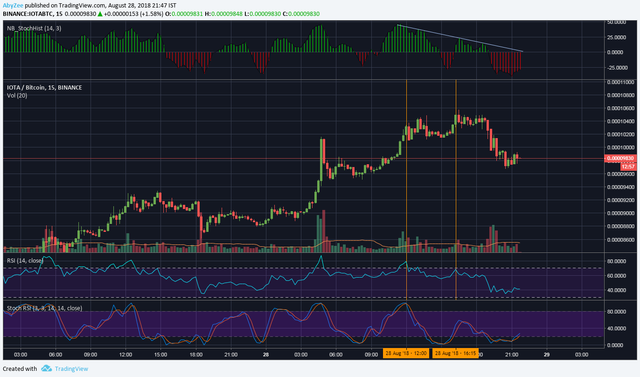 This is one of the strategies from the shorting techniques that I like. The above is the #IOTA/USD 15-minute timeframe chart.
Setup:
Observe the price action on the two vertical orange trend lines. The price has increased on the second orange line than the previous one. But, on the RSI we get to see the complete opposite picture, i.e., the RSI has made a lower low than the previous one. This shows the losing strength. Also, the histogram is showing some losing strength, look at the slant trend line connecting the peaks of histogram bars. Another thing to consider is the momentum indicator. We need to consider the momentum of the entity and that's why we use Stochastic RSI. Before shorting, the Stochastic RSI indicator should be in the upper region, which shows us that there is not much momentum left for bulls to move further upwards and it is more likely to fall down.
When to Enter Short:
In the above-mentioned setup, when the entity has already traced some upward movement and the RSI is in the over-bought region in most of the higher timeframes and if we get this type of price action in the fifteen-minute timeframe, then we can consider placing the short position. In other words, from the image above, after the second vertical orange trend line. When we get a lower low on RSI and confirmed downwards moment from the Stochastic RSI indicator.
Caution:
Combining all the signals mentioned above gives us the ideal setup for shorting. Now, this is not necessary that the price will follow the downwards movement every time we see this kind of setup in a fifteen-minute timeframe. So, it is absolutely necessary to place a Stop loss while trading.
If you have any questions regarding this strategy, feel free to ask me in the comments. I will be happy to answer each one of your questions.
Thank you.
Good luck ;)



Disclaimer:
This is purely a technical analysis and it is to be used for entertainment purposes only. This is not a financial advise to buy or sell Bitcoin and I am not a financial advisor. Do your own research before investing.



Please Upvote and Resteem


I appreciate your support
Follow me @ABYZEE