source
Trade.io is determined to make all traders on their platform happy. Just recently they launched a token buy-back program that would allow early members to sell their TIOx(total buy-back up to 25 million TIOx!), and now Trade.io is hosting a #LoveCrypto trading contest with up to 5 BTC in winnings.
Trade.io loves to reward activity. Recently they have listed some popular coins (NEO, EOS, and GRIN), and now all you have to do is trade ANY coin on Trade.io exchange for your chance to win BTC!
The Trading Competition started on February 18th and will end on the 28th of February.
Here is the official Trade.io Contest Tweet

source
HOW TO JOIN THE TRADE.IO LOVECRYPTO CONTEST
You'll automatically be entered into the competition when you meet the following 3 criteria.
1. Have a Trade.io Account
This competition is available to all trade.io accounts. All you have to do is login. If you dont have an exchange account, Sign Up on Trade.io.
2. Start with a Minimum balance of 0.1 BTC
Ensure that you have a minimum starting balance of 0.1 BTC (or currency equivalent).
3. Trade a Minimum Volume of $500
Trade a minimum volume of 500 USD (or currency equivalent).

source
There will be a total of 50 winners. The first placed trader gets a guaranteed 1.5 bitcoin prize.
Numbers #2 - #20 get smaller prizes and everyone who ranked #21 and higher will get drawn in a raffle. 30 people in this raffle will be randomly chosen and split 0.5btc evenly.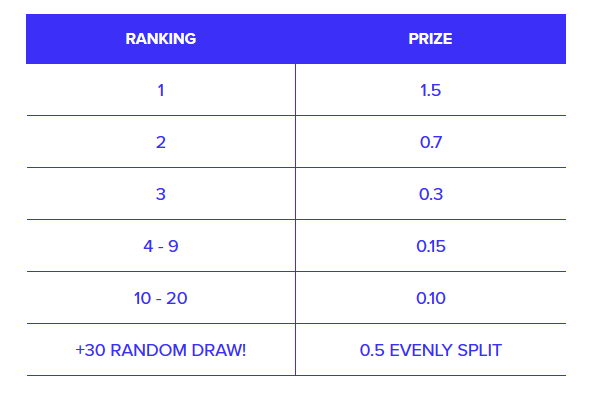 source
CONTEST RULES OF ENGAGEMENT
There are certain rules that must be adhered to in order to be eligible to win. You need to focus on two major areas in your trading to win Bitcoin.
1. Percentage Score
If you start with 1 BTC and end with 2 BTC, this will give you a 100% return. If 100% is the highest percentage increase in asset balance of all contestants at the end of the competition, you will receive a performance score of #1.
2. Volume Score
Works the same as the performance score, but based on volume. If you traded 1000.0 USDT in volume and no one else traded more than this amount, you will receive a volume score of #1.
3. Overall Score
We will then multiply the two scores for your overall score. The account with the lowest overall score wins!
A Few Trade Scenarios
Example #1
You scored #1 in performance and scored #1000 in volume. So 1x1,000 will give you an overall score of #1,000. If 1,000 is the lowest score, you will be ranked overall #1 and eligible 1.5 BTC.
Example #2
You scored #50 in performance but scored #6 in volume. 50x6 will give you an overall score of #300. If #300 in the overall score is ranked #45 in the competition, you will not receive a guaranteed prize, however, you will be entered into a random draw raffle where 30 lucky winners will split 0.5 BTC evenly.
You can still win even if you don't perform so well in the trading market.
Example #3
If you have a -300% return for your performance but no one else in the competition had a higher rate of return. Your score for performance will be #1. If your volume traded was equivalent to USD 900 with a volume score of #554. Your overall ranking would then be equal to 1x554 = 554. If no one else in the trading competition had a ranking less than 554, you would be the winner of the 1.5 BTC!
It's pretty easy to understand. Make killer profit, or trade high volumes for a good score.
so what are you waiting for?
For more updates follow Trade.io on any of their social media channels
Trade.io Facebook | Trade.io Twitter | Trade.io Instagram | Trade.io LinkedIn | Trade.io Reddit | Trade.io Telegram | Trade.io BitcoinTalk | Trade.io Medium

source
DISCLAIMER
The information contained within this post is not to be taken as financial advice. I am not a financial advisor and none of your investment decisions should be carried out based on any information presented here. Please do your own research before investing in cryptocurrencies or any digital asset. You can lose all of your money by investing wrongly. The information presented in this article is for educational and entertainment purposes only.