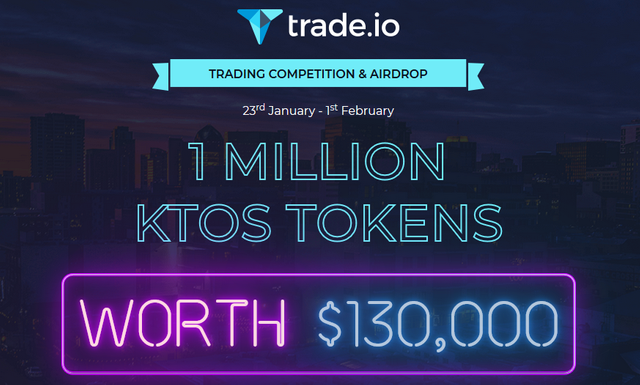 Trade.io is back again with another massive treat for users. In previous posts I discussed how Trade.io is a well established decentralized exchange that has been making waves in the crypto ecosystem. They have unique and advanced features such as the Liquidity Pool and the OTC (Over The Counter) services.
Amongst many exciting updates is the news that they are hosting a very big airdrop. The airdrop is for Kratos token (KTOS). Trade.io is offering every one of its users the opportunity to partake in this contest and win tokens. Users simply have to trade the highest volume of KTOS to win tokens straight to their wallets. 1 million tokens will be distributed to winners (worth $130,000!).
HOW TO PARTICIPATE IN THE KRATOS AIRDROP CONTEST
Step 1. Register An Account on Trade.io
It is imperative that you have an account on the platform. Users who had an account on/before 22nd of January are automatically eligible to participate in the contest.
STEP 2. Wait For Airdrop
On Wednesday 23rd January, users airdropped 75 KTOS tokens to your account.
KTOS was also listed on the exchange the same day, so you trade your free tokens and also purchase more tokens to compete with.
STEP 3. Trade Trade Trade
The trader who has the highest volume wins. Trade.io aims to promote liquidity and organic trading of the KTOS. Top 100 traders will be rewarded.
The Prize allocation will be as follows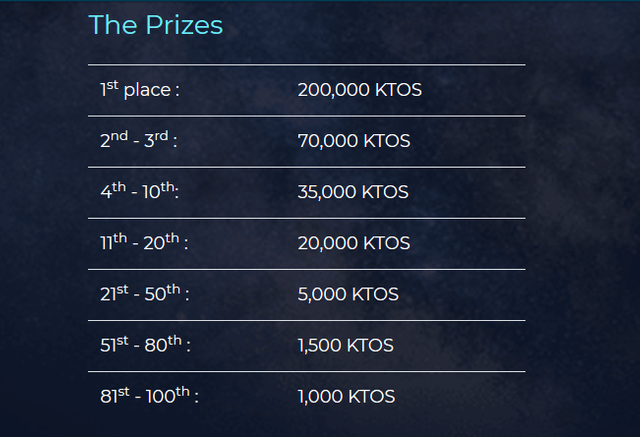 The leaderboard for the competition can be found here, and will be updated once per day at 12pm GMT.
Terms and Conditions Apply.

WHAT IS KRATOS ABOUT?
Kratos is a blockchain-hosted platform for commodities trading. It utilizes the trustless feature of the blockchain in conjunction with Smart Contracts to reduce overhead costs and time delays between trading parties. Here is their introduction video
Using Trade.io as their launchpad for their ICO was a great decision by the developers of the Kratos Project. With the experience of Trade.io and the large market and resources of the exchange this project is bound to excel to greater heights. I can't wait to see their next activity.
The airdrop Contests ends soon (Feb 1st) so hurry up and trade!
DISCLAIMER
The information contained within this post is not to be taken as financial advice. I am not a financial advisor and none of your investment decisions should be carried out based on any information presented here. Please do you own research before investing in cryptocurrencies or any digital asset. You can lose all of your money by investing wrongly. The information presented in this article is for educational and entertainment purposes only.