Do you know that you can earn interest loaning your digital assets out through Trade.io Liquidity Pool? It turns out that the downtrend in the crypto markets does not stop you from making profits on a daily basis.
---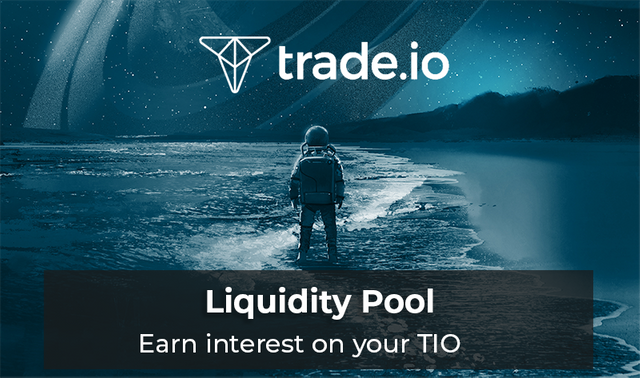 Source
---
The 'excessive charges' incurred on transactions by exchanges is one of the obstacles to the profits we make trading digital currencies and making conversions between cryptocurrencies and/or fiat. To help us maximize our profits, Trade.io launched an exchange that attracts zero fees on deposits, minimal fees on withdrawals and about 0.1% of the transaction value as taker fee. This is one of the first crypto exchanges to offer zero-fees trading in the digital currency space.
---
Introducing Trade.io Liquidity Pool
---
Trade.io Liquidity Pool gives us the ability to liquidate their digital assets (TIOx) and leverage on residual profit earning on a daily basis. Think of Trade.io Liquidity Pool as an investment program where you lend out some of your digital assets and in return, you get to earn interests based on the amount of TIOX you invested in this program.
This Liquidity Pool requires traders to have a designated amount of TIOx for the purpose of investing it into the program. The daily profits do not have an effect on your original amount of token lent into the program. You can decide to end the loan program and have your invested assets back anytime.
---
Think of Trade.io's Liquidity Pool as a means of helping us make profits daily despite the downtrend in the market.
---
It is safe to say that the year 2018 did not turn out the way some industry leaders predicted for the crypto market. The second half of the year 2017 left a great impression in the crypto industry. By December, Bitcoin was heading to $20,000 - an unbelievable price for a token that wasn't up to $5,000 at the beginning of the year. That brought many investors and traders trying to make the best use of the continued rise in value for digital currencies. This led to predictions of Bitcoin price getting close to $40,000 before the end of 2018 by some industry leaders. It turned out differently, didn't it?
---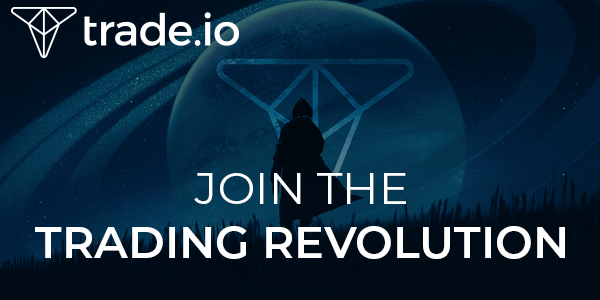 Source
---
The downtrend has not only caused a lot of frustration but also has a negative effect on the profits made on digital currency trading. Traders seem to be losing money due to the high volatility in the market. This has made some traders forfeit the business while some just left their assets in wallets hoping to see an upturn soon. The motivation to put in absolute efforts in crypto trading is not there anymore. The industry needs something to boost traders moral. Trade.io Liquidity Pool is the solution, something that can motivate us to continue with this highly profitable venture of digital currencies.
While the charts continue to fluctuate; more of heading downtrend than up, we can keep making profits. All we need to do is join Trade.io Liquidity Pool. Instead of just having your assets waiting idly in wallets for an upturn, you can loan them out and earn interest daily. You can easily and quickly withdraw them anytime you want. You will have your full loaned token as well as the interest that has been accumulated without any risk. This is one of the few ways you can expand your digital assets portfolio during this downtrend period.
---
Getting started with Trade.io Liquidity Pool
---
Joining the Trade.io Liquidity Pool is pretty easy. It does not take more than just a few steps.
Click on this link to sign up for Trade.io Liquidity pool program. You will be required to provide an email address. Supply the required details and complete your registration through the confirmation link sent to your mail.
Buy Trade.io's native currency; Trade Token (TIOx) using the digital assets from any of your wallets. TIOx can also be bought from other exchanges. Just convert your BTC or other tokens to the amount of TIOx you intend to invest in the Liquidity program.
Loan your TIOx to participate in the pool. The minimum TIOx required is 2,500. As per my research, there is no maximum limit for the amount of TIOx you can participate with.
Your interest return is not fixed. It is based on a tiered structure and the amount of tokens you invested in the program. As well, the tokens you are paid your profit in are the ones the Pool invested in that day, not the ones you put in the Pool. Learn about this tiered structure here.
---
Departing thoughts
---
Trading is all about making profits. When the profit could not be made as it used to be or has reduced significantly due to some circumstances or factors, the motivation to continue with it is greatly affected. It is the same in all business enterprises. The downtrend may be frustrating our trading but Trade.io has a program that is meant to earn us profits with less effort. This is an opportunity to expand our digital assets portfolio.
---
---
To learn more about Trade.io Liquidity program, follow up on the links below:
---
Links and References
---
DISCLAIMER
This is not financial advice, nor a guarantee or promise in regards to any result that may be obtained from using the above content. The information provided here is for informational and entertainment purposes only. It should not be considered as financial and/or investment advice. No person should make any kind of financial decision without first consulting their own financial adviser and/or conducting their own research and due diligence.