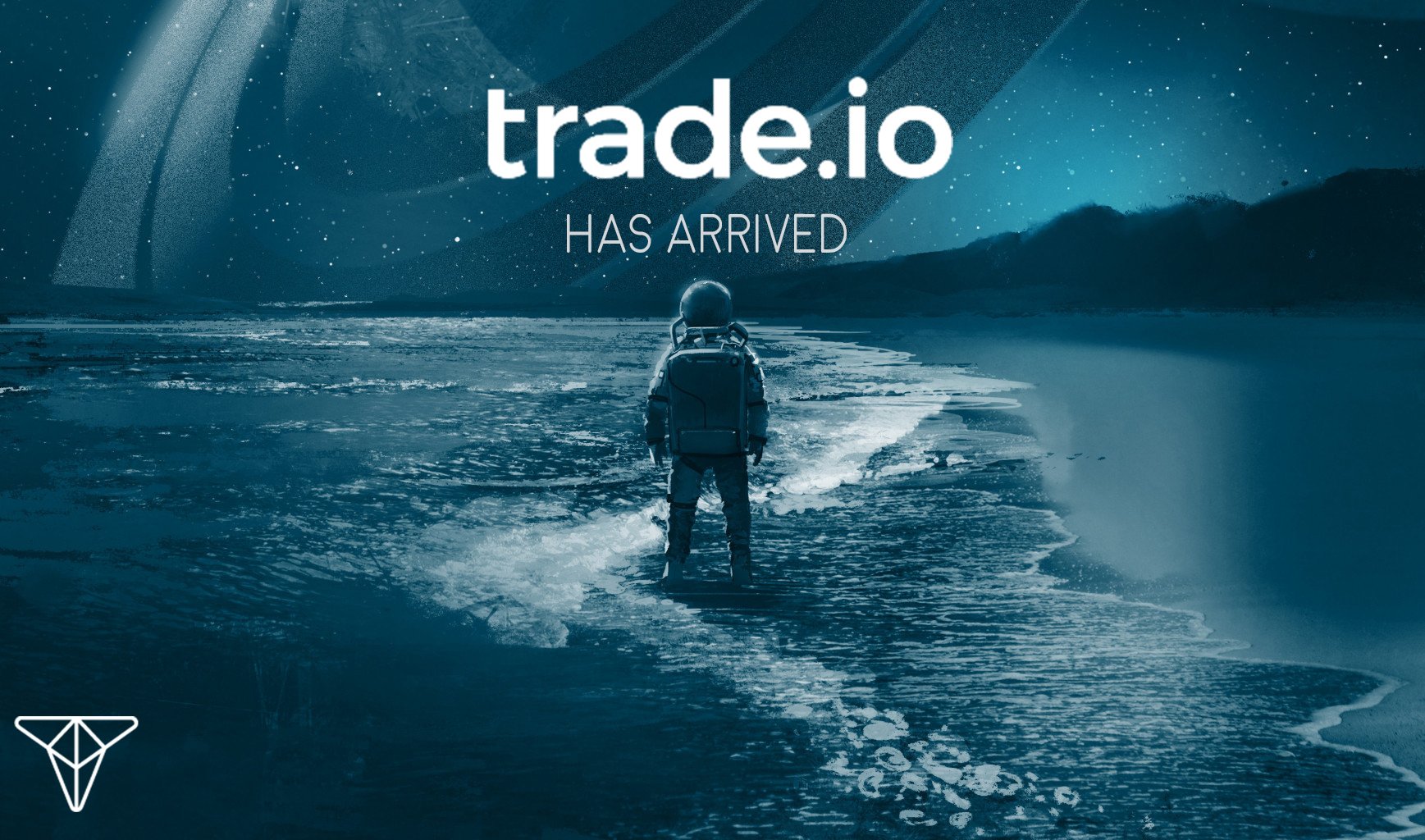 Trade.io
It is a new generation cryptocurrency exchanger that offers a fast and smarter service within its flexible and customizable platform, and guarantees security and transparency. The specialists work 24/7 to give technical support to users with some problem or concern. In trade.io you can exchange the main currencies of the blockchain and little by little new tokens will be added.
In addition, they offer a set of financial services focused on consulting and investments of blockchain. Trade.io is associated with SelfKey so that the registration process is fast, simple and secure.
Through a strategic alliance the ICO Watchdog launched 2.5 million tokens to the Trade.io community that is intended to be distributed on August 12.
Interface
In Trade.io think about your comfort when you go to make your transactions. They built a simple, efficient, fast and very easy to navigate interface.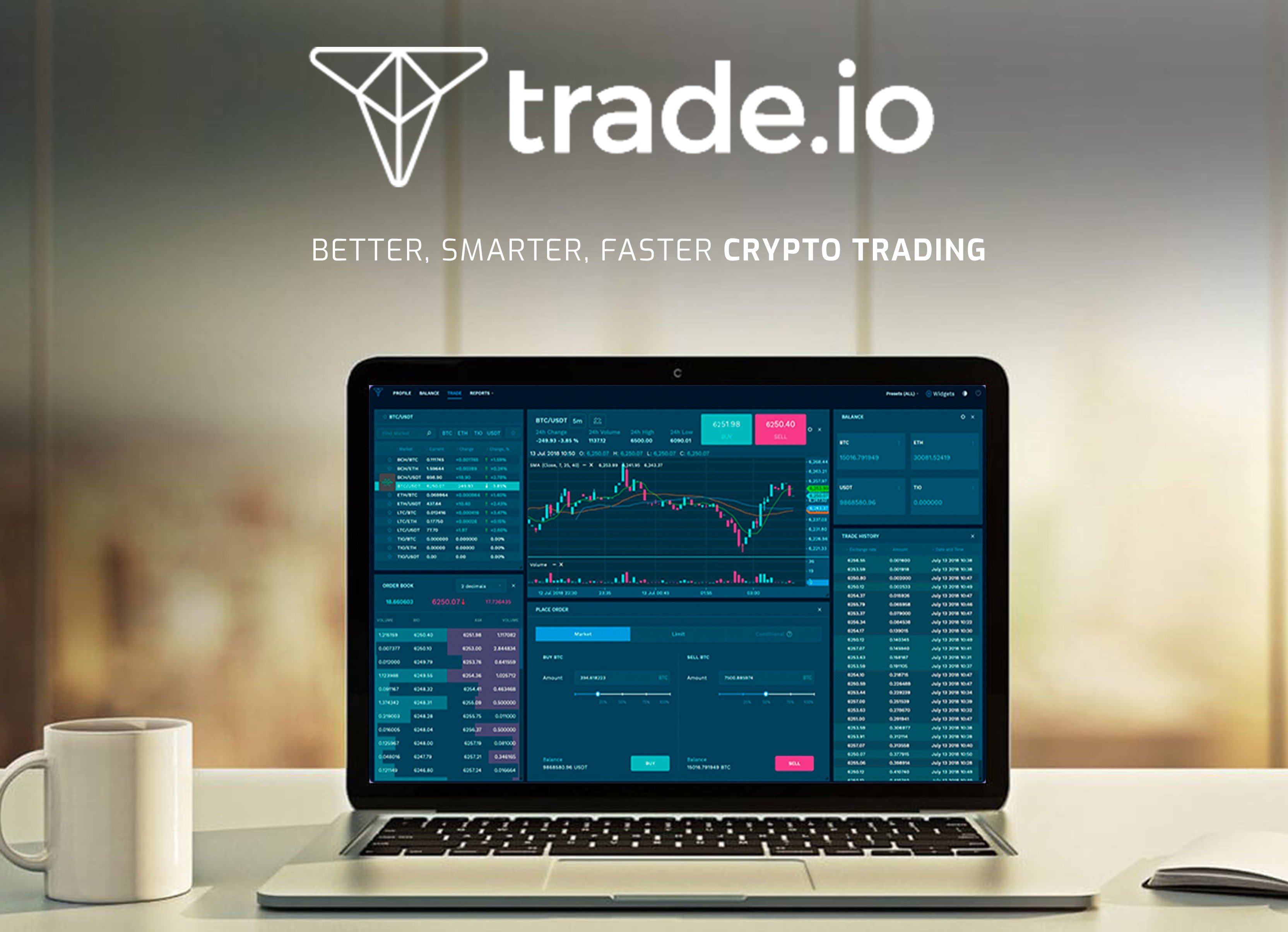 The interface of Trade.io is very similar to that of any other exchange of cryptocurrencies, but one of the advantages that Trade.io has is that it is fully customizable.
Do not like the market widget on top? Put it down. Do not want to have the transaction history in view? Close it, and then you can enable it again.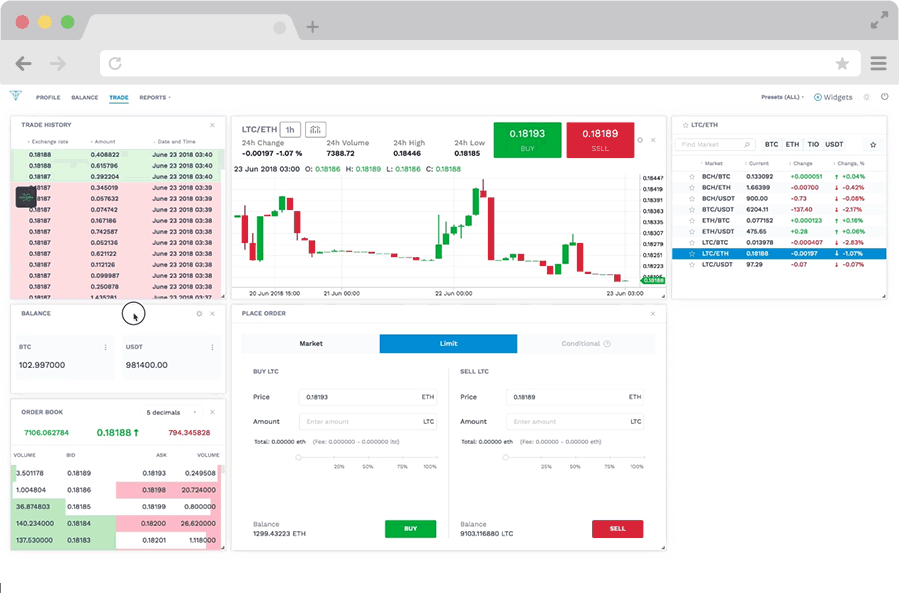 The window management is so easy that even a person without knowledge can quickly customize it.
Color modes
It also has these 3 background color options in the interface for different illuminations. The first is the option of bright or white light, ideal for when we have around us a lot of light. It's already dark and the white light hurts your eyes? there is no problem with the other two options of night mode you can minimize the damage of your eyes and work quietly.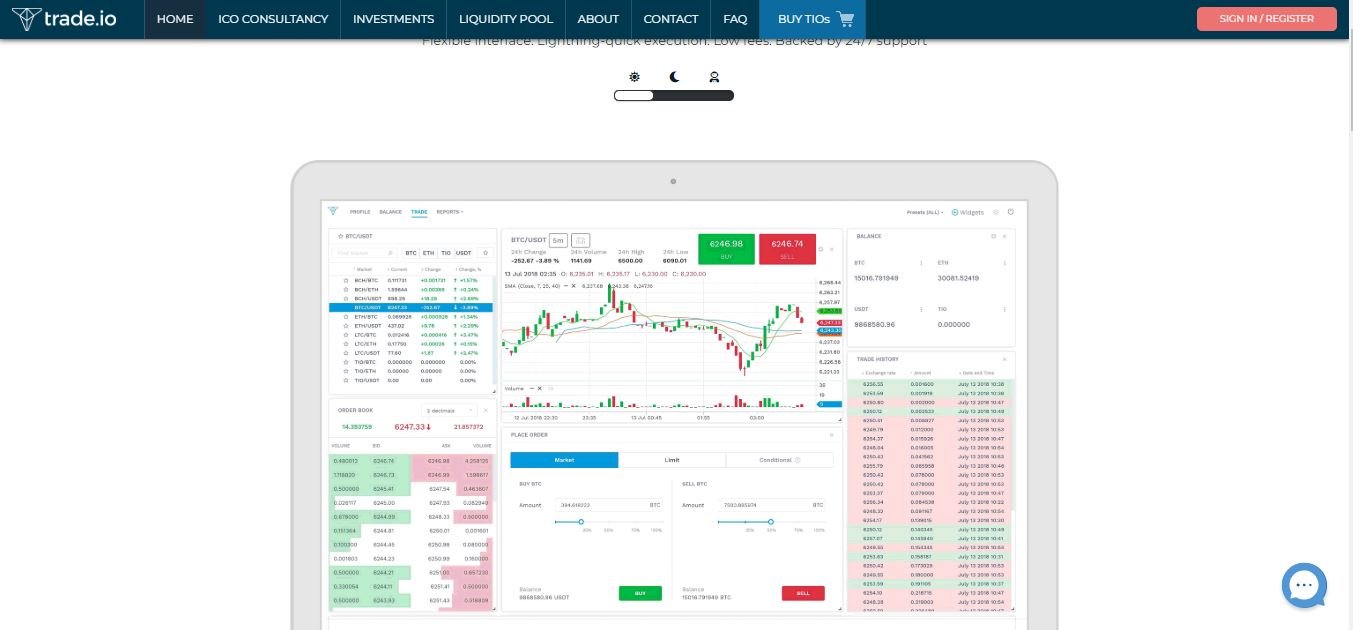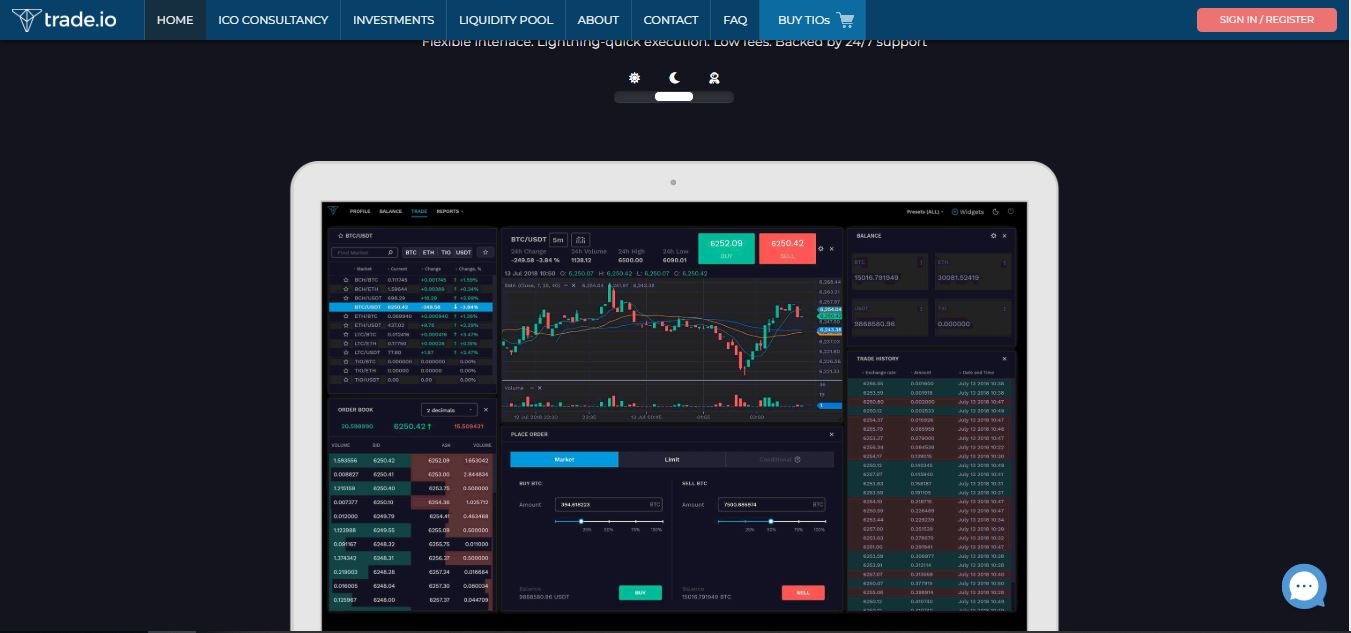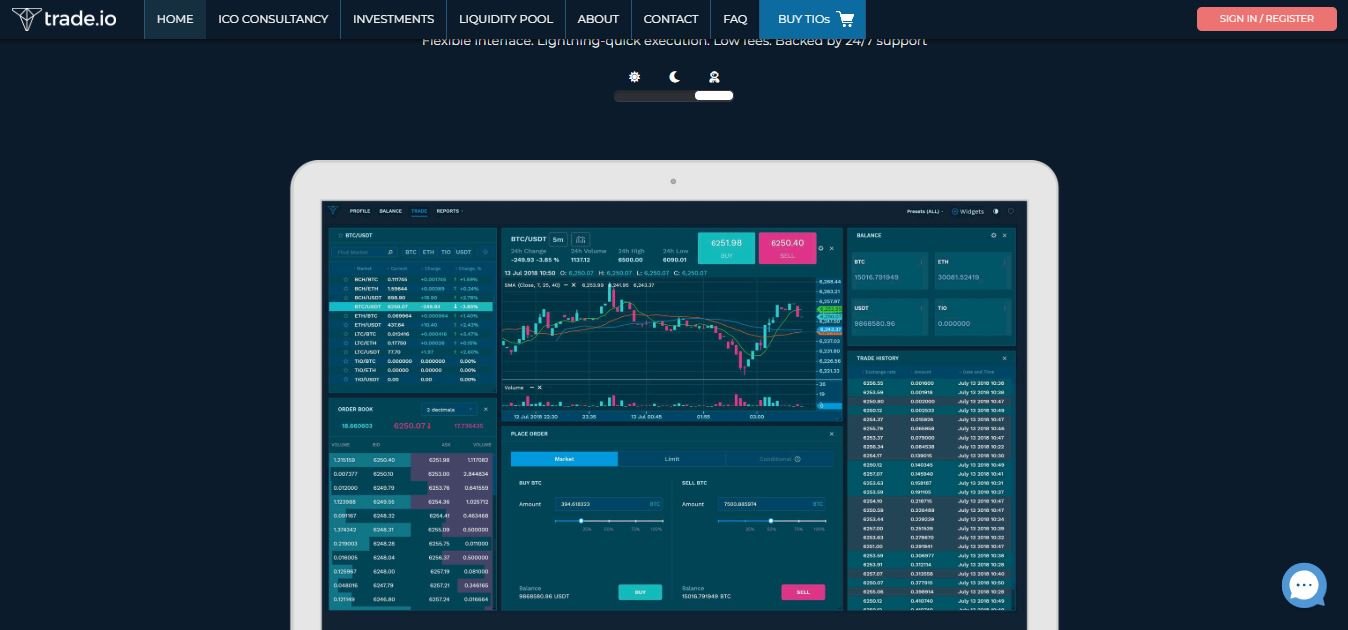 In my opinion these are some simple tools, but that every website should have, since some people are very sensitive to the direct light of the screen or monitor.
Tokens
Trade.io exchanges multiple classes of cryptocurrencies. Starting with the most common crypts, BTC, ETH, LTC and, of course, TIO, will gradually add additional tokens.
Support
In Trade.io the support is very strict, that's why the specialists are pending the requests, claims or other events 24 hours a day, 7 days a week, through their email, telegram and live chat.
Registration and security
Trade.io and SelfKey come together to build a fast and secure registry for users. What is SelfKey? is a self-sovereign identity system based on blockchain that allows individuals and companies to own, control and manage their digital identity, securely manage their cryptocurrency portfolio and integrate into financial, immigration and cryptocurrency services.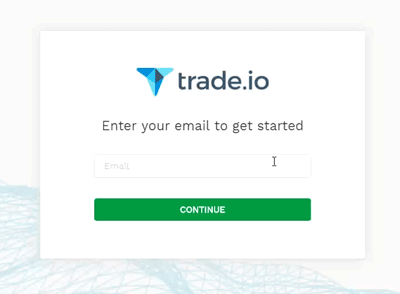 Security
To guarantee the safety of users, Trade.io developed plans and strategies. The exchange will use proprietary algorithms to guarantee the security of the architecture of stock funds and wallets. Also, an internal professional cybersecurity team that will supervise the platform 24 hours a day, 7 days a week, in search of anomalies related to the exchange, user accounts or activities. Cybersecurity is integrated into all stages of development, including design, implementation and testing.
For more information:

DISCLOSURE: The information contained within this post shall not be taken as financial advice. I am not a financial advisor and none of your investing should be carried out based on any information presented here. The following information is for educational and entertainment purposes only.
Sources of images of the Trade.io website